Bobby and I spent a remarkable nine days visiting Ireland seven years ago when we hiked the Kerry Way. The breathtaking landscape, the warm nature of the people, and the rich cultural history had us choosing Ireland again, this time for our children's first international vacation. We spent two weeks visiting Ireland and chose to spend the majority of our time on the Dingle Peninsula. We found a charming home, perfectly situated just 7 km (about 4 miles) from the town of Dingle. The home had stunning mountain and ocean views with sheep and cattle acting as our nearest neighbors in the fields that surrounded us. The Dingle Peninsula Hotel was a short walk away providing live music, a bar and restaurant, and takeaway meals as well.
During our stay on the Dingle Peninsula we had a grand time seeing all there was to see and providing ourselves and our children with as many experiences as possible. Here's a short list of our favorite activities in and around town.
Falcon Experience
One of the highlights of our trip was spending an hour with Eric and Andi at Kingdom Falconry located on the edge of town at Milltown House, a charming B&B with a solid reputation and delightfully enormous Irish Wolfhounds in residence. You do not need to be a guest in order to take part in a falconry experience and there was suitable parking available.
There are multiple options when booking a falconry experience. We opted for a private experience, while pricey at €150, we knew that would be preferable to the group experience where we would potentially be joined by 30 other people. Having our kids, whose moods aren't generally predictable, we knew we wanted to feel comfortable taking our time and really getting an opportunity to experience the birds up close and personal.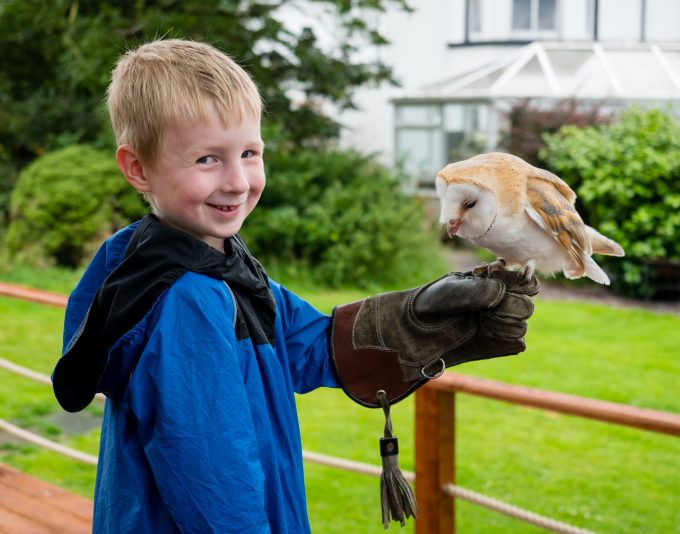 And boy did we ever get to have a personalized experience with these remarkable birds! We met owls, hawks, falcons, and even a gorgeous Golden Eagle. Jack is still talking about watching the Peregrin Falcon fly. Andi and Eric were beyond patient and good with both Jack and Rowan. Yes, even 2 year old Rowan had the opportunity to hold the birds!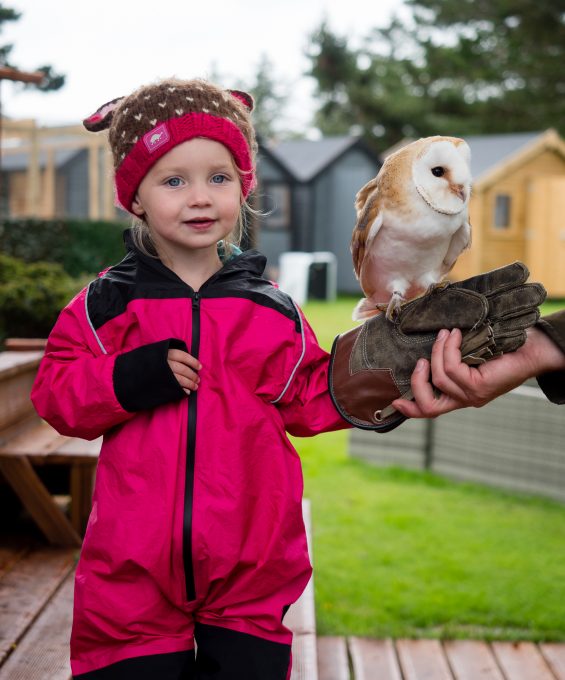 Turns out skipping her nap that day made her super sleepy so she only wanted to hold one of the birds and eventually just fell asleep! But, Jack was interested and full of questions, all patiently answered by our wonderful hosts.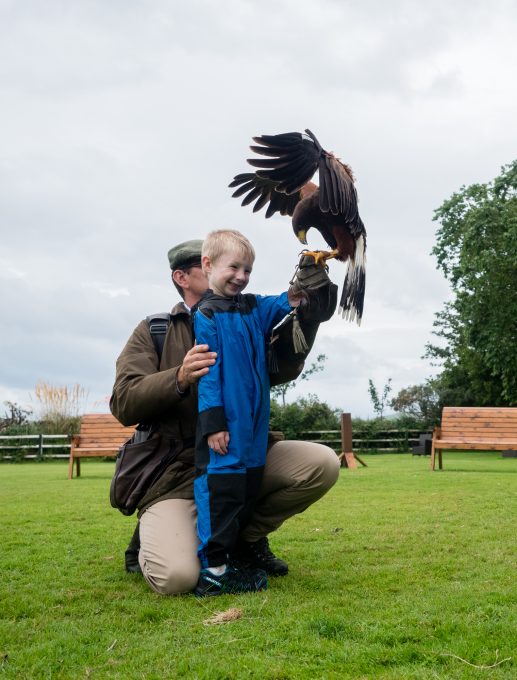 Bobby and I were unabashedly nerding out during this experience and loved holding the birds every bit as much as Jack did!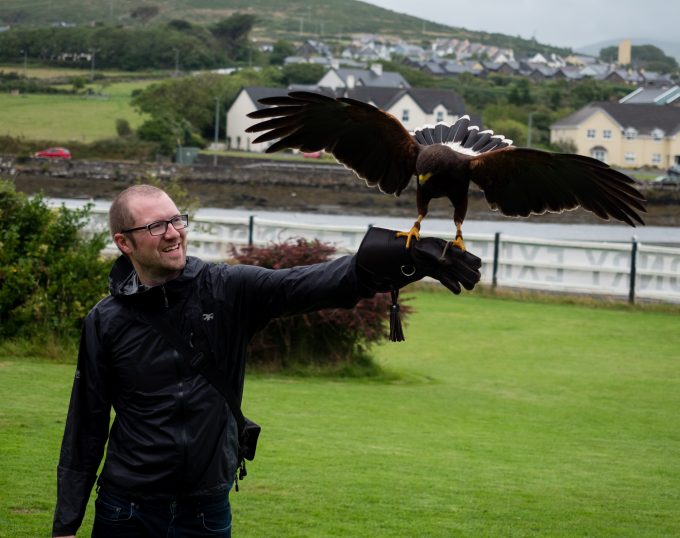 It was so magical having these remarkable birds fly from glove to glove. Getting to witness them in action in such an intimate setting was irreplaceable.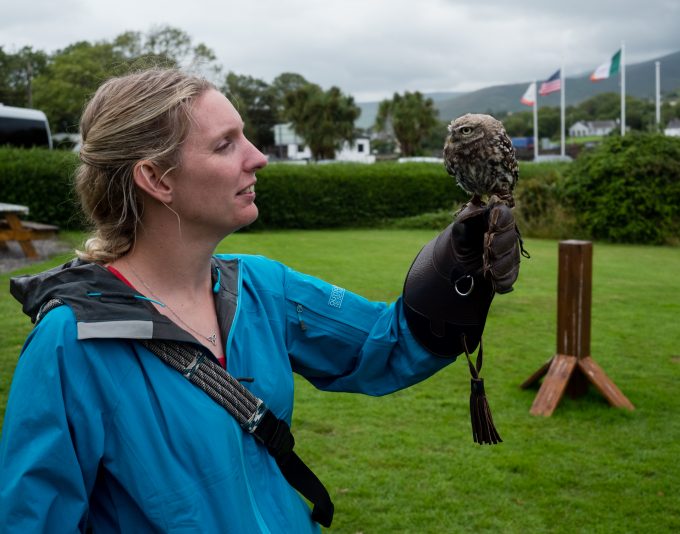 We learned so much, like a bird doesn't poop or pee it produces "mute" a combination of the two, how an owl's flight can be silent thanks to their specialized feathers, and that Golden Eagles are really heavy! 13 pounds doesn't sound like a lot, but on an unsupported, extended arm it feels like a ridiculous amount of weight!
Horseback Riding on the Beach
If you're looking for a family-friendly crew of people to take young children on a gorgeous horseback ride along a beach look no further than Long's Riding Center in Dingle. The owner was wonderfully accommodating for our tiny Jack who so desperately wanted to ride horses on his birthday while we were there. Because of his small size the leader held Jack's horse with a lead rope, ensuring all would be well for our guy. Generally speaking children need to be at least 6 years of age in order to ride, but because of Jack's riding experience as well as my own they made an exception.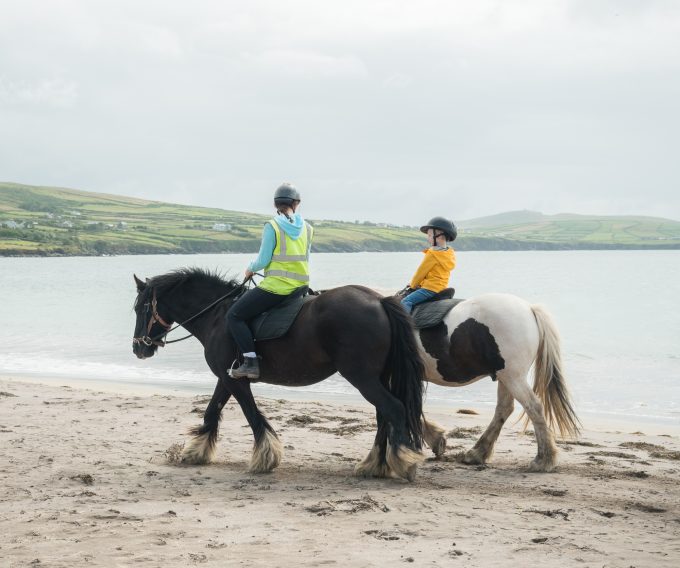 Finding Long's wasn't difficult with ample road signage and parking was a breeze with a good sized lot at the center. They provided helmets and boots for riding, and were kind enough to give me no flack when I asked for long stirrups as I am used to western rather than english style riding.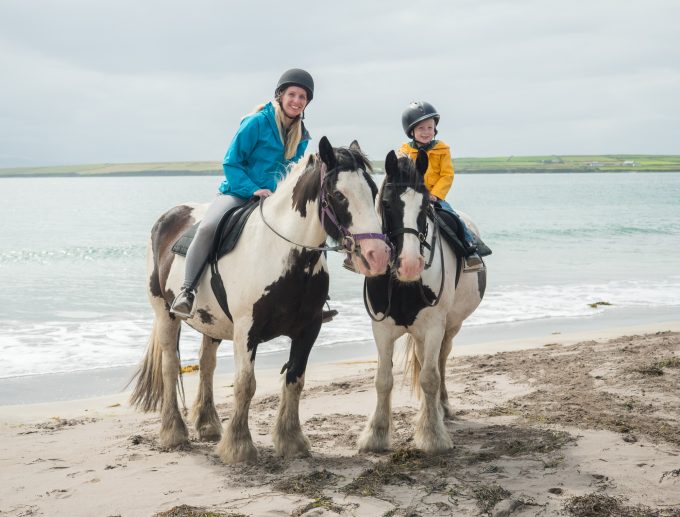 The scenery on this ride couldn't be beat, the horses (Irish Cods) were sound and well cared for and at €45 per person the price wasn't outrageous for the hour long ride. Longer rides are available for those more experienced and interested in also seeing the forested areas.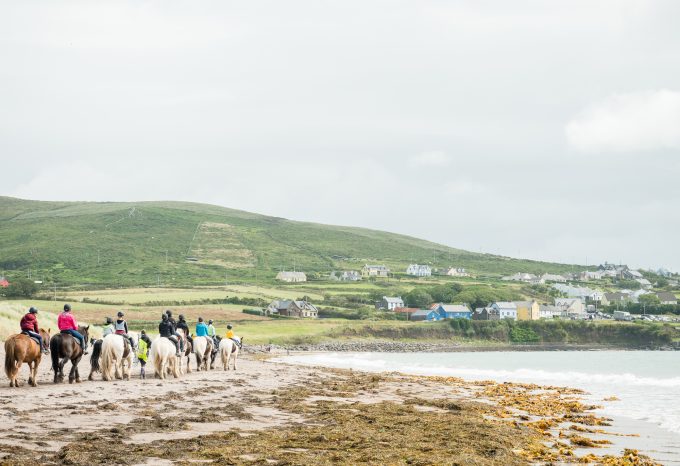 Jack made quick and easy friends with the charming guide on this trip and told her all about what we had done on the trip thus far, what he has learned about horses during his horse camps, and all about his birthday plans for the remainder of the day. It was very meaningful to ride with Jack on his birthday for me. Sharing passions with our own children is a highlight of life to be sure.
Dingle Town
The town of Dingle itself is utterly delightful to visit with delicious restaurants, exquisite handmade craft shops, book stores, a bakery, and the best ice cream around found at Murphy's!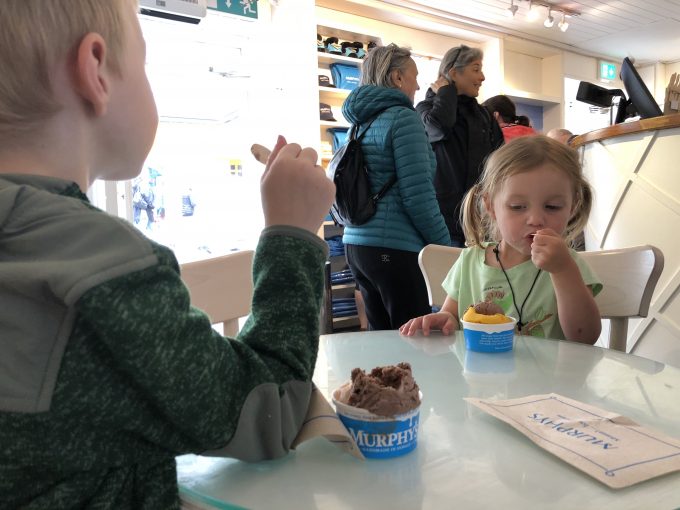 Murphy's even has a gin flavored ice cream, as the local Dingle distillery recently won the high honor of best Gin in the world! The kids always enjoyed our almost daily visits to this well known, handmade ice cream shop!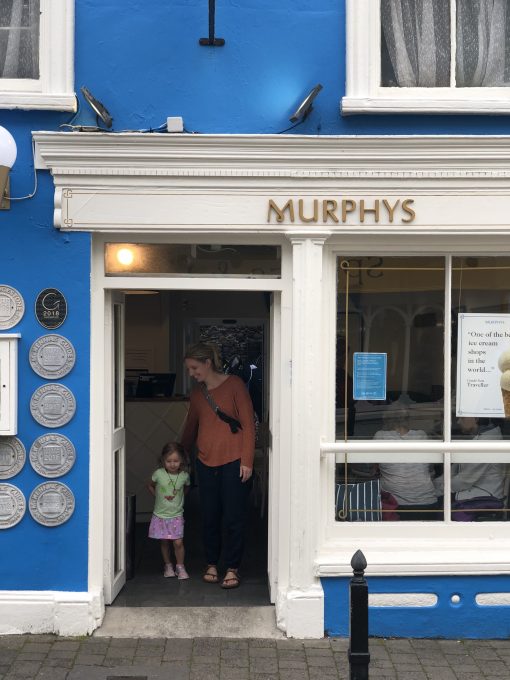 The town is utterly charming with tourists busy making the rounds through the myriad of shops. Parking is definitely a challenge in the town but we found that if we waited to go into town after 4:00 p.m. parking wasn't as big of an issue. Many of the pubs offered live music and even dancing. Sadly, our children aren't night owls and are more like night monsters so we were sure to be tucked up in our house before meltdowns began. Hopefully, on our next trip to Ireland they will be older and more tolerant of late night shenanigans!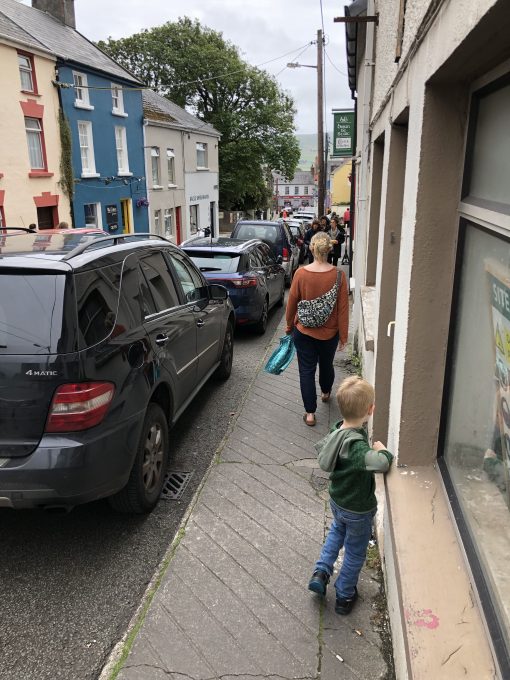 Sheep Dog Demonstration
The first thing everybody seems to be asking Jack and Rowan since we returned home is, "Did you see any sheep?" The answer is a resounding yes as the hillsides are covered with the fluffy creatures. We even had the opportunity to watch sheepdogs at work thanks to Dingle Sheepdogs. It feels like an odd roadside attraction with a small parking lot just off the scenic Slea head drive. This winding, coastal road is a harrowing experience for the driver as the roads are in no way large enough for two way traffic with regular tour bus traffic. If you take your time and don't get pushy it is a stunning drive with gorgeous views!
After you park you pay a fee somewhere between €0-7 per person (changes depending on age) and are given a bit of feed to give to the older sheep, horses, and donkeys that are in the lower pastures.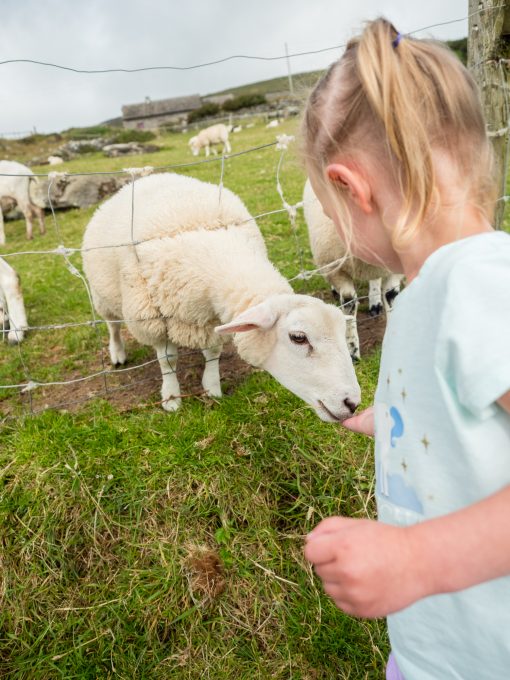 There was an old thatched-roof house to explore with some terrifying mannequins inside to show how people in Ireland lived during the great famine. The sheepdog demonstration was to begin at 11:30 but was delayed while they waited for two tour busses filled to the brim unloaded and a throng of people descended upon the quiet fields. The two dogs and farmer gave a really fun demonstration of their communication skillset and athletic abilities. This was a really fun event to witness.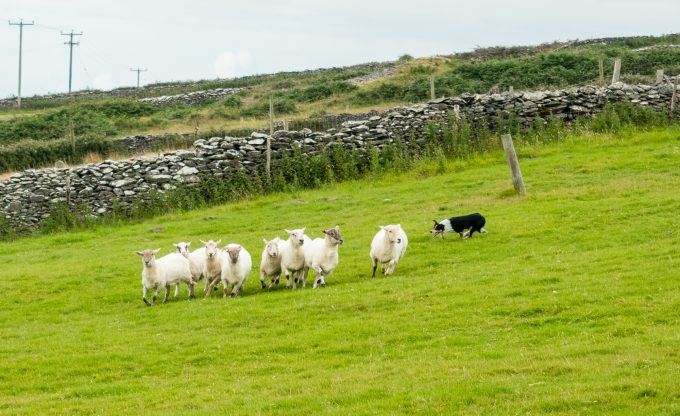 The Dingle Peninsula has so much to offer and we weren't disappointed at all we got to do and experience during our visit. As most of these activities do cost money I would say we were most pleased with the Falconry Experience and wouldn't hesitate to spend the money again for what we did.