Ireland is a beautiful place to visit and bring children to with seemingly endless opportunities for exploration. We incorporate hiking adventures wherever we go in the world and Ireland has a lot of hiking to offer.
Be Prepared for the Conditions
Ireland also presents a unique challenge with hiking due to the completely unpredictable weather patterns the island is notorious for, the say if you're unhappy with the weather in Ireland just wait five minutes and it will change. During our two week visit we definitely found that sentiment to be true.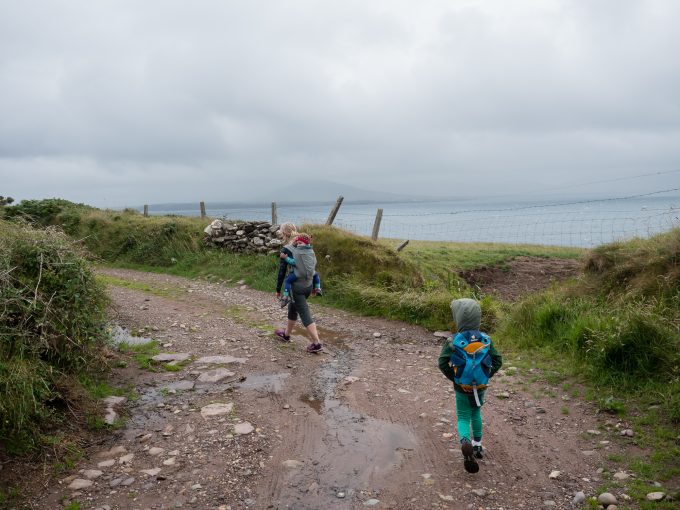 The boggy nature of the island also means that despite a completely dry day and hiking in the blazing sun your shoes need to be waterproof because the peat bogs cover 17% of the land in Ireland. Bogs can even be found atop mountains and will be a squelching, oozing mess no matter the weather. Both Bobby and I had packed our Altra's, a lightweight trail running shoe that definitely wasn't up to the terrain we found in Ireland and my feet suffered the consequence of our poor footwear choice.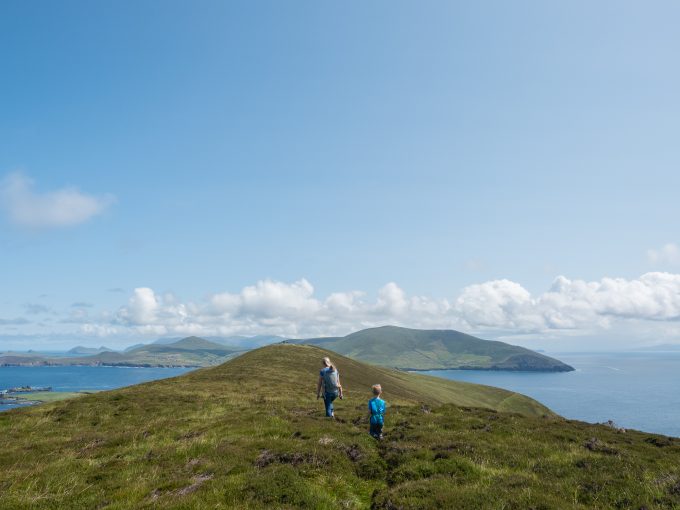 Be sure to pack along extra layers and solid rain gear. For children I always promote single-piece rainsuits. They keep the child warm and dry from wind, rain, sleet and snow. For years we have used the OAKI rainsuit as I felt it was the best product on the market. However, Stonz is now making a rainsuit that I feel outperforms the OAKI suit in a few really awesome ways. First off it is markedly lighter weight and compresses down much smaller than the OAKI suit which is preferable for smaller daypacks. It also has a zip along the legs of the suit which allows kids to take this on and off without needing to remove shoes AND makes potty breaks much easier. The OAKI suit is thicker so does offer more wind protection but we just added an additional fleece layer under the suit on windier, colder days and that kept the kiddos nice and comfortable while on the trail.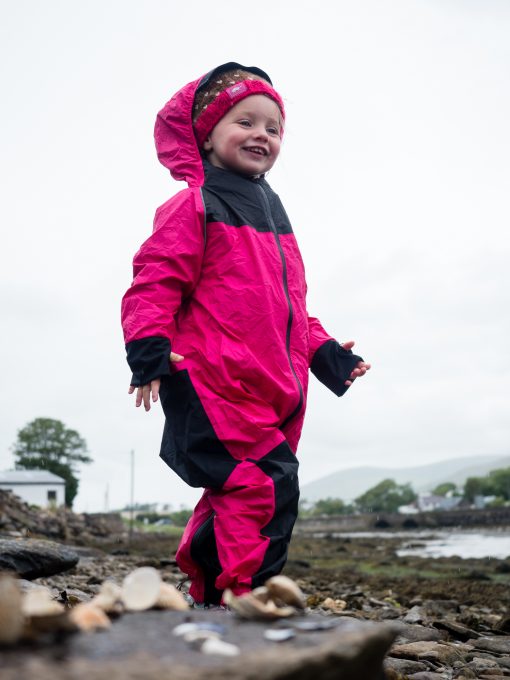 We encountered slanting rain, drizzles, and downpours on this journey and were grateful for our rain gear on every trek. For adults we recommend OR as our preferred brand.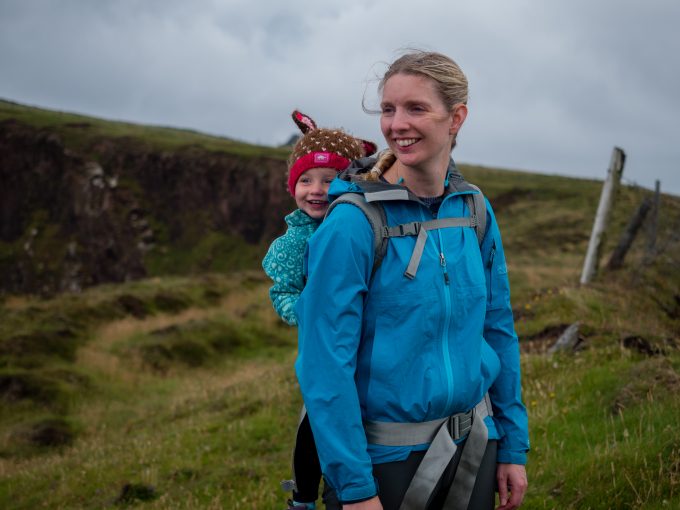 For shoes for the tiny hikers we love KEENS and Merell brands that all offer a waterproof variety for young kiddos. Not only will most trails be wet, or water-logged most all are generously covered in sheep, cow, or horse manure. The novelty of which never seemed to wear off on our kiddos… Keeping little feet dry and clean made hiking in Ireland all that much easier.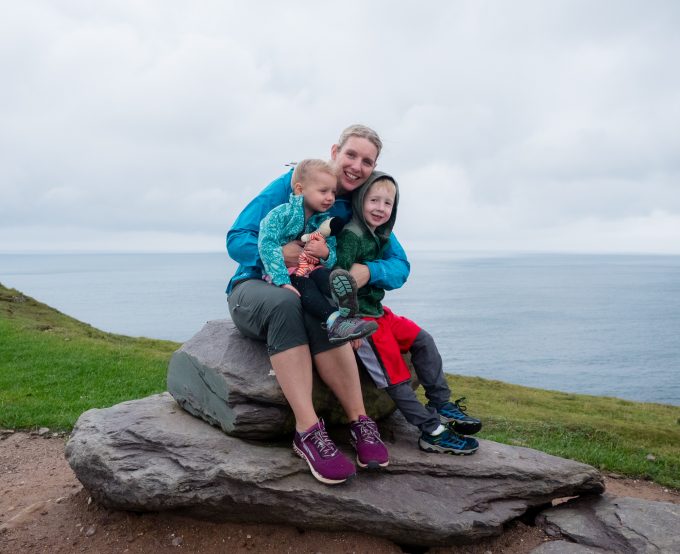 Dealing with Drop-Offs
A lot of the hiking we did on these coastal peninsulas of Ireland were along the oceanside and, therefore, had a lot of steep drop-off sections. Dealing with small, unruly children in these settings can be scary and potentially dangerous. We use a homemade hiking harness for Jack, but a climbing harness could serve the same purpose utilizing a bit of webbing as a leash to help keep older children safe.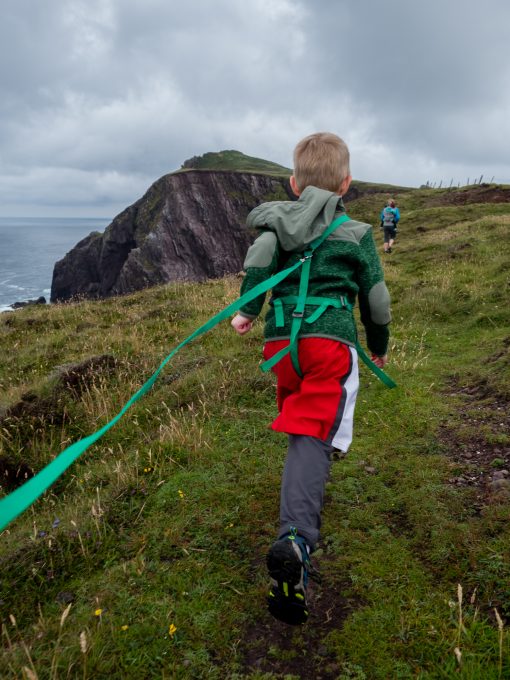 As Rowan is still just two years old and not yet 30 pounds we use the Onya Baby Pure. This infant to toddler carrier is my absolute favorite carrier for larger children as it remains comfortable for me and the kiddo I'm carrying. (Even 5 year old Jack still fits in it in a pinch.) Rowan still loves her carrier and given the option would rather be carried than use her own hiking harness. Plus, it gives me a good workout and allows us to maintain a steadier pace so I love having her in it during hikes or even touring around town.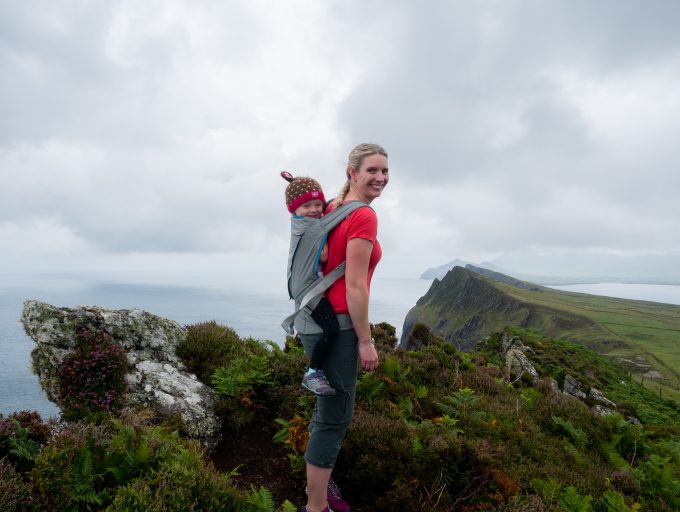 Favorite Hikes
There were two big hiking highlights from our recent trip to the Dingle Peninsula and County Galway in Ireland.
Sunset Walk
This hike begins at a house, where parking is made available and a €5 donation is recommended. The trail is well maintained and signed. We were greeted by a friendly dog in the carpark who accompanied us on the first portion of our trek through the sheep pastures. There are gates along the route so be sure to close any gates that were closed when you arrived. Always leave gates as you find them. There was also an electric fence along a section of the trail that was well signed so we had some interesting conversations with the kids about that!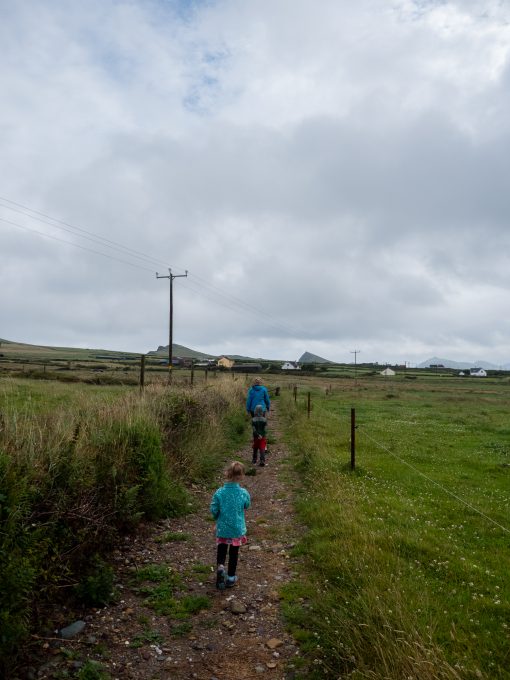 This hike takes you to a filming location from Star Wars the Last Jedi and Luke's meditation rock.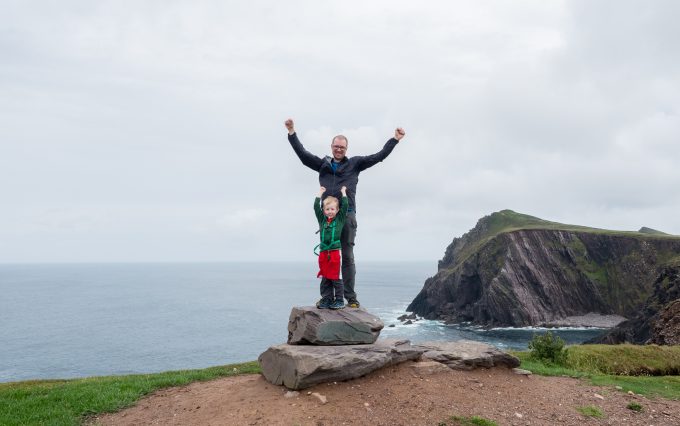 This is a short, easy 20 minute walk but we decided to continue of to the "Three Sisters" which are three tall mountains right along the coast that we could actually see from our rental home just a few short miles away. Jack had been begging to hike the sisters since we had arrived so he was stoked to finally get the chance!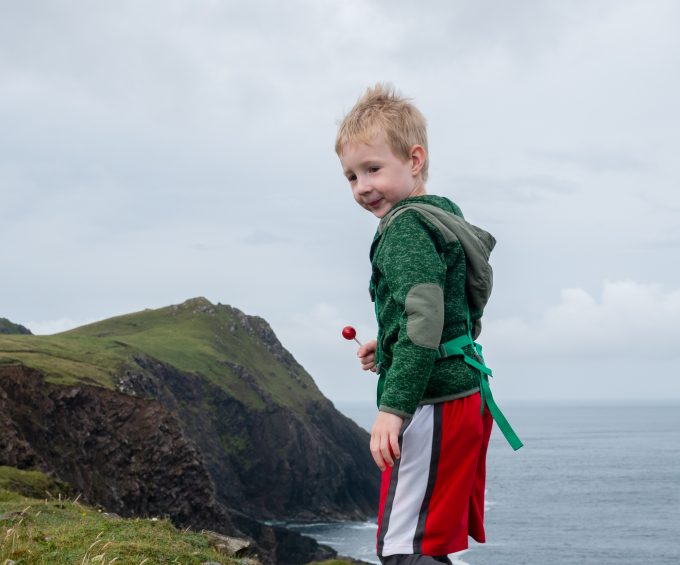 The trail up was steep but the spectacularly stunning views that surrounded us made the hike exceptionally worth every step. Jack was scared as we hiked due to his anxieties around tectonic plate movement and erosion. His intelligence can cause problems occasionally and this was one of those times as he continually posited questions wondering if pieces of the cliffs where we were hiking would break apart as the waves crashed far below us. Hiking always presents opportunities for education but those bigger concepts can be frightening to a young mind who may not be able to grasp the concepts we discuss in their entirety.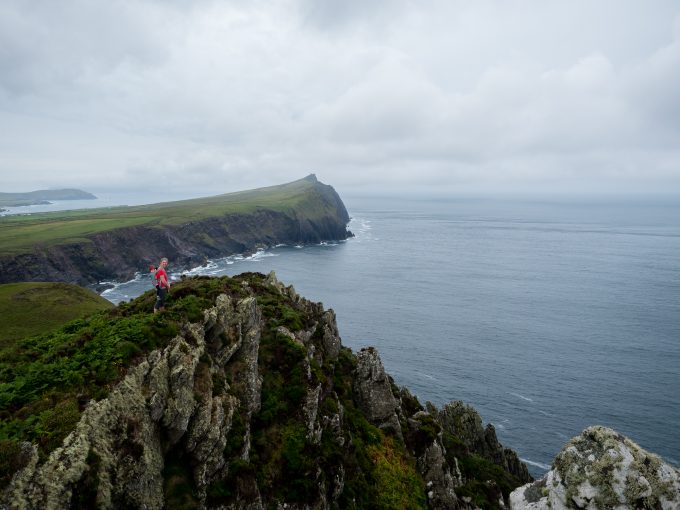 We reached the shortest of the Three Sisters and opted to turn around and head back to our car. It is possible to continue the hike and summit all three sisters in secession but we hadn't come prepared with lunches and the imminent hour of hangry was rapidly approaching.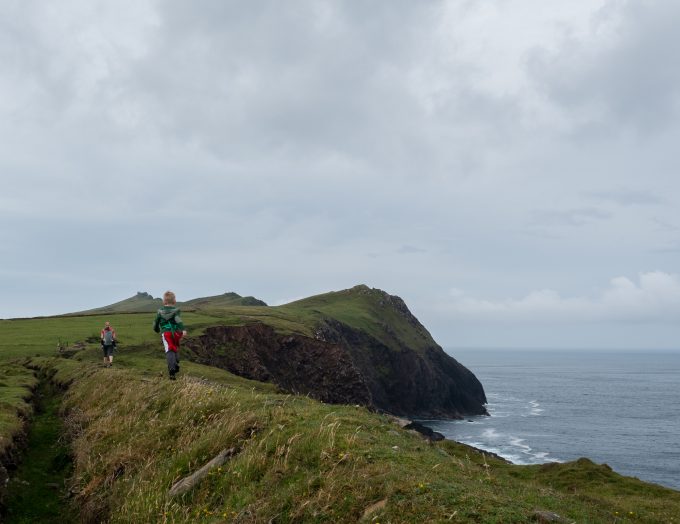 If you are in the Dingle area and have time for one hike do this one. No road walking, easy access, and we had the trail all to ourselves on a rare rainless day.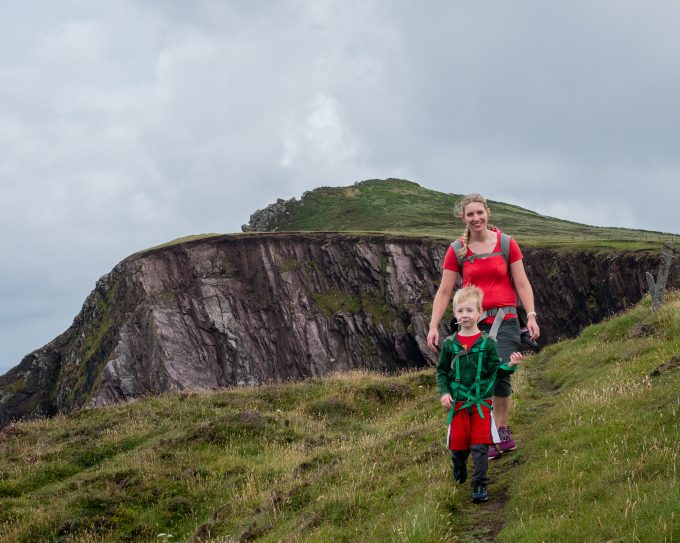 Diamond Hill
Located in County Galway within Connemara National Park this was the biggest mountain Jack had ever attempted on his own two feet. With 1200 feet (386 meters) of elevation gain and close to 4 miles (6.1 km) in distance this was a huge feat for a 37 lb 5 year old. Most every day Jack asks to climb a mountain and this day certainly didn't disappoint.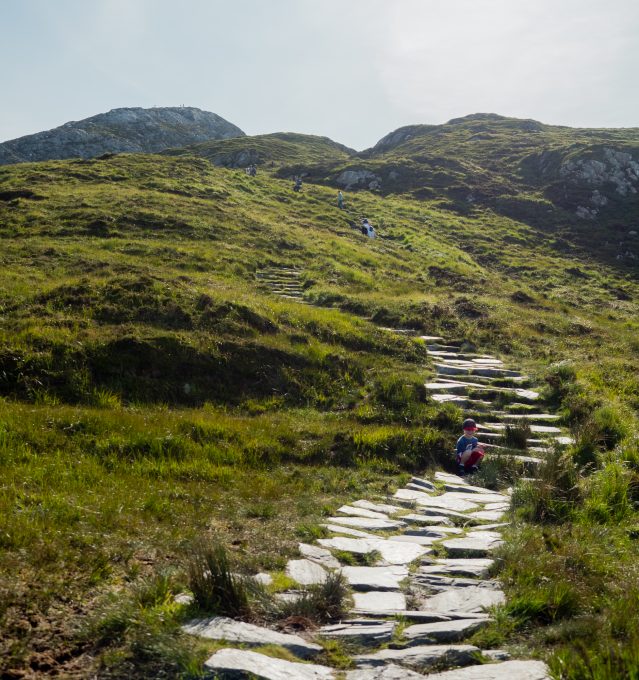 This is a very popular trail so we were grateful for our early risers as we didn't have to deal with too many other hikers as we made or ascent. By midday the trail was full of hikers and a steady stream of people made their way up the well maintained and trail. Hundreds of rock steps and wooden boardwalks made this hike enjoyable and doable with plenty of proper signage encouraging a steady flow up and down the mountain along the lollipop trail.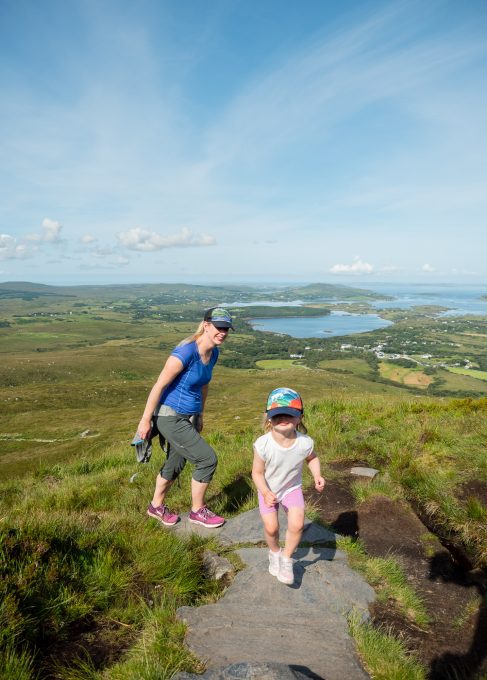 The views got progressively more impressive as we made the near vertical ascent up the mountainside.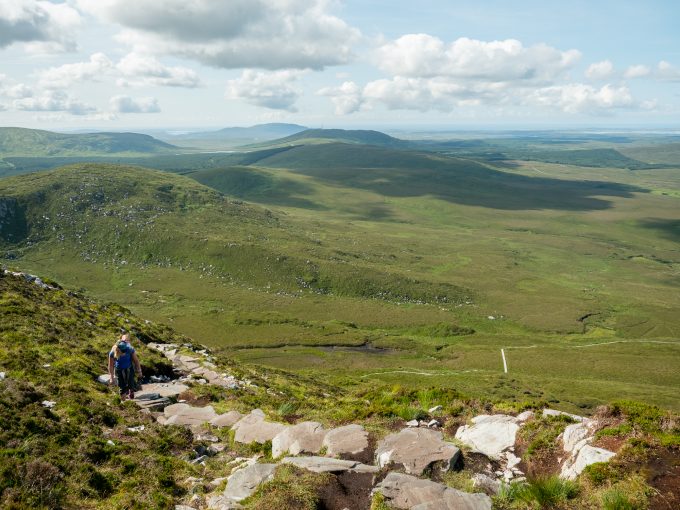 Upon reaching the summit we felt as though we were on top of the world. The sun shone hot and steady and we enjoyed clear views of this remarkable landscape. We could also see Kylemore Abbey, a stunning castle, turned abbey, turned school, turned museum which we had visited the day before.
Jack had an enormous grin and his self confidence was soaring after he successfully summited his largest mountain to date without asking for any assistance from us. He proudly exclaimed, "Can you believe I did that without once asking for you to carry me, Mommy?" I really couldn't! Bobby and I were beyond proud of him.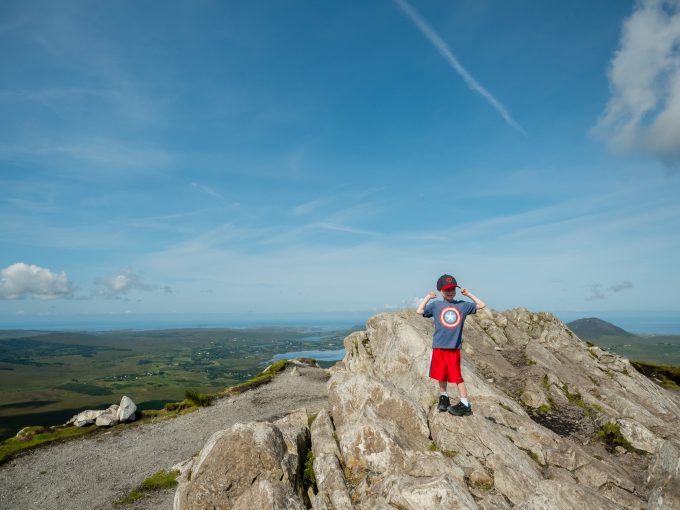 The hike down takes you along the backside of the mountain before meeting back up with the original trail down. As always the way down was way harder for us grownups as knee and ankle joints took the beating associated with a downhill hike. Jack ran almost the entire way down and wanted to continue playing outside on the playground located outside the visitor center.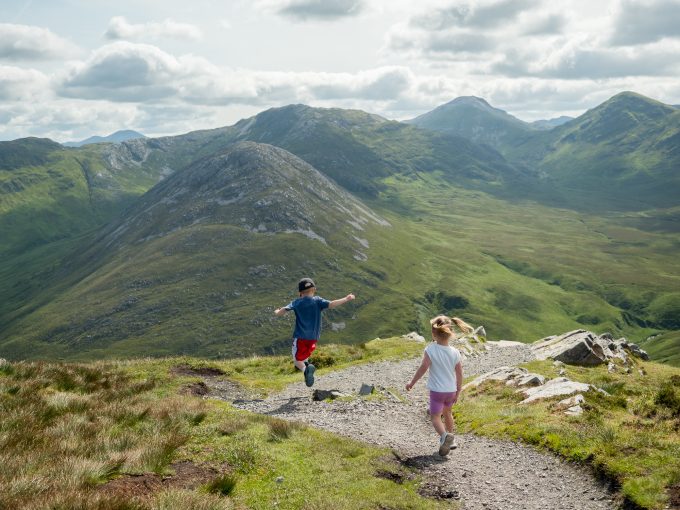 We know that we barely scratched the surface of the hiking opportunities available to us in beautiful Ireland and we know we'll be back for more one day. Jack sobbed on our last night in Ireland wondering, "Why can't we just live here? There's still so much more hiking for us to do."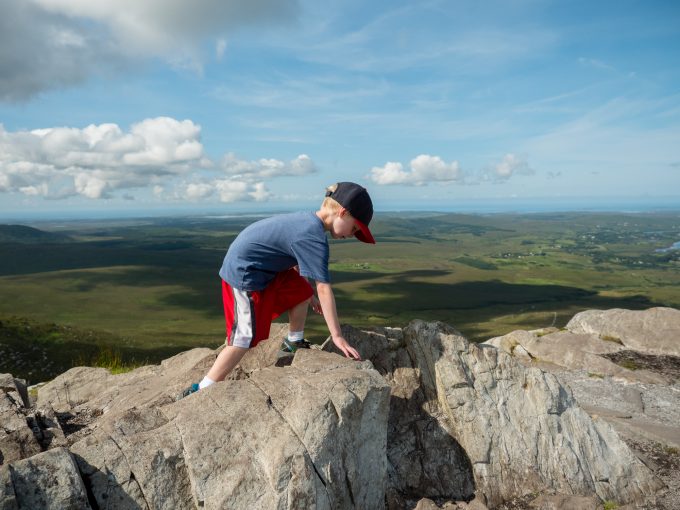 That sentiment may have been one of the single most proud moments in our parenting journey thus far. Our trip to Ireland was a wonderful introduction into the world of international traveling and hiking.