We have been adventuring as a family for the last 13 years. In that time our travels have taken us all over the U.S. and into Europe, Canada, and tropical destinations. We've backpacked in the wilds of Idaho, ventured into remote California on horseback, paddled into the far wilderness of the Boundary Waters, towed our camper 5,000 miles across the American West in a summer, and hiked the hills of Ireland. The big question is always where to go and what to do? For us, the answer is usually, ROAD TRIP!
We have found such immense joy spending our summers touring the country, discovering new and, sometimes, unexpected adventures along the way. Planning a great family road trip involves collaboration as a family, a lot of patience, and the ability to go with the flow.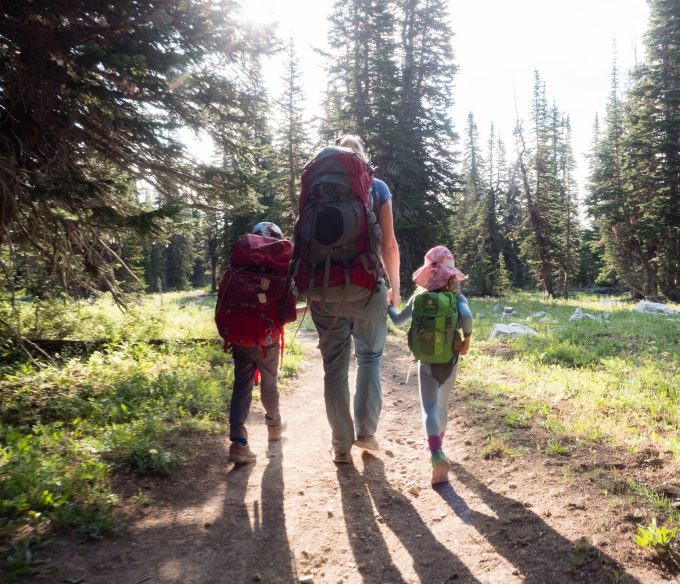 Make a Bucket List
One of the first ways we start planning any trip is by referring to our Master Bucket Lists, we each have one. They grow and evolve over time into whatever we want them to be. The ideas are inspired by books, YouTube videos, documentaries, and hearing of other's adventures. We live in Minnesota which means we have long, cold winters that make the perfect opportunity to sit and dream of far off, warmer destinations. Sometimes this results in poor, overly optimistic planning, like that super cold January where I thought 110+ temperatures in the desert didn't sound too bad…. It was worse than we could've imagined especially when one of the AC units in our RV died!
As a family, allowing each child the opportunity to have a say in where you go and what adventures you go on is always a good idea. It allows them to be empowered and get excited for the adventure ahead and ensures that all participating humans get a say and are guaranteed to visit at least some places they really want to see.
Taking a bucket list and narrowing it down is made easier when you have more people joining in the conversation, soon you see how your bucket list items overlap and correspond with one another and a trip will start to form from that group of ideas. I'm reminded of when we planned a trip years ago based on toddler Jack's favorite activities. Or how Rowan's current love of visiting "Old Towns" has led us to new, undiscovered favorite spots.
Start a Spreadsheet
Bobby is grinning with glee as I write this. That man's love of spreadsheets is legendary. We have one for everything, packing lists, home improvement projects, which tent to buy, the list goes on and on… I start every trip spreadsheet with the obvious, dates! What dates are available and how long do we want the adventure to last. I work for a school so our summer starting dates are easy, when is the last day of school?!? From there we discuss what the goal of the trip is. Are we reaching a faraway destination where lots of travel time is going to be necessary, do we have other commitments, work or family, where we need to be at a certain location at a certain time, or are we winging it, hoping it will all work out in the end?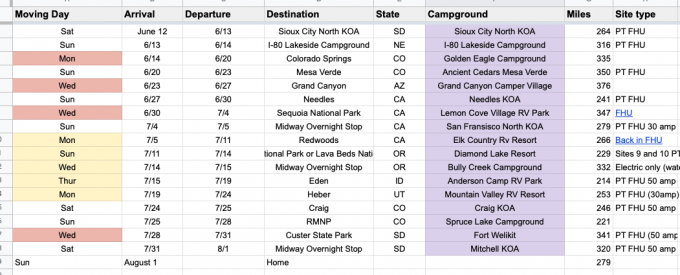 Again, the trip seemingly starts to form as conversation flows, ideas are added into the mix, others are tossed out, dreams are shared, compromises are made, and suddenly the plan is in place.
We then make a second spreadsheet that has our destinations and the things we'd like to see/do while in the area. Again, input is given by all to make this plan. Bobby wants to mountain bike, Maura wants to check out the zoo, Jack and Rowan want to go to the waterpark. We crunch the numbers, divvy up the time we have in that area and come up with a rough outline of what we want to do and see. Always leave extra room for downtime and the unexpected! Talk to locals, park rangers, checkout clerks, anybody in the area once there and see if there's a must-see that you haven't heard about before!
Check those Cancellation Policies
This is something we never used to worry about, but with the uncertainties of COVID we are now vigilant in reading cancellation policies when planing trips. We want to ensure we have an easy way out of a potentially bad or dangerous situation. If places don't allow cancellations, look elsewhere. You want to be sure that you aren't out a lot of money if a trip has to be cancelled or rescheduled due to unforeseen circumstances.
We have also discovered that sometimes you're just out of luck, when we planned on spending time camping and climbing in Joshua Tree National Park and they had an epic snowfall with colder than normal temperatures. We opted to eat the cost of the campsite we had reserved and found a hotel instead as we were not prepared for the cold.
BOOK IT!
Have you ever planned a grand trip, had great ideas, and then waited to book it because you wanted to give yourself more time to think or you worry you'll change your mind and then when you finally go to book a trip you realize you've waited too long and the campground is full, the plane tickets have shot up in price, or you can't get the time off? We have been burned too many times to count by that hesitation, so now we forge ahead swiftly, without hesitation and are always grateful we do.
I always think of the trip over 4th of July that we planned for Isle Royale a few years ago and were able to get the last spots on the float plane before we had even finalized our backpacking itinerary but we knew if we waited we wouldn't even be able to get to the island.
Share the Fun
We have found that by sharing our itinerary via GoogleSpreadsheet with friends and family means that while we spend 1-2 months on the road we aren't always alone. People join up for a day, a weekend, or even a week and the trip becomes that much more incredible.
Planning Tools
We used to spend the money on expensive trip planning apps and tools but soon realized that Google Maps works just as well for planning road trips.
We often need internet everywhere we go as Bobby works as we travel and this resource is great to not only see overall campground reviews but also detailed internet information.
Planning Notebook
Call me old fashioned but I love having things written out and easily accessible in case we don't have internet access. A 3 ring binder with plastic sleeves works really well to organize all the reservation confirmations and brochures and documents you get along the way. If you have kids who like to know the plan, reviewing this with them as you travel along helps them feel more a part of the process.
As the kids get older we are teaching them how to do research ahead of time and they are now creating their own planning notebooks that double as car activity bundles. Inside their trapper keepers are activity books of their choosing, looseleaf paper for journaling, homemade Bingo sheets, and homemade worksheets. Summer Kids Worksheet Blog
Calendar
For us, when we live on the road in our 5th wheel in the summer time, having a wall calendar with travel dates clearly laid out helps the whole family understand the plan. Especially for the kids who are living without consistency and lots of moving, the calendar allows them to understand how long they get at each campground before another move day is coming. We love making our own calendars using pictures from the previous years adventures to make it even more fun!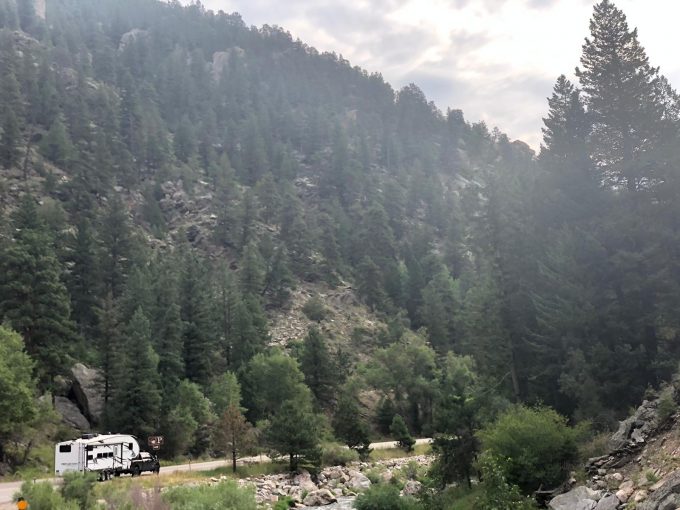 Guidebooks
We buy our guidebooks in 1 of 2 ways. The first being the planning stage buying where we use Amazon reviews to find books to help us get the big picture. The second is on site at local bookshops or National Park gift shops. We often find great, local options that give us information on exactly what we need whether it's local hiking, biking, backpacking, or canoe options at the local stores. We prefer Falcon Guides because they are more comprehensive and offer more options for hikes to do in the area. The Moon guidebooks tend to be more general with overall things to do in an area and are less specific.
Another pro-tip is get books that are for a complete area and don't limit themselves to one specific National Park, as we often find amazing hikes in the surrounding National Forest land.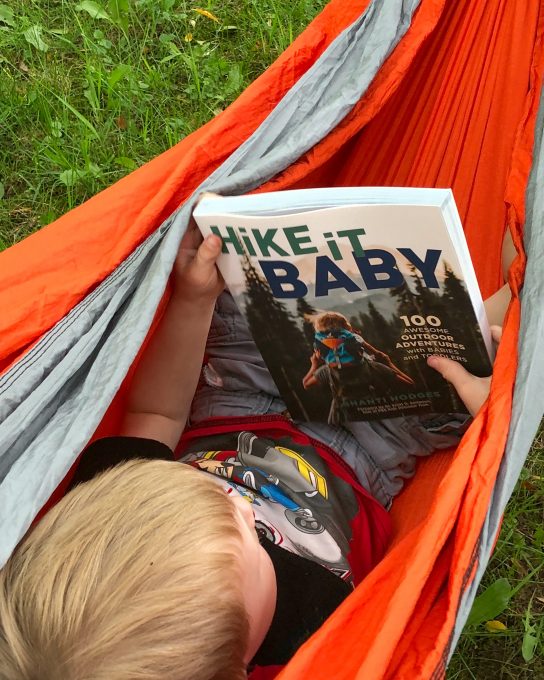 Summer to Remember List
One of our favorite Vloggers, Keep Your Daydream, offers free, printable Summer to Remember Lists. We did this for the first time last year and it was so fun to see what the kids came up with. We spanned everything from "Visit Build-a-Bear" to summit 5 mountains. We didn't achieve all of our goals but we managed to mark a lot of them off.