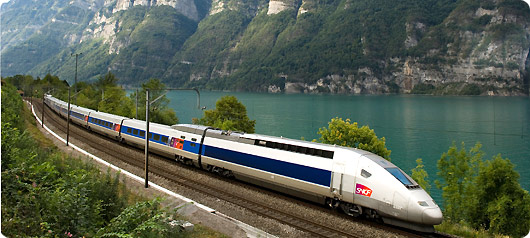 We decided that it would be really fun to take a train from Paris to Chamonix so we could see the beautiful countryside we would be traveling through. We started looking into purchasing tickets and found several options at the Rail Europe's website, http://www.raileurope.com/index.html  We found many options including high speed trains and night trains. Because we wanted to watch the country side fly by we decided that the high speed train fit the bill perfectly. I started researching tickets several months ago and discovered that tickets weren't available that far in advance. I was disappointed and concerned about how I could accurately estimate a costs of the tickets. The website made two suggestions: 1. Look at fare prices on the same day of the week at an earlier date and 2. To sign up for an email alert that would let you know when your tickets would be available for purchase. I followed the websites instructions and two days ago I received the email I had anxiously been anticipating! I scampered to the site and was able to purchase our tickets at only $2 more than I had estimated the cost to be months ago!
We will be riding on the Lyria, a high speed train that runs between France and Switzerland. Tickets were surprisingly affordable at only $236 for the two of us in a first class seat. The distance from Paris to Geneva is over 300 miles and our travel time will be just over three hours! 
The Rail Europe site also sells the Paris Museum Pass, Bus/Metro/RER passes, Dinner Cruises, and many other tours and tickets. If you're not traveling in Paris, France no worries they offer this type of thing in many countries and cities! All you have to do is enter the country and city you are interested in touring and it provides you with lots of helpful information! This site also has the added bonus of selling everything you need in dollars (after you register and enter your country of origin)!