Travel Day! Our time in Paris was over and it was time for the adventure portion of our vacation to begin! We met with Phillipe, the owner of the apartment, for checkout at 10:00 a.m. He cleared us to leave, returned our security deposit, and pointed us in the direction of the Metro station (although we already knew… Geesh, does he think we're newbies to Paris or something?).
We used our last Metro ticket to board train #1 and headed to Gare de Lyon train station where we would catch a high speed train that would take us to Geneva.
On a side note, on our first day in Paris we bought two Carnet Passes (a 10 pack) hoping that would get us through the week. It ended up working out perfectly!
Okay, back to the action! We made our way through the maze of the station and successfully found the platform where our train would come. We had about an hour wait before the train came.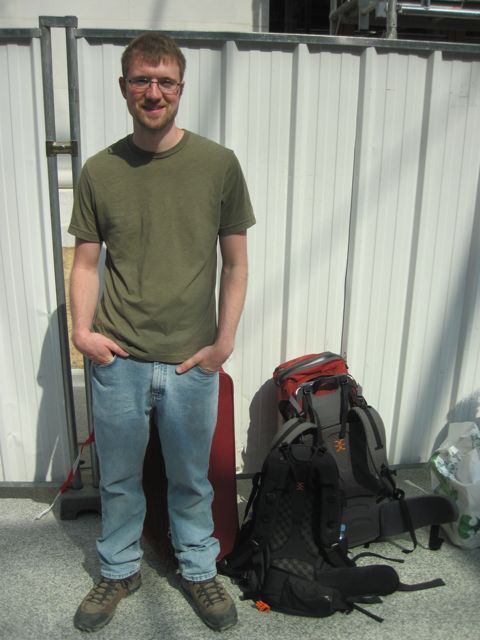 Once our train arrived, we boarded and were pleasantly surprised by what we found! Spacious seats, air-conditioning, loads of room for luggage with no weight/size restrictions, an easygoing atmosphere, and very few people!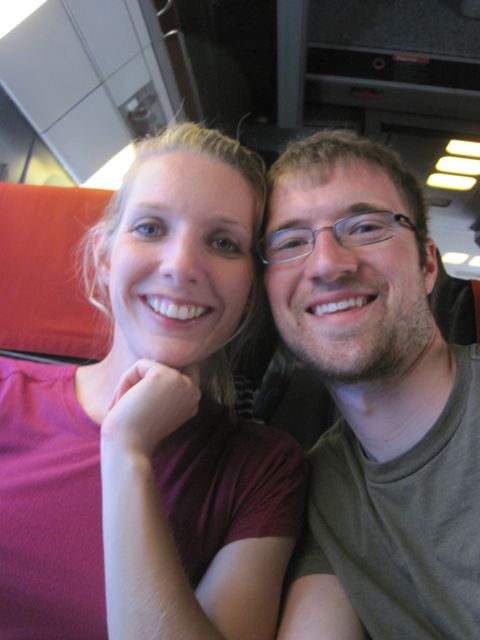 We sat back and watched the French countryside fly by! We had been sitting for a half an hour or so when I was about to ask Bobby if we could try and find a snack car, seeing as it was lunch time, when lo and behold two attendants with a food trolly arrived! We were offered salmon or pork and we both took pork!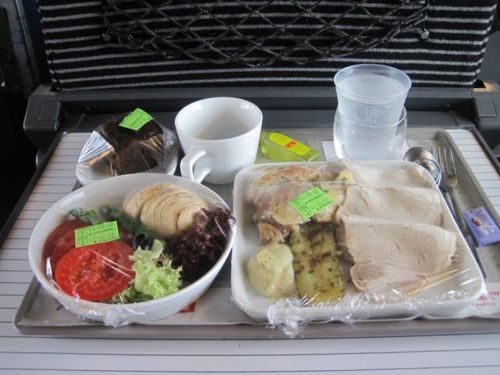 Who knew that this train provided food service free of charge?!?! We didn't! Then we remembered that we had bought first class tickets and that the meal was included! The food was rather tasty and filling. As the landscape outside changed from farmlands to mountains our jaws dropped and our eyes were glued to the amazing scenery unfolding before us. Soon we found ourselves pulling into Geneva station and the next leg of our journey was to begin with lots of stress… The shuttle transfer from Geneva to Chamonix that we had prearranged was leaving from Geneva airport. While making the reservations with the transfer company we had been assured that the transfer between the airport and the train station was fast and easy. I guess that it would've been had we known where we were, where we going, or what we were doing. We searched for an employee of some sort to ask for help and directions to the airport and had no luck. The ticket machines we found were in "English" but were mostly in French and we had no idea what to do. I stopped at a convenience store and was grateful to find an English-speaking employee who told me to buy the train tickets using the confusing ticket machine. While we were trying to decipher the strange machine an old little British man approached us and asked if we were trying to get to the airport. We said yes and he showed us where to buy the cheapest tickets, he used a pass he had and asked us to pay him. Whether he scammed us or not we don't know but we got to the airport successfully and only had to pay him 5 Euros. Bobby is convinced that he was merely being helpful. I am still a little suspicious as to why he would just be lingering there… But oh well, we got where we needed to go successfully!
The transfer company had instructed us to meet them at the arrivals area of the airport and that they would have a sign with our name on it. For half an hour we searched the tiny section of airport, tried calling, tried emailing, and generally panicked that we had been ripped off and were now stranded in Geneva. And then we saw it, that gleaming whiteboard with my name shinning in blue letters! He said he had been watching us and was just about to ask us if we were looking for him. In our defense he was standing in an awkward spot and it was a different company than we were expecting. When he heard that we hadn't been told that he was going to there company was going to be handling our transfer he gave off an exasperated sigh and told us that happened regularly. Somehow, that made us feel better, like it wasn't our fault that we couldn't read his clearly labeled sign.
We boarded a van with a couple of Brits and an Aussie and headed out of Switzerland and back into France! The drive was long but picturesque and Bobby got out the climbing guidebook and pointed out the various areas as we passed.
We found the woman welcoming us (A lovely Scot from Edinburg) easily and she showed us the charming apartment that would be our home for the next six days. The apartment had an excellent view of Mont Blanc (The highest peak in the alps at over 15,000 feet) from our balcony and a skylight above the bed. After unpacking we headed into the town center to find some grub. As we strolled along the streets Bobby felt as if we'd entered his own private Disney World! Gear shops and bars line the streets! Climbing ropes, packs, hiking boots, and helmets are the commonplace window decoration in this town! In Paris we felt out of place with our hiking boots and lightweight pants, not so here! Although we did feel out of place without an ice axe. Climbers, hikers, bikers, and ski bums roam the streets here! After dinner we found a grocery store that was packed with canned goods, miniature candy bars, and other common foodstuffs for the adventurer. Sadly we couldn't find peanut butter 🙁 Who knew that wasn't a thing here? We had to get Nutella instead… Now back at the apartment we are excited for the adventures that lie before us!