Once again we awoke to the sound of rain pattering against the skylight above us. It was our last day in Chamonix and we had a huge adventure planned of hiking a couple of kilometers to try out another crag that had some bomber looking multipitch climbs we wanted to try out. Sadly, the weather had other ideas in mind… Once again we settled in for a day stuck in the apartment watching movies. However, we couldn't stay cooped up. The weather seemed to be clearing around the valley so we altered our plans. We both agreed that hiking a long distance with heavy packs to a site that may or may not be dry and suitable for climbing was a risk we didn't want to take. So, instead of hiking up a mountain to find some climbing we settled for taking the bus and returning to Les Gallands. Luckily Les Gallands has several different sections so we went to one we hadn't been to yet that had a good mix of really easy and sort of easy climbs. 
We had agreed with one another before leaving on this trip that we would only do easy climbs! Why? The last time we went on a trip that involved climbing I ended up breaking my ankle. In that case we were only 10 hours away from home in South Dakota but it felt like we were a lot farther. The fear of breaking something in a foreign country with a long plane ride to get home was enough to keep us on the easiest of climbs! 
We were thankful that their was only one other couple climbing in the area we had chosen and we set about prepping for the climbs ahead. This particular section wasn't multipitch and had lots of routes within a very small area. We warmed up on a couple of 4c's and then tried a, somewhat, harder 5c that had a small roof.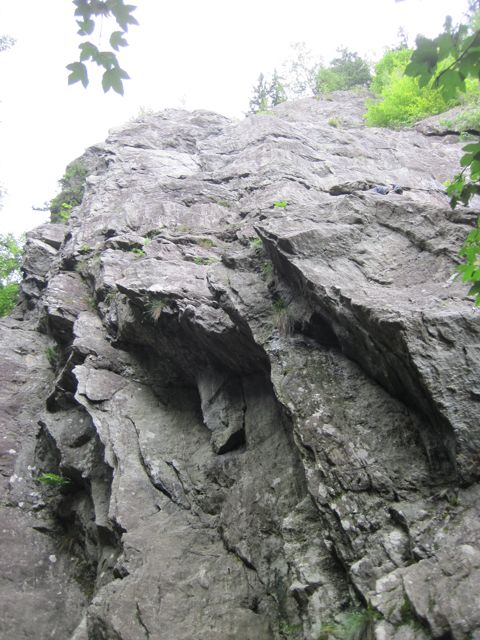 The weather was definitely improving and while it was pretty cold the rain stayed away and we were grateful! Sadly, this meant that more and more people were coming out to climb. When our area had been overrun by other climbers we set off in search of a less populated spot. We found one, mainly because the route we wanted to try was a sweet crack, but it was very short. The climb next to the crack was a harder 5.11 type climb that Bobby decided to attempt… He was awesome and climbed it with very little effort! By this time it was late afternoon and we were ready to head back into town.
It was our last night in Chamonix and we headed into town center one last time to find some dinner. In Paris, we enjoyed every meal and found the menus diverse and delicious! Sadly, this wasn't really the case in Chamonix. Most places served the same things and the quality was the same, generally poor. We should've known the cafe we chose would be bad right off the bat based upon the unpleasant aroma but once seated at the table we felt it would be too rude to just get up and leave. We suffered through a thoroughly unenjoyable meal and headed home. 
The following morning brought clear skies and sunshine! Too bad for us we were leaving that morning… We packed our belongings and tidied the apartment and caught our transfer back to Geneva. Originally we had plane tickets back to Paris with a budget airline but due to our sizable amount of luggage and that fact that we both really enjoyed the train on the way there we had decided to purchase another set of train tickets. Our transfer bus dropped us at the Geneva airport where we caught a train to the Geneva train station. A few hours later we were aboard! Sadly, the first class tickets we had coming to Geneva were a little pricy so we had settled for economy class leaving. The leg room was a little less and there were some noisy children but we both agreed that it was still far superior to being on a plane. There was a slight snag when the train experienced a malfunction and we were stuck on the rails for close to an hour. But, I took that opportunity to make my way to the dinning car and get some snacks! We munched while we waited to get moving again and were pleased when they announced that we would be given vouchers upon arriving in Paris because of the delay! The vouchers state that if your train is delayed by an hour or more you can get a partial refund of your ticket! If only airlines did the same thing! 
We arrived at Gare de Lyon in Paris and had to make our way to Charles des Galles airport. We weren't flying out that night but the hotel we were staying at for our final night had a free shuttle that ran to/from the airport! There are two stops for the airport and we guessed at which one would be best for catching our shuttle bus. Lucky for us, we guessed right! The shuttle bus brought us to the Hyatt Regency where a plush bed and delicious buffet dinner awaited us! The main courses were superb and the desserts were unbelievable! My mouth still waters just thinking about all that glorious food! After dinner we swam in the indoor pool, mainly we just wanted to use the swimsuits we had hauled all over France at least once.  
In the morning we supped on a breakfast buffet that was most unusual. They had the usual staples of waffles, pancakes, and scrambled eggs. However, there were also several oriental warm noodle dishes, cold and raw salmon, and a salad bar. Not to mention the amazing bite size pastries and muffins that made up the majority of my breakfast! 
We caught the 10:30 courtesy shuttle to the airport for our 2:15 flight and upon arrival found that nobody was even manning the ticket counters yet. We lined up anyway and were glad to be third in line as we watched the number of people multiply behind us! Finally at noon workers arrived and we began the check-in process. As our bags were being checked we overheard another employee telling a future passenger that the flight had been delayed. The screens throughout the airport all said it was on time still. So, I asked the gentlemen checking us in if the flight was on time. He said, "I don't know, let me check." He typed on his keyboard for a while, looking confused and then began speaking with a coworker in French. Finally we got our response, "We don't know." After that thoroughly unhelpful encounter we headed towards our gate. We found the prison-like airport confusing, overwhelming, and oddly set up. All the shops and restaurants (of which there were only a few) were before security. Once you'd gone through security you were at your gate with nothing to do and nowhere to go. Plus, the levels were circular and small. Bobby and I, literally, walked in circles for a while, visiting the two shops and stopping at a cafe to get some lunch. Our boarding pass said that boarding would begin at 1:15 so at 12:30 we headed towards our gate and through security. Still, all the computer screens said that the flight was "on time". 
Once at our gate we found ourselves surrounded by Americans all headed home after long vacations! We chatted with a couple of groups and soon realized that our earlier suspicions that the flight may be delayed were felt by other passengers as well. Several rumors were circling the gate. The First Rumor: A lady from Seattle was told by an airport employee that the plane was delayed an hour and a half due to a mechanic strike in Iceland. The Second Rumor: A passenger spoke to a friend in Greenland who checked google and said that the flight was only 15 minutes late. The Third Rumor: A girl from Minneapolis got an email from her mom saying that Icelandair's website said that our flight wouldn't be arriving at MSP until 11:00 p.m. (rather than 5:55 p.m.). Nobody knew what or who to believe. Still, all the signs said the flight was on time. However, the fact that is was now passed 1:00 and there was still no plane at the gate we all knew were going to be delayed, we just didn't know how long…
Minutes turned into hours and no word had been given to anybody. One sole computer screen now said that our flight was going to be delayed but didn't say how long. Finally we heard, from a fellow passenger who asked an employee, that the plane was 15 minutes away and they were going to work quickly to clean and restock it and we would soon be on our way! An hour later and we were still at the gate staring at the empty airplane. After we boarded, it was at least 45 minutes before we took off. Three hours after we were scheduled to leave, we were finally in the air.
When we landed in Iceland all of the various connecting flights people were catching were all waiting. So, after going through customs we were immediately boarded onto the next plane and were soon in the air! We arrived at MSP at 8:55 exhausted, hungry, and a little smelly. Our first European adventure was now at a close.