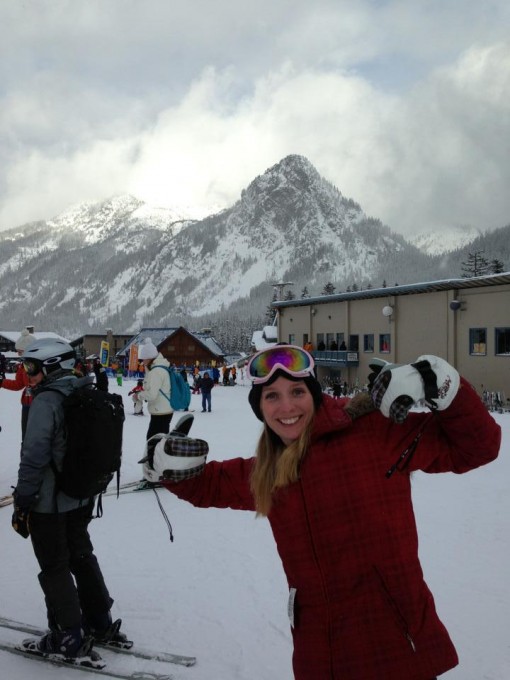 According to the Washington State Department of Transportation, "Over the past five-year period, Snoqualmie Pass received an average annual snowfall of 457 inches per year". As of December 2nd the pass has received 44 inches of snow this winter season. With more snow comes more threats of road closures and hazardous road conditions. But, it also meant the start of the snowboarding season at The Summit at Snoqulamie West this weekend! Less than an hour away from our home in Seattle this ski/snowboard resort offers a wide array of snowboarding opportunities. With 18 different routes in a variety of difficulties it proved to be the perfect location for our first outing of the season.
I have only snowboarded twice before and that was almost two years ago. While Bobby used to hit the hills in Minnesota on a regular basis as a teenager, it has also been a couple of years since he has made his way down the side of a mountain on a board. Bobby is a self-taught snowboarder and it came easily to him as a teen because of his skateboarding background. I, however, am not as blessed in my balance or my confidence on a board. We decided that it might be best if I take a beginner lesson and learn the basics before heading up the lift with Bobby.
We arrived early to the resort, about 20 minutes before what we thought was opening and found the slopes already filled with eager skiers/snowboarders. The resort had opened 30 minutes before their announced opening time. Parking was difficult as the two resort lots were already full. The streets in this small community are extra wide for a reason! The road becomes a parking lot as hundreds of people converged on the same location, all with the same goals in mind. The atmosphere was laden with a mellow excitement as we sat in the back of our Ford Explorer gearing up for the day ahead of us.
I was immediately struck by the mild temperature that greeted us on the mountain. We had originally panicked in the car when we realized we had left our face masks at home. In Minnesota the bitter temperatures of winter made them an absolute must-have on the slopes, but stepping out of the car we soon realized we would be just fine without them. We trekked clumsily along in our oversized, overly stiff snowboard boots to the resort. Classes are filled on a first-come-first-serve basis so the first order of the day was to get myself signed up for the beginner class. The helpful, yet new employees (it was their opening day and, therefore, many of the employees were brand new and were all being trained by a few returning employees) got me signed up and I was told to meet at the "blue corral" for my class at 10:00 a.m. It was only 9:15 and my "beginner" status on my lift ticket did not permit me access to the lifts of the resort. We figured it would be a good idea if I knew how to put my board on before heading to my lesson so I learned my way around my bindings and practiced skating around on flat ground a bit. Bobby is one of the most patient men I have ever had the privilege of meeting and I was feeling guilty as he watched hundreds flock to the, now open, lifts and cruise down the hillside. After a lot of urging I finally convinced him to leave me and go take his first run of the day. The mild temperatures and my many layers of clothing provided me all the comfort I needed as I sat and waited for his return.
His first run was a success with no falls and the gleam in his eye of excitement and pleasure was obvious! We headed to the blue corral as it was nearing class time and I was soon greeted by my instructor for the day. A man named Hans from Mexico with a kind smile and a plethora of snowboarding knowledge to share with our small class. I had initially been concerned that the class would be comprised of myself and several four year olds but was pleased to discover that the resort splits up children and adults into separate classes! Another instructor explained to me that small children need to initially be taught about balance and since, as adults, that is a skill we already possess groups are separated by age.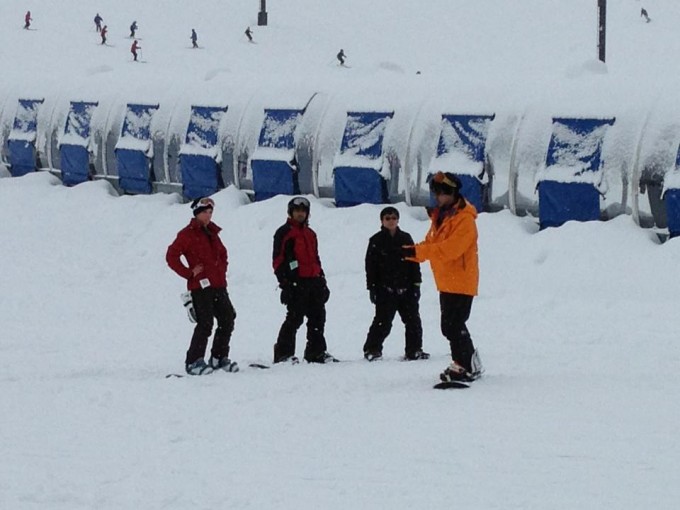 As my class began Bobby headed off to explore and snowboard to his hearts content. I, with my two classmates, began to learn the basics. The class was two hours long and was an excellent introduction to the art of snowboarding. While the instructor assured us that snowboarding was a sport for lazy people because of it's incredible easiness I had my doubts as my legs began to ache from the constant bent knee position required. The first time I snowboarded I had no idea what I was doing, and, while he tried very hard, Bobby really didn't know how to teach something that came so naturally to him so it was nice to have someone walk through the steps to successful snowboarding slowly and meticulously. Our class stuck close to the bottom of the easiest hill working on learning how to correctly position our bodies and how to fall properly. I have a strong instinct to put my arms out when falling. Turns out that is a really bad habit to develop. Two days later I am still feeling the repercussions of using my arms too much when falling with sore forearms.
My wonderful husband knows me well and watched me closely during my class making frequent visits in-between his runs to offer me water and even a Hershey Bar when he knew I would be hungry. I realized that this two hour introduction to snowboarding only allowed me to scratch the surface on what I would need to know to feel truly confident on the mountain. Luckily, the resort offers a deal called EZ2 Learn in which you get three lessons, including rentals for only $119! We had originally just bought a single day group lesson without rentals for $62 so this is clearly an amazing deal! Plus, they are generous enough to allow you to put the money spent on the single day group lesson towards the price of the three lessons. Not only that, but after completing the three sessions you then get a great discount on a season pass for the resort! So, once my education is complete I will have the opportunity to become a season pass holder at a discount!
After spending the day on the slopes and greatly enjoying ourselves Bobby decided that he wanted to buy a season pass. Again, they are generous enough to let you "try before you buy" so he was able to use the amount we spent on his day pass towards his season pass. The whole resort is comprised of three different locations and there are varying levels of season passes that allow you different accessibility options to the three locations. Bobby opted for the slightly more inexpensive pass by agreeing to forgo access to the more advanced resort on the weekends. All told there are four different levels of season passes to chose from.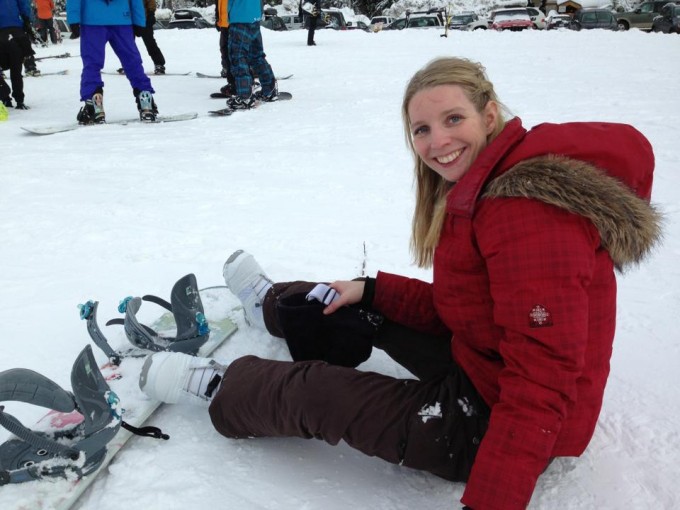 The day on the mountain proved to be gorgeous with sudden and unexpected weather changes. One minute it would be sunny, clear, and all the mountains appeared in their glorious majesty. Then, without warning, the mountains, along with the sun, would disappear as snow would begin to fall. At times it was just flurries. At others it was falling so intensely you couldn't even see to the tops of the runs!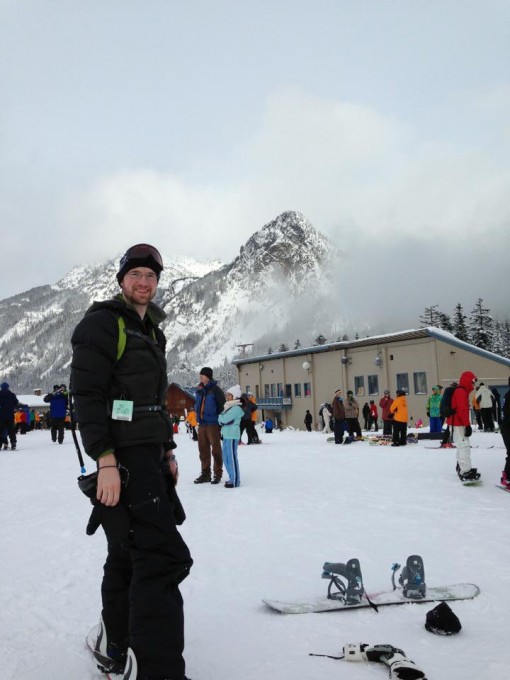 Bobby's Corner:
The Summit was a great introduction to snowboarding in the Pacific Northwest. In Minnesota, I was very used to icy conditions with short runs and low elevation changes. Summit West is by no means the longest mountain, I'd guess it's runs are twice as long as those at Wild Mountain in Minnesota, but it has terrain that is a lot steeper. It's going to take me a while to learn how to snowboard on the steep stuff but I'm excited to have so many new runs to practice and improve on!