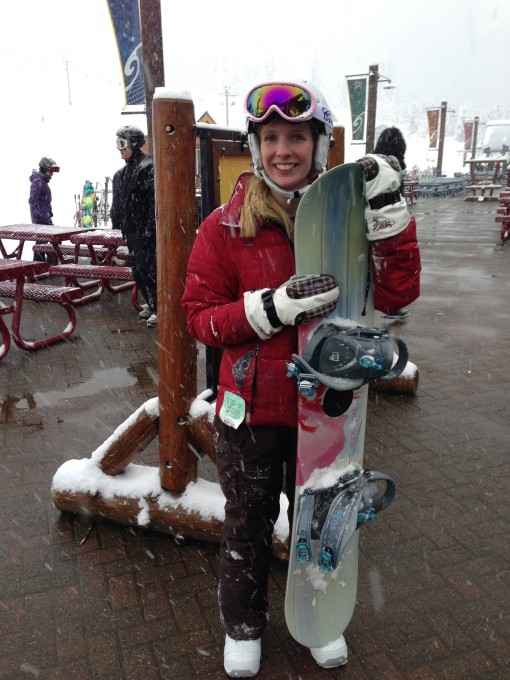 The forecast was calling for rain in Seattle this weekend, which meant the mountains were calling our names. We headed up to the Summit at Snoqulamie West for another round of snowboarding on the mountain. Upon arriving, we were once again greeted with the mild temperature of only 30 degrees along with the stunning scenery that surrounds the ski and snowboard resort. We were grateful that this weekend marked the opening of two other sections of the resort, Central and Alpental, meaning that West was far less busy than it had been the previous weekends. Waits for lifts were minimal and the slopes were less bombarded with people.
I prepared for my second lesson while Bobby met up with a friend. Lesson number Two was pretty amazing considering I was the only one in the class and had three instructors at my disposal! It was really nice to have so many eyes on me to carefully watch my body position and technique and offer advice, criticism, and praise when needed. Because I was the only one in the class, their supervisor told them to only give me an hour, rather than two, but we were having a good time and they didn't have much else to do so we went for an hour and a half. I worked on becoming more confident on my toe edge, I am much more comfortable on my heel. We also worked on traversing, linking turns, and overall comfort on the board. The class was a great success except for one minor snag, after my first trip down the bunny hill I went to take my bindings off and my fingernail got caught on something and ripped off the top portion of my nail. Luckily it didn't hurt, but it did mean that I had a large piece of fingernail hanging and catching on the inside of my mitten. Thankfully, one of the instructors was able to find some masking tape, so as to prevent it from catching. I was grateful!
I texted Bobby when my lesson had ended and perched at a picnic table while I waited for him to return. He had responded promptly to my text that he and his friend were on their way back from another section of the resort. Thinking it wouldn't take long I waited. Half an hour later I was losing feeling in my limbs and opted to move indoors to continue waiting. He eventually returned and I learned that several of his coworkers had also made the trek up and we were all meeting up for some lunch. The group was diverse in it's abilities and after a hearty lunch Bobby took me and another beginner snowboarder to the easiest run for my first trip up a lift. Others in the group went to the bunny hill to continue learning from some of the more experienced riders in the group and others went off solo to explore the slopes to their heart's content.
The bunny hill is a useful tool for beginners to learn on. The slow steady incline allows you to gain enough speed to get going but not so much that it induces too much fear. It allowed me to focus on my body position, to try new things, and get a feel for the snowboard below me. That being said, I was also very excited to go for a longer run. The bunny hill is only about 25 feet long so it seems like you spend more time on the magic carpet or walking back up than you actually do snowboarding. Lifts terrify me and I was very apprehensive as we were loaded on. Having Bobby with me, keeping me calm, and assuring me that everything would be okay was wonderful. You don't usually go on the lifts until lesson three, and the instructors informed me that even then, depending upon the skill level of the group, you may not get the opportunity. At the end of the lesson my lead instructor had assured me that he felt I was ready for the lifts so I didn't feel as scared as I had the first week we were out there. My dismount was perfect! A wave of relief swept over me as I realized that I had done it and I felt confident that I could do it again!
The first trip down the mountain was unbelievable! The freedom, the speed, the freaking out, the slowing down, turning, balancing, falling on my face, falling on my bum! It was all glorious! I couldn't wipe the smile of my face! Bobby captured a portion of my first run ever on video! It has a pretty spectacular ending!
I couldn't believe how much what I had learned in the lessons assisted me in feeling safe and confident on the slope! My instructors words continued to ring in my ears as I boarded along and I felt good. I am still afraid of my toe edge and have more work to do there. As a result, I spent a good deal of my time on my heel edge and my legs were soon feeling the strain. We did multiple runs and with each, my confidence grew. I fell a lot but that is to be expected and I have gotten much better about not putting out my arms. I had one pretty awesome fall I which I basically sat down and yet continued to slide for a little while and snow shot up around me! It was pretty fantastic!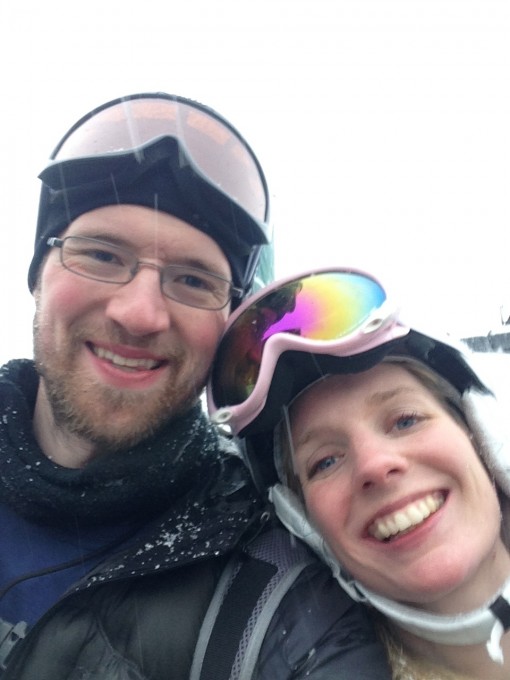 I anxiously await my next lesson, but that will have to wait until after Christmas!