If you're planning a family trip to Redwoods National Park this summer we've got your must-sees for the southern portion of this epic park. I would recommend a minimum of 3 days to fully experience this incredibly diverse park where you will experience everything from ancient forests to fun in the sun on the beach.
Redwood National and State Parks are home to the world's tallest trees, which is why it was at the top of our Bucket List! However, upon arrival, we were shocked by how much more there was to do and see. The wildlife opportunities at this park are seriously amazing with everything from elk to seals to sea stars. We also didn't realize that it's pieced together with 3 other state parks and you'll find yourself moving between them as you explore. Due to the unique set up of these parks only certain areas require park passes. Redwood National Park doesn't have a designated entrance, so it's free for day use. Only one hike we did (Fern Canyon Loop Trail) requires an entrance fee and if you have an America the Beautiful pass it gets you in.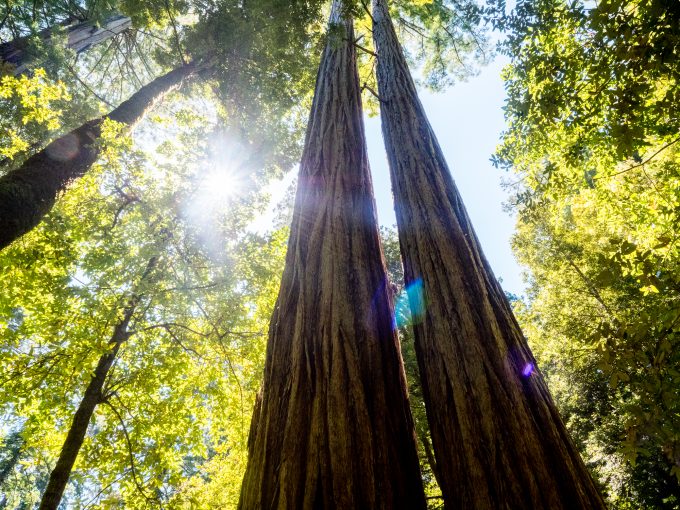 We visited in early July and were shocked by the chilly temperatures we encountered. Most days didn't get above 60 degrees and the mornings were extra chilly. Something to keep in mind when visiting this park is how under-developed it is. You won't find snack spots or restaurants easily when spending the day in the park so be sure to pack plenty of food and water for each day.
This itinerary focuses solely on the southern half of the park as the road to the northern section was closed while we were there due to a landslide that had occurred on the Redwoods Highway in February, 2021, but has since been cleared.
---
Day 1
Hike the Tall Tree Grove
The Tall Tree Grove is one of the most notable hikes in the park, as such, this is a permitted hike. Only 50 parties are allowed per day so, be sure to get your permit ahead of time. Plan on dedicating a full day for this hike as it's a long one for little legs at 4 miles and 1600 feet of elevation gain. Our kids (4 and 6 at the time) were easily able to do this hike on their own but it does get long, so bring plenty of snacks and water. Allowing a full day allows you to ample time to spend at Redwood Creek and exploring the tall tree grove.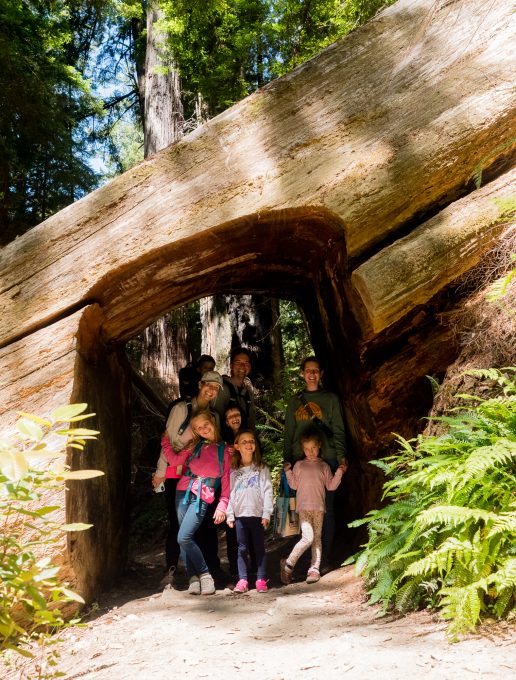 The long and intense drive to the trailhead is worth mentioning as visitors should plan for more than an hour of driving each way along a very windy, narrow road with redwoods hugging closely to the side; which doesn't leave much room for two-way traffic. Be patient and kind to fellow drivers. We had to reverse a couple of times to maneuver into pull- offs as anxious drivers didn't want to pass without lots of extra space. Don't stress it and just go slow and be prepared for a lot of dust!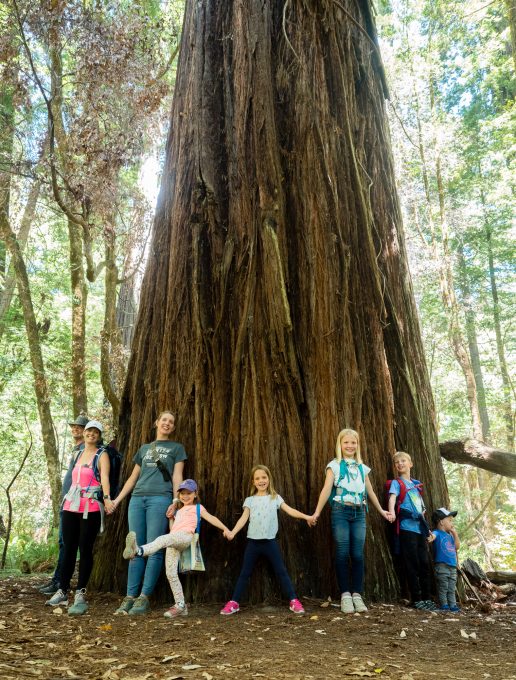 The hike itself is absolutely incredible! After we reached Redwood Creek we took a lunch break and enjoyed throwing rocks in the water before doing the Tall Trees Loop which was definitely worth the drive and the hike. The trees were dripping with moss and the light was working so hard to filter down to us amongst the canopies of these incredible, thousand year old giants. The kids had a blast climbing the fallen behemoths and looking at the fire scars (sometimes by climbing right into them). It was an experience I won't soon forget.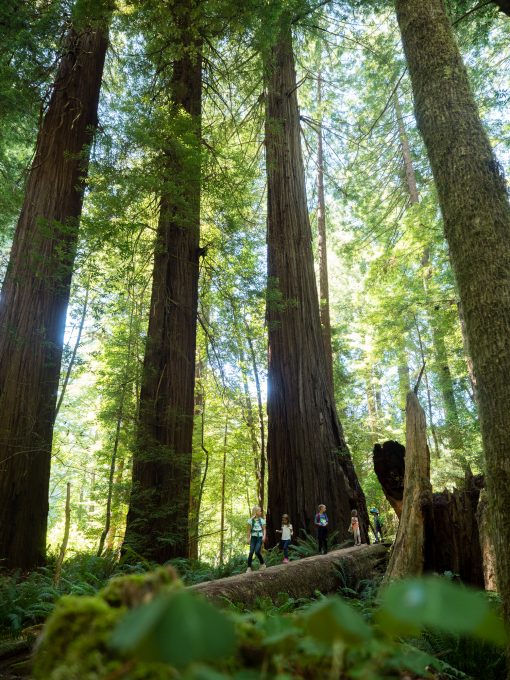 Day 2
Early Morning – Visit the Tidal Pools
When traveling with young children, we always participate in the Junior Ranger program at each National Park site we visit. This is fun and interesting for the whole family and helps us all learn more about the ecosystems we are visiting. Our first stop is the Ranger Station so we can pick up our Junior Ranger booklets allowing the kids to work on them throughout our visit. Upon arriving at the visitor center we received our booklets from an awesome Minnesota-born ranger who hooked us up with all of the inside info, including when the tidal pools are revealed at low tide (one of the activities in the Junior Ranger booklet).
I had never seen a tidal pool out in the wild before and I was absolutely amazed by all the sea life we saw including; barnacles, mussels, anemones, sea stars, and even some tiny crabs!
Trinidad State Beach is a great spot for viewing these incredible pools and, because it was so early in the morning, we had the place to ourselves aside from a few locals out for a chilly morning stroll.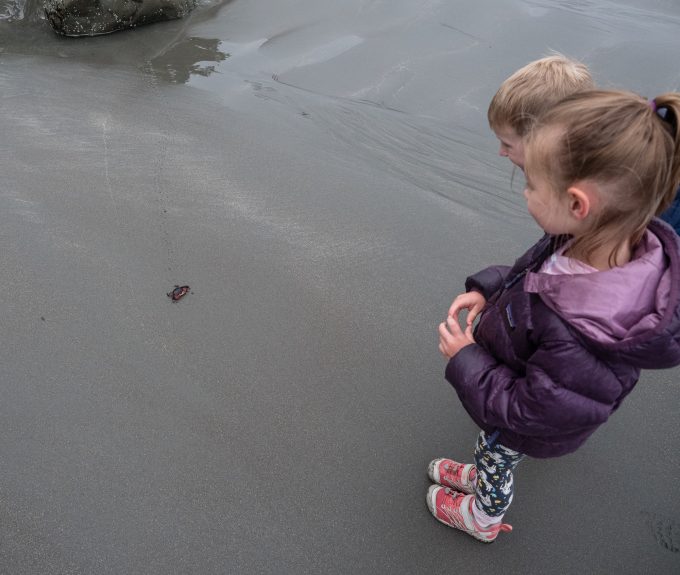 Be careful of how far you stray along the beach as the tide comes in quickly yet, oddly, you don't really realize it making it easy to get cutoff from your car if you stray too far.
Pro-Tip: If you are only visiting a park for a single day some Rangers will entrust parents with the Junior Ranger badges to be handed out after completion of the booklet. OR you can mail your completed booklet back to the park to receive the badge.
Mid-Morning – Hike the Fern Canyon Loop Trail
First off, I would recommend a high clearance vehicle as the road to the trailhead has several stream crossings and my sister's minivan did bottom out at one point which was super stressful and scary for her family. While they were able to make it through, I would encourage you to be cautious at the stream crossings. It is also a very popular hike and it wasn't easy to find parking, so the earlier you get there the better! This hike does require a park entrance fee, our America the Beautiful pass got us in.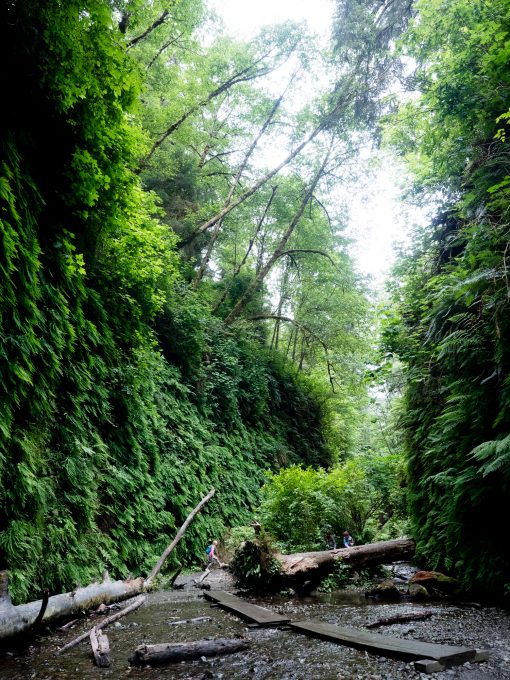 The hike itself is short and sweet at only a mile long with minimal elevation gain, but wet! There are planks and boards for crossing the continuous stream you are hiking through down in the canyon. But, kids will fall in and feet will get wet so either a good, close-toed sandal or extra socks are definitely recommended for this one. This is a loop trail and we opted to do the canyon section first before heading up and out, thereby ending on dry land, allowing our feet time to dry out a bit!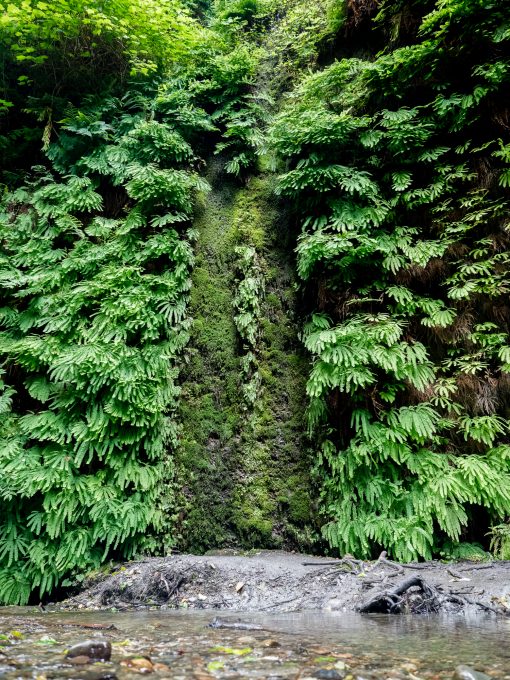 When you're done with hike it will be a perfect time for lunch so leave the forest behind and walk to the beach for a windy lunch on the shore and keep a close eye out for seals while playing in the sand!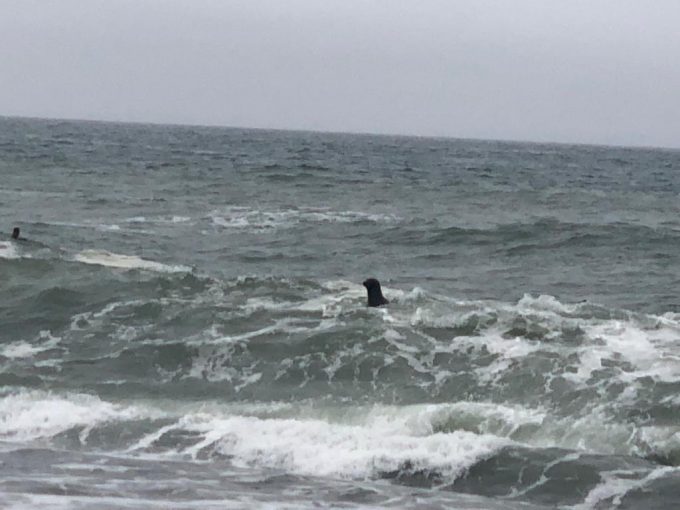 Afternoon – Hike to Trillium Falls
Because Fern Canyon is such a short hike, there's definitely time and energy left for another quick hike at Trillium Falls. This is a great one to do with kids, especially if you get the scavenger hunt brochure from the visitor center. Our kids were so excited to follow the clues and answer the hidden question to earn a special patch from the rangers!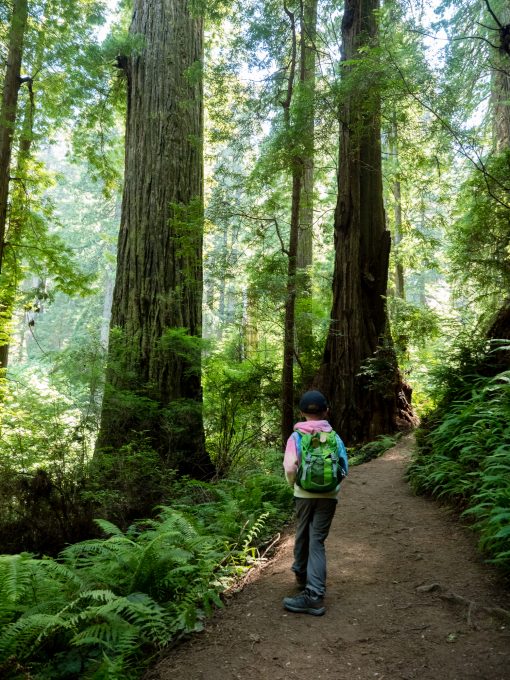 This is a great hike if you weren't able to secure permits to the Tall Tree Grove or if 4 miles of hiking is outside of your comfort zone. At a little over a mile, this out and back trail is easy to do and very scenic with plenty of astonishing giant redwoods along the way to admire. If you're up for more of a challenge this hike can be made longer by doing a full, larger 3 mile loop. As we had already had a full day and had 6 kids along, we opted for the shorter version!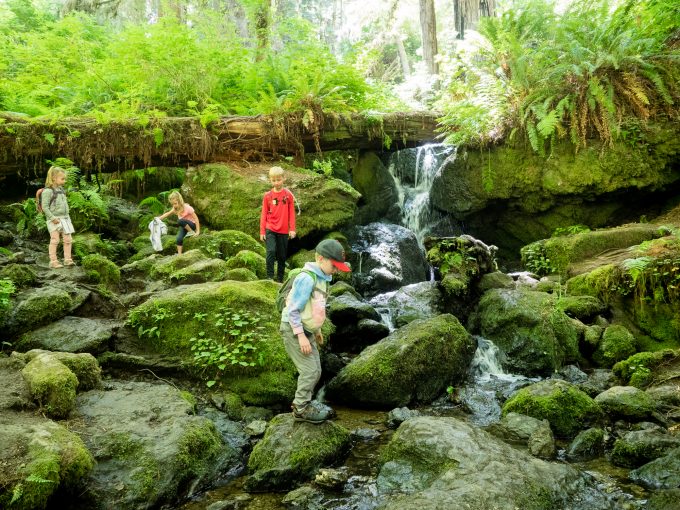 Trillium Falls is small but beautiful and the kids had a blast hopping on the rocks around it's base. This hike didn't seem to be as popular as the other ones we visited. It was nice to have no problem accessing parking for a change!
Day 3
 Early Morning – Elk Viewing
Home to 7 different Elk herds, Redwoods is a great spot to pretty much be guaranteed an Elk sighting or two. There are several pull-offs in both State and National Parks to see the Elk grazing. According to the NPS website, "General herd locations are the Crescent Beach area, Gold Bluffs Beach and Prairie Creek Redwoods State Park, Elk Meadow, Lower Redwood Creek, park lands in the Orick Valley, and the Bald Hills." We stayed at Elk Country RV Resort and a herd visits their meadow almost daily! Oddly enough, though we saw the elk regularly we never managed to get a picture!
 Mid-Morning – Hike the Lady Bird Johnson Grove Trail
This is a very popular hike with limited parking so be sure to get there early or late, or be like us and happen to get parking with excellent timing! This 1.5 mile loop trail is perfect for children! So many beautiful trees to explore, giant fire scars to marvel at, and a safe, manicured trail makes this a parents dream.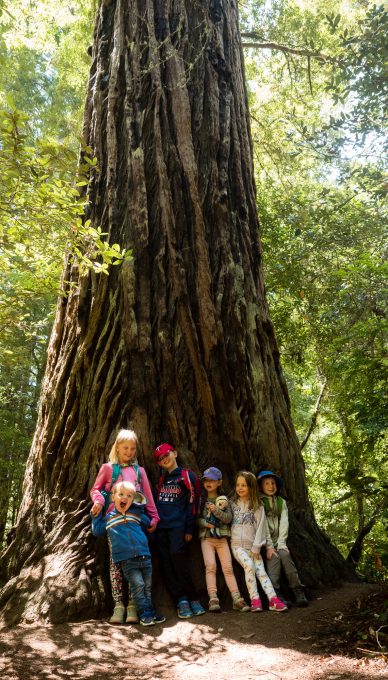 Afternoon – Beach Time
When you're traveling with kids it's always important to stop and take a breath. The beach is one of the best ways to do this, as there's water AND sand all at the same time! My sister was along for this trip and her AirBnB rental had kayaks and SUPs for guests to use. We had a blast on the water, letting the kids take turns paddling.
There are lots of options for beaches around Trinidad, we opted for Big Lagoon County Park as the water was calm, warm, and shallow compared to the ocean just on the other side of the sand! There was a small fee for parking, $5 per vehicle. Of course we followed our beach day up with some most excellent ice cream and french fries at the Lighthouse Grill which I highly recommend!
---
Where to Stay
You won't find a lot of hotels near the park as the closest, larger town is about 35 miles away in Eureka, CA. And, unlike some other National Parks there are no lodges located within the park itself. Your best bet when heading to the Redwoods will be camping or Airbnb rentals.
Camping
There are plenty of camping options in the National Park with 4 developed campgrounds and numerous backcountry camping options. The campgrounds fill up quickly so be sure to secure your reservation for the summer ASAP! The campgrounds were all developed in the 1940s, as such, they are not big-rig friendly and have no hook-ups for RVs. Trailer length limitations are strictly enforced and most of the campgrounds have a limit just over 25 feet for rigs.
RV Park
We ended up staying at Elk Country RV Resort located just north of the town of Trinidad, CA. We tow a 36 foot Grand Design 5th wheel and were nestled into a back-in site in a wooded area amongst beautiful trees. There is an open, larger area for big-rigs if you require a pull-thru and would rather avoid the trees.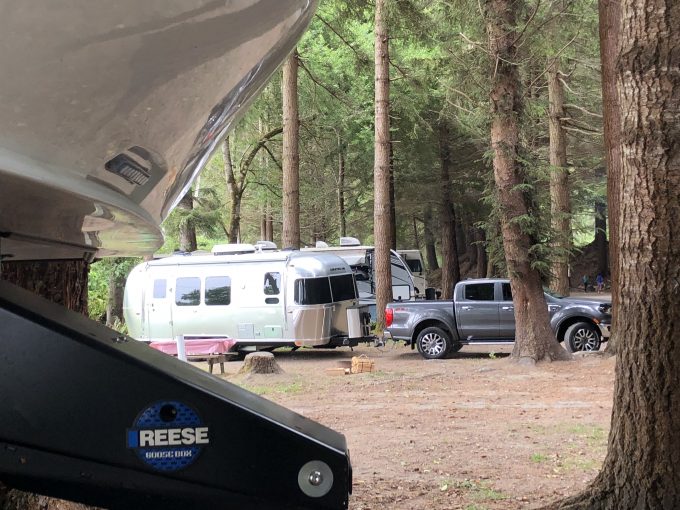 Airbnb
There are numerous, family-friendly Airbnb options in the town of Trinidad, CA located just south of the park. My sister and her family rented a beautiful home in the hills just outside of town with a hot tub, fire pit, and woods all around. There are so many options near this charming ocean town that will make your stay truly excellent!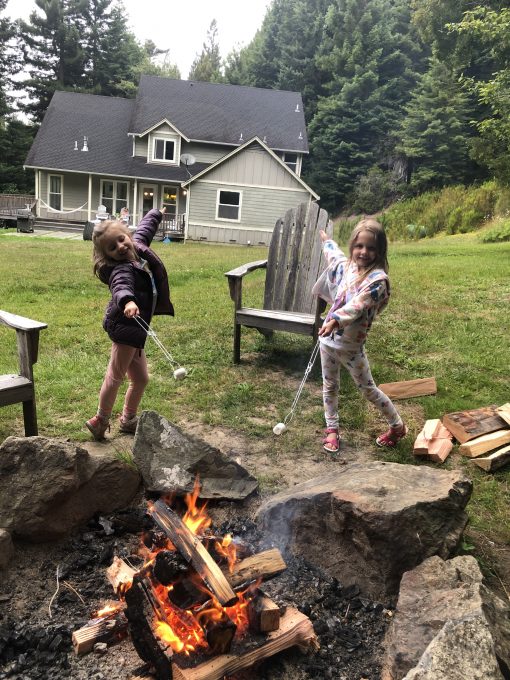 Guidebook Pick
We love finding local guidebooks at visitor centers and the Redwoods was no exception. We picked up, Big Tree Hikes of the Redwood Coast – A Guide to the Giants by Tyler Williams and it was perfect for finding the best hikes for our family while visiting the area.
---
Our trip to see the Redwoods was one of the most powerful of my life. I wish we had had more time to visit and explore and I can't wait to go back and see and do more, especially in the northern half of the park! One of the things I loved most about this park was how undeveloped it was. It feels untouched and unspoiled unlike so many of the other, more visited parks. We had just come from Sequoia National Park where shuttle busses and crowds were the norm so, arriving here and having just busy trailheads but no lines and far fewer people made this a wonderful place to visit. Not to mention the temperatures! We had come from southern California where we had endured temps in excess of 115 degrees so the chilly, more temperate climate at the Redwoods could not have been more perfect!