From Joshua Tree we made our way north to Death Valley National Park where we knew it would be warmer and we were hoping to find an epic campsite. We happily found a site in the upper Texas Springs campground. While the lower campground has more screening between sites it was full when we arrived. Most all of the campgrounds at Death Valley are non-reservable so arriving early is key if you have a specific site or campground in mind. We arrived at about 1pm and there were plenty of sites left, but by nightfall people were having to go elsewhere. Thankfully, there is a lot of camping at the park, all with stunning surroundings so getting a site isn't too stressful compared to other National Parks.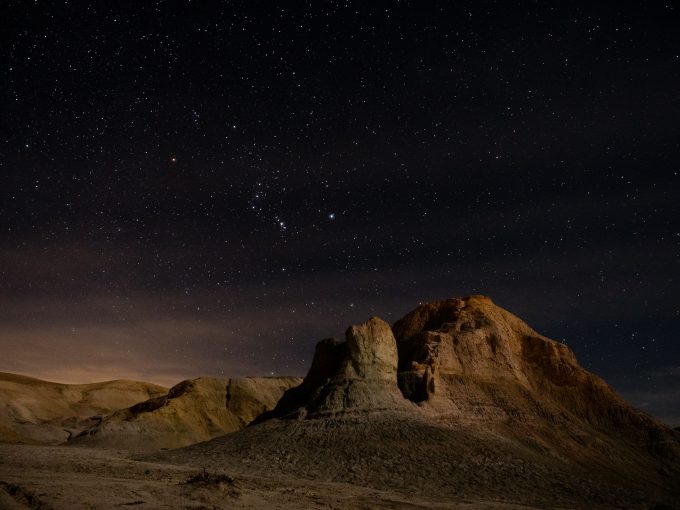 This trip was our first opportunity to use our new Tarptent Hogback! Setting it up in a desert, with rock hard ground, proved interesting as it's not freestanding. Instead, it relies on stakes to maintain its structure unlike a typical tent which relies on poles. We made use of all the larger boulders in our campsite to hold it up and were happy with the results. We were grateful we had brought lots of extra rope along courtesy of Cooke Custom Sewing!  My only critique of this style of tent is little kids and guylines makes for a lot of falls. But, they eventually figured it out and the spacious interior of this lightweight tent quickly made up for any frustration!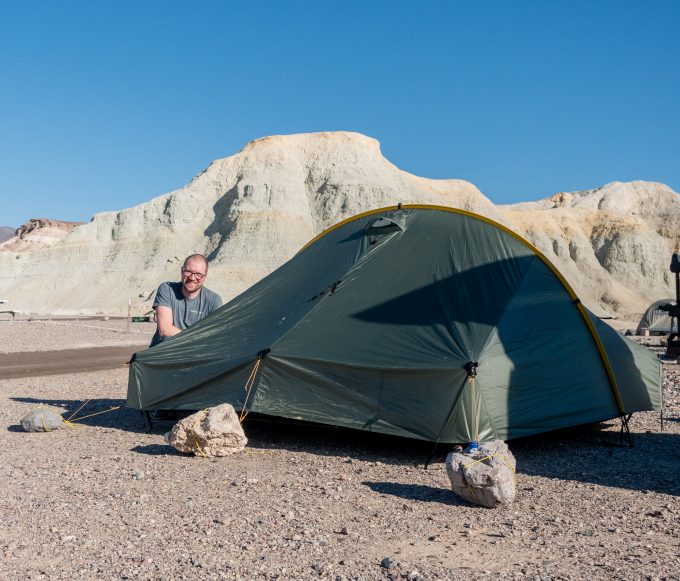 While we only visited the park for 3 days and 2 nights we got in a lot of hiking and exploring. This park is massive and there are so many amazing things to see.
Badlands Loop
We were so excited to be in the warm desert so, we had to fit in a hike before bedtime! We headed to Zabriskie Point a popular roadside overlook. Leaving the crowds behind we embarked on the path less traveled along the 2.7 mile Badlands Loop. The kids were sooooo excited and happily walked/ran the whole trail. There were a few steep drop offs that made us a bit nervous and we had some stern conversations about listening carefully and holding hands when asked.
As it was New Years Eve (and my birthday) and the hike went long and we would've been cooking in the dark we decided to treat ourselves to the over-priced buffet at the resort (The Ranch) just down the hill from our campground. We also bought a lamp from the general store as we had foolishly forgotten ours at home. We also desperately needed sticks for marshmallows since there aren't many options around the barren desert landscape for makeshift skewers! My amazing birthday present was my babies singing 'Happy Birthday' to me while sitting around a campfire.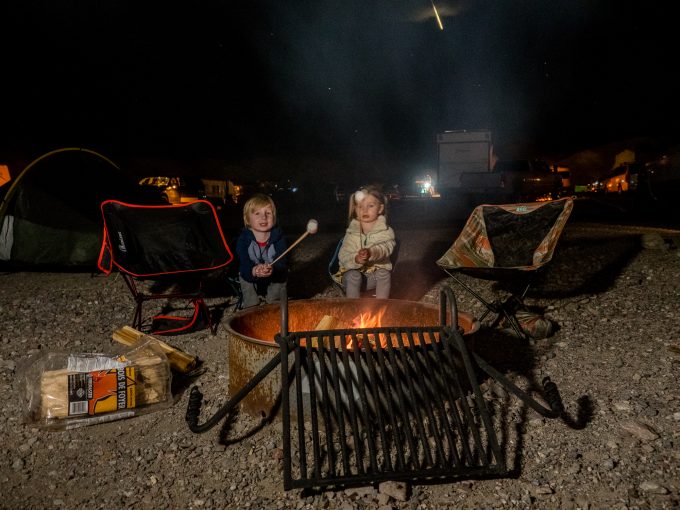 The morning was chilly and we had to start a fire to warm up as we anxiously waited for the sun to make its way up and into our site.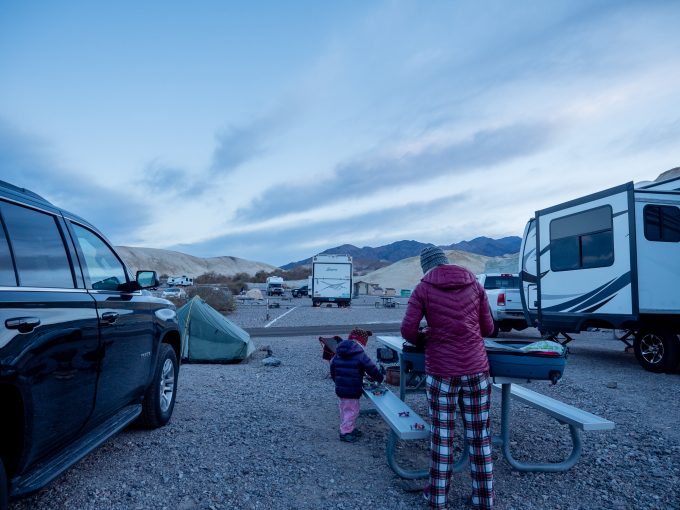 Keane Wonder Mine
On the warmest day of our trip (Temps in the 60s!) we hiked up to the Keane Wonder Mine, a gold mine that began operations in 1907. This mine features a remarkable aerial tram used for transporting the gold down the mountains. The hike is hard with 1,500 feet of elevation gain in only 1.4 miles. The ranger told us that it is by far the steepest hike in the park. Jack surged ahead and led us the whole way, patiently waiting for us to catch up! Rowan loved the hike as the ground was littered with sparkly, glittering rocks of all colors and getting her to walk forward while her hands were loaded down with her treasures was a challenge.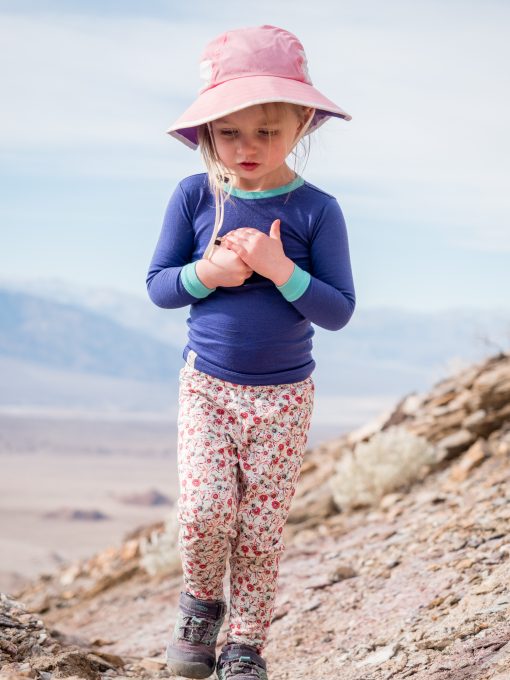 The staggering size and breadth of this project was unbelievable at times. Explaining to the kids that this was all built before bulldozers and trucks and any modern convenience was a difficult concept for all of us to grasp.
We played fun games, counting the number of mine shafts we could see and avoiding the millions of rusty nails and other odd detritus leftover that littered the trail. Finding a place to eat lunch with no debris and cacti proved tricky…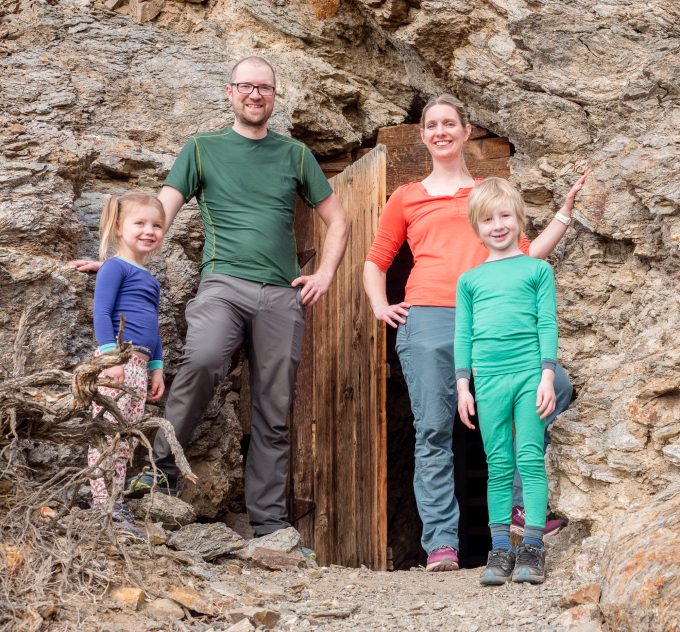 Most of the mine shafts have been completely blocked off with lots of terrifying warnings like "Unstable Explosives" out in front. One open door led to a shaft that was completely barricaded a few short steps inside but was still neat to see. Although Rowan wasn't a huge fan…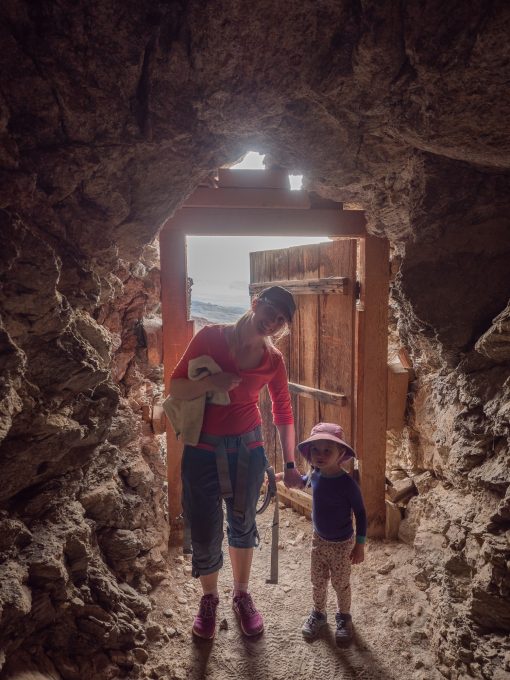 The hike up was steep and we were happy to have made it to the top and see old mining cars, track, building remnants, and numerous mine shafts.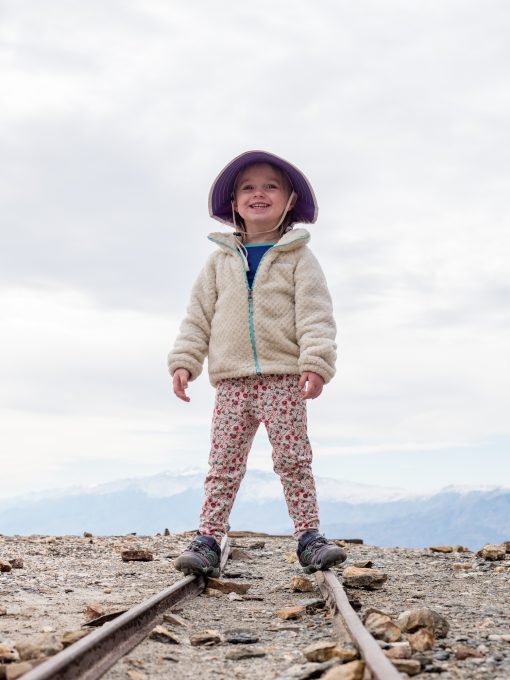 On the hike down we had a classic Marko moment when we encountered a fellow family heading up. Bobby and Jack had been ahead of us and I could hear remnants of their conversation as Rowan and I made our way down. I heard Bobby telling them, "You're almost there!" As I neared them I laughed and told them they were nowhere near the top and had lots of elevation gain and probably close to 3/4 of a mile to go. The kids (probably 9-11) seemed a little disheartened by this information and the mother proclaimed, "If this FIVE year old can do it, so can you!"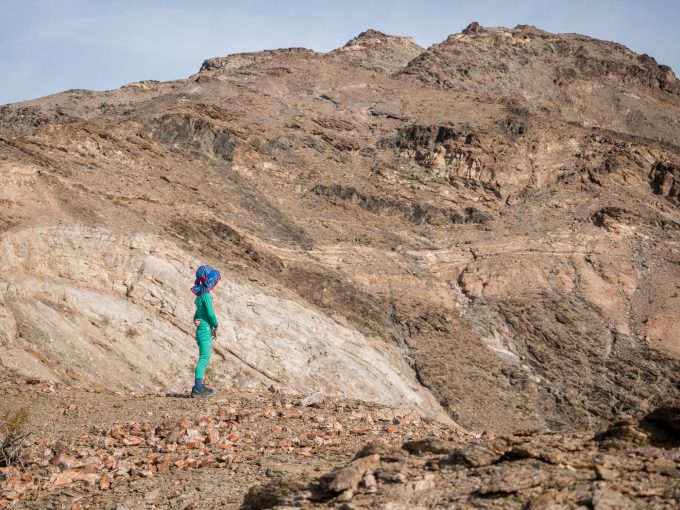 Mosaic Canyon
We did a brief stroll through Mosaic Canyon, an out and back hike that can be up to 4 miles roundtrip. As we had already hiked so much at the Keane Wonder Mine we opted to just get a glimpse of the mosaic walls and spent only a brief time exploring this area.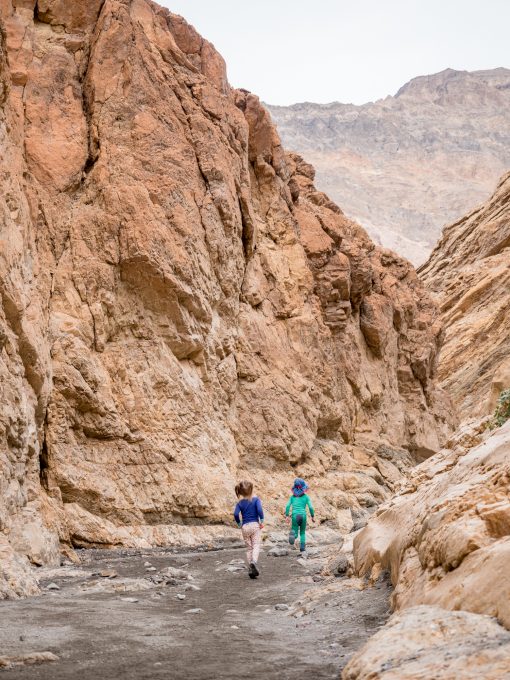 This is a very popular spot in the park so please remember patience and grace for your fellow hikers. We met a group of older hikers who were struggling to make it up and down some bigger steps on the trail. Unfortunately, several young hikers began pushing their way through the crowd and demanding that they "were trying to get through!" No offers of help were given only frustration at having to be slowed down. It was disappointing to see…
Mesquite Flat Dunes
Whenever we are near a sand dune we know it's a must stop and see! The Mesquite Flat Dunes are a huge attraction at the park and we had a blast playing there! After a long day of hiking it was great to spend some awesome time playing and being silly. The parking lot is right there making these dunes accessible to all!
Badwater Basin
One of the coolest things about Death Valley is that it is home to the lowest point in North America. At 282 feet below sea level Badwater Basin is an easy, quick must-see photo op when visiting the park.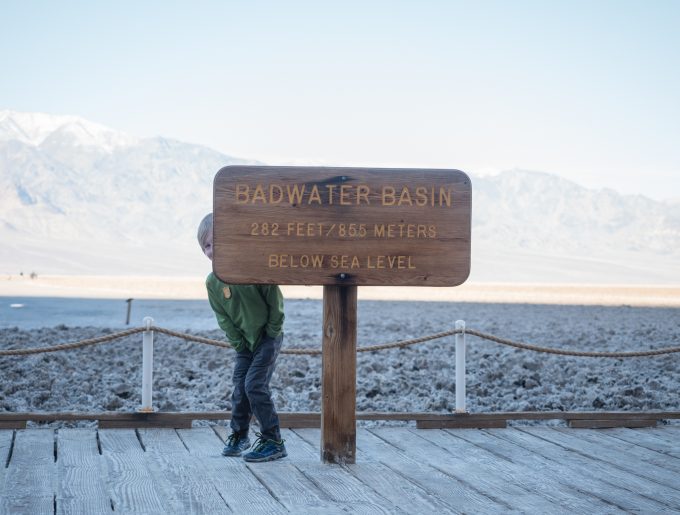 This was a mere pit stop for us on our way to a longer hike during our last day in the park. Many people were walking to the exact lowest point (the sign isn't actually where it is) but we had some fun jumping over puddles and then headed to the hike we had planned.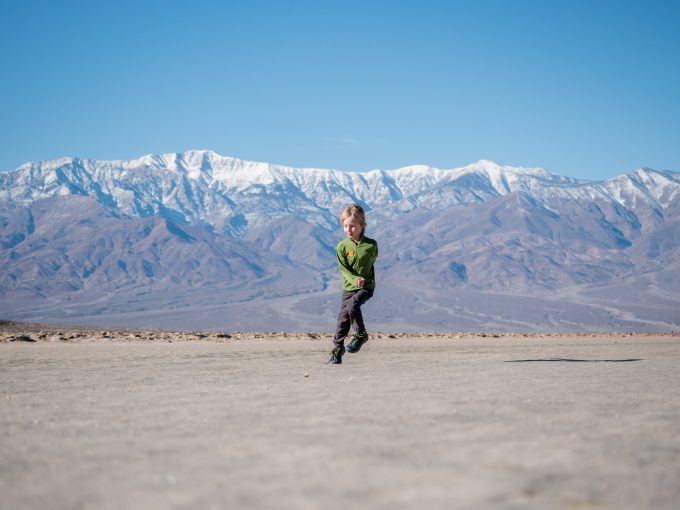 Sidewinder Canyon
We love slot canyons so when we read about the Sidewinder Canyon in Death Valley we knew we wanted to find it. The Park Service has this trail marked as "Extremely Difficult". The hike itself isn't too hard but the unmarked, difficult to find trail does make it more challenging than most National Park hikes.
We had a solid GPS track downloaded onto both of our phones using the GAIA GPS app and pictures of all the guidebooks descriptions. Some people are hesitant to rely on their phones due to the fear of running out of battery. So, we always bring along a battery pack for emergencies. We also were sure to bring along our newly purchased lantern as we had read that some of the slot canyons were dark.
The beginning of this hike is pretty unpleasant and grueling. Hiking through gravel in itself is miserable, add to that being in full sun AND a fairly steep, uphill grade made it an overall difficult first mile. We were all pretty tired from the long day before and the whining level from everybody was pretty intense. I was, as always, grateful for our Sunday Afternoon hats protecting the fair, MN winter skin of the kiddos.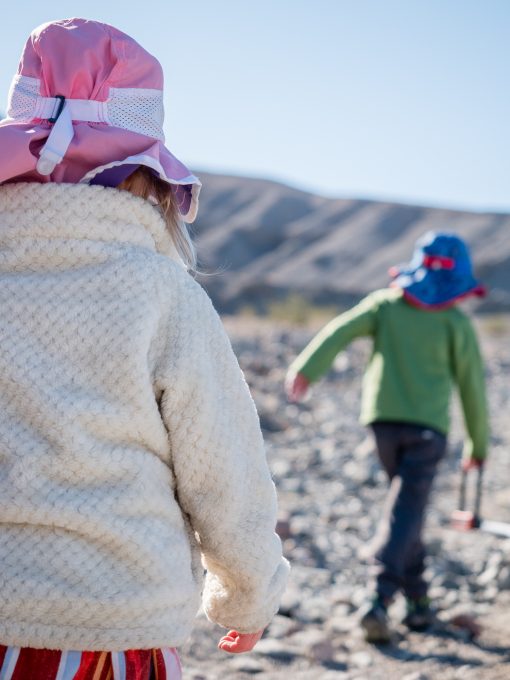 As soon as we reached the first slot canyon and found ourselves climbing through holes in rocks and exploring caves, all misery of the hike up was soon forgotten.
It was really neat to be in a slot canyon without smooth walls. When visiting Utah, the rocks and canyons were so different, so it was fun to talk with the kids about different rocks and environments. Jack was doing a great job being the leader and looking for routes that Rowan could do on her own. Rowan, being Rowan was less than thrilled with her tour guide and insisted on leading and finding her own way. Learning to share the job responsibilities associated with trail guide is a difficult lesson indeed but we worked through it and found joy in taking turns. Eventually…
This was our final hike and, after exploring two of the three slot canyons, we decided to head back to the car before everybody was melting down. Sometimes, as a parent deciding when to turn back is difficult. We always want to see and do it all yet it's important to remember the limits of the kids along on the trip. Seeing it all doesn't ensure a good time but has the potential to ruin it. We may not have seen all three canyons to explore on this hike, but as the whining intensified on the hike out we knew we'd made the right call.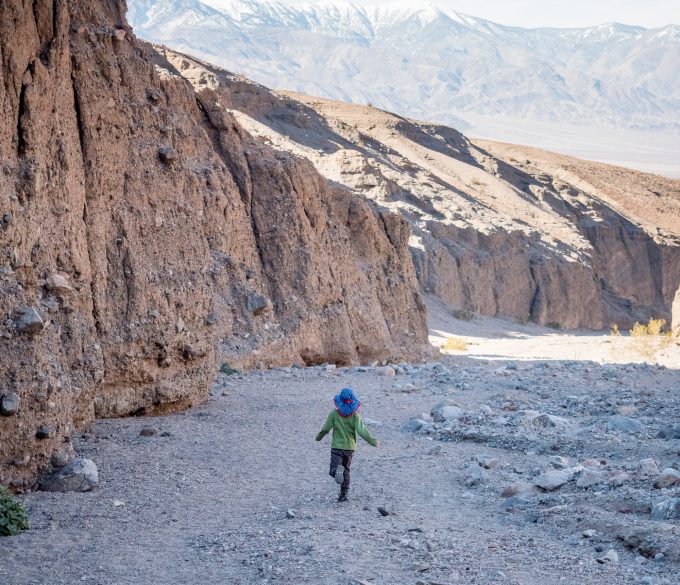 Death Valley was so incredibly amazing and we were happy to have spent some sunny, warm days in such a beautiful place.