Rocky Mountain National Park (RMNP) can seem overwhelming when planning a vacation there. At 415 square miles and 355 miles of trails it's hard to know where to begin. Our 4 day Rocky Mountain National Park itinerary for families gives you the ultimate trip to this iconic park.
The National Park Service's Social Science Program collects recreational visitation statistics for more than 400 national parks a year and, according to their data RMNP was the 4th most visited park in 2020 with 3.3 million visitors. Because of the extreme popularity of the park the entrance road to RMNP has been limited by permits during parts of the year since 2020.
This itinerary will maximize your time in the park and allow you to see all the best RMNP has to offer.
Don't have 4 full days? We've assembled this itinerary in order of importance so, if you only have one day, simply complete Day 1. Have 2 days? Complete Days 1 and 2 and so on.
---
Day 1
Morning – Drive the Trail Ridge Road
My first day in any National Park is usually spent gaining my bearings. This 48 mile road takes you through the heart of RMNP and goes from Estes Park to Grand Lake allowing you to easily learn the layout of the park. It also makes you realize just how vast this park is.
Construction began in 1931 and this scenic road gains more than 4,000 feet in elevation when coming from either direction.
If you want a truly epic experience, I recommend driving up the Old Fall River Road. This one-way, narrow, winding, and rather harrowing road is only open July 4-September and, since it's one-way, you have to take it when traveling west through the park.
A map of Rocky Mountain National Park and these roads can be found here.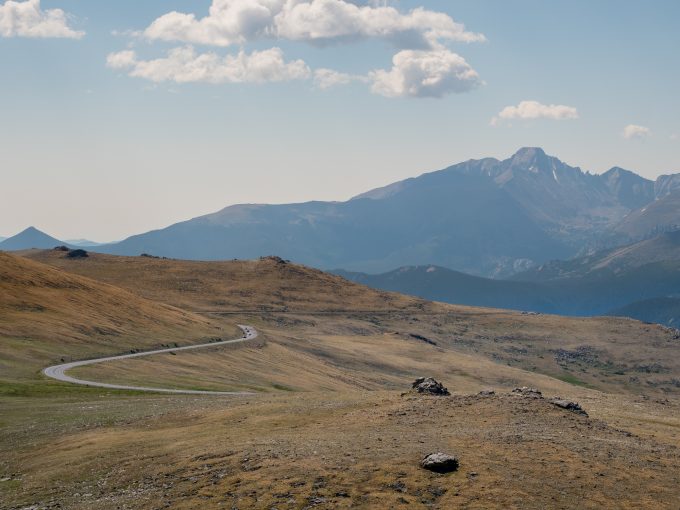 Mid Morning – Stop at the Visitor Center
Old Fall River Road ends at the Alpine Visitor Center (elevation 11,796 feet). Stop in at the visitor center and get your Junior Ranger Books and stop in at the extensive shop for your favorite national park souvenirs. Our family gets patches from every park we visit!
There's a beautiful view point down into a valley just outside the visitor center and we had perfect timing to see a massive herd of elk grazing down below while we visited.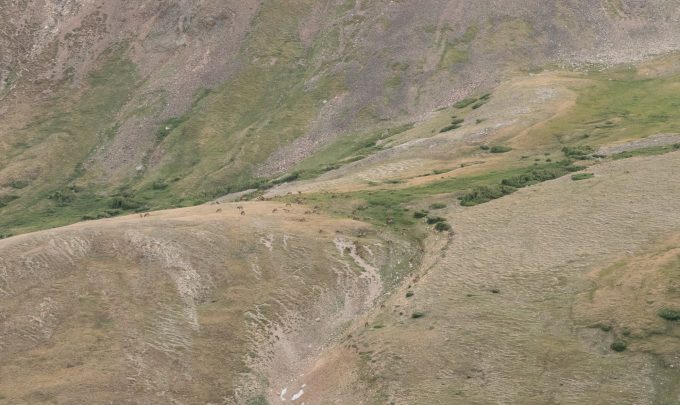 We did happen to visit during a potential lightning threat which closed the ranger station and gift shop until the threat had passed. This is a very popular stop along the Trail Ridge Road so, be sure to have lots of patience when hunting for a parking spot.
There aren't any picnic tables at this stop, so don't plan your picnic lunch here. If you're looking for a picnic spot, continue west along Trail Ridge Road to the Lake Irene picnic area. This spot is below the tree line and is incredibly scenic. There's also a quick .9 mile hike around a picturesque lake if you are feeling so inspired!
 Mid Morning – Hike Alpine Ridge Trail
Across the parking lot from the visitor center is a trailhead for the Alpine Ridge Trail. This is a brief, paved trail that climbs a little over 200 feet and is just over 1/2 mile roundtrip. The views at the top are epic and worth the quick, steep walk.
Be cautious as you tread on this well-used path. There will be crowds but do your absolute best to stay on the paved trail, don't step off as this is a fragile, tundra ecosystem that needs to be preserved and protected. These ecosystems only exist above 11,000 feet and many plants are dwarfed and struggle to survive due to the harsh weather conditions they endure year round.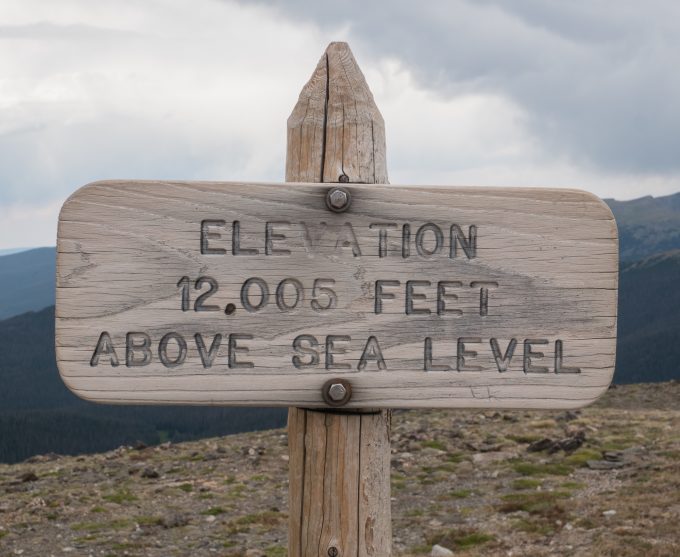 Afternoon – Grand Lake
After your visit to the visitor center at 12,000 feet continue along the Trail Ridge Road west to make your way to Grand Lake. If you didn't picnic at Lake Irene and are looking for a delicious meal, this charming mountain town has ample restaurants, shops, and sights to see to spend a delightful afternoon. We went to Rockies as they had a great selection of food, beer, and a spacious outdoor patio which is always preferable when eating out with 6 kids along!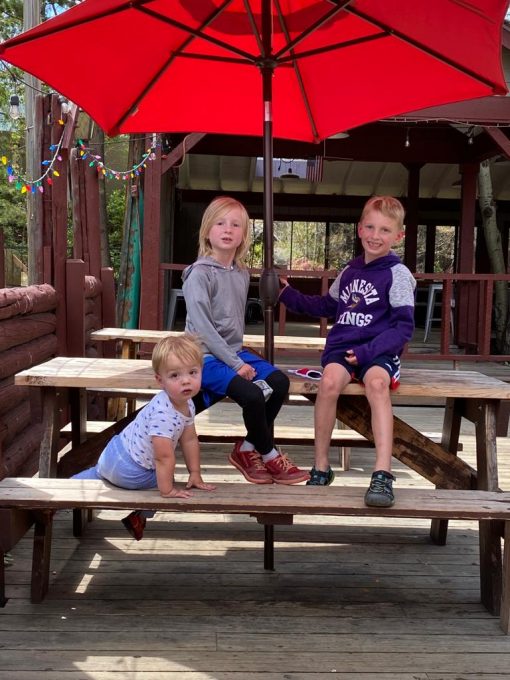 Afternoon – Hike the Toll Memorial Trail
After lunch in Grand Lake and a little shopping head back into the park and travel the entirety of the Trail Ridge Road back to Estes Park. Stop at the Tundra Communities Trailhead and hike the ultra-scenic Toll Memorial Trail. This out and back 1.1 miles trail gains just over 150 feet in elevation and is paved.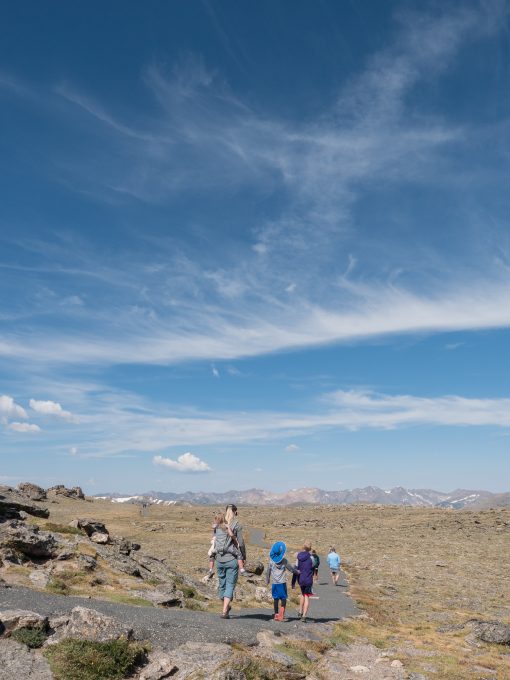 The trail leads to an outcropping of rocks that is great fun to climb around on and explore. See if you can find the memorial plaque at the top! There are large drop offs so keep little ones close by.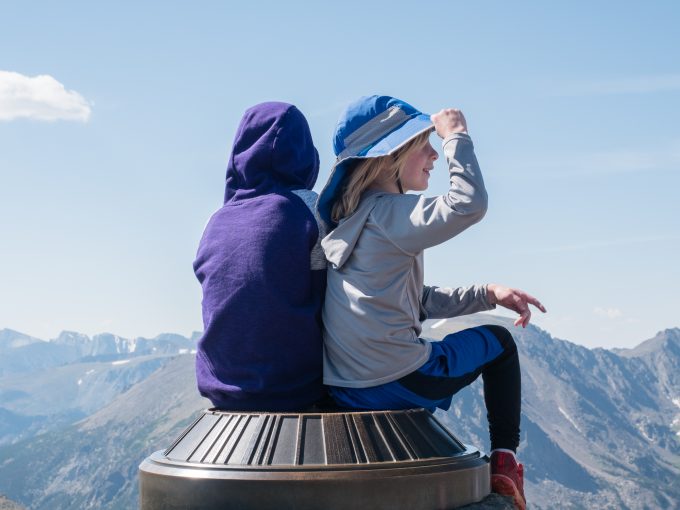 Remember, this hike is in the tundra so it's cold! Bring warm layers, especially wind breakers and keep rain gear easily on hand should a storm suddenly roll in.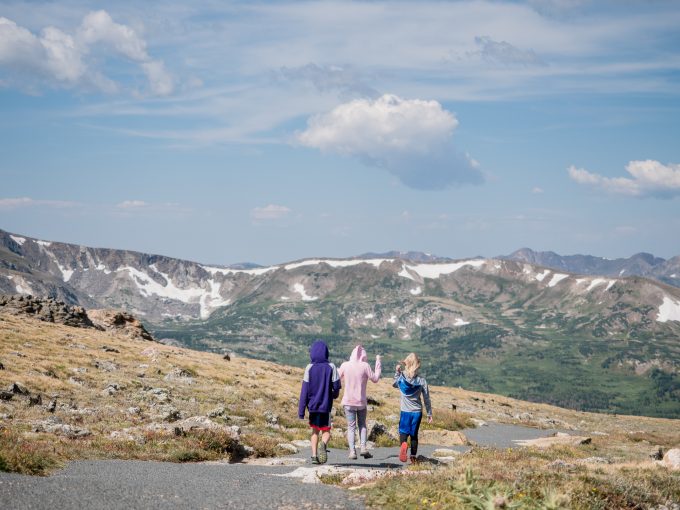 While the hike is brief, you are hiking at high elevations which means it will be harder and take longer than expected. Take breaks often and be sure to stay hydrated as much as possible.
Of the 11 people in our group (aged 2-65) nobody had any issues with the elevation. Our 3 year old did need to be carried a bit more than normal, she had also missed her nap that day, so who's to say what was bothering her…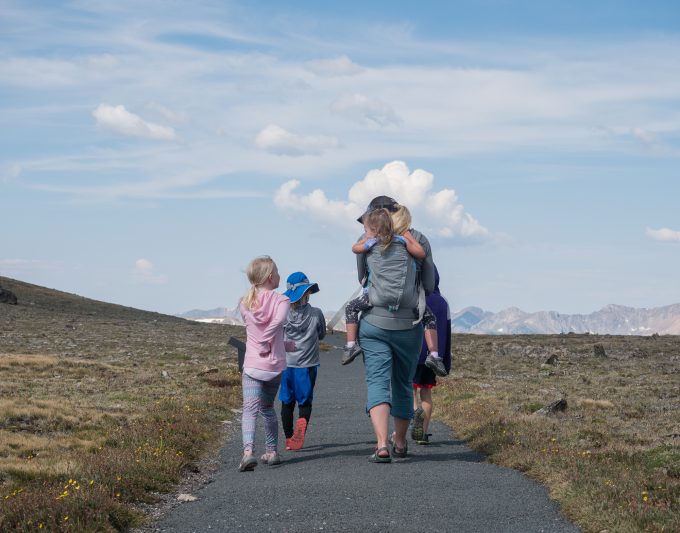 Pro tip: If you have a toddler who still needs to occasionally be carried; we highly recommend a toddler-specific soft structured carrier such as the Onya Pure.
Day 2
 Early Morning – Dream and Emerald Lake
Dream and Emerald lakes are the reason many people visit RMNP. As such, getting to the trailhead can seem like an impossible task. Timed permits are required to enter the park, and you need a specific permit for the road that leads to this trailhead.
Permits are not required for those entering the park before 5:00 a.m. We opted to get up well before dawn in the hopes that we could beat the rush and snag a parking spot at the trailhead. Well, we didn't get up early enough and the lots were already full well before the sunrise.
We headed back down to the main parking lot where you can catch the first shuttle at 6:30. We were first in line for the shuttle and it all worked out in the end as we made it to this coveted trailhead.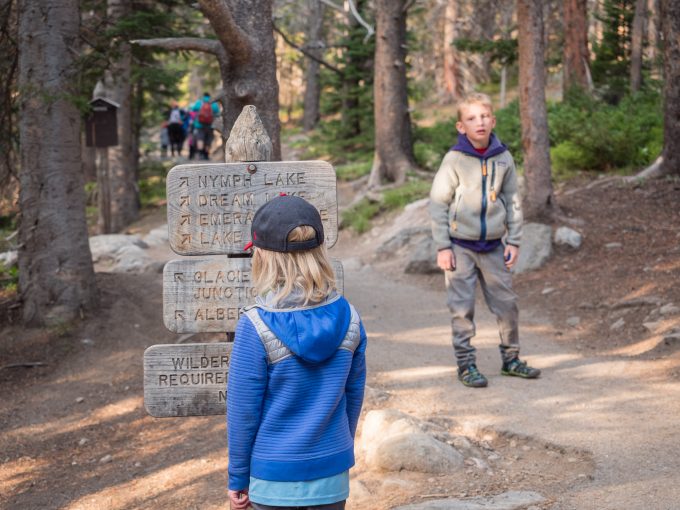 This is such a popular trail and the lines of hikers were seemingly endless. Remember to stay on the trail, pack out your trash and please do not leave toilet paper behind. This trail has options for many lakes so you can really create your own itinerary!
We headed right in and first passed by Nymph Lake at 1/2 mile in, which is rather underwhelming.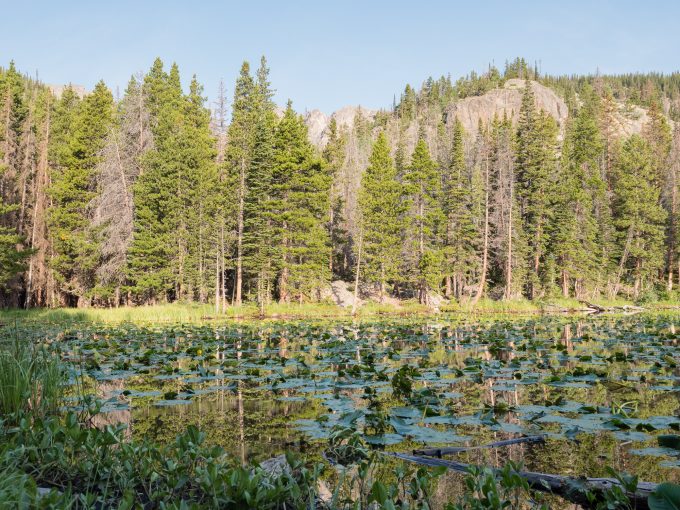 We continued a further 1/2 mile when we came to a trail junction. Once here, decide if you want to veer off and see Lake Haiyaha (.8 mile spur trail) or continue to Dream Lake which is just down the trail a tenth of a mile.
As we had 6 children along on this day hike, ranging in age from 2-8, we decided not to add on any additional miles and headed straight for Dream Lake.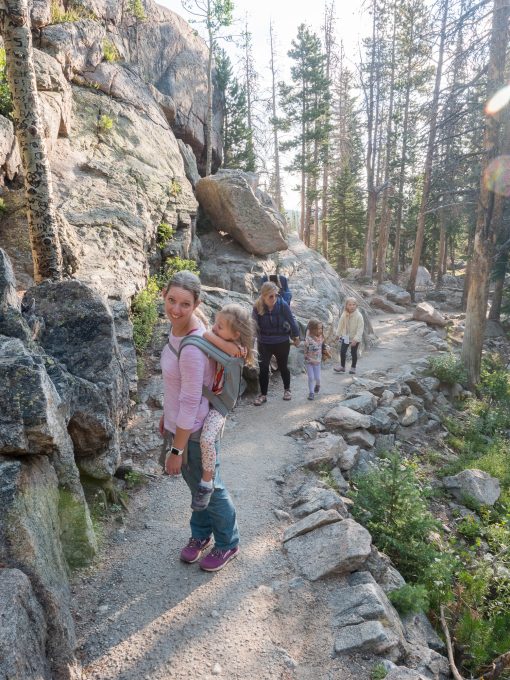 The views at Dream Lake were absolutely spectacular! We stopped for lunch and some needed and earned treats!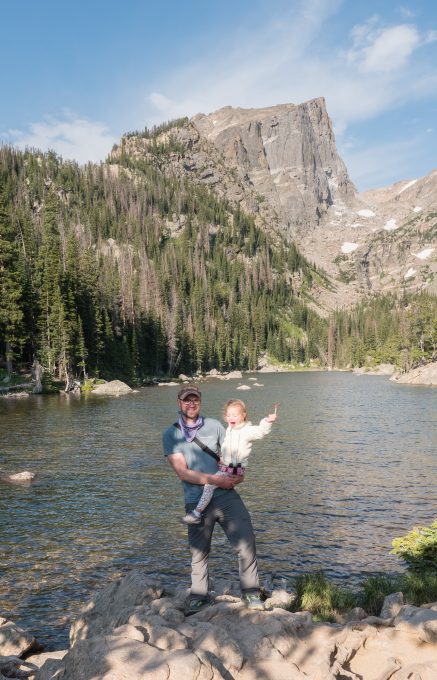 After a good long break, and surviving the overly enthusiastic squirrels and chipmunks (seriously people DON'T FEED THE WILDLIFE), the kids were ready to continue onward a further .6 miles to make it to the end of the trail at Emerald Lake.
Both Emerald and Dream lakes are fed by the Tyndall Glacier so, along the way you'll pass some fun rapids made from the Tyndall creek that runs between the two.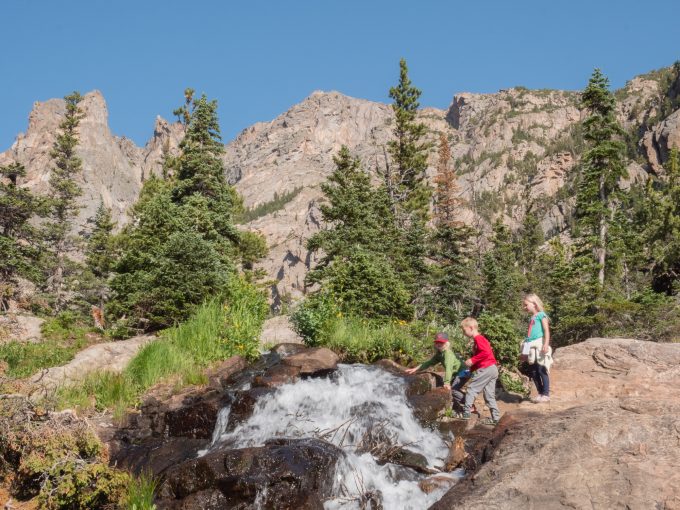 Emerald Lake is one of the most breathtaking alpine lakes we have visited. We made it 1.6 miles with almost 700 feet of elevation gain to this iconic spot in the park.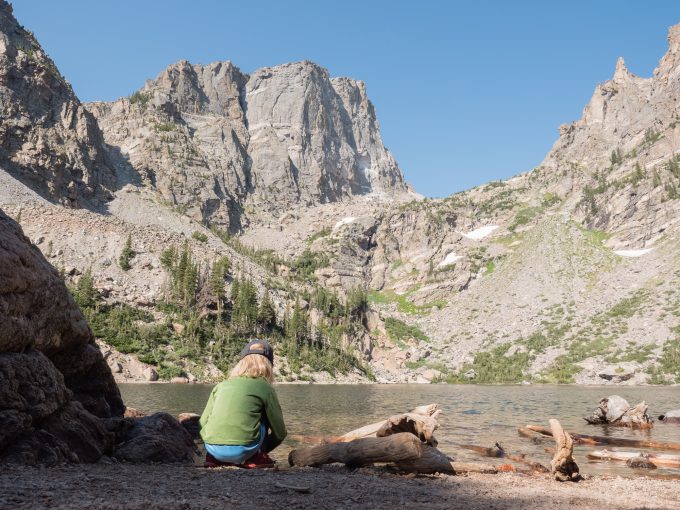 We always pack small binoculars in the kids daypacks as they often come in handy as a means of distraction. Today, we used them to identify a rock climber we could barely make out on the massive cliff face in front of us. They're wearing red, see if you can spot them in the photo below.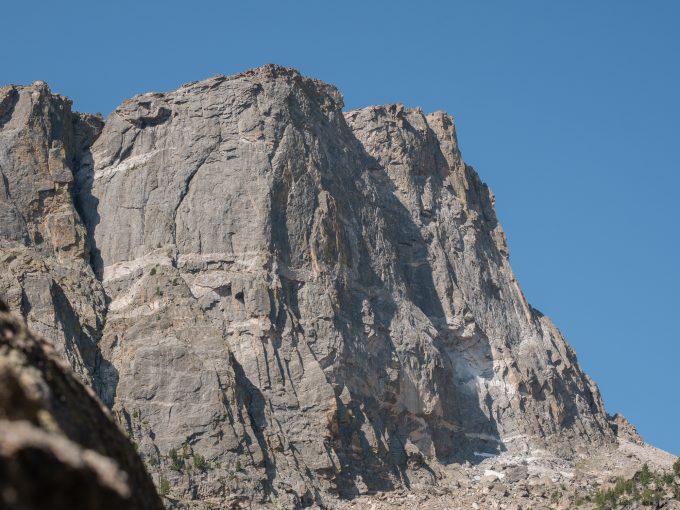 As we made our way out and back to the trailhead we stopped at Bear Lake before catching the shuttle back to our cars. It had been an incredible morning on the trail and thanks to our incredibly early start we still had plenty of time left in the day for more adventures!
 Afternoon – Mountain Coaster
What better way to keep kids motivated on the trail than by using a little bribery! An afternoon of fun on a mountain coaster seemed just the thing for our brave adventurers! The Mustang Coaster was opened just last year and is super fun and safe for the kids! It's pricey but so worth it.
 Evening – Estes Park
The amazing town of Estes Park is a wonderful experience in and of itself. The shops, restaurants, artwork, river walk, and so much more make this town a must-visit when you're visiting RMNP.
The town really does have something for everyone and our favorite stop in town has quickly become the Sundae Saloon. We spent a lot of time in this delightful establishment getting many cones of square shaped ice cream and getting the giggles with every scoop! The delicious huckleberry flavor is a must try!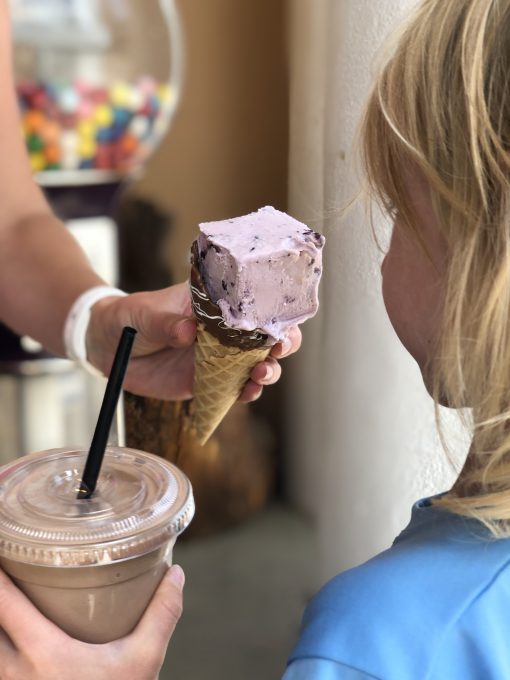 Day 3
 Morning – Hike Alberta Falls and the Loch
The Glacier Gorge Trailhead is very close to the Bear Lake trailhead, so we opted to not even attempt to park at it and instead, once again, parked in the large park and ride lot and waited for a shuttle.
This trailhead isn't as busy as the Bear Lake trailhead but, the trails are all interconnected so some opt to do a longer, loop trail to see all these spots in one, longer hike.
Today Alberta Falls and The Loch were our destinations. Alberta Falls is 1.6 miles down the trail with minimal elevation gain, just around 200 feet.
This is a great, short hike for more inexperienced hikers and younger children.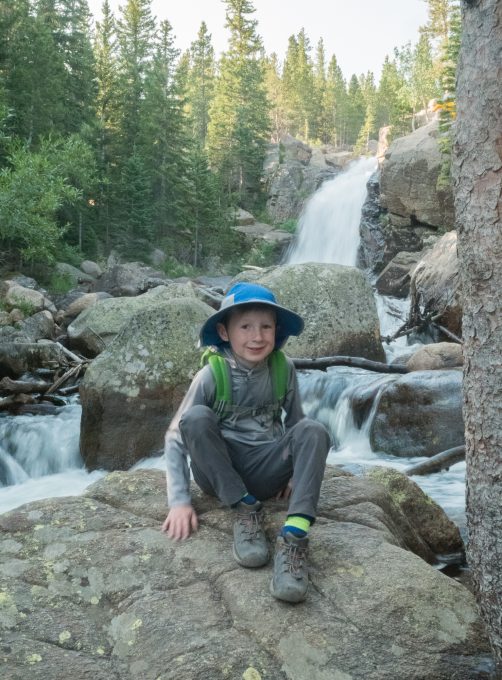 On this particular day we only had our two kids along and my older sister so, we opted to do a much longer hike all the way to The Loch. At 5.4 miles with a little over 1,000 feet in elevation gain this hike is much harder and you should be a bit more experienced.
Our children are avid hikers, and while it was a stretch for our 4 year old at the time, she muscled through and did this whole trail on her own!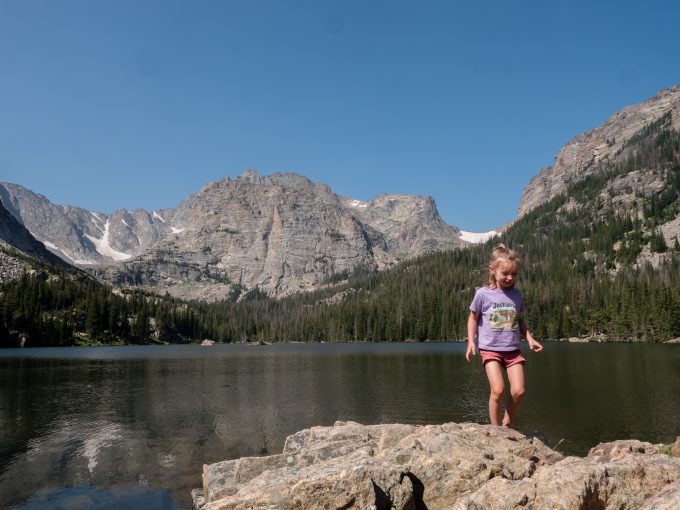 Our two children are vastly different hikers, Jack would happily hike all day long no matter the mileage and elevation gain. Our younger daughter, Rowan, needs a bit more encouragement.
Usually, holding a hand, singing songs, or playing games helps. Her biggest source of motivation lies in the stories Bobby tells her. The Tortoise and the Hare are frequent friends along our hikes going on all sorts of crazy adventures right along side us. My sister also helped motivate them by telling stories of our childhood.
One reason I love hiking, not only with my children, but family and friends also is the conversations that happen while hiking. You get to know people and hear stories you may have never had the opportunity, or time, to hear otherwise.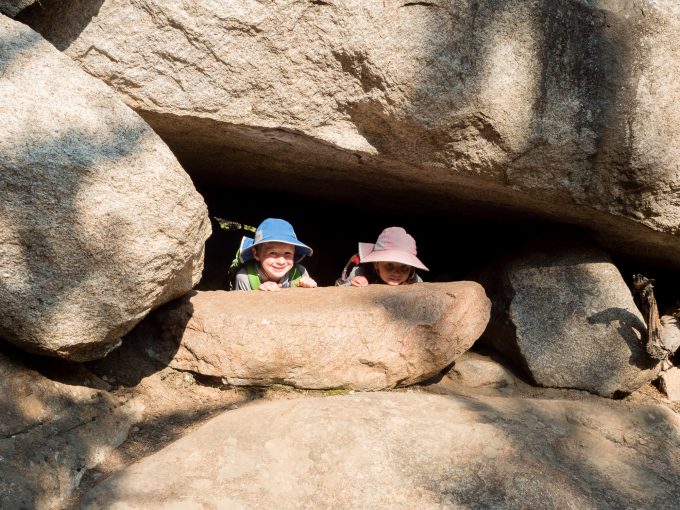 Constant encouragement and exclamations at kids accomplishments are also great motivators for children. Help them build their self esteem and increase their self efficacy. Hiking with you, hearing that positive feedback fuels their little bodies easily and keeps them going!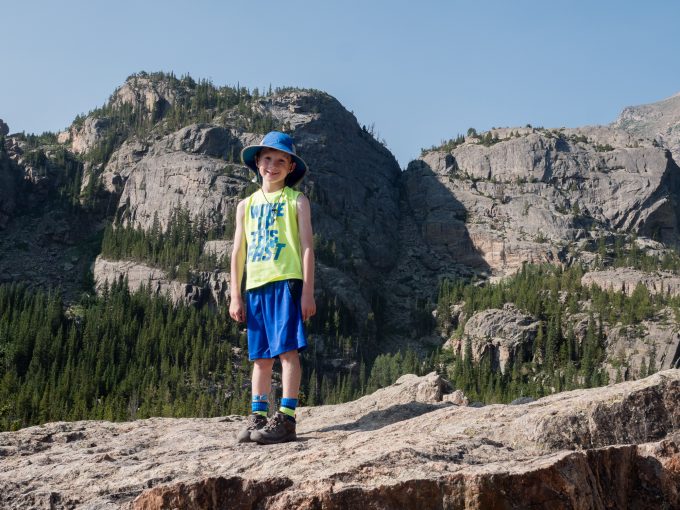 Also, snacks, treats, ample water, treats, sun hats, sunscreen, and did I mention treats really helps keep them moving! DumDums are our kids number one trail treat!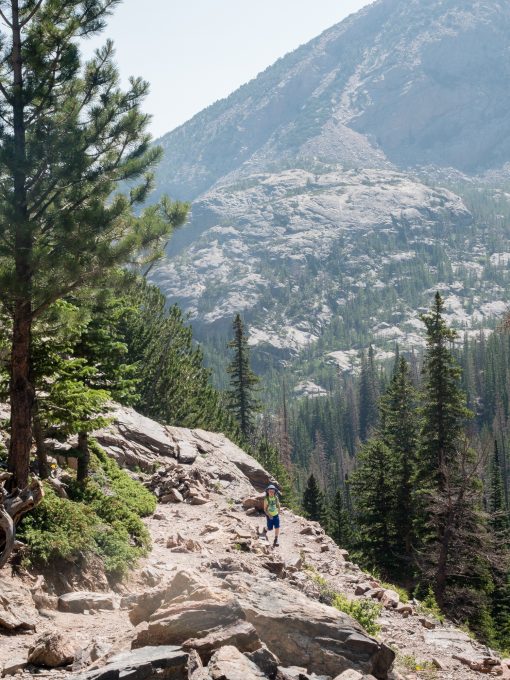 The Loch is exceptionally beautiful and we spent a long time enjoying the immeasurable beauty surrounding us. Because of the length of this hike not too many people make it all the way. We enjoyed a long respite at the waters edge and Bobby even went in for a frigid dip in the glacial-fed waters.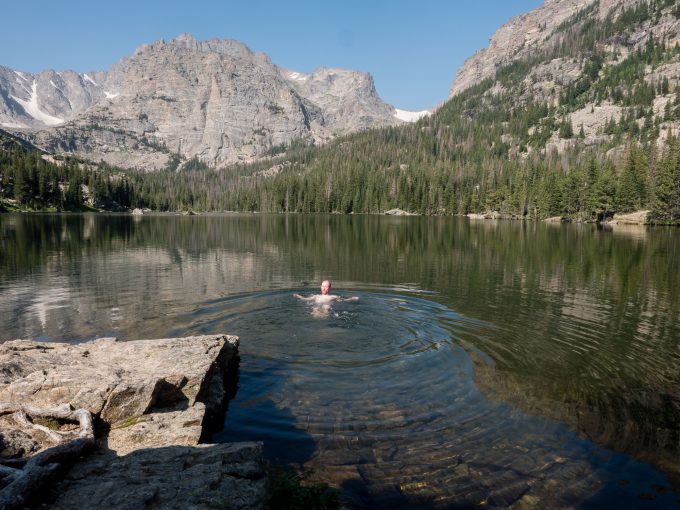 Afternoon – Paddle Sprague Lake
Now, you might be completely done in after your long day of hiking. But, if you're not I highly recommend bringing along an inflatable Stand Up Paddle Board (SUP) or kayak and getting a leisurely paddle in at Sprague Lake. This is a picnic area and there's an ADA .5 mile trail all around the lake.
The parking area is large, and since it has a relatively high turnover rate (as most don't spend a lot of time here) it was easy to find parking.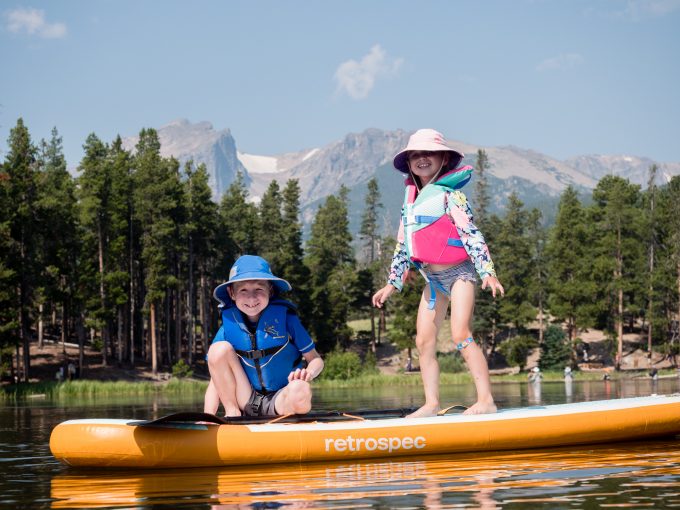 It was Jack's birthday the day we went to Sprague Lake and he had gotten his Retrospec SUP as his present, something he'd been wanting all summer long. He was so excited to paddle bravely off on his own (with my sister and I following close behind in a kayak!).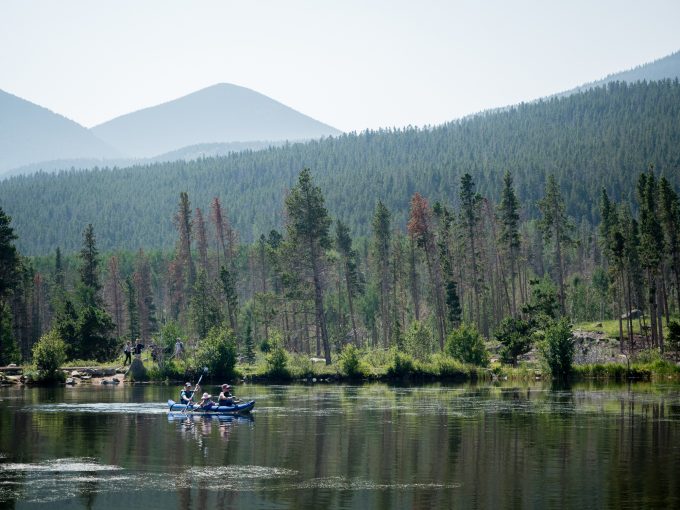 The lake isn't large and paddling around it was easily done. Because it's a human-made lake it is, therefore, pretty shallow. It made me more at ease letting 7 year old Jack paddle off on his own a bit!
We stopped at the picnic area for some homemade birthday chocolate chip banana bread (my first time making bread in our 5th wheel!) before calling it a day.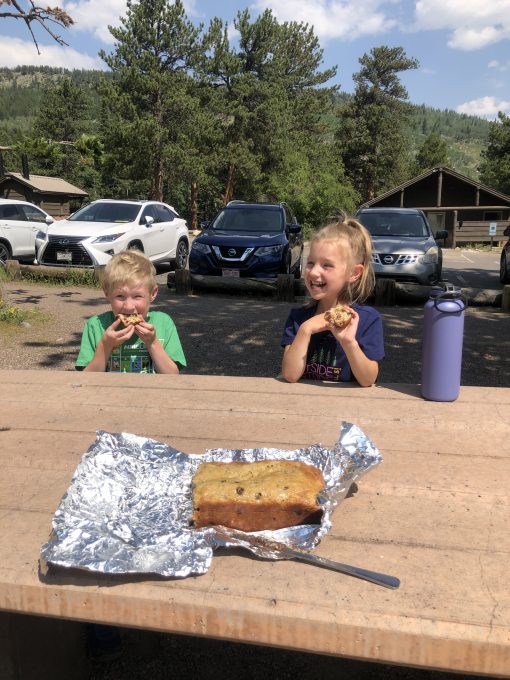 Day 4
 Wild Basin Trailhead
In the Southern portion of the park you'll find a less visited trailhead. After days in the crowds, vying for parking and waiting for shuttles, driving to the Wild Basin Trailhead felt like stepping into a different world.
The road is not well maintained and not as frequently traveled so be prepared for a rough, longer drive. However, any car can make it. We love finding waterfalls on our hikes and this particular hike has numerous waterfalls and cascades throughout.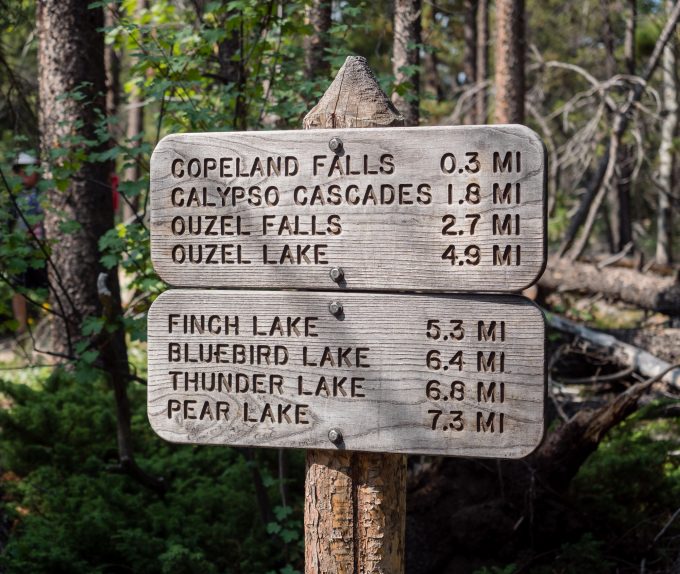 On this particular day we once again had 6 kids along so were only able to make it as far as the Calypso Cascade after first stopping at Copeland Falls. This was a big hike for our crew at 3.6 miles and over 600 feet of elevation gain but made easy by the near constant companion of running water.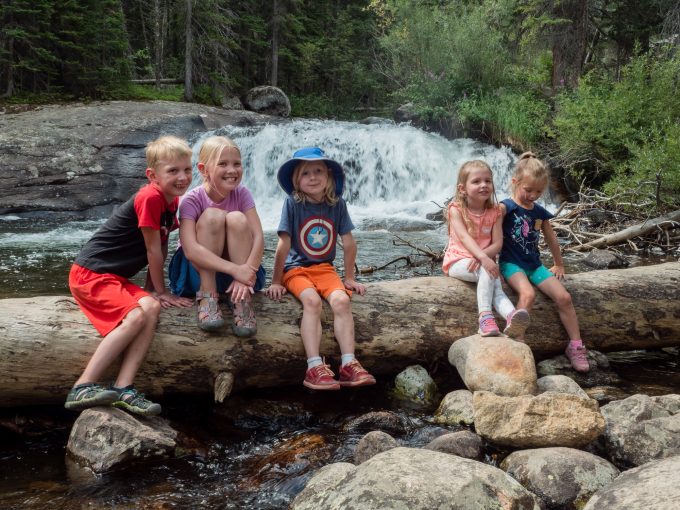 There is something about water and kids that just jive when it comes to hiking. You could take them up to the most scenic vista in the world and they'll usually ask "Where's the pool?" So, use that and plan hikes and outings that involve water.
Stand on the bridge, drop those sticks in and see whose comes out the other side faster! Let their imaginations run wild and let the fun happen!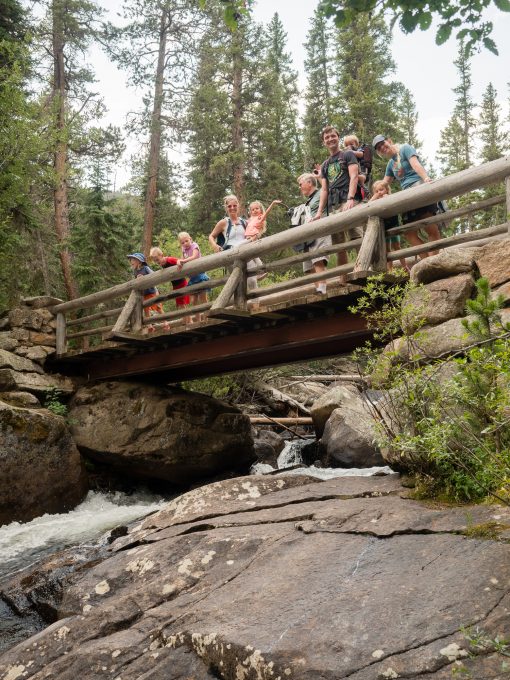 ---
Reservations
As mentioned previously the overwhelming popularity of this park puts a strain on the resources. As such, Rocky Mountain National Park does have a permit system. The timed entry permit system was put into place in 2020. We have visited the park for the last two summers and are incredibly grateful for this system.
The reservations are opened up incrementally, so check the website for more information on when you'll need to secure the permits.
As of 2022 the permits cost $2 to secure.
Have the permits up on your phone, or printed out, before heading to the park in case you lose service.
The permits are more restrictive around the Bear Lake corridor as it's by far the most popular area in the park.
We did not need reservations for the Wild Basin trailhead in the southern part of the park.
I know that some people really don't like timed entry permits but I love them! National Parks continue to gain popularity as they offer incredible, safe opportunities for everybody to experience. However, with so many more people coming to the parks it is getting difficult to keep them looking pristine and untouched. Uneducated users are leading to damage to the parks ecosystems that the employees of the NPS work incredibly hard at protecting every single day.
Getting Around the Park
Parking Lots
Each trailhead has a parking lot but, often times, these lots are very small with parking for only a dozen or so vehicles. Even the larger lots at Bear Lake, for example, are full before dawn and remain so throughout the day.
Shuttle Bus
Your best bet, if you want to get anywhere along the Bear Lake road is to park in the large park and ride lot and take the shuttle to the trailhead of your choice along the road.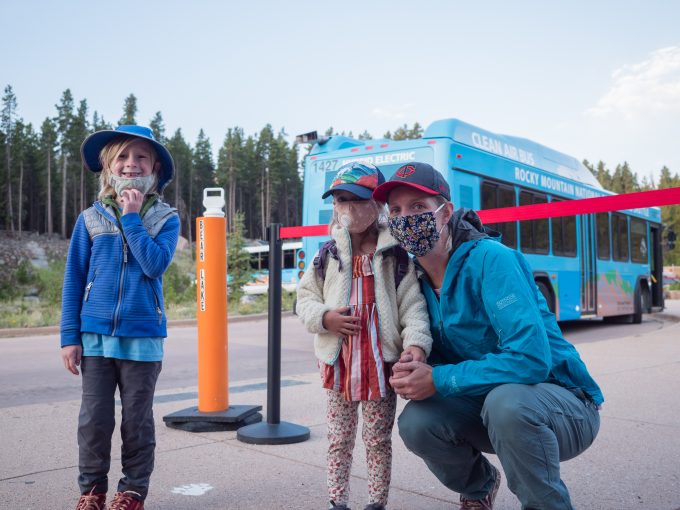 These shuttles run every 10-30 minutes depending on the route. Both years, while there, masks were required per CDC guidelines.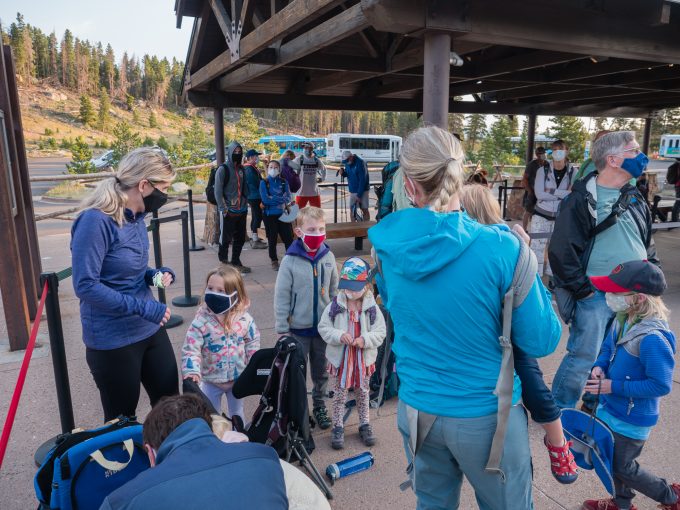 Where to Stay
On our two visits to the park we have been in our 5th wheel camper and have opted to stay in Estes Park, where there are numerous RV park options. Be aware, a lot of these are run by the same company and have almost identical websites, so, don't be like me and make reservations at the wrong one!
Manor RV Park
Our first year we stayed at Manor RV Park which was fun because a herd of elk visited almost daily! We didn't like that it was kind of an overcrowded, muddy hole. We were crammed into this park and, as it's the wet season in the summer it rains almost every afternoon.
There is no pool and only a small playground that was covered in elk droppings.  I honestly wouldn't stay here again for those reasons.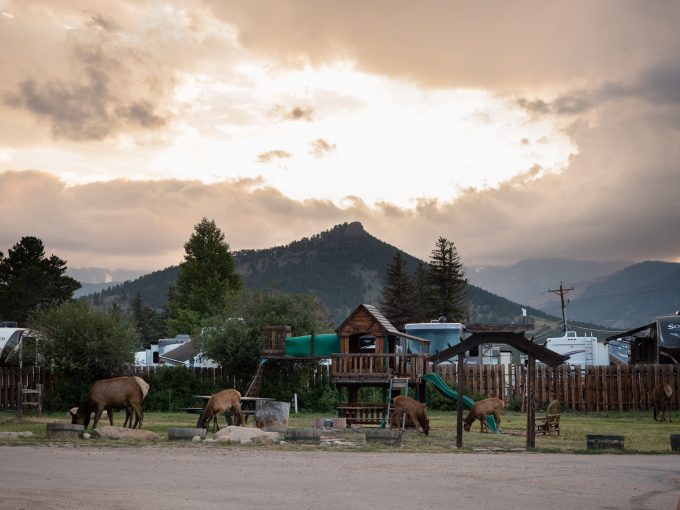 Spruce Lake RV Park
We stayed at Spruce Lake RV Resort our second year, as it has a pool and seemed less haphazardly laid out than Manor RV Park. The staff here were absolutely wonderful and we definitely enjoyed our more spacious site. The laundry facilities were great and there's a small pond that makes it feel charming. Sadly, due to the chlorine shortage at the time the pool was closed.
We didn't like that we had to pay a fee for my sister to come have dinner with us for Jack's birthday. There is no guest parking so we still had to cram her car into our site and had to pay extra. I'm sure this is to prevent parties or large gatherings but there honestly isn't any room for gatherings to occur in these small, confined sites.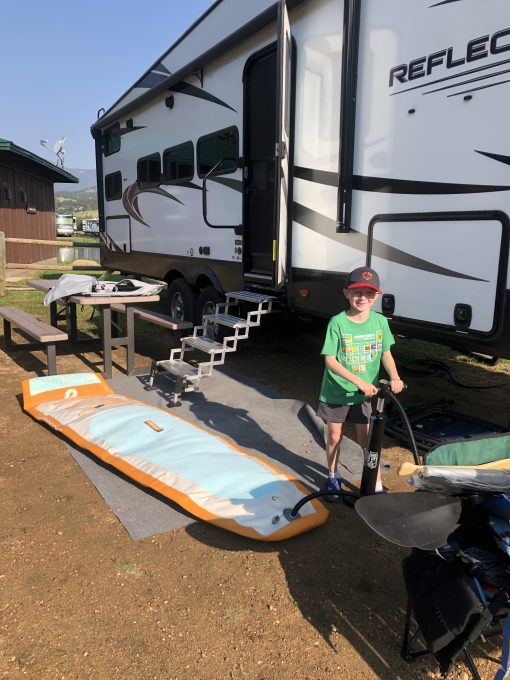 My sister stayed at this remote, boutique hotel and had this to say about her stay.
Taharaa Mountain Lodge is a charming property located a few minutes' drive outside of town and a short drive from RMNP. The rooms are cozy, with fireplaces and balconies. There is a small outdoor hot tub where you can relax and enjoy views of the mountains after a day of adventure. The staff are outstanding—friendly, welcoming, and knowledgeable about RMNP. You can make arrangements to have a massage therapist come to the lodge, and there is a sauna onsite next to the massage room. Your reservation includes cooked-to-order breakfast, plus you can ask to have a coffee tray delivered to your room before breakfast.