It's easy to get depressed during the long cold months we endure here in Minnesota. One of the many ways we try and keep spirits up, and cabin fever in check, is planning activities that can only be done in the winter time. These season specific activities help us to look forward to all 4 seasons with equal anticipation of a new, exciting adventure as a family.
Last winter we made it a goal to visit frozen waterfalls, this year we decided to take on a different type of ice adventure. Hiking on an ice covered lake is something I haven't done since I was a camp staff member at Snow Base Boy Scout Camp in Wisconsin over 10 years ago. We live just minutes from Lake Minnetonka so it seemed like the perfect spot for our frozen adventure. The weather was surprisingly warm for a January day and we hit the ice before 9:00 a.m. and temps were already in the high 20s and would make their way into the low 30s before the day was out.
Our goal was to reach Big Island where an amusement park stood from 1906-1911. The island was also used as a campground for several years before the city of Orono purchased it and opened a nature park in 2006. Camping is no longer allowed but hiking and picnicking are popular. We have never visited Big Island before and thought trekking over the lake on foot atop the ice would be a magical way to view this historic land. The total distance from our starting point from Excelsior Commons to the Big Island and back would've been 4 miles or so.
We had Rowan strapped in her pack and expected Jack to walk the distance on his own. Initially we were having success and the excitement of walking on the ice, looking for reformed ice fishing holes, bubbles in the ice, deep snow, and so much more kept us all occupied and happy. It felt like the quintessential Minnesota outing as we heard the announcers and cheers from the nearby pond hockey tournament taking place at iconic Maynards and passed by numerous ice houses both in use and left for another day of frozen fishing. Small aircraft flew overhead and distant train whistles kept us company as we trekked across the lake on a cloudy but calm day.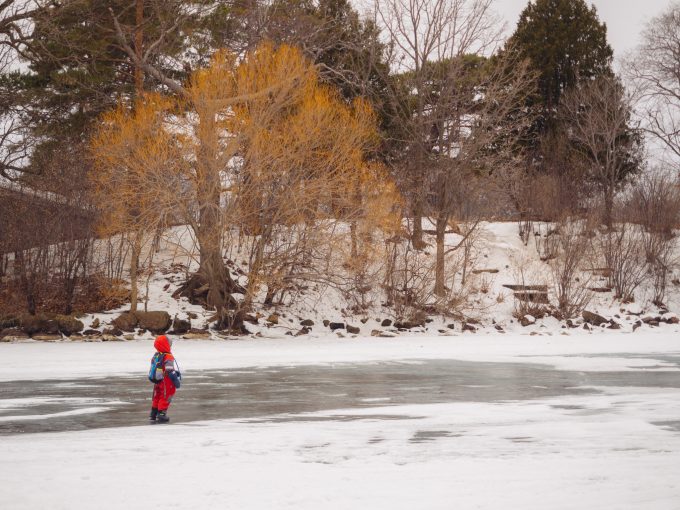 Snack time came quickly and we settled in for a short break on the ice. We had brought along an eggshell sleeping pad which made for the perfect picnic blanket to protect our rumps from the cold ice below. Rowan was excited for the break from her pack and Jack was excited for all the hiking treats he had helped me pack before leaving home that morning.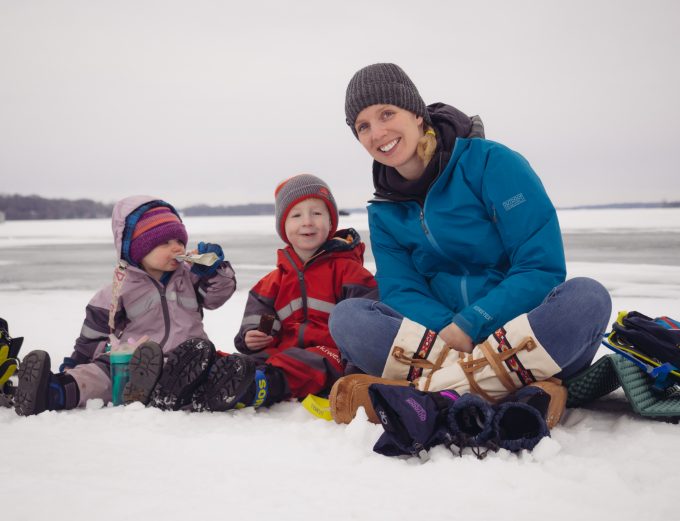 Continuing on we soon remembered why we try and find hikes with narrow, easy to follow paths. When Jack is given a wide open space to explore his mind (and feet) wander all over the place. He can hike 3+ miles with a steady and solid pace when the path is easily laid out before him but he soon tires and gets bored when we appear to not be making any progress on a more meandering trek. We were able to keep him moving by looking for interesting things below the ice and he even found a leaf partially frozen to the lake that he dug out and insisted we bring home. He calls the leaf his best friend and we have it framed and on proud display atop his dresser in his room. Motivation to continue forward momentum quickly faded for our little man and the bribes came out! Dark chocolate covered acai and blueberries were popped regularly into his mouth as ways to keep him moving. Small tantrums were becoming frequent and it was soon obvious that we wouldn't be making it to Big Island.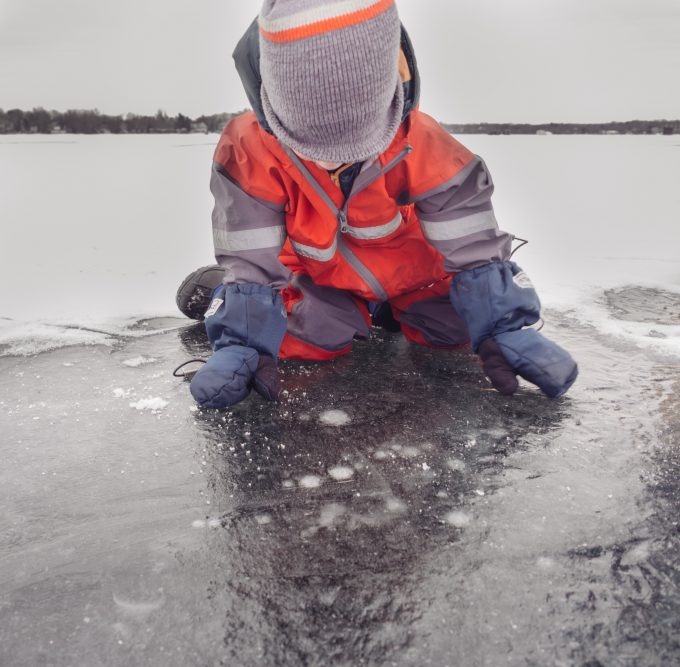 Rowan desperately wanted to walk but doesn't understand the concept of ice so keeping her safe was virtually impossible with our independent trekker who refused to hold hands. We traded off carrying her but eventually resigned ourselves to listening to her shrieks of frustration as we settled her back in her pack. Soon enough she was asleep as we forged ahead.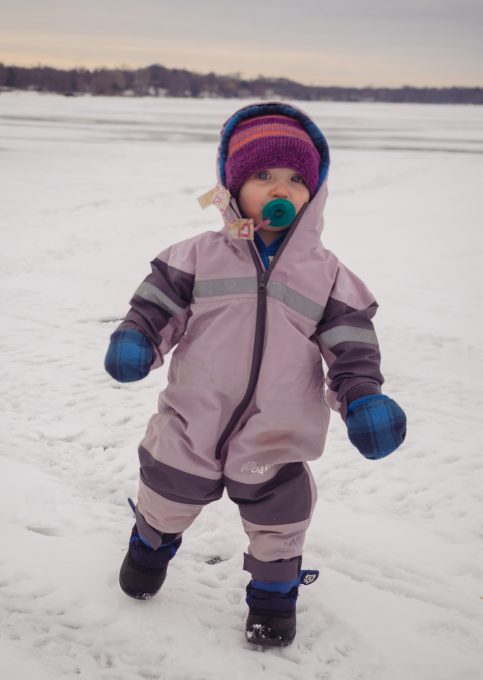 Though we knew making it to Big Island wasn't going to happen there was a small, much closer island (Gale Island) that we decided to make our destination. A private residence resides on the small mound of land and we opted to touch a rock on the shore and turn around and return to the truck.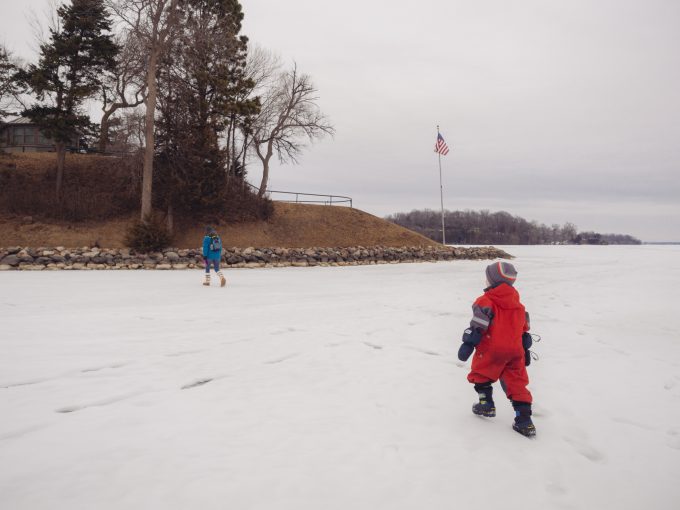 All in all we traveled about 3 miles total over 3 hours on the ice. Thanks to the weather and our gear we all stayed warm and comfortable. This is definitely something we want to try again in the future and hopefully get to Big Island someday. No doubt about it this was a trying morning on the ice but also a good reminder for us parents that our idea of a good and exciting time may not always coincide with what the toddlers in your crew have in mind.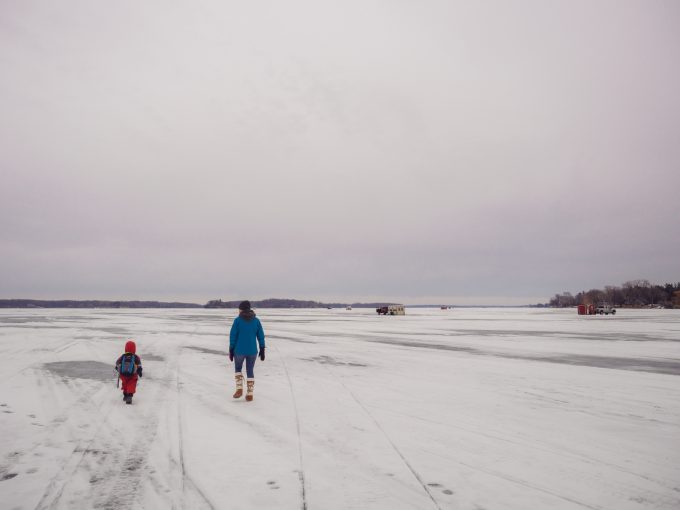 The one very exciting aspect of this trek was that it was our first adventure with a potty trained preschooler! Jack was a little late to the potty game but is totally rocking it now! We initially attempted to have him stand for his inaugural outdoor pee but that totally freaked him out. I made a seat out of my arms while Bobby made sure to keep his gear covered legs clear of the stream. He thought it was totally awesome but also wanted to jump in the puddle it made…. Kids are truly bizarre and wonderful creatures who make our journey through life far more interesting, to say the least.