This week was a pretty big milestone for us, I am officially full term in my pregnancy at 37 weeks! We decided to celebrate by going on a short and easy hike that was a bit of a drive into the mountains. Franklin Falls was the perfect destination for our outing. It's a bit of a drive, just about an hour, so I got to enjoy a wonderful car ride through the beautiful Cascades, which is honestly one of my favorite parts of all the adventures we take in the woods! Ever since I was a child I have enjoyed long car trips! And at only 2 miles with 400 feet of elevation gain the trail was the perfect length for an easy day!
We arrived at the trailhead very early, just after 8:00 a.m. We were the first car in the lot. This is a popular spot to hike because it is so kid friendly and it's a stones throw away from Denny Creek Campground, a very popular spot for families to do some car camping.  By the time we returned to the car, just after 10:00 a.m. the lot was full!
We had been under the impression that it wasn't supposed to rain until the afternoon, but the weather people were, as they so often are, were wrong. A steady drizzle and low fog enshrouded much of the mountains. Thankfully, we weren't hiking a peak and fog/rain have little to no impact on having a successful and fun day on the trail when a waterfall is your destination. The only downside was that it was a bit chilly as well and my rain jacket doesn't really fit over my baby bump anymore… I was able to make a pretty unique fashion statement on the trail!
We set off in the rain at a slow and steady pace.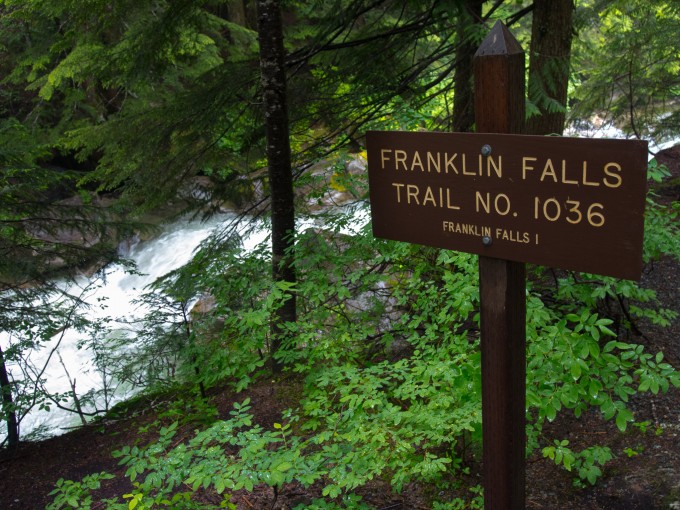 As I mentioned previously this is a very kid friendly hike. The Washington Trails Association has done trail work here for the last three years. There are a few spots where bits of the trail have been washed out, or handrails haven't been installed, but overall you can feel confident in bringing your youngsters here for a safe and fun day on the trail!
The trek to the falls does include a lot of stairs so our pace was pretty slow as I huffed and puffed my way up. Bobby was grateful for my snails pace because it gave him ample opportunity for some great shots of the South Fork Snoqualmie River which the trail runs parallel to throughout the hike.
We were soon at Franklin Falls and were curious how much of the precipitation we were feeling was the drizzle and how much was mist off the roaring waterfall!
I was soon cold and sore from sitting on a small rock while Bobby snapped picture after picture. We didn't linger long at the falls and were soon heading back to the car. The way back was much easier for me, since it was almost entirely downhill!
Overall an amazing hike! We have been to Franklin Falls once before, but we did it as a Snowshoe in December, 2012. This was our first time ever doing a repeat hike, but it was so vastly different doing it without any snow that it felt like a completely new hike! We had a great day on the trail and I couldn't have been happier that I was able to get out again, potentially for the last time before baby comes depending on how things go!
For more pictures check out our Facebook Page!