The Kerry Way in Ireland is a long distance walk that circles around County Kerry in southwestern Ireland. At 210 km/130 miles in length it will prove to be both challenging and picturesque. According to the guidebook we purchased, "The Kerry Way" by Sandra Bardwell, the walk takes the traveler through, arguably, some of Ireland's most scenic landscapes. As Bobby and I began discussions about a summer trip we began researching backpacking trip possibilities. I discovered the Kerry Way after researching airline prices for numerous European destinations and discovered that Ireland might prove to be the cheapest destination available and I subsequently found the Kerry Way. This long distance walk appealed to us for several reasons. First off, you hike from town to town and can, therefore, stay in inns, B&Bs, or hostels. No camping is necessary, so our packs will be considerably lighter without a tent, sleeping pads, stove, cooking equipment, etc… Also, the walk is generally pretty flat. The highest point on the main route is at an altitude of 371 m/1217 feet. Many of the hikes we do here in the Cascades involve a lot of intense elevation undulation so while the prospect of such a lengthy hike does seem a bit daunting the elevation increases seem easily tackled.
While we consider ourselves to be in pretty good shape when it comes to weekend day hikes or backpack excursions we aren't as sure about doing such a lengthy distance hike. Do we really have the stamina required of such an undertaking? Since the tickets to Ireland have been purchased for the end of May that gives us ten weeks to get ourselves trained up!
At 8:00 p.m. on Friday night we decided to begin our training by heading for Oregon, where the weather forecast was calling for 60s and sun! We packed our backpacks and headed for the border! We arrived at Deschutes Campground along the Deschutes river at 1:30 a.m. Due to the late hour of arrival and the intensely close proximity with which the campsites were arranged we decided it would be fastest to simply spend the night in the car. With the two back rows of seats laid down the back of our 2013 Ford Explorer becomes surprisingly spacious! Plus, our extended moon roof made the perfect viewpoint directly above our heads for incredible star gazing before finally drifting off into a, somewhat, chilly slumber. Latigo woke up around 6:00 a.m. shivering so we pulled him close and covered him with his car blanket and he slept for an additional hour.
The neighboring campers were definitely curious about the mysterious black SUV that had arrived in the night. As I lay awake attempting to go back to sleep just before 7:00 a.m. I watched as a man circled awkwardly close to the car, peering in the windows to see what he could see. Thankfully our tinted windows provide us with an exceptional amount of privacy! We arose to a chilly morning and the sound of the fast moving river alongside us. We supped on oatmeal and cocoa before heading for the trail. The plan was to backpack along the Atiyeh Deschutes River Trail for 10 miles, camp, and hike out the same way we had come. The trail is of railroad grade so elevation gains were minimal and it was next to impossible to get lost. The trail is a mixed use hiking, biking, and stock trail so it was wide and was never far from the river.
This trail is generally overly popular but due to it being early season we enjoyed a quiet day with only a few interactions with other hikers/bikers along the way.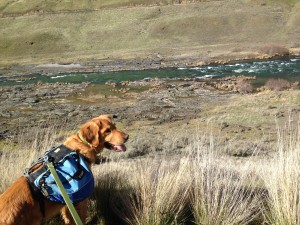 Just before the halfway point of the journey we stumbled upon an abandoned railway car alongside the trail. It was really neat and was, surprisingly unmarred by any sort of graffiti.
While taking a short break here we watched as a BMSF train came cruising by on the tracks along the opposite side of the river. We marveled at the wonder and beauty of the railroad for a few minutes before continuing along our journey.
The sun shone down upon us with an intensity we haven't felt in months and we began cursing ourselves for forgetting sunscreen. It's an item we have so rarely needed that we didn't even consider it.
We reached the halfway point of our hike before 11:30 and decided to stop for an early lunch. Mountain House Lasagna with Meat Sauce  was on the menu. We set up our Jetboil Camp Stove and Bobby began work on the appetizer, a sliced up apple. Last week, the knife was his gear pick of the week. Too bad for him he forgot that a brand new knife will be exceptionally sharp. He also seemed to forget that he is actually left-handed. He decided to cut the apple, using his, non-dominant right hand and managed to plunge the knife directly into his left palm.
Thankfully, I had brought along our REI Backpacker First Aid Kit, that Bobby had insisted we wouldn't need, and had him bandaged up in no time. We were concerned that, because of the cuts location, he may have hit a nerve. He was experiencing no pain, which made me nervous. Not to mention that a cut on your dominant hand mixed with camping is rather inconvenient. We opted to turn around and head back to the car.
I wasn't too disappointed with the decision, in all honesty. The previous night in the car had been so cold that I really wasn't looking forward to another night in such frigid temperatures. It must've gotten below freezing that night because of the obvious signs of frost we had seen at the beginning of our hike.
By the time we had made it the five miles back to the car every part of my body hurt and we both had numerous blisters. We hadn't considered that we haven't worn our summer hiking boots in several months so our feet need to reacclimatize themselves to them. We were both grateful as we sat in the car, headed for a quick stop in Portland before heading back into Seattle, that we had turned around when we did. We are not in good enough backpacking shape yet for twenty miles in two days.
Training will be key in the upcoming weeks as we prepare for our trip to Ireland. This was Week One training and there is much more to come! Not only will weekend short backpacking trips assist us in our preparations but training in the gym and building up stamina will also be key. Here's hoping we are up for the challenge!