We had headed to the North Cascades for a beautiful day hike at Blue Lake and were looking for a place to stay for the night. Without an infant in tow, and the numerous stops along the way that that brings with it, the hike would have been a 3 hour drive from our home in Seattle to the trailhead. The drive ended up taking us 5 hours. We had packed overnight bags and headed to the nearby town of Winthrop, about 32 miles from the trailhead, hoping to find a place to stay for the night. As soon as we got cell phone reception I began calling the local hotels. We were beginning to get discouraged when all of the hotels pet friendly rooms were booked. We were discussing our options when the phone rang and it was Joe from Twisp River Suites. His employee had just informed me that their pet friendly rooms were occupied but Joe insisted that we come down and that he had a solution to our problem. Twisp is just 7 miles from Winthrop, where we were about to stop and get some dinner. Joe said to come over directly to see what he had for us. We made the drive and arrived at a gorgeous, new hotel that we couldn't believe existed in a small town like Twisp.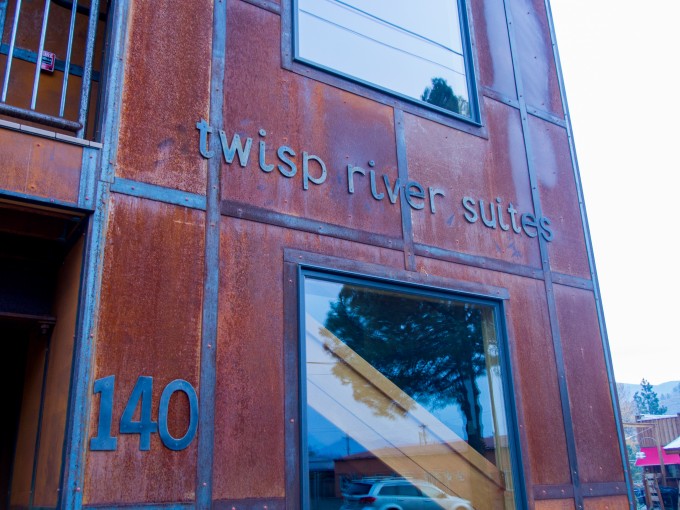 Joe greeted us at the door, wearing a wide-brimmed black cowboy hat and had a warm smile. We introduced him to Jack and informed him that Jack needed to eat. He let me into the hotel "lobby" that was much more like a huge cozy living room and kitchen. I set myself down on a plush, comfy leather sofa to feed Jack while Joe showed Bobby what he had available for us.
Joe, it turns out, is the owner of the hotel and originally from St Paul, MN and grew up very close to me! He gave Bobby the grand tour while they chatted about MN. He showed him two possible rooms that were available for us. He also took Bobby across the street to a tiny cabin that Joe offered as a possible place to board Latigo for the night. It was heated, had a small twin bed, and dog beds covering most of the floor. Apparently Joe had purchased it in Canada as a possible spot for guests to let their dogs stay for the night.
Bobby and Joe came back to collect Jack and I. Before showing us to our room Joe told us about the complimentary breakfast the hotel hosts every morning. When we told Joe we would be leaving before it would be available he insisted on making up a tray filled with homemade pastries, fruit, and yogurt parfaits. The room Bobby chose was amazing. It was a one bedroom suite with a full kitchen, living area, and balcony that looked out over the Twisp River.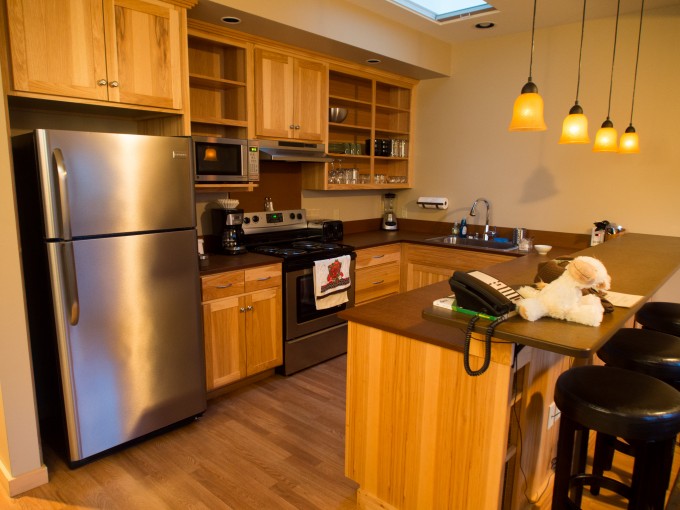 There were two skylights, one in the kitchen and one directly above the bed in the bedroom. Local art adorned the walls and we immediately felt at home. Bobby had chosen this larger option so we could set up Jack's Pack 'n Play in the living area, thereby allowing us a somewhat more restful night without having to hear all his squeaks and groans throughout the night.
Bobby got Latigo situated in the tiny cabin and went to the bar that was just "40 steps away", according to Joe, to get us some dinner to go. After we had eaten we fed Jack his final feeding of the day and he fell asleep just as he was finishing. Apparently he was as tired as we were after our big day of adventure! We slipped him into his sleep sack, lowered the lights and headed into our room. It was only 8:30 but we too, were exhausted, and were soon fast asleep. The beds, pillows, and bathmat were all memory foam and it definitely took some getting used to… But the room was quiet and warm. We woke early, needing to be back in Seattle by noon for a prior commitment. Jack had done great sleeping in a hotel for the first time and Latigo survived his night alone in the little cabin across the street.
We would highly recommend this hotel to anybody looking for personal service, a homey feel, and gorgeous rooms. Go see Joe and tell him we said hi!