For our final day of vacation my parents gave us the enormous gift of watching Jack for a few hours so we could have a solo hike. We haven't hiked together and without Jack since he was 11 months old. We had already done some exploring of the incredibly scenic Pictured Rocks National Lakeshore with Jack along and were now faced with a morning off.
We decided to hike a short section of the North Country Trail (NCT), a 4,600 mile trail that stretches across seven states and runs clear through this National Lakeshore. The section we chose was the very last located within the park. The plan was to have my parents drop us off at Grand Sable Lake and then hike the 5 miles to the small town of Grand Marais, MI just 5 miles away where my parents were getting lunch with Jack and meet up there.
The trail is very well signed throughout the park so don't feel the need, as we did, to assume you were following the trail just because it looked like a well trodden path. Believe me when I tell you that if you are looking for the NCT in this park there will most definitely be a sign helping you along the way.
As we began the hike the bugs were swarming and, though we were hungry and ready for lunch, we didn't dare stop for a break. We ate our sandwiches as we walked. We chatted about how incredibly easy it was to hike without our curious and pokey toddler along for the fun. Though we love to hike with him, having a hike with adults only is a huge treat that isn't wasted on us!
This section of trail was varied and scenic. We went through boggier sections with boardwalks providing passage over muddy and wet portions of the trail.
We also walked through an amazing section of deciduous forest with thousands of trillium in full bloom.
The trail also led to a view of the Grand Sable Dunes towering above Lake Superior.
We also got to see stunning Sable Falls.
The hike culminated on a rocky beach on Lake Superior. We still had a mile to go before reaching town and realized that the last mile would be an uncomfortable trek slipping and sliding along the rocky shores.
The sun beat down upon us and we were soon sweating profusely and quickly running out of water. We missed the exit point, Woodland Park Campground, that would've had us meeting my parents 1/4 of a mile sooner and wound up on a long boardwalk with a nearby parking area that my parents quickly made their way to and picked us up.
Our last big adventure of the trip had come to an end. We spent an enjoyable evening playing on the sandy beach in the campground and eating a made up meal of tater tot hotdish done up in the dutch oven with a batch of dutch oven brownies for dessert. Jack and I were fast asleep and missed our last truly stunning sunset on Lake Superior, but Bobby was able to catch it.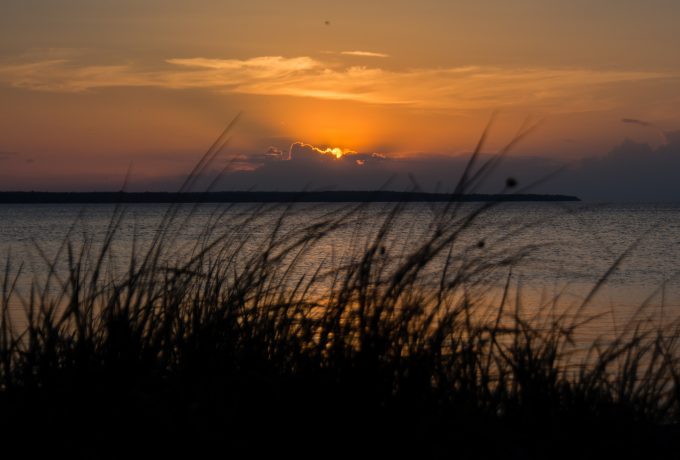 We would make one more pitstop on the way home to simply break up the drive and stayed at Treeland Resort near Hayward, WI. If you're willing to pay the steep camping fees and want a much more resort-like camping experience I would highly recommend this campground. I have never been in nicer campground bathrooms, there was a state of the art playground, a swimming pool, free paddleboat rentals, pull-through RV sites, a restaurant, and much more to do, see, and explore. We were a bit bummed we only had one day to spend there.
We made countless amazing memories on this trip and were sad to see it come to an end. It made us realize that, though the midwest doesn't have much in the way of alpine settings, beauty and adventure still abounds all around us.