A fellow Washingtonian recommended hiking in the parklands of Mount Baker's southwest flank to us and we were glad they did! the Park Butte trail provided us with the most spectacular views of Mount Baker we have ever seen. If you're willing to do the work the reward is well worth it on this incredibly scenic hike. According to the guidebook, 100 Classic Hikes in Washington, this hike is 7 miles, according to the Washington Trails Association the hike is 7.5 miles… According to our GPS app, GAIA, it was more like 8.25 miles. Whatever the mileage if you're heading north on I5 from Seattle make this your destination!
After finding a parking spot amidst the dozens of vehicles at this popular trailhead and a quick stop at one of the two nicely maintained pit toilets, the hike started off relatively flat. Just a short ways in we came to a trail junction and a sign-in box.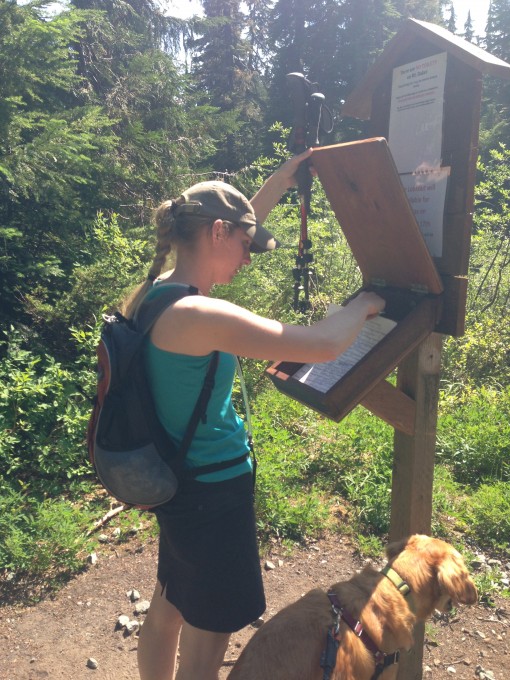 After signing in, we veered left to continue on the trail for the Park Butte Lookout. We crossed Sulfur Creek before beginning to meander through beautiful Schriebers meadow.
Blueberries and wildflowers grow like weeds in the meadow as we got our first glimpses of the mountains in this beautiful area.
We soon felt like we were on the moon as we entered the boulder fields where we had to cross Rocky Creek that, up until the day before was a difficult task due to the bridge being washed out. Thanks to the WTA trail crew who was hard at work that weekend a temporary bridge structure had been erected for easy passage. There are signs at the trailhead warning about the crossing and the need for an additional pair of shoes and a towel to make the crossing possible, this seems to have been thankfully resolved and we crossed the creek easily and without a drop of water on us. The water in the creek looked like chocolate milk!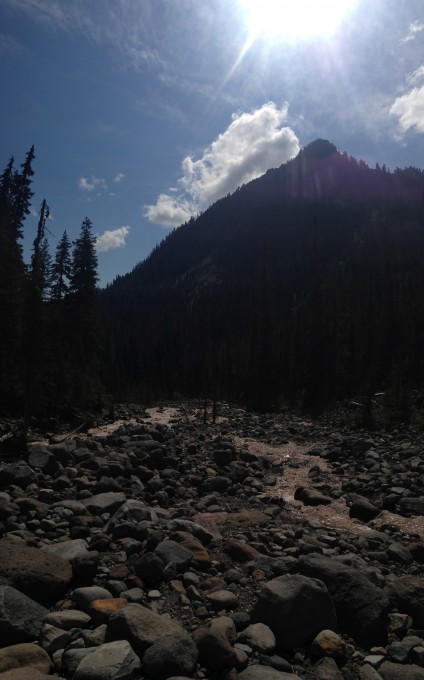 After crossing the creek the hike up really begins as we, thankfully, entered a forested area with many switchbacks.
We had gotten a late start because finding a campsite for the night had proven more difficult than we had anticipated. We hadn't started hiking until after 2:00 p.m. which meant that we were hiking at the peak heat of the day… The sun had been beating down upon us for that first mile and we were thankful to find ourselves in the shade for the rigorous trek up through the switchbacks. There are several "Hiker's Campsites" at the trailhead but they were, unsurprisingly all taken. There is also a group horse camp at the trailhead that was being used by the hard workers on the WTA trail crew.
This is a very popular trail, but due to our late start, of the numerous groups we passed along the trail we only encountered a handful of hikers also ascending rather than descending. There were a ton of dogs on the trail and shockingly they were all off leash. We let Latigo off leash only when we are confident that our chances of meeting others on the trail is slim. Also, Latigo has an excellent recall so that if he is off leash and we encounter other groups we call him back to us and put his leash on. All these hikers seemed undisturbed by their animals dominating and intimidating behavior and did little to stop it. We couldn't proceed forward at one point because an intact male dog was trying his best to hump our dear Latigo. The owners didn't notice at first and then seemed to not really care about their dogs behavior and didn't leash him. We were thanked by the WTA trail crew we passed for actually having our dog on a leash. Not everybody likes dogs, or wants a dog to be a part of their outdoor experience, hikers should be respectful of one another, and leashing your dog is an easy way to respect others you meet on the trail.
After the hard work we put into the switchbacks in the forest we were immensely rewarded as we emerged into the Morwitz Meadow (elevation 4500 feet) with spectacular views of the dominating, snow-covered Mount Baker before us.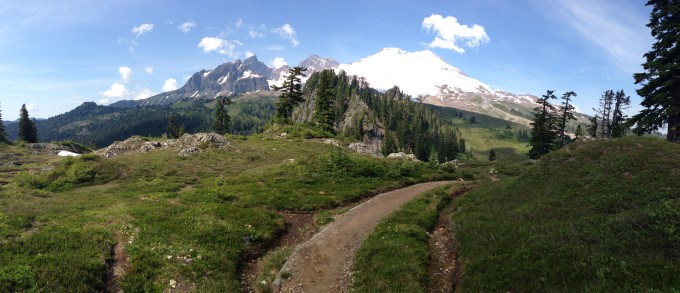 We reached a trail junction where we could've taken a side trip on the Railroad Grade trail where you walk along the ridge of a moraine up to a base camp for those brave enough to summit Mount Baker.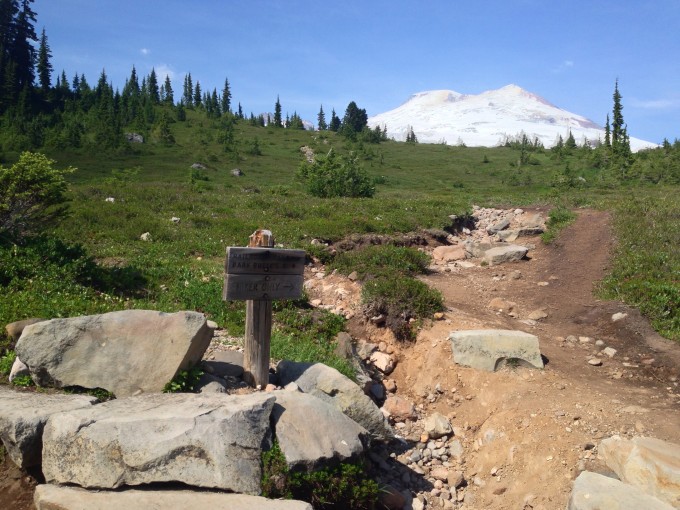 We continued to the left following the signs toward the Park Butte Lookout, through the meadow and up a few switchbacks.
Being in a meadow allowed us a clear view of the trail ahead of us, as well as the the 10 or so other hikers coming toward us as they were descending the trail. This really was one of the busiest trails we have ever been on.
We reached our final trail junction, straight leads to the Mazama camping area for backpackers while left will lead to the Park Butte lookout building that we could see in the distance. We veered left.
This area is a fragile alpine ecosystem and the overuse of the are was obvious, not just by the many social trails and campsites but by the efforts of those attempting to rehabilitate the area. "No Camping" and "Trial Closed" signs litter the edges of the trail.
Snow piles still lie in north facing pockets of the hills and we led Latigo to one so he could roll and cool down from the ridiculously hot day. Thankfully there had been ample water during the day to keep him happily hydrated but cooling down while hiking up was difficult for us and we had shorts and tank tops on, he had all his fur keeping him warm. Supposedly, it acts as an air conditioner for him in the summer, but I don't think it could keep up with him…
After letting Latigo frolic in the snow pocket we pushed on.
We finally arrived at the Park Butte Lookout (elevation 5450 feet). The views were unbelievably glorious!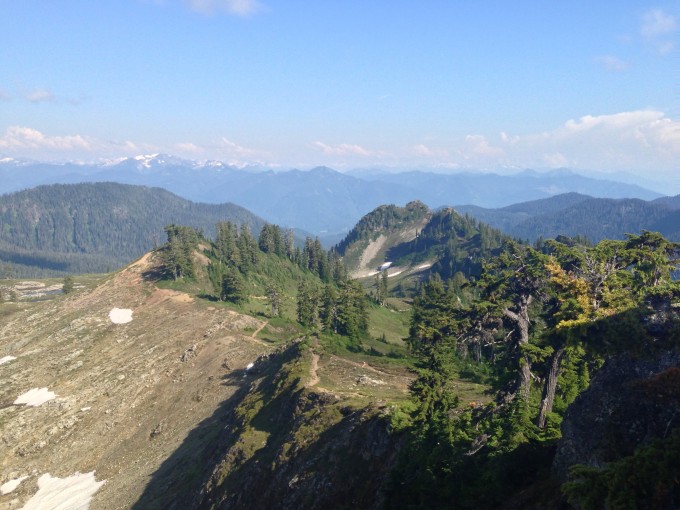 Two hikers were up there, laying in the shade of the building on the small boardwalk that surrounds the hut, we greeted them and made our way around and took in the view. We sat and snacked, giving Latigo the little corner of shade we had access to to help him cool down.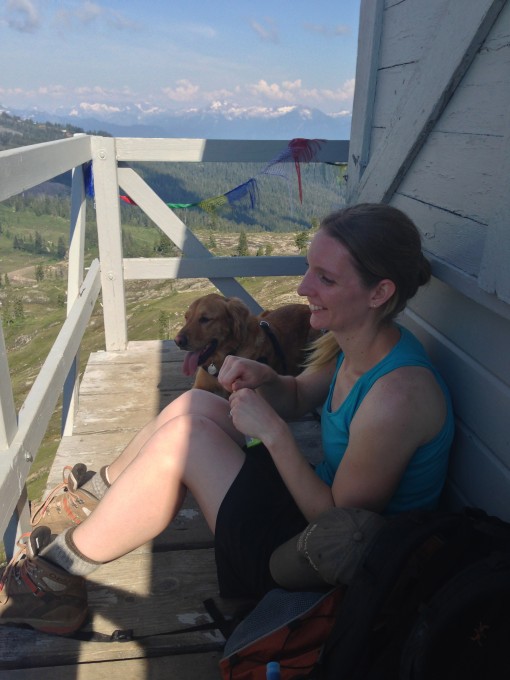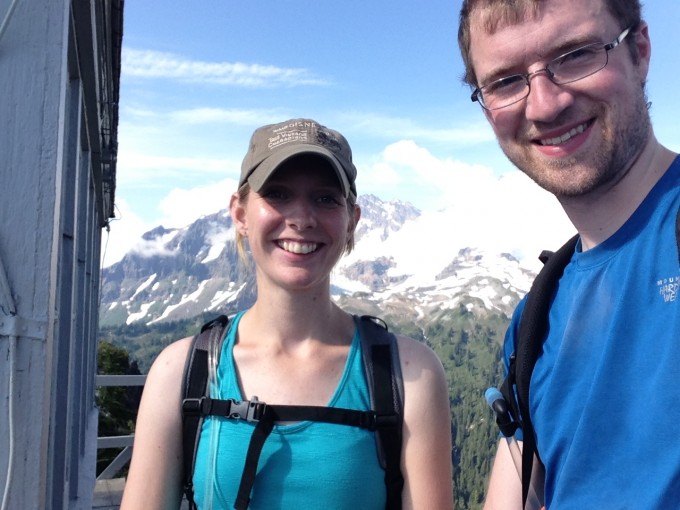 Bobby ventured in the hut to check it out and found all sorts of neat things. You can sleep in the hut, it is a first come first serve situation and you can leave a donation if you chose. It has a bed, a stove, games, magazines, and sign in books that date back 40+ years. They used to helicopter a pit toilet in but stopped due to a lack of funds and have instead replaced it with Blue Bags and instructions on how to use them. The hut is also equipped with a stool to sit on in case of a storm that produces lighting. According to the instructions you sit on the stool with cotton swabs in your ears and remove all metal from your body… Sounds scary!
Another couple and their dog arrived and took another section of the boardwalk. While leaving later meant that it was really hot, it also meant that the hut wasn't swarming with people. We had all had snacks and had cooled down enough that the thought of going back down wasn't nearly as daunting as it had 20 minutes before. The hike down is always faster, if a little hard on the knees, but we were back at the car by 6:30. The guidebook says to allow 6 hours which seems a little long to us. We did in 4.5 hours and didn't feel as if we were pushing ourselves that hard and we took many water breaks along the way and sat for 20 minutes at the top. We generally average about 2 miles an hour and this hike proved no different.
I would highly recommend this hike to anybody willing to ascend about 2200 feet of elevation gain in a little more than 4 miles. It is definitely worth it! We want to come back and backpack and explore the area more! We were greatly pleased to see many families on this trail. Even if you don't make it all the way to the lookout, beautiful views abound at several elevation points, so go until you can't go any more and take in the majesty around you before heading back down.