Home to the world's largest trees by volume Sequoia and Kings Canyon National Park are a must-visit for an epic national park vacation. We spent several days exploring the national park and surrounding national forest and have put together a list of the top things to see when visiting the area.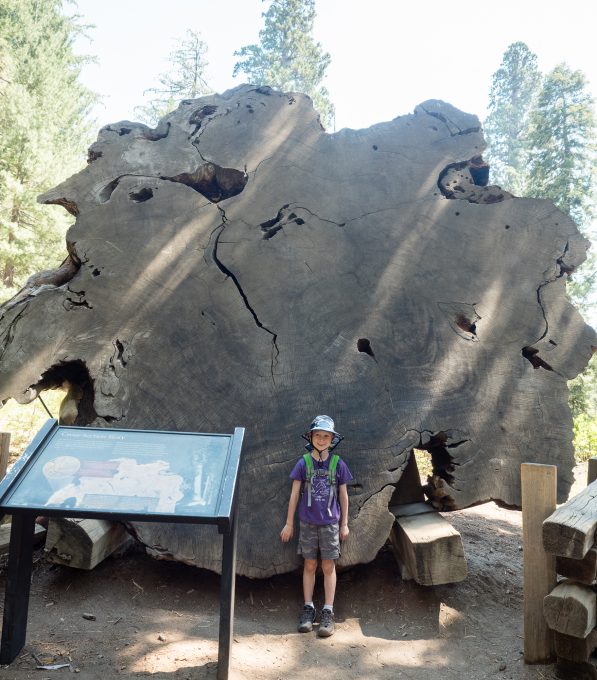 This is a busy national park with an average of 1.2 million visitors annually so plan for crowds, shuttle bus rides, and traffic. The road into the park is winding and long so additional drive time should be planned when staying outside of the park.
If you're wondering how many days you'll need to explore Sequoia and Kings Canyon, I would say a minimum of 3, preferably 4. The two parks have a combined total of over 865,000 acres, not to mention the 1.1 million acres Sequoia National Forest covers. That's a lot of area to cover, sights to see, and experiences to have so plan for a longer stay.
*Note – when you buy gear through the links on our site we get a small percentage of any sales. We use that to support our family adventures. You pay the same price you normally would
1. Kings Canyon Road
From the entrance station at the south end of Sequoia National Park, it's a 78 mile drive through the park, along the Generals Highway and the Kings Canyon Scenic Highway The drive is winding, narrow, and does have a length restriction. If you are 22 feet or more be aware and read the guidelines before making the drive. The road seems to switchback endlessly so allow ample time when heading anywhere into the park due to the roads and the expected traffic. The estimated drive time is around 2.5 hours to make it through the parks but you should allow a lot more than that.
You can easily get stuck behind a slow, inexperienced driver, encounter wildlife on the trail (watch out for bears!), and want to pull off for the numerous, awe-inspiring, pull-offs.
We headed into the park late in the afternoon and decided to drive the length of the road so we could be sure to see the harder to access Kings Canyon. We were staying 18 miles south of the park and knew we had a long afternoon and evening of driving so we packed a picnic dinner and decided to see how far we could make it.
There are a lot of stops to make along the way and we stopped whenever we needed a break from the traffic or the roads or just needed to get out and explore a little. As always, driving a park's main road on your first day of visiting allows you to orientate yourself and take note of all the park has to offer. Stop at the Visitor Center, talk to the rangers, and make a plan for the rest of your stay.
2. Roaring River Falls
As dusk approached we had made it deep into Kings Canyon after a couple hours of driving. Our first stop on the Kings Canyon Scenic Highway was Roaring River Falls a beautiful waterfall found tucked into the rocks at the end of a short trail. There is a trail that connects Zumwalt Meadow with the falls but at 3.9 miles we didn't have the time as dark was quickly approaching, so drove the road instead.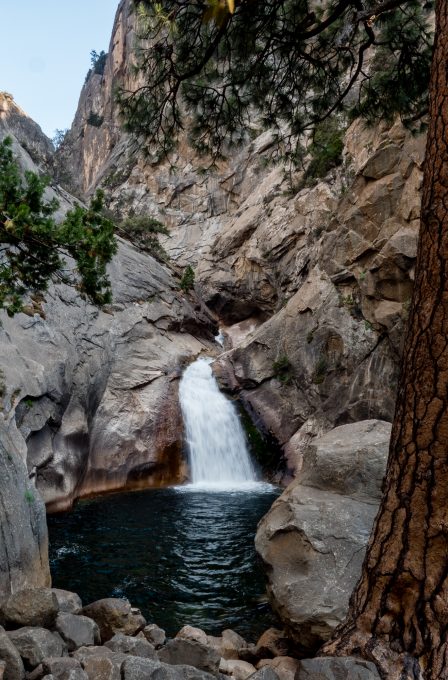 We found a spot nestled amongst the rocks along the riverbank and enjoyed a picnic dinner.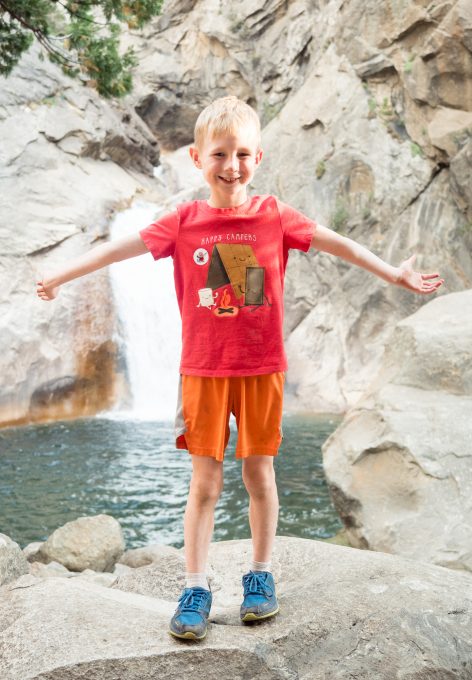 3. Zumwalt Meadow Loop
After a hearty picnic dinner we were ready for one more stop on the road.  We stopped for a short hike to the Zumwalt Meadow. .2 miles down the trail there is a stunning suspension bridge crossing over the South Fork Kings River. Due to the late hour of our visit we only had a few other stray hikers joining us along this generally heavy trafficked area.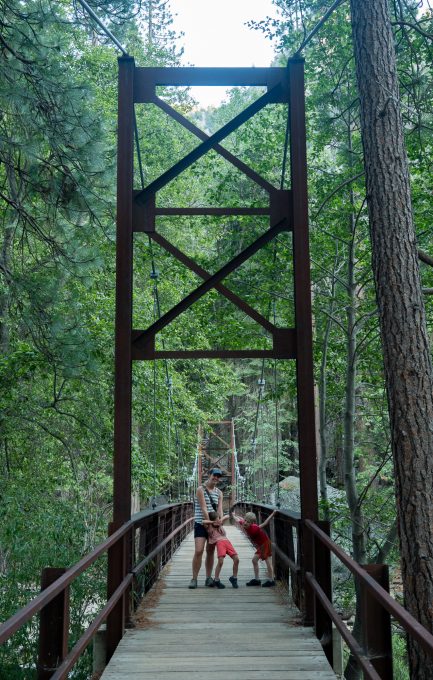 We journeyed further down the trail only to discover that the meadow itself was closed to allow for restoration so we made our way back to the parking area. Our oldest, Jack, often runs ahead but knows that he must always stay within sight of us, years of hiking and he completely understands this. He was running ahead of us on the trail when he abruptly stopped and came running back to us. He had arrived at the suspension bridge and could see a Momma bear with 2 cubs in the river below.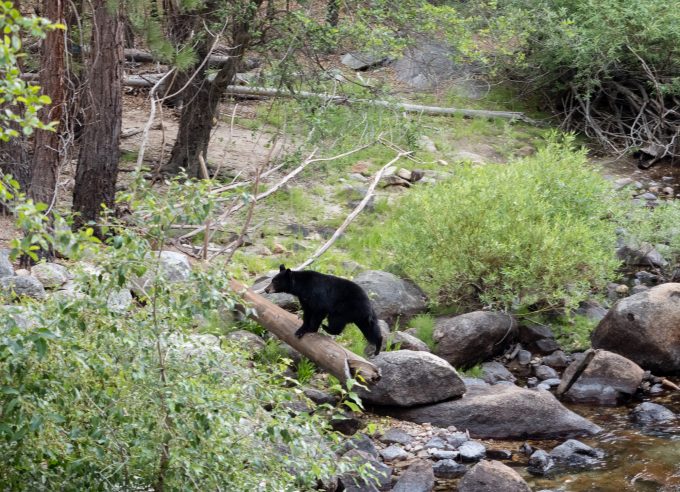 This was our first-ever bear encounter while on trail with the kids (and wouldn't be our last during this visit to Sequoia) and it was a stark reminder that old habits should be amended based upon our location. We knew we were in bear country and we were making plenty of noise but we shouldn't have allowed Jack to run ahead solo. Thankful they were just black bears and there was a bridge and water protecting us from the trio. They clearly weren't concerned by our presence and continued their evening routine in the water while we gave them a wide berth as we walked back to our car.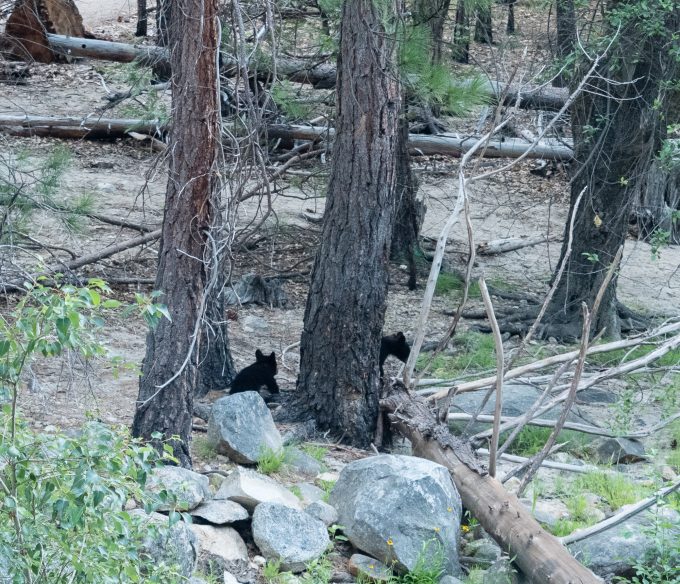 This hike is generally 1.5 miles long, out and back, with minimal elevation gain. I wish we could've seen more than just a peek-a-boo of the meadow but we weren't willing to impact the land by sneaking across the clearly cordoned off trail just for a picture.
The drive back in the dark was definitely a pretty intense experience. But, pulling off at one of the many pullouts and getting out to see the stars definitely made up for the intimidating drive. Overall, I was really glad we opted to do this in the evening as there were minimal crowds, we saw a lot more wildlife, it wasn't too hot, and parking was a breeze.
Pro Tip: there are no gas stations available within the park so be sure to fill up before entering the park and making the lengthy drive.
4. Big Trees Loop
Th Big Trees Loop might be the most iconic stop in Sequoia National Park. This .3 mile, paved trail through the Mariposa Grove is incredibly popular so be prepared to arrive early to get a parking spot!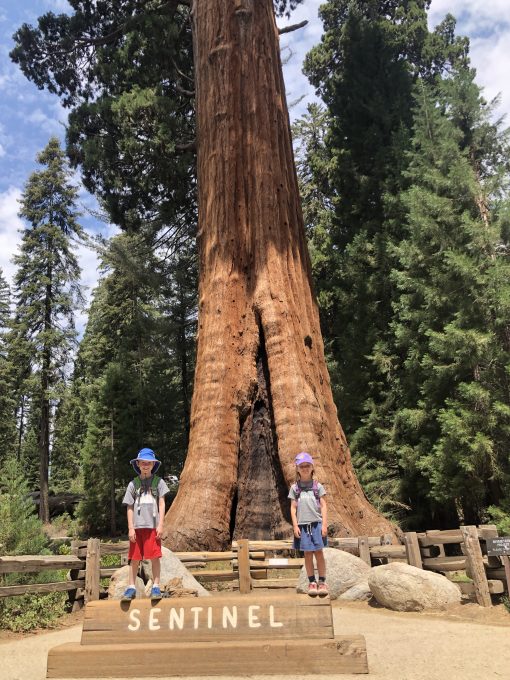 The kids and I found an out of the way spot for a picnic lunch near the Sentinel tree, an iconic tree that stands over 257 feet tall and is aged at 2,172 years old. The first glimpse at these astounding living behemoths had us all in awe. Jack was completely awestruck and exclaimed, "I'm going to remember seeing these trees for the rest of my life."
It was a reminder of why we take these trips. Why we explore. Why we never want to stop doing it. We are making memories that will last a lifetime. We are giving our children an in-depth, personal experience with some of the world's most extraordinary natural wonders.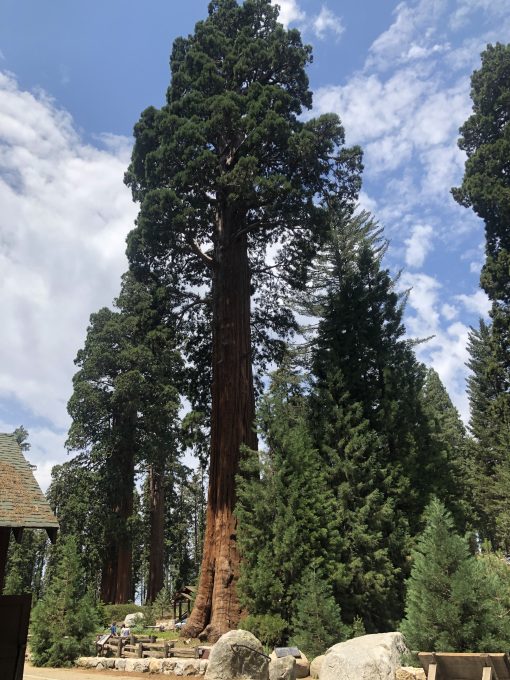 We had parked at the Giant Forest Museum parking lot and began our hike on the South Side of the generals highway. As we were visiting in 2021 COVID was a very real concern and the museum was closed. Rangers were available to answer questions at tables outside the building. At 1.3 miles with minimal elevation gain this really is the perfect family-friendly hike to get up close and personal with the Giants!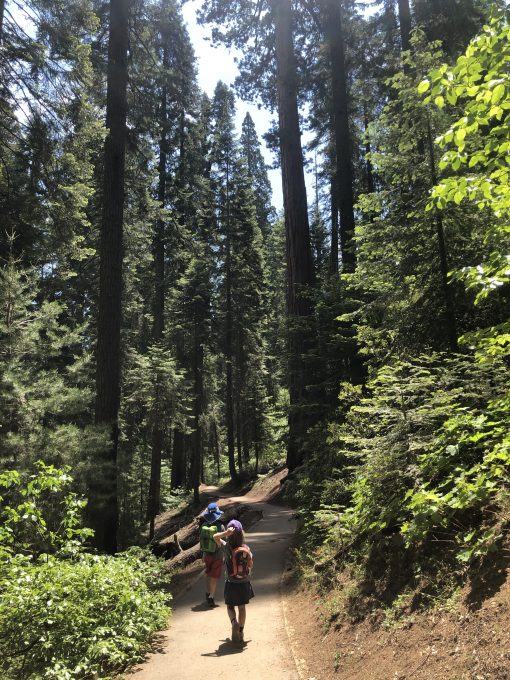 This trail has wonderful interpretive signage all along the trail so we learned a lot about the unique ecosystem that provides the habitat for these trees to grow and thrive. Did you know that this section of the California Coast is the only place in the world where a giant sequoia can grow?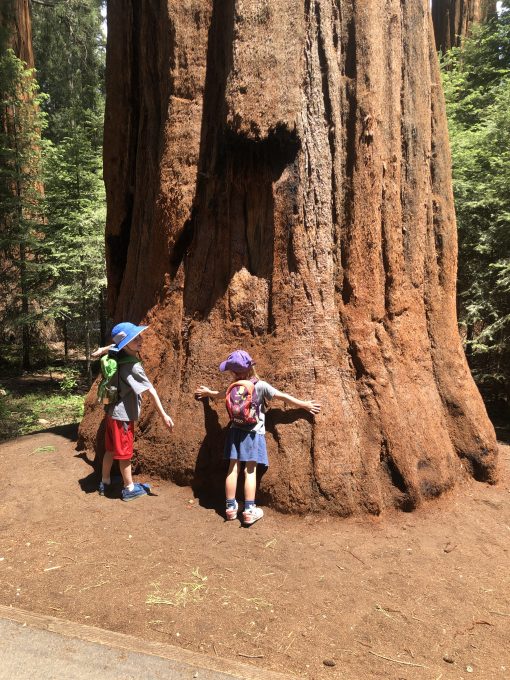 We found an enormous pine cone which was really fun but we learned it wasn't actually from a giant sequoia, that their cones are actually rather small. This comes from a sugar pine. The kids examined this amazing wonder closely, took lots of pictures and then carefully replaced the cone where they had found it. Remember, the opportunities to teach kids about the essential Leave no Trace principals are endless when out exploring, and getting that real world experience.
According to a study conducted by Cambridge University in 2017, "found that 87 percent of those surveyed who played outside when they were young still held a love of nature into adulthood. In addition, 84 percent of those young adults said taking care of the natural environment is a priority to them."
When Bobby and I became parents it became a priority for us to introduce our kids to the natural world so that we could foster a love of the outdoors in the hopes of molding them into stewards of the land.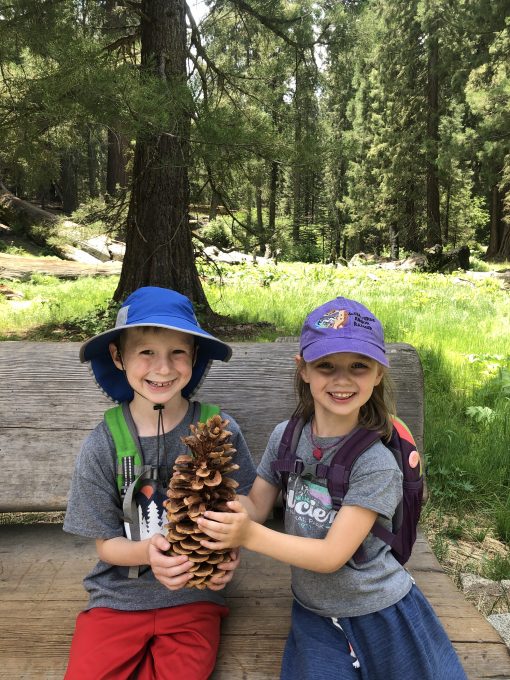 The trail itself can get a little boring for the kids, so be sure to find the fun spots to explore along the way. While, as an adult, the stunning beauty of this meadow is enough to capture our imaginations and wonderings, for the kids, look for the boulders to climb, the hollow logs to explore, and maybe even a slide inside a downed log!
You'll quickly learn that fire is a key, and often repeated, theme in the sequoia habitat. The species depends on fire for reproduction and has evolved to withstand fire. Shortly after we left, in September of 2021 a massive fire went through the park and wasn't completely extinguished until December 2021. Be sure to check the park's website for updates on closures due to the fire.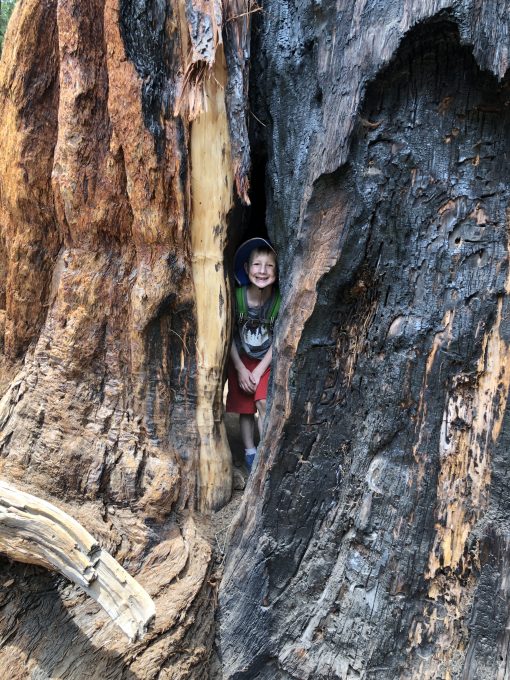 5. Moro Rock
The road to Moro Rock was closed while we were visiting, as it's closed on the weekends to private vehicles. So, we parked at the Giant Tree Museum and took the shuttle up the road. The trail of 350 steps takes you to the top of this stunning Granite Dome. Railings are there, but have large gaps so keep a close eye on small children. If I had a toddler, they would've been in a soft structured carrier and not allowed to walk. A larger, framed carrier may have been too bulky to maneuver through the small passageways with the crowds.
For our favorite carriers and more outdoor gear choices, check out our Amazon page.
Note – when you buy gear through the links on our site we get a small percentage of any sales that we use to support our family adventures. You pay the same price you normally would.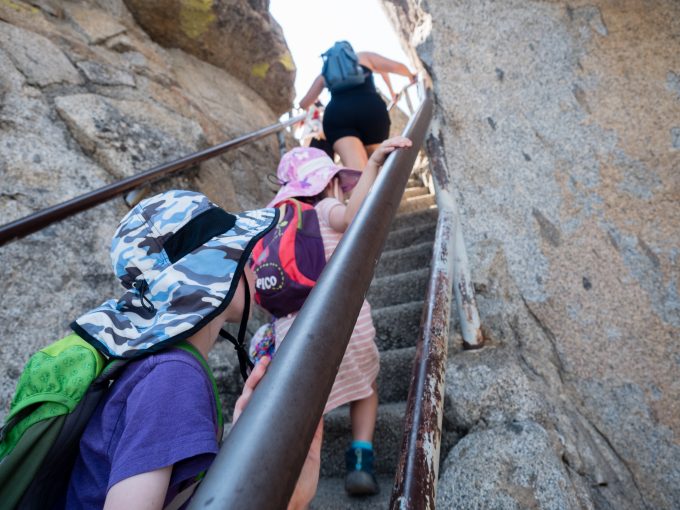 The kids did great on this hike and were really good listeners as we asked them to stick close to the walls and keep away from drop offs.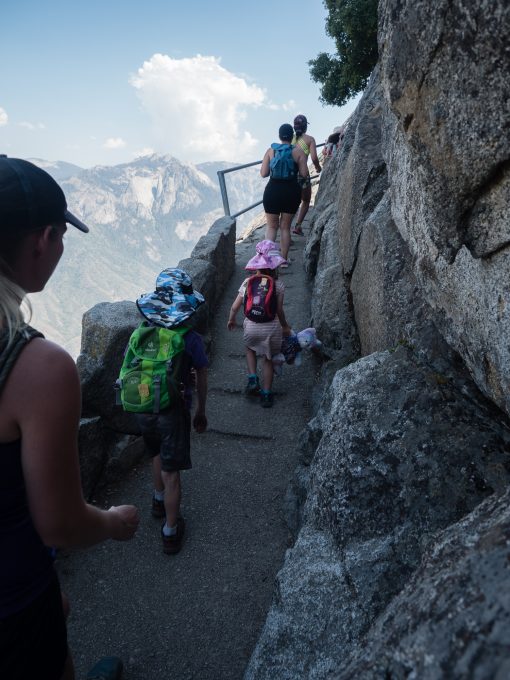 The views from the top are absolutely spectacular! There are a lot of drop offs and not a lot of protection so keep kids very close at the summit.
The stairs are uneven and oddly spaced so be cautious as you descend and encourage kiddos to hold the handrail to prevent slips.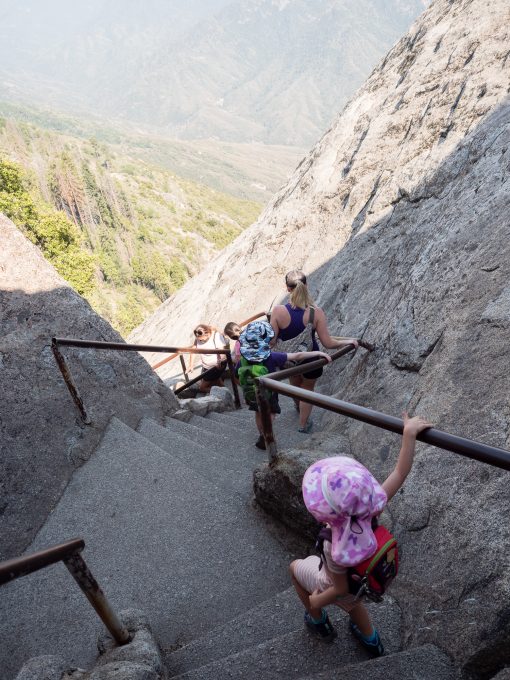 6. Crescent Meadow
After our hike up Moro Rock, we hopped back on the shuttle to get to the trail for Crescent Meadow. This 1.5 mile, flat hike was so much fun for the whole family. We heard people at the trailhead talking about a bear just down the trail. We found him as we hiked, made lots of noise, and did our best to ignore him.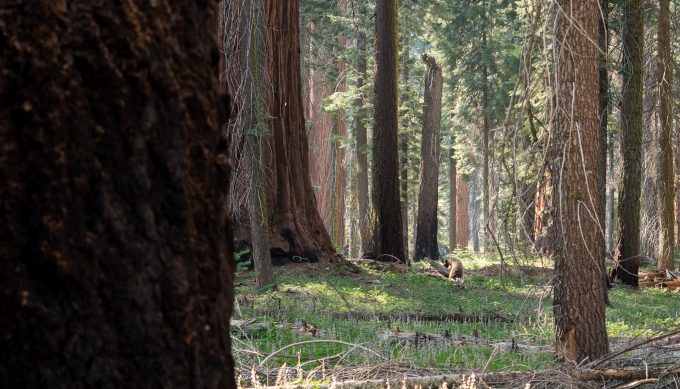 Trails that wind through magically ancient forests have always been a favorite of mine. They make me feel as though I've been transported through time. Sharing these trails with my children is such a special experience.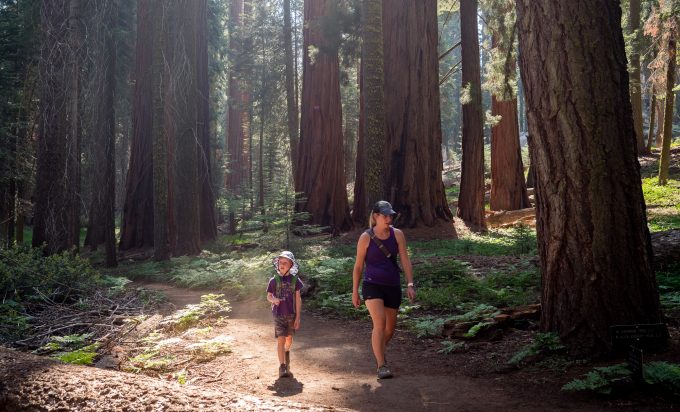 7. Tharp's Log
Along the trail you'll encounter Tharp's Log, built in 1861 by Hale Tharp, a cattle rancher who wintered here and even hosted John Muir and his mule in 1875. The idea of living in a log just completely staggered us. It is so amazing that this historic site has been preserved and we all found ourselves wondering what it must've been like to live in a log.
We met a family from Australia as we hiked and they were there to bird watch and search for wildlife (they were bummed when they heard about our bear encounter since they had missed him). We encouraged the kids to be quiet so they could hear the bird calls. It was a great reminder of one of our favorite trail games, "What Can You Hear?" Try it with your kids they next time you're out hiking and they're driving you nuts with incessant chatter or whining. Stop, look serious and ask, "What can you hear?" It may only last for 5 minutes, but the quiet and the learning that takes place are really fun to experience with tiny humans. The family we walked with was lovely and we their older, teenage children pointed out some holes in the forest floor where tiny creatures surely called home.
8. Sequoia National Forest/National Monument
If you're tired of the hoopla and crowds inside the National Park, head to the National Forest. We generally find amazing hikes in the surrounding areas that aren't nearly as busy as those within the boundaries of the park.
Sadly, this wasn't really the case with Sequoia National Forest. The crowds were everywhere and were incredibly disrespectful of the space they were visiting. Pets are allowed so there were dogs everywhere and even a parrot on one hiker's shoulder.
Trail of 100 Giants
The Trail of 100 Giants is an accessible, paved 1.3 mile path that winds through an impressive number of ancient giant sequoias. We ate lunch at the base of a giant thousand year old tree before beginning our hike. Sadly, a large section of the trail was closed due to 3 downed sequoias that obliterated a good portion of a newly built boardwalk.
In 2021, after our visit, the Windy Fire destroyed the remaining boardwalk and this trail is currently closed as it goes through restoration.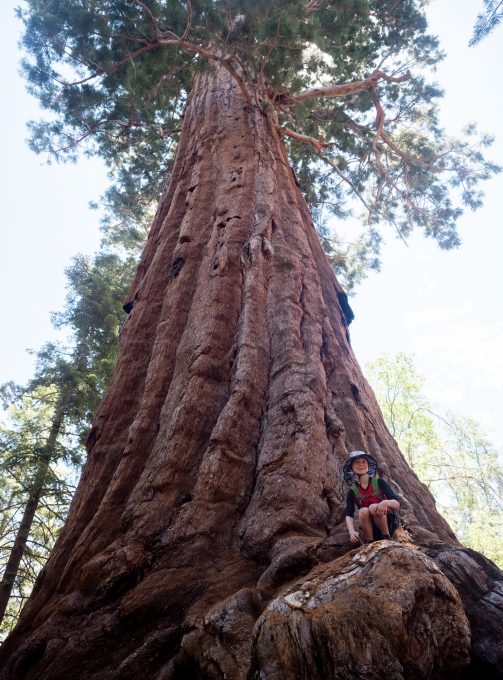 Due to the large, rowdy crowds we didn't stay long and continued on hoping to find a more secluded spot.
Noble Young Falls
This is a little known secret gem of Sequoia National Forest, at just 1 mile with some steep sections of trail this is an easily accomplished hike. The waterfall isn't much but the rock formations create pools that are really fun to play around in. To get there, park at the pull off located at 36.016556, -118.562639 and follow the unmarked trail headed northeast from the dirt lot.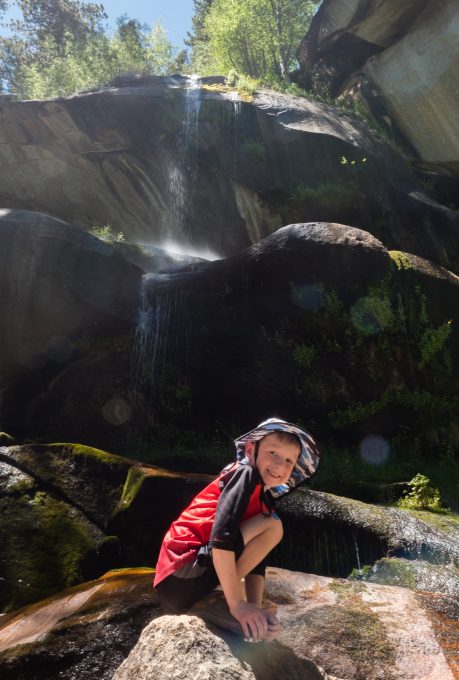 This was such a cool and refreshing spot to get out of the heat and splash for a little bit!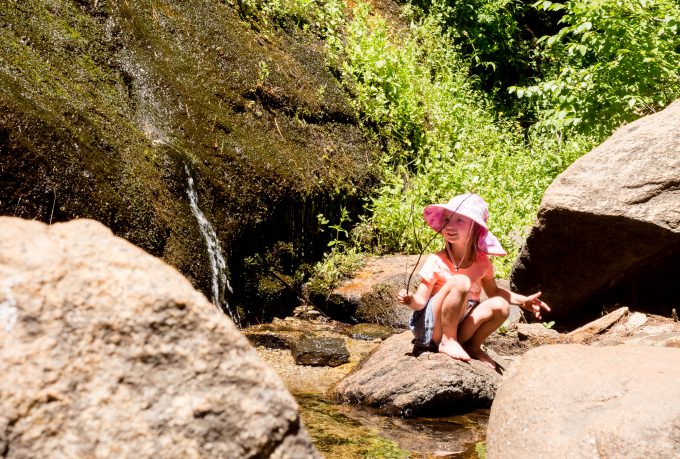 To make the journey through Sequoia National Forest extra scenic continue the drive along The Great Western Divide Highway through the rest of the park. We drove through sections of the forest that had been absolutely decimated by the Windy Fire of 2020 and saw the restoration and rebuilding process up close. Once again, it was a stark reminder of the importance, but also the impact these massive fires have on the ecosystem and the surrounding communities. We had lots of conversations about the brave humans who work so hard to protect these wild places.
Where to Stay
National Park Lodging
There are several lodges located within the National Park that are available for visitors. Several of the lodges are generally open year-round but, due to the KNP fire last year all of them are currently closed. Watch the park's website for updated information.
Campgrounds
Sequoia and Kings Canyon have 14 campgrounds in all and 3 of those are open year round for use. These campgrounds are popular so be sure to get a reservation! Check out the park website for campground opening dates as they all open at different times and openings are subject to change.
None of the campgrounds offer hookups for RVs and there are generator hours, so be sure to check those out if you're planning on dry camping in your rig.
Lemon Cove RV Park
We opted to stay south of the park at Lemon Cove Village RV Park. We absolutely loved this campground. The scenery was breathtaking, the pool was wonderful, and the hospitality was great. Sites range in price from $50-$70. Available sites include anything from partial to full hookups to tent to group camping. It was really hot while we visited and I felt bad for the tent campers sweating it out. I think temperatures would've been cooler inside the park, at higher elevations, however we need internet while we travel so Bobby can work during the day so this campground worked really well for us.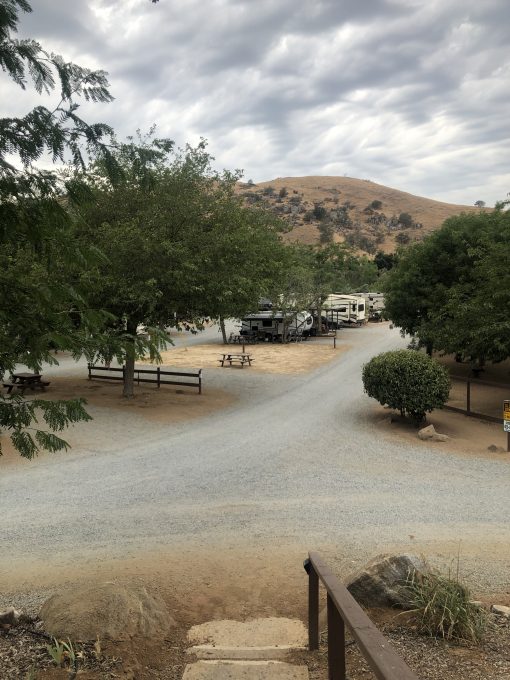 Bears
We declared this park, the park of the bears. We weren't 5 miles down the entrance road when we had our first of 5 encounters with bears while visiting this park. The bears found within the park are black bears and are generally harmless and don't approach people. That doesn't mean our encounters weren't frightening, especially for our Rowan who has a pretty strong fear of bears.
Remember to keep kids close on the trail and make lots of noise to alert bears to your presence, generally not a problem when hiking with small children!
For more general information on bears and the park check out their website for some helpful tips to plan your trip.