While making our way across the vast state of South Dakota we stopped for four nights just outside of Badlands National Park.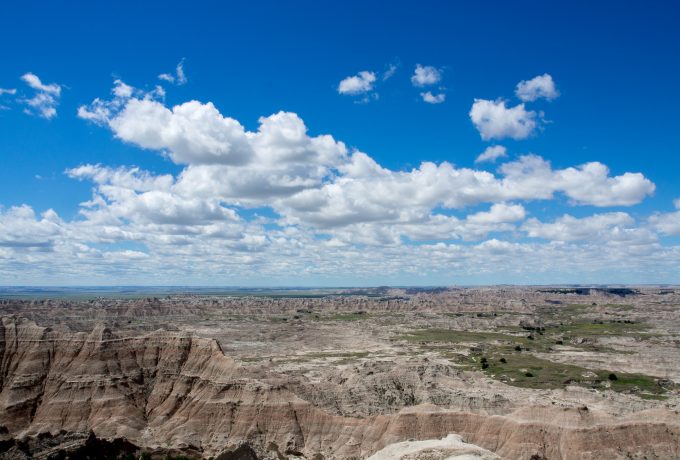 This otherworldly, breathtaking park is home to some incredible hikes, stunning views, and an insane amount of wildlife.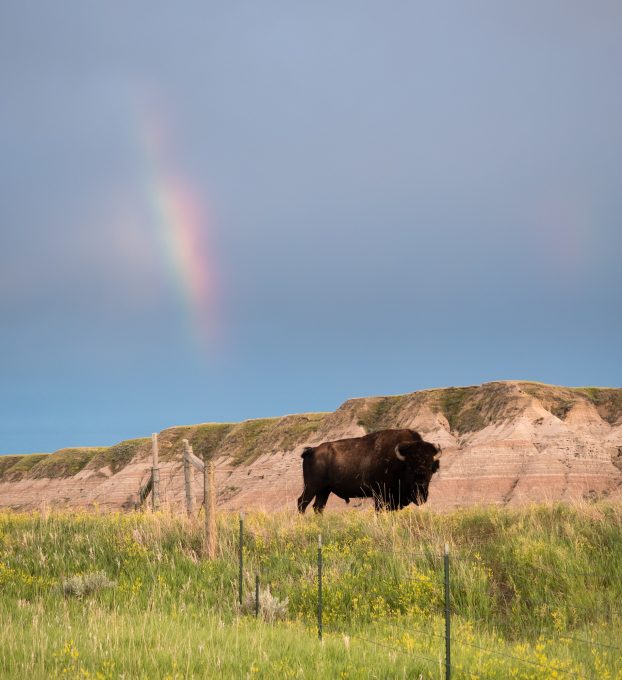 The two incredible hikes we completed while there were the iconic Notch Trail and Saddle Pass  along with the two epic day trips we took to the nearby Black Hills made this a most excellent stop on our two month long journey in our camper. 
Saddle Pass
Bobby worked remotely for the majority of our journey and as we were living in a 35 foot camper it meant I had to find day trips for the kids to keep the camper relatively quiet. Although, thanks to his Bose noise cancelling headphones we were able to spend rainy days in the camper without distracting him too much! While in the Badlands the kids and I headed out for a day of adventure and ended up at the Saddle Pass trailhead.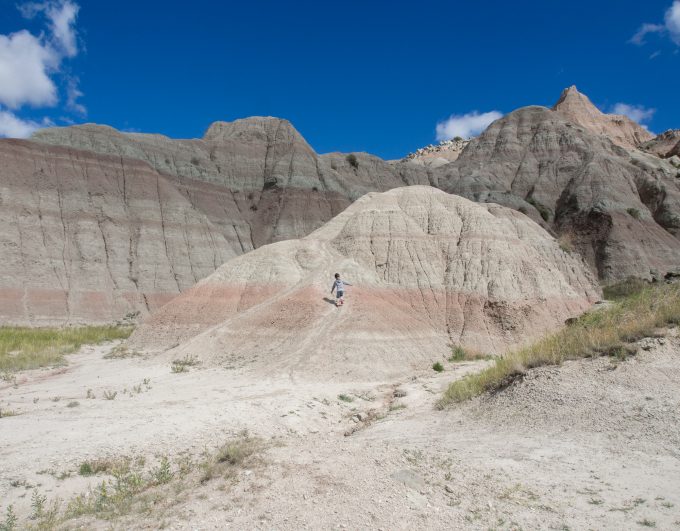 At only .73 miles I was confident the kids and I could easily complete this hike on our own. Rowan, only 3 at the time of the trip, was still a hesitant hiker and in order to bring a daypack with water, snacks, the ten essentials, and emergency med kit I couldn't carry her easily on my back as I do when Bobby is along on our hikes. Rowan and Jack assured me they would complete this on their own and Jack was ready to guide us and lead the way!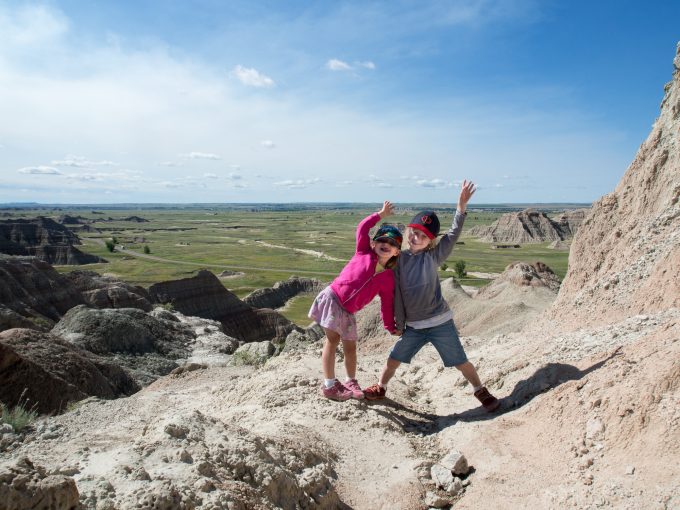 Little did we know just how steep this trail would be and I was soon teaching the kids the art of the butt scootch to make it safely back down after we had reached the pass and were headed back to the car.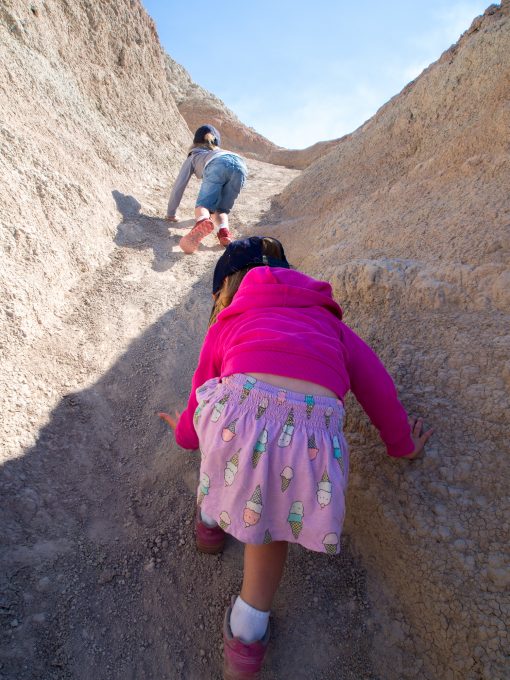 This trail is easy to lose so be sure to look out for the trail markers along the way. We couldn't find them for a bit but the kids were so determined to find the way they sat down quietly and waited patiently while I did some scouting and eventually found the way and we made it to the top!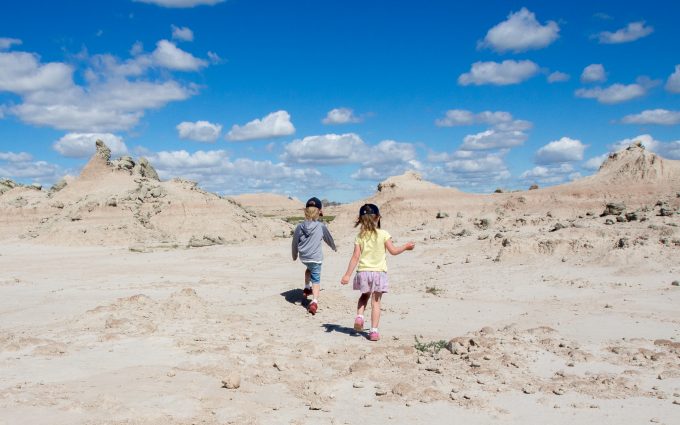 I was so impressed with how well the kids listened as there were some drop offs and it was hard being solo with them. Jack was so responsible and Rowan was extra brave and made this an incredibly fun hike for all three of us!
The kids really wanted to see some wildlife so we drove on hoping to find a fun spot to eat our picnic lunch. We made our way to Robert's Prairie Dog Town where we picnicked in the bed of the truck and enjoyed watching the little prairie dogs while munching. PSA getting a good picture of a prairie dog is hard. Like, super hard. Thankfully some buffalo crossed our path so we had proof we did actually see wildlife while out!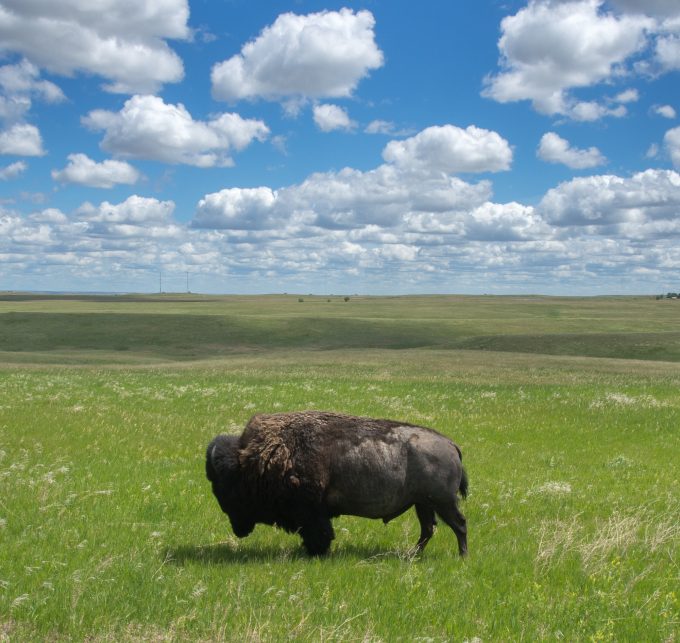 The Notch Trail
Since Bobby was busy working during the day we would venture out in the late afternoon before dinner time to hike and explore with him. He took us to the legendary Notch Trail. At 1.3 miles this isn't a long hike but the ladder makes this hike extraordinary. Waiting your turn and communicating with other hikers is key to your success here. For some reason people were not alternating groups going up and down, there was just a steady stream going down… Finally, I hollered up asking if we could come up before yet another group came down. People were happy to pause and wait for us to make our way.
This trail has a lot of steep drop offs and, of course, that sketchy ladder! I was once again very grateful to have our trusty Onya Pure along so I could easily strap Rowan (a 37 lb 3 year old) to my back without any fear of her falling out, as this is a toddler-specific carrier.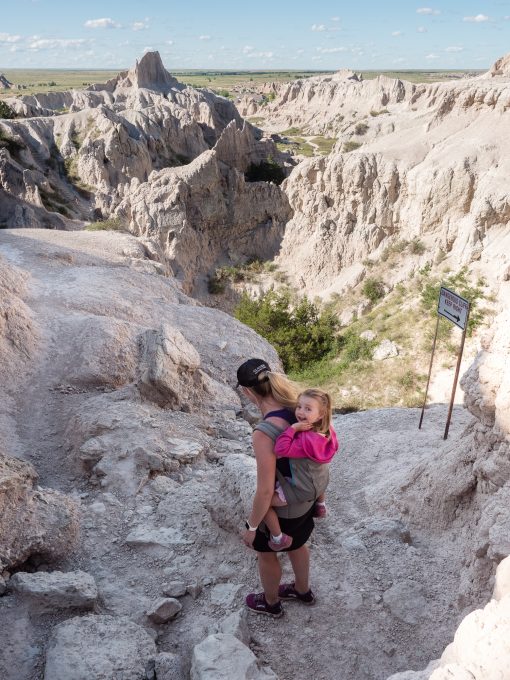 This hike was really beautiful and we saw a surprising number of families out and about. This trail is very easily accessible which makes it a popular spot. We went in the evening so we missed a good deal of the crowds.
This is a great hike for people with a little more experience that don't mind sketchy ladders and drop offs. If that doesn't sound like your ideal, I would steer clear of this one.
Day Trip Options!
While visiting Badlands we took two day trips to the Black Hills (somewhere between 1-2 hour drive time) to visit iconic Mount Rushmore, go down an Alpine Slide, took a drive through the legendary and, sometimes harrowing Needles Hwy in Custer State Park and went mountain biking at Hanson Larsen Memorial Park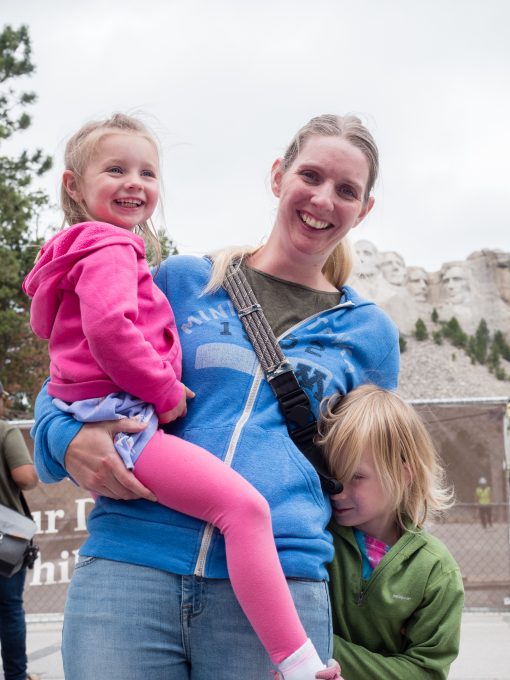 Visiting Mount Rushmore during times of COVID and construction meant we couldn't see much, there were still crowds and the kids weren't nearly as impressed as we thought they would be… But, we made up for that by checking out a really sweet alpine slide later that day! Rush Mountain is expensive, so only go if you are really willing to spend some money. There is a cheaper and smaller alpine slide right in Keystone that would be a better option if you're on a budget. This place did also have a high ropes course and a cave tour which, had we had the time we might have checked out.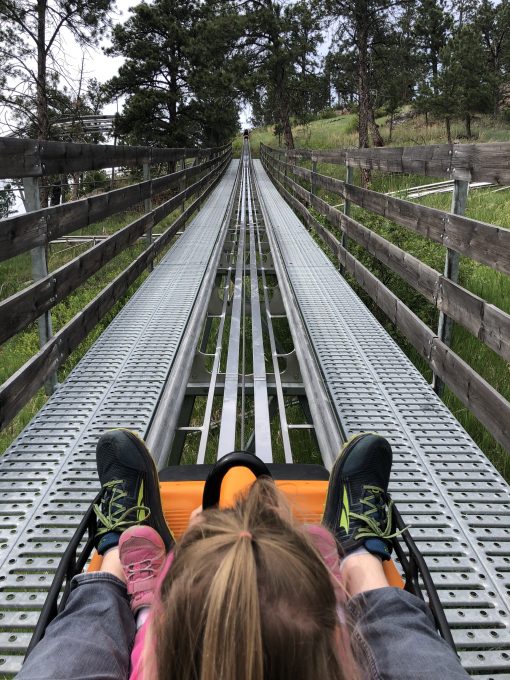 We opted to take the long way back to Badlands by going through Custer State Park so we could drive through the tunnels cut out of stone along the Needles Highway. This drive was so amazing and completely worth the extra time in the car with hangry kids!!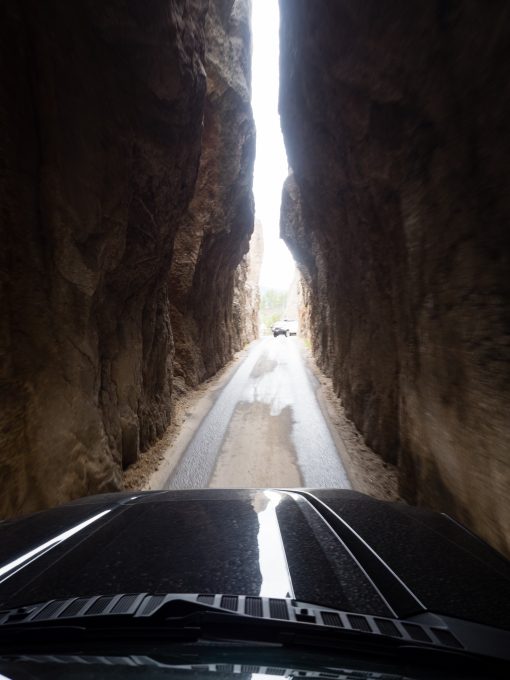 The afternoon we spent mountain biking at Hanson Larsen Memorial Park in Rapid City was hot, difficult and fun in between! When downhill mountain biking, if there is a road available you often take it up to the top as it is usually the easier option. When visiting this park, DO NOT TAKE THE ROAD!!!! It was absolutely terrible and steep and rutted and rocky and steep and terrible. Seriously, DON'T DO IT!!! I digress… Once we finally made it to the top we had a grand time coming down! However, due to that terrible road of which we will never speak again, this was a one-run trip as we were all completely exhausted after that!
Overall, our trip to the Badlands, with day trips to the Black Hills mixed in was really fun. If we were to do it again, we would probably only book a short stay at the Badlands, if at all, with more time spent staying around the Black Hills as there are a lot more options of activities in that area. 
Campground Review
We stayed at Badlands Interior Campground, at only $36 per night with our Good Sam membership you definitely get what you pay for. The pool is pretty crappy, and was frequently closed due to high chlorine levels, the playgrounds were pretty rickety but we could tell they were doing some work to improve them. The dump station is awkwardly close to tenters and difficult to access with a big rig. Bobby's endorsement was that the Verizon cell service was good, making remote work easy! We also had neighbors that had pulled in the wrong way so our doors faced each other and they continually walked through our campsite so that definitely made things more awkward… I wouldn't stay here again and would rate it about 2 stars for the above reasons. 
The town itself has no services and was pretty sketchy, we had to drive a long way to find a grocery store and, even then, it was a small country market without many options but, friendly staff. The National Park has a campground just down the road and I would try and get in there next time, or find a spot in the Black Hills and day trip to the Badlands.