Last night we had another successful night at a restaurant! We were seated, ordered, got the check, and a box only communicating in French. Our next step is to do it without getting out the phrasebook to double or triple check that we're doing it right. Eating pizza out on a patio (arcade) with space heaters going (it was a little chilly and windy) was the perfect way to end that somewhat lazy day of ours.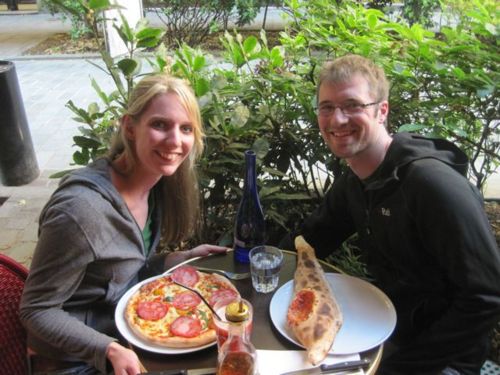 We had been told that the tourism employees would be striking today. Our days original plan had been to go to Versailles the only question was, would it be open? We made our way to the nearest tourism booth to see if the sites were closed and for how long. Once there we found they had a list of the sites that would be open and alas Versailles was not. Even worse, we had already been to most of the sites that were on the short list. However, the Musee de l'Armee or the Army Museum that also holds Napoleon's tomb was on the list. We hadn't been there and weren't planning on going there but the required metro station was just across the square, it was covered by the Museum Pass (normally 9 Euros) and it was something to do! So, off we went! The museum was a converted veterans hospital that was incredibly large.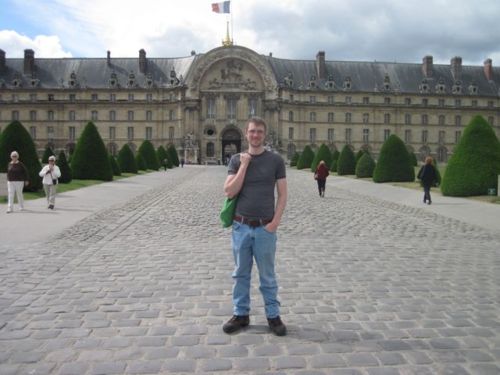 It showcased artifacts of the French Army since the 1700s, including Napoleon's taxedermized horse. We had traveled through half of the museum and seen Napoleon's tomb when we decided to stop for lunch. There was an attached cafeteria that was most convenient and sold somewhat reasonably priced lunches (I even got a chocolate eclair that was delicious!).
After lunch we discovered that audio guides were available! According to Rick Steve's guidebook they only cost 1 Euro. Not so Ricky, try 6 Euros if you're over 26 and 4 Euros if under. Still we paid and went back into Napoleons tomb where we had been most confused because of the complete lack of interpretive signage.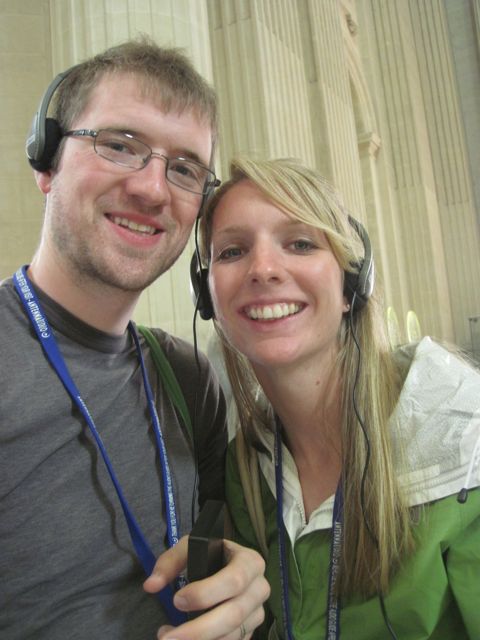 We were grateful we got the guide! We had been under the impression that Napoleon had built this grand resting place for himself which was totally untrue! Another French King had his ashes (respectful way of saying remains, we learned from our audio guide) moved there.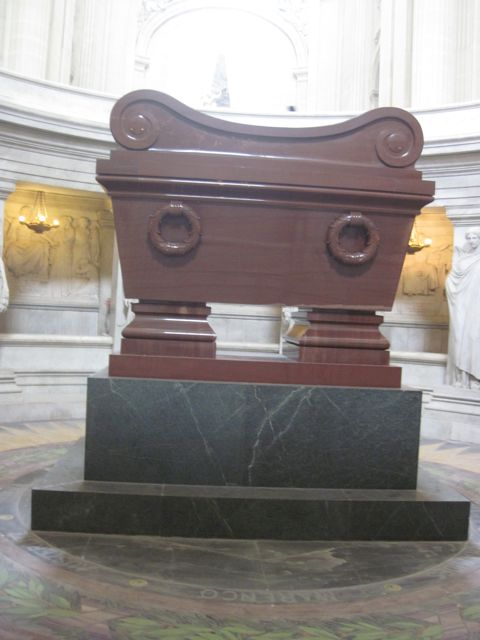 We spent the afternoon in the section of the museum that was dedicated to the two World Wars. This was much more interesting than the earlier artifacts were to us. We feel like we can relate to the items and wars in these later times better than we could with wars fought on horseback and in large open fields. Sadly, we felt that the audio guide did a rather poor job in the World War II section of the museum. We were hoping for a history of the war from the French perspective and were sorely disappointed when it focused more on Charles de Gaulle. It was interesting to learn of the namesake of so many places and sites in Paris it just wasn't what we were expecting. All in all we enjoyed the museum and were glad to have been given the opportunity to see it. We would definitely recommend at least visiting the World Wars section if nothing else.
We headed back to the apartment via the Metro and were walking through the square in front of Notre Dame when we decided to wait in the long line to climb the bell tower. We didn't mind waiting in the line today seeing as we were pretty much out of things to do.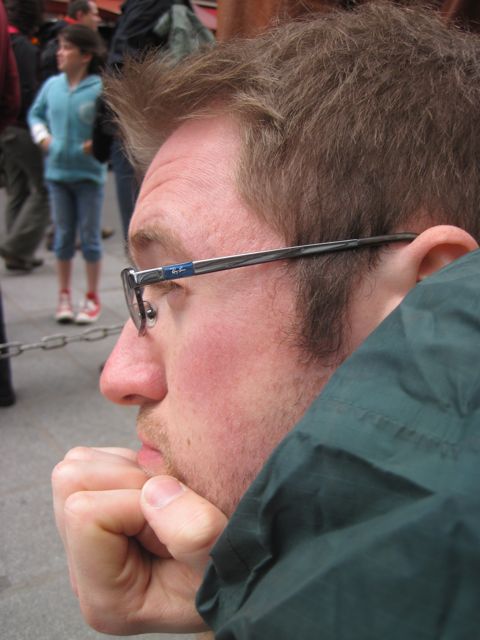 We munched while we waited and were soon climbing more narrow and spiral staircases (400 steps).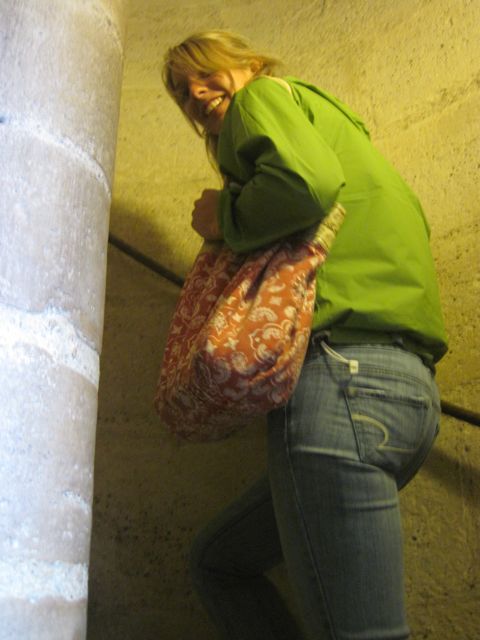 At first neither of us really felt a need to climb yet another tower to yet again few paris from on high. However, we had our museum pass and it normally costs 8 Euros to climb and in the end we were both glad we decided to climb it! This vista allowed us to see many of the sites we had visited and the gargoyles were something to behold.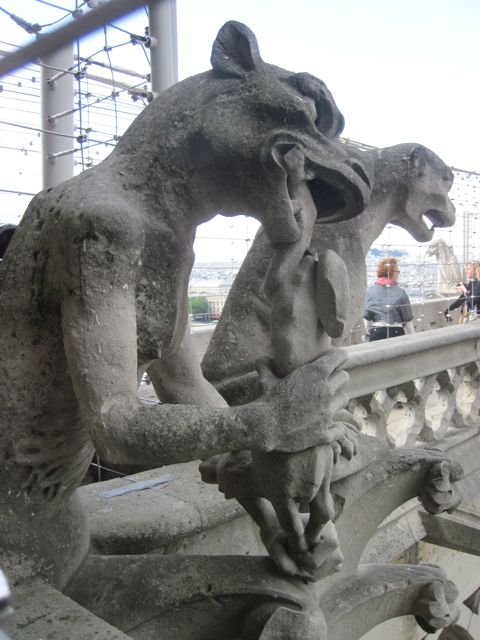 Plus, we had to look and see if we could find Quasimodo.
The trip back to ground level would've been a complete success but Bobby ended up making a faux paux. While we were heading down the very narrow and steep spiral staircase Bobby was using the center column to balance himself and his huge feet on the tiny steps. At the same time a group was headed up the stairs and was stopped as we and a few others passed. Bobby was at the end of the line and, not realizing another group was stuck on their way up, placed his hand squarely on a woman's forehead thinking it was the center column! As Bobby felt warm flesh instead of cold granite he let out a yelp and almost fell down the stairs.
I would say that climbing the tower was worth the wait and definitely worth doing! I am really grateful we didn't skip it! Tomorrow we are hopeful that the strike will no longer be going on and we can continue our sightseeing whirlwind in Paris!