Yesterday's itinerary included a visit and climb up the Arc de Triomphe, a visit to the Musee Jacquemart-Andre, a stroll through Luxembourg Gardens, and a tour of the Pantheon. The day started off with a little bit of luck! I had us on the correct Metro train but going to the wrong stop. We realized that the stop I had us going to would be going outside of the zone with which our tickets were good for so we hopped off to purchase the correct tickets. Then we realized that we had hopped off at the station directly outside the Arc de Triomphe!I had us going to La Grande Arche, a completely different arch! We emerged from the Metro station and found ourselves facing the Arc de Triomphe and a terrifying roundabout.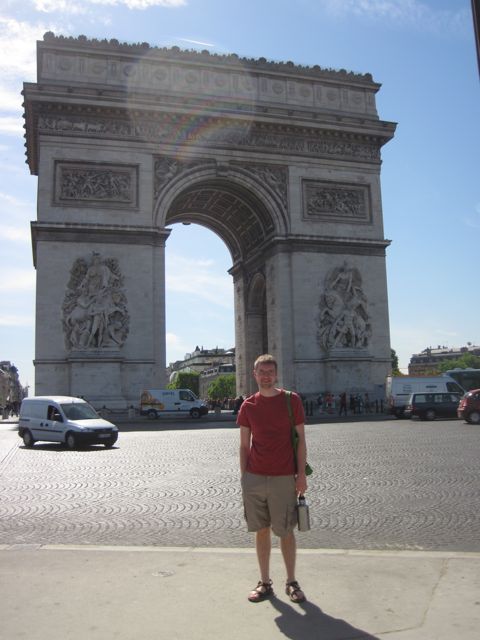 This roundabout is the point at which 12 different avenues converge, and we were there at rush hour! Luckily Bobby had read in Rick Steve's guidebook that there was an underpass. We found it easily enough and headed underneath!
We emerged on the other side of the roundabout, once again facing the Arc but no closer than we were before… We knew we'd missed something. Back into the underpass we went and found the turn we had missed. The signage was poor and scam artists were running rampant down there. The combination of the two led us to completely bypass the small turnoff point. Finally we emerged and found ourselves at the Arc! Sadly our trusty Museum Passes did not allow us to skip the long ticket buying line and we were forced to wait. (The normal entrance fee is 9 Euros) Soon enough we were through the line and climbing the 284 steps to the top of the 165 foot high arc that was built by Napoleon to commemorate his victory at the battle of Austerlitz.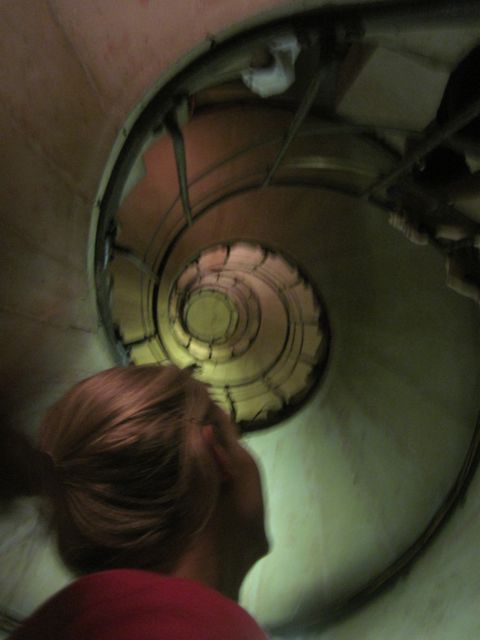 It was a beautiful site up top with an excellent view of the Champs-Elysees!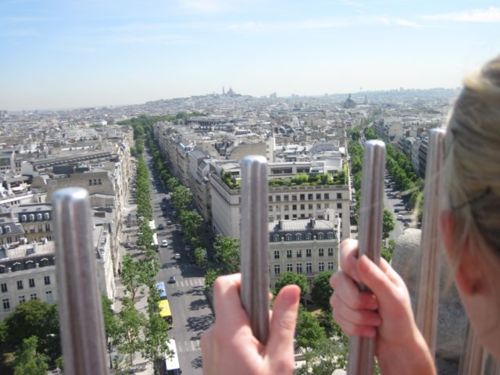 Next stop, the Musee Jacquemart-Andre! We thought it was a short walk from the Arc. It was a little further than we had anticipated but still wasn't that bad. However, upon arrival we were faced with a large line and a sign that read "45 minute wait from this point." we discussed leaving but I had been looking forward to this particular museum because it doubled as an historical home and I try to visit/tour an historical home wherever I travel because I enjoy them so much. Sadly the wait was difficult. It was close to 80 degrees in the sun and it was lunch time… Once again we had not planned well with regards to keeping ourselves fed. Fussiness set in. However, once we were inside the home with our audio guides in hand hunger was forgotten!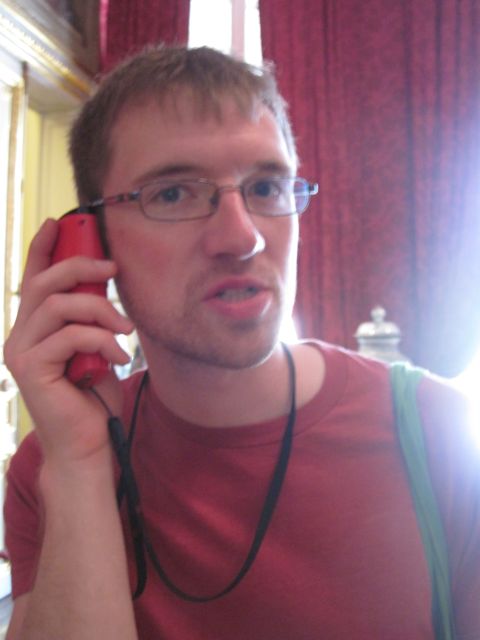 The home was beautiful and the artwork contained therein was amazing. It was the home of Edouard Andre and his wife Nelie Jacquemart who shared a passion for art. The home doubled as a showcase for their extensive collections. The audio guide was a wonderful helpful, interesting, and (as Bobby said) a little cheesy.
Lunch was our first priority upon exiting. We stopped at a small cafe and got a sandwich (pronounced sahnd_weech) from a charming Parisian who was kind enough to speak English and up sell us a somewhat yucky dessert. The night before Bobby had researched and discovered that Paris is home to two Apple stores and that one was fairly nearby to where we were. We hopped on the Metro for a short trip that brought us outside the Opera Garnier (a sight that was not on our original itinerary). We thought about going in, but when we discovered the museum pass didn't cover it and it was 9 Euros and Rick Steve's doesn't recommend it too highly we decided to pass. We did admire the architecture and artistry of the exterior while roaming about looking for the Apple store.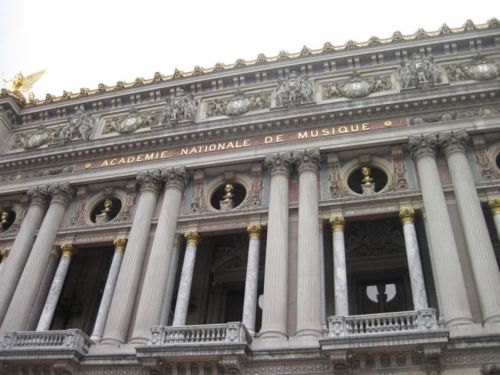 We found it! It is housed in an old Bank and is quite beautiful! I made Bobby take an awkward photo in front of it (to his dismay) and we vowed to always try and find an Apple store in whatever country we may be visiting.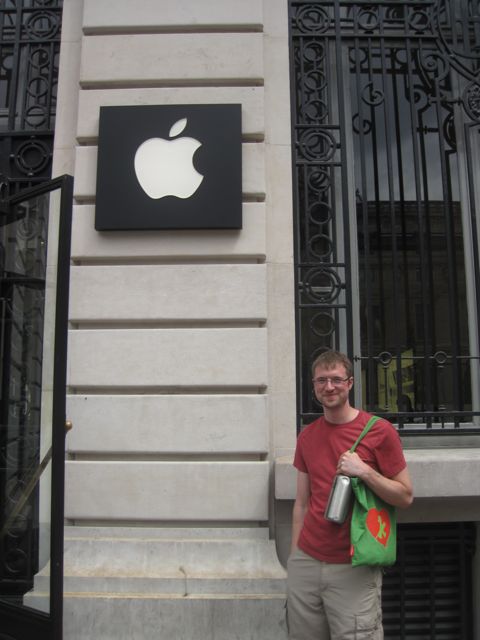 The next sight to be seen was Luxembourg Gardens. After some confusing train transfers (or correspondences as they're called here) and some helpful directions from a Parisian, who was kind enough to stop when he saw our looks of confusion and map, we found the Gardens. It's a sprawling 60 acre park with people and statues everywhere.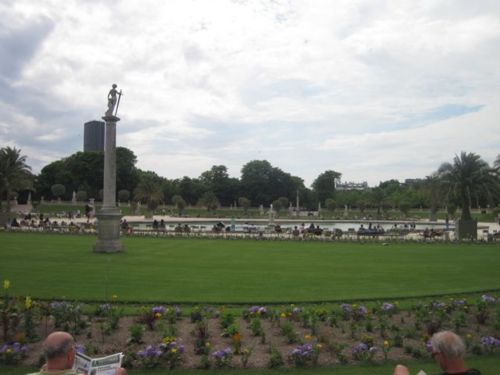 After visiting there I decided that we need more statues in our parks! The Parisians were out in force sitting around, picnicking, making out, playing tennis, bocce ball, and chess. It was great people watching! We both were in need of a restroom, which proved difficult but soon found one although we had to pay 0.60 Euros (Bobby only had to pay 0.20 Euros while I had to pay 0.60 Euros). The gardens were lovely and we stopped for a brief snack! We even got to see a park maintenance employee planting/watering annuals!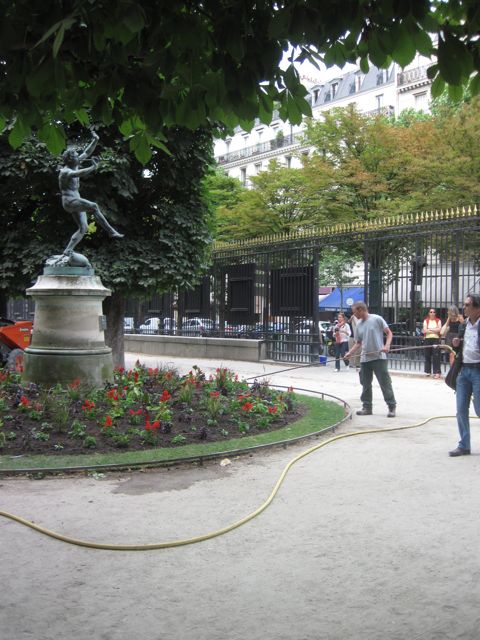 I made Bobby take a picture of him!
Onto the Pantheon we went! It was within walking distance and free with the Museum Pass (Normally 8 Euros)! The Pantheon is home to Foucault's pendulum (which helped scientists discover that the earth is rotating) and houses many French VIPs tombs.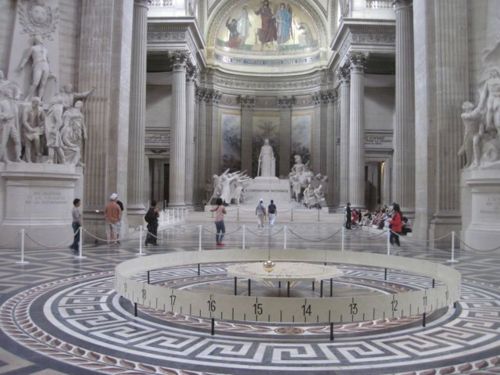 While the building was grand and some of the tombs interesting we both agree it wasn't a must see sight.
Throughout the day we had struggled with the Metro system and had therefore used more tickets than we had expected. So we decided to ignore our sore feet and legs and walk home. The walk was long but not unbearable by any means (especially since we stopped for Gelato along the way!) and we were soon tucked into the apartment. We were exhausted! We rested for a couple of hours by watching some television and then got ready for dinner. We found a small cafe and sat. Today we went all out and ordered bottled water so it would be cold! We're such rebels! It was delicious. Then we decoded our menu with our phrase book and it was time to order! Bobby got the waiters attention by saying "Please" (in French) and I ordered (in English). Bobby had been practicing and now was the big moment! He started speaking in French and the waiter got very excited and smiled broadly at him! Telling him "Good Job!" when he had finished. Our meals were excellent and promptly served! Bobby asked for the bill (in French) and we were on our way. Restaurants are getting less and less intimidating by the day! We stopped at a grocers and were soon home and fast asleep.