We forced ourselves up this morning despite the fact that we both wanted to keep sleeping. We are trying our best to switch to our new time zone as quickly as possible! We set off to find a patisserie for some breakfast. Today we were a bit smarter and brought our phrase book with us! I had been memorizing how to say "We would like…" all morning. Now was the big moment! My palms were sweating, my mouth went dry, and I prayed that my pronunciation was close to correct. I stepped up to the counter and tried to act and sound as confident as I could! The words flowed out, "Bonjour Madame! Nous voudrions un pain chocolate et pain avec raisins." She repeated my order back to me (Bobby said my pronunciations were close to hers!) and I said, "Oui!" We paid, left, and felt a sense of elation at having successfully completed an entire transaction in French! We munched on our pastries while walking to the Marche de Bastille, the open air market nearest to our apartment and only open two days a week. Along the way we stopped at a fresh fruit stand and purchased bananas, nectarines, and strawberries. This transaction was far less intimidating as no talking was necessary aside from Bonjour and Merci. We soon arrived at the market, talk about overwhelming! Hundreds of people milling about, each vendor hollering to you in French, beggars on every corner, and an overpowering odor of seafood and a dozen other smells mixing together. Bobby was particularly overwhelmed and had no desire to purchase anything. Finally we approached a fresh vegetable stand that was uncrowded and I was able to point and struggle with my limited vocabulary to acquire all the necessary veggies to make delicious salads as midday snacks. Afterwards I felt more confident and was able to purchase a baguette and a frozen lemonade! We headed back to the apartment to drop our purchases and found a grocers on the way where we stopped for a couple other kitchen essentials. Thank goodness the products had pictures so I sort of knew what I was buying… We packed a lunch of baguettes, strawberries, and bananas and headed to our first big site, Notre Dame.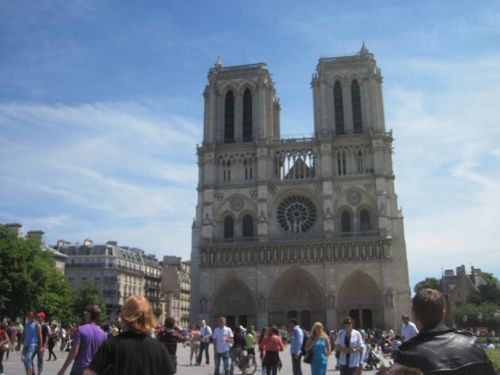 The line to get in was long but fast-moving. We were shocked to discover upon entering that mass was going on. It was very odd to see hundreds of camera flashes going off, people chatting, and videotaping along the outside ring of the church while in the center mass was being said. I was most impressed at the priest and cantor's ability to tune out all the racket and deliver a sermon and sing beautiful hymns. It felt strange to see machines selling Notre Dame medallions amongst statues and altars to saints. There were also candles you could purchase and light, whose price tag was an iPad sized computer screen. Bobby said that he felt like they missed the point of the story of Jesus entering the temple and destroying all the vendors tables and hollering about how a church should be a house of prayer. We quickly made our way around the outer loop and headed back outside. We walked around to the rear of the church where there was a lovely garden with benches that was much less crowded than anywhere we had been before!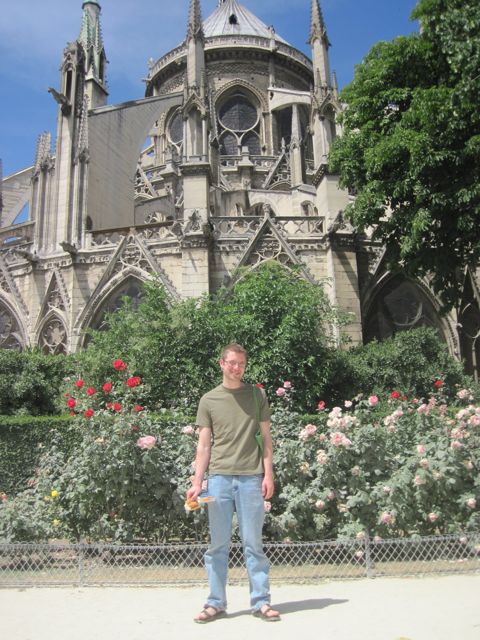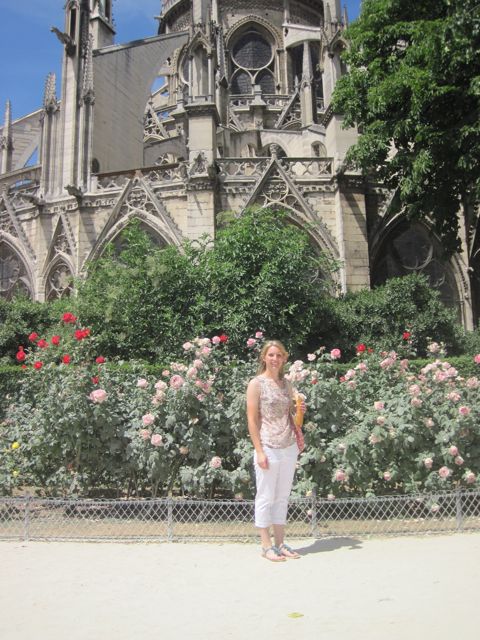 We sat on a bench shaded by several large basswoods and munched on our fresh baguette and strawberries. We found more beauty and majesty on the outside of the church, although we do feel that had mass not been going on we may have lingered longer and looked closer. The intricate carvings and lovely grounds were awe inspiring. We didn't climb the tower because of the extraordinarily long line and decided to come back earlier on another morning to try and beat the rush. Our next task was to find a spot to purchase a Paris Museum Pass. Many of the major sites in paris can be seen using this pass and allows you to skip long ticket lines. We found a tourist hut and were able to purchase them from an extremely helpful duo! Both spoke and understood English exceptionally and it felt good to be able to communicate freely with somebody! Sadly, they did inform us that a strike in the tourism industry is occurring on Tuesday. We were planning a trip to Versailles for that day which they told us to cancel. They told us that the strike should only last one day but could be longer. We were appreciative that they told us of this, especially since the trip to Versailles is a long and somewhat expensive train ride. They were also concerned for us seeing as we were buying the six day pass and they didn't want us to buy it and then only be able to use it for two days. We told them that we knew this was a definite possibility and were okay with taking the risk! Even if we don't see everything because of it at least we know our money is going to support something good and important! 130 Euros later and we had our passes!
We went to the Crypt of Notre Dame with our newly acquired Museum Pass (Usually 4 Euros). Upon entering we were both immediately confused. For some strange reason we both thought we were going to be seeing old tombs. Even though Rick Steve's guidebook pretty clearly states, "You'll see remains of the many structures that have stood on this spot in the center of Pairs…" The ruins were really interesting and extremely old! It was pretty neat to see roads from medieval times and a really old circle pit that was once used as a place to "put the rubbish".
From there we made our way to nearby Sainte-Chapelle a breathtaking Gothic Church. It stands in the center of the Palais de Justice that houses the French Supreme Court. After going through security and passing many an armed guard we made our way to the entrance and were greeted with a long line. Too bad for those suckers we had the museum pass and strolled on in! (Sainte-Chapelle is usually 8 Euros) At first we were completely underwhelmed. We entered a large room with a fleurs-de-lis ceiling and a large sign that said, "SILENCE". People were chatting away and buying souvenirs from the gift shop that took up half the space. We looked at each other and said, "This is it?" but soon found a somewhat hidden spiral staircase leading up. Up we went and entered a grand room with stained glass windows for walls!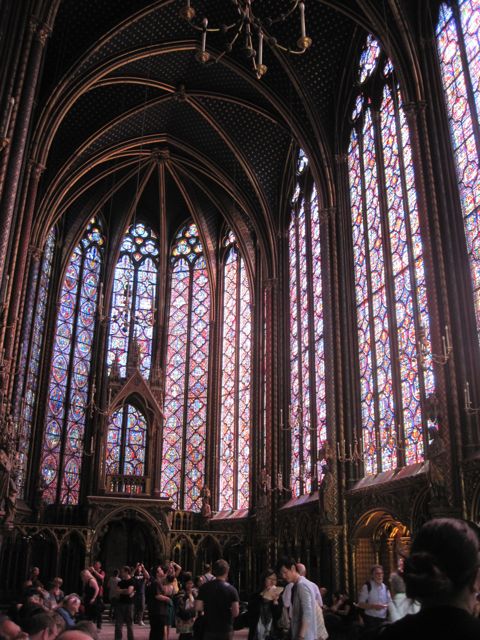 There were chairs in a row along the edge of the room where we sat, marveled, and read about the windows from our trusty Rick Steve's guidebook. According to Rick there are 15 separate panels of stained glass (6,500 square feet) and over 1,100 different scenes. It was unbelievable to look at them and marvel at the artistry and intricacy of them.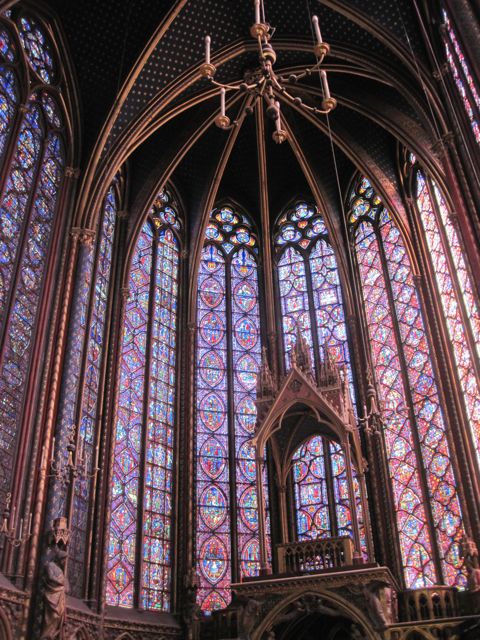 The original purpose of the church was to house what was believed to be the true crown of thorns that Jesus wore during the crucifixion that was purchased by King Louis IX.
After our busy morning we were ready for a break! Bobby likes to have us walk along roads that we haven't been down before and on the way back we were grateful we had because of what we discovered. We found a beautiful flower market that doubled as a bird market. Yes, you hear me! A bird market.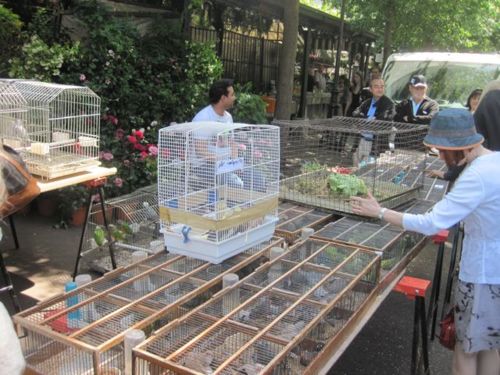 There were parakeets, parrots, chickens, and many others for sale.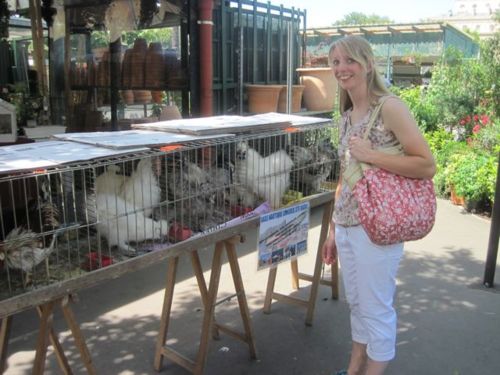 We also stopped at a street side vendor who was selling old books and magazines and paintings. We found a cityscape of Paris that we both liked and bought it for a pittance! I was so pleased! I had been wanting to do that for a long time. It wasn't until later that we noticed while roaming about that almost every tourist trap shop and roadside stand sold the exact same one 🙁 I am determined to find a painting that is unique! Or at least, a little less mass produced…
Once back at the apartment Bobby made us some salads and we rested our tired feet but agreed to not let each other fall asleep! When we both felt like we were on the brink of sleeping we set off for the Eiffel Tower!
We had bought tickets online over a week ago for 8:00. It was our first time using the metro within the city and we wanted to buy our passes for the week so we set off a little early. We made our way to the St. Michel/Notre Dame Station only to discover that the ticket machine was broken and nobody was working the ticket window. We continued along and at the next station were successful in finding somebody working a window. While waiting behind another duo of Americans several Parisians became trapped when the exits stopped working. They were all hollering and I motioned to them that I would let the woman know. She spoke fairly good English and I was able to convey to her the situation and to those trapped the alternative exit she had created. As the walked past after having successfully exited one of the older Parisians said, "Thank you, darling!" It was fabulous. Despite the fact that the worker clearly knew I was American and spoke only English I had been practicing and wanted to buy the tickets using French. I did so successfully and she seemed quite pleased with me! Saying thank you with a lot of gusto! We made our way to the platform and successfully boarded the correct train and were soon at the Eiffel tower.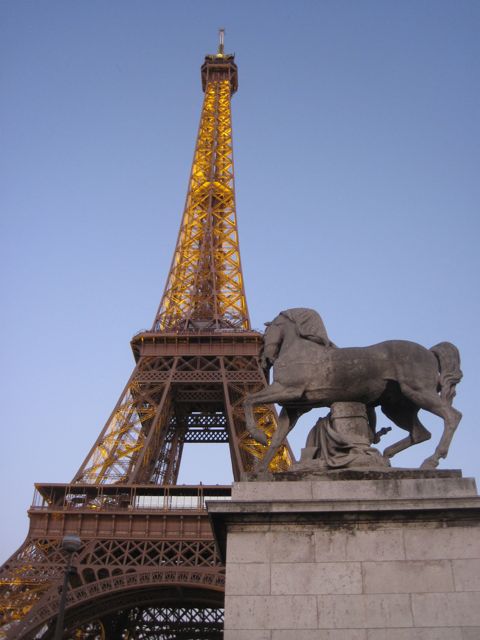 Seeing as how we were a little early for our reserved time slot we got some Gelato and settled in a park on the grass. A quarter to eight we got into the lengthening line for people with reservations and soon were making our way to the top! The lines were long, the air was stuffy, and the view was ok. It took us an hour to reach the top.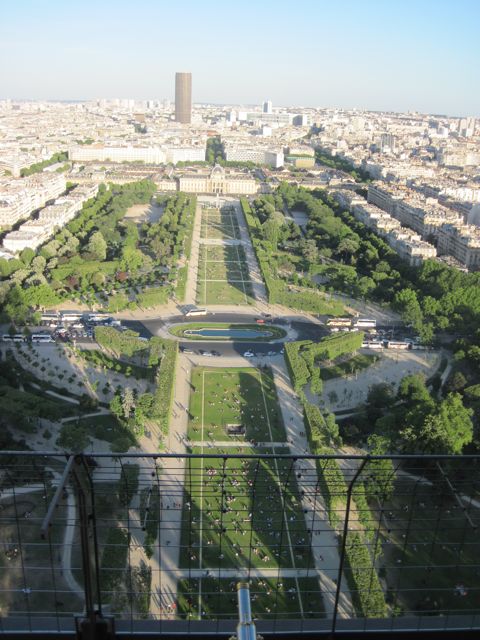 They were selling champagne in tiny flutes for 10 Euros! Shockingly enough, we did not purchase any.
Our trusty Rick Steve's book told us to walk to down the stairs to the first level for a better view and understanding of where things were. At this point my fussiness was reaching a critical stage, it was going on 9:00 in the evening and we had yet to have dinner. Bobby wanted to read every single sign (there was one about every 5 feet all the way around) and I fussily sat and waited not so patiently. Finally he had had enough, of the signs or of my being fussy I wasn't sure… All in all we really did enjoy the Tower! The views on the first level were wonderful and did allow us to see where a lot of things were.
We boarded the train and made our way back to our neighborhood where we did what we have both been afraid to do, go to a restaurant! We were both intimidated. While we know most restaurants offer menus in English, a big part of what we wanted out of our trip was to immerse ourselves in the culture. So, we got out our common words and phrases book and began the decoding. Bobby's hungriness forced him to order the easiest thing, pepperoni pizza. I ordered risotto aux champignons (risotto with mushrooms). It was delicious. Sadly, Bobby insisted on ordering tap water that came out warm… At the end of the meal he said, "I would love an ice cube right about now." Regardless it was delicious. It's past midnight and we're ready for some zzzzzzzzs.