We knew we wanted to visit Crested Butte, Colorado on our yearlong road trip, as a friend lives there and we are always envious of her incredible mountain photos. We weren't able to get into the RV park in Crested Butte, but were able to get a spot in the nearby town of Gunnison at a KOA that was also part petting zoo… Yes donkeys, goats, and miniature horses roamed the property freely.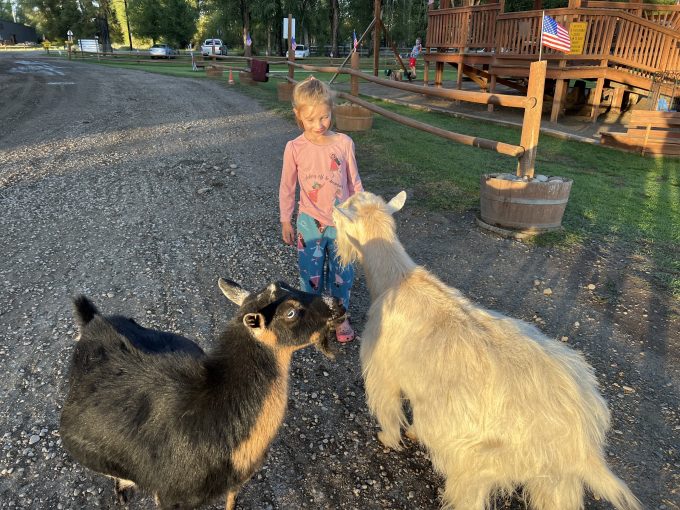 While we may not have been in our preferred location it did actually work out well as we had excellent access to Curecanti National Recreation Area and were closer for our planned day trip to Black Canyon of the Gunnison National Park. I will say, the one downside to this campground is that it is next door to a regional airport. Planes and helicopters begin making a rather noisy ruckus pretty early in the morning and I felt really bad for all the tent campers in the campground. Crested Butte is becoming incredibly popular with wealthy visitors so private jets soar in and out with much more regularity than we had expected when we first saw the airport.
Black Canyon of the Gunnison
Black Canyon of the Gunnison National Park is only 60 miles from the KOA in Gunnison, however, while we were visiting in July of 2022, the road to the park was under major construction and was down to one lane, alternating traffic during the day and closed at night. It was open for two-way traffic on the weekends. We went on a Friday afternoon for our day trip and ended up waiting two hours at the alternating traffic spot which was a lot longer than we had anticipated. However, when we returned late Friday night both lanes of traffic were open and we had no issues getting back to the campground.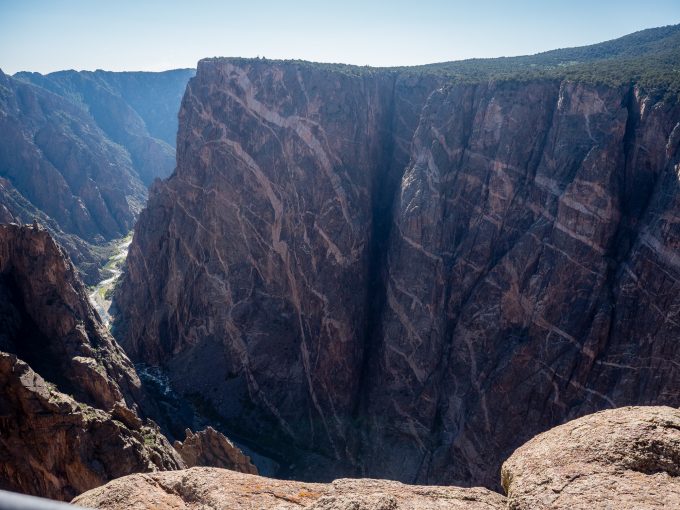 Our first stop upon arriving at the park was the visitor center. Due to our delayed traffic incident we had arrived in the park right before the visitor center was going to close. Thankfully, we had gotten our Junior Ranger books earlier in the week from a visitor center at Curecanti and the kids were able to get their badges at the last possible moment!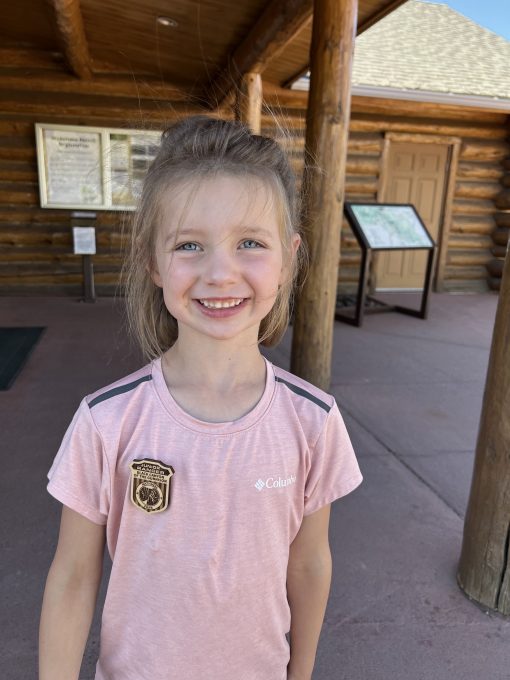 The South Rim Drive through the park is exceptional and with 12 overlooks into this stunning canyon you choose your own adventure. We stopped at several overlooks, each one with very minimal walking, and were absolutely amazed by the beauty of this area.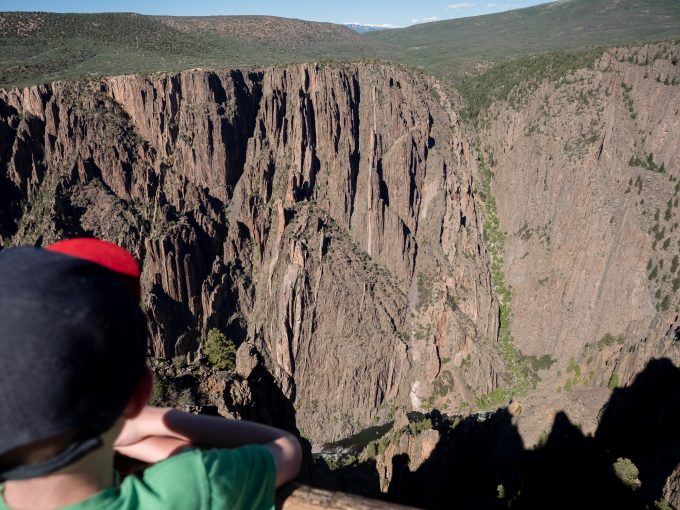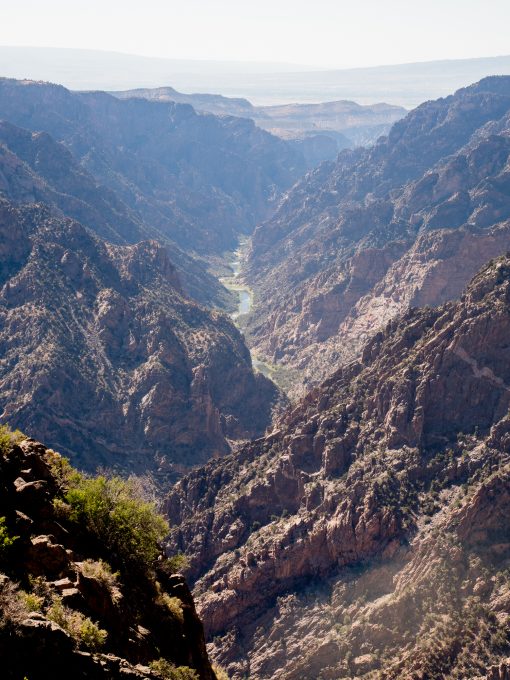 Jack kept saying, "I totally think that drive was worth it!"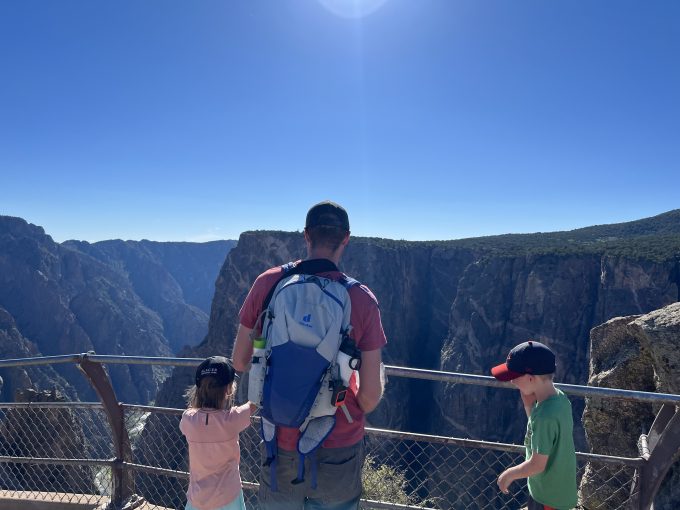 After exploring the top we decided to do the drive down into the canyon. We took East Portal Road and were expecting a harrowing, difficult journey as there are constant warning signs indicating the steep grade and hairpin curves. It was completely paved, newly paved at that, and while it was steep and had sharp curves it wasn't nearly as scary as we had anticipated.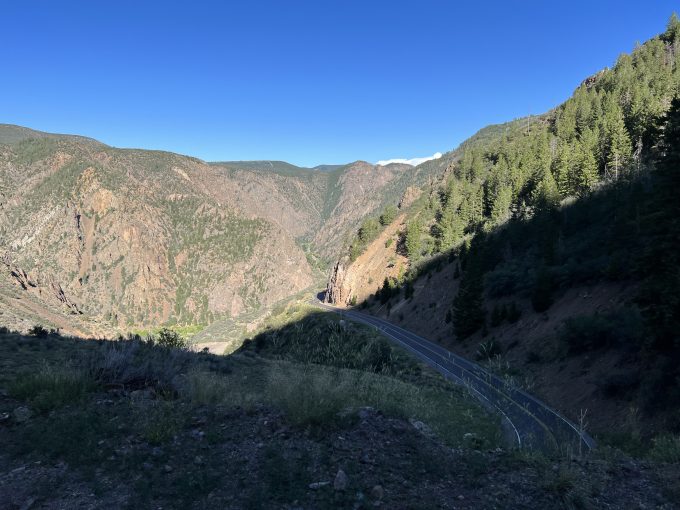 There's a small picnic area near the dam and famous Gunnison Tunnel, a tunnel that runs under the mountains 6 miles to bring water to nearby Uncompahgre Valley. We had a picnic dinner there before embarking on a short hike along the river.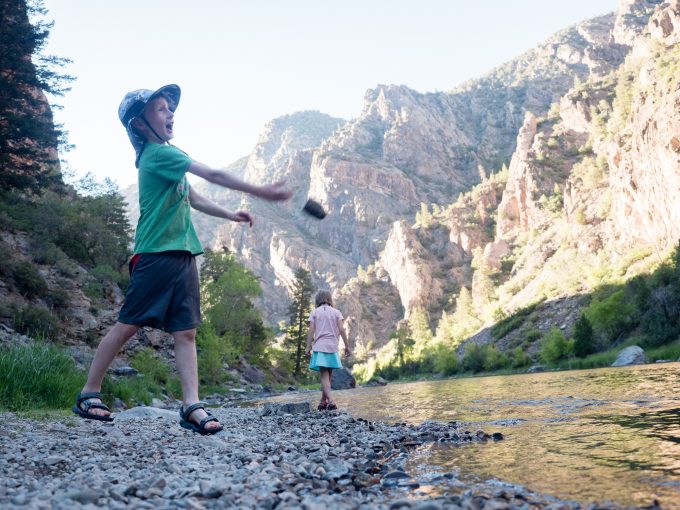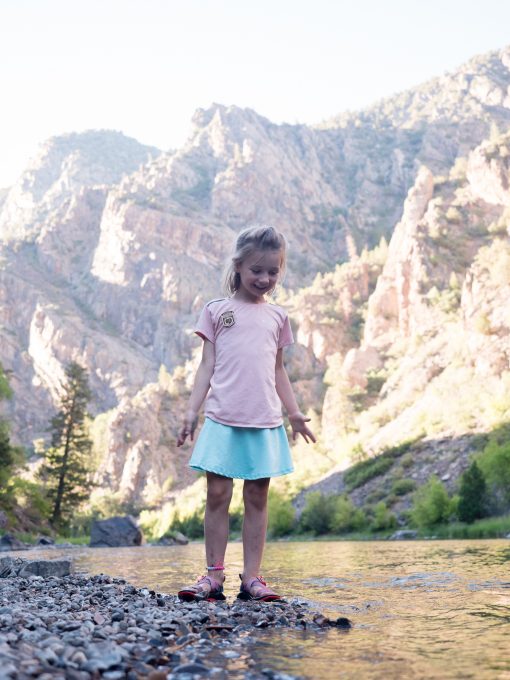 Rowan has been super interested in rocks and geology on this trip. She loves looking for rocks and wants to identify them so we got her a rock identification book that she brings along on many hikes so she can investigate as we go.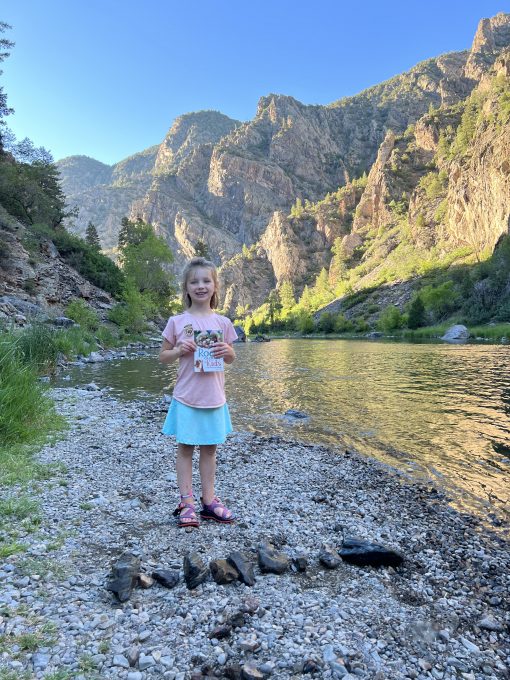 Dusk was falling and we still had a long drive back to our campground. I wish we could've had more time here. More time to explore and learn about this incredible area.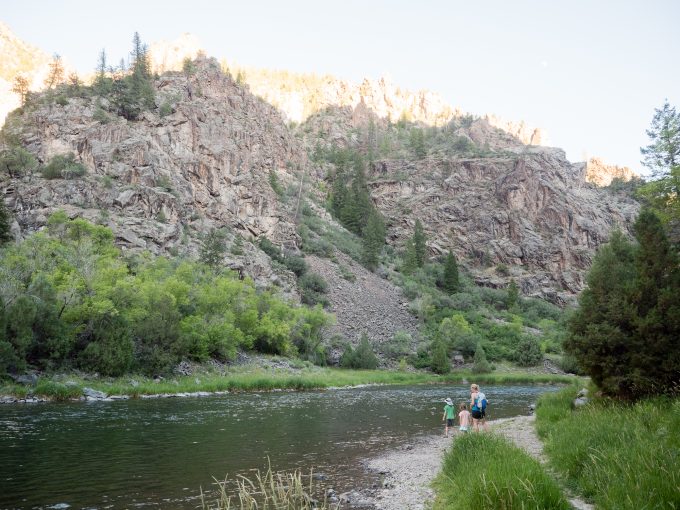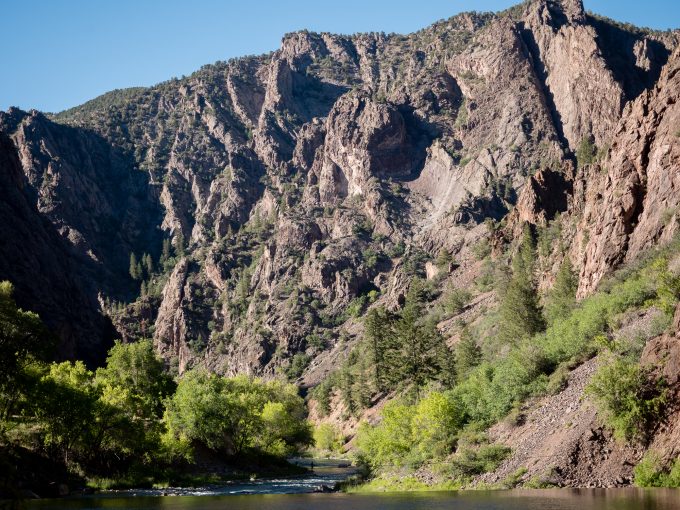 Crested Butte Day Trip
Crested Butte is a short 40 minute drive up from Gunnison and is completely worth at least one day, if not two days, for a visit and some exploration. We spent an entire Saturday here and did so much! We hiked, explored town, paddle boarded, and had an excellent dinner.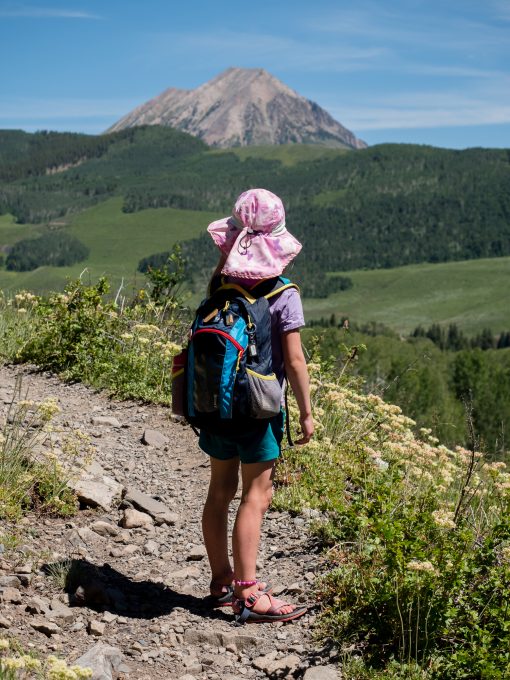 We met up with our friend Laura who suggested we hike Budd Trail and the Lower Loop Trail just on the outside of town. We were there the second week of July and the wildflowers were absolutely amazing! We definitely hit it at peak time. We saw Lupine, Columbine, Wild Rose, Skunk Cabbage, Paint Brush, and so many others it was absolutely breathtaking.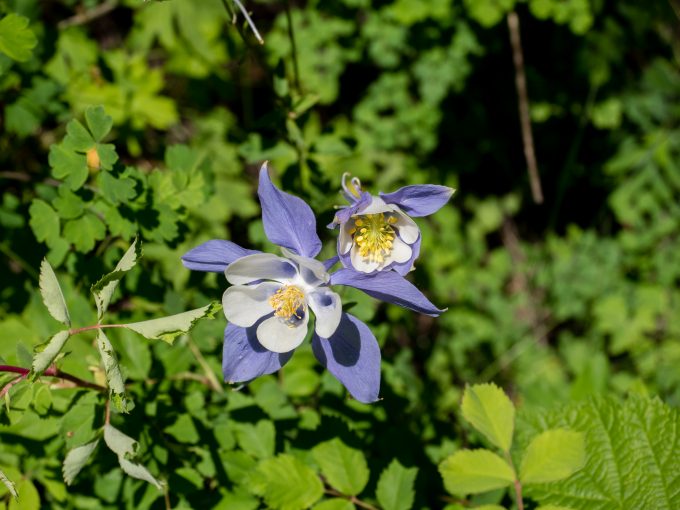 This trail is multi-use so hikers should remember to yield for mountain bikers and bikers should be aware that slower walkers are present on the trail. The trail is also in full sun for most of the time, and at almost 9,000 feet sunscreen should be reapplied hourly. Something we neglected to do and we all got a bit crispy…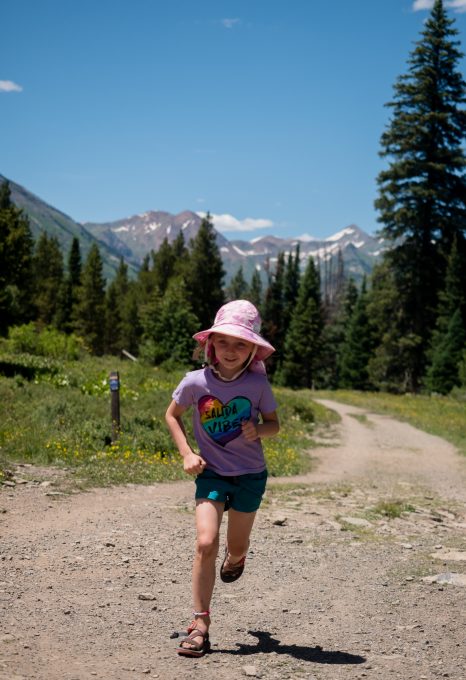 We stopped for lunch alongside the Slate River where the kids enjoyed throwing rocks and wading into the shallow water.
We ended up hiking over 5 miles along this trail and were so glad we did. Not only were the wildflowers stunning but there was also abandoned mine detritus and two stops at the Slate River made this an awesome day hike to do with kids. There was some elevation gain but never anything too strenuous.
After our lengthy, hot hike in the full sun we definitely needed a treat! We headed into town to get some ice cream. One thing about Crested Butte, while there is cell phone reception it is so overused in this booming town that we could never actually get our phones to work… A lot of what we explored and found was by happenstance. So, you may want to plan ahead a bit more than we did!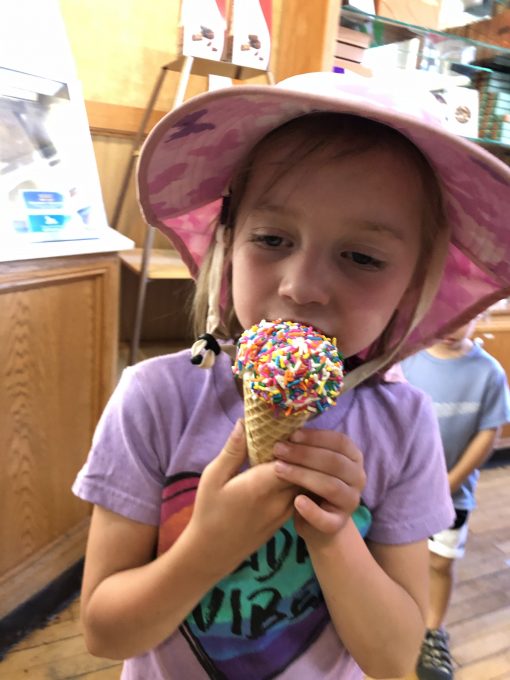 After a brief break in town the kids really wanted to go paddle boarding. We headed to beautiful Lake Irwin, only a short 30 minute drive outside of town. This is a very popular spot, but since we were there so late in the day we were able to get a parking spot as many people were packing up and leaving for the day. However, I wonder if this would've been the case had we come earlier. We were there around 4:00 and it seemed to be perfect timing.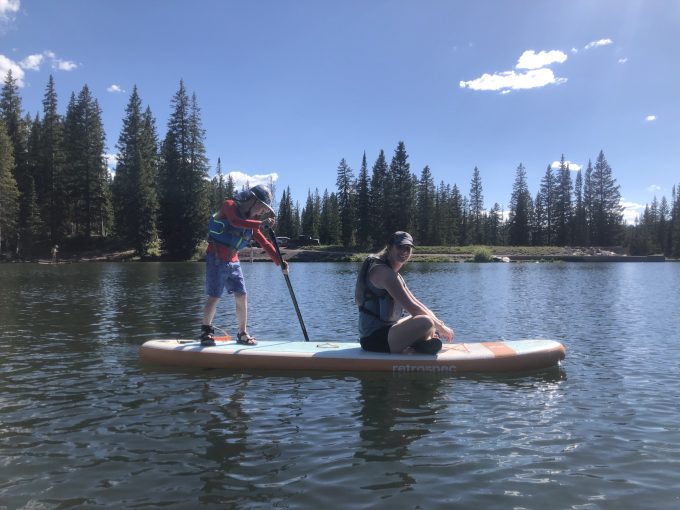 The lake was calm with a few cabins around it and Jack loves exploring every part of a lake and this one was a good size where he was able to explore on his board without getting too far away. There's a campground here also, right on the shores of the lake which seems like an amazing weekend spent on the water. also a potentially rowdy weekend based upon what we saw, but who knows?
As our day of adventuring and exploring came to an end we headed to The Secret Stash for some pizza. Rowan was most excited about the "fancy drink" she got (frozen strawberry lemonade). Jack wasn't a huge fan of this restaurant. We were immediately seated (despite a busy Saturday night) down in their really fun basement, but Jack soon began to panic because he couldn't see the exit and became convinced there would be a fire and we would be trapped. You never know when or how his anxiety would strike. We did everything we could to alleviate his fears but finally had to give him a phone to play on (something we rarely ever do in restaurants) and he finally found some calm. He ate super fast and then begged to go walk outside where he felt he would be safer. I left with him and we roamed town while Bobby and Rowan continued to eat.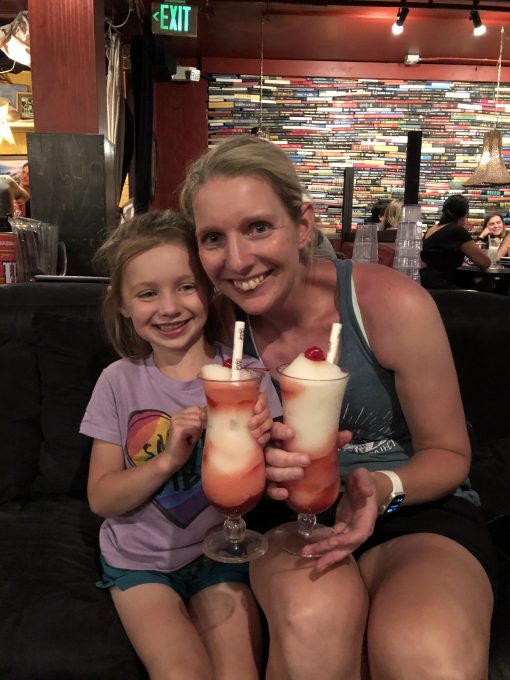 The pizza was pretty good, but I would say the fries we had as an appetizer were actually better! The table next to us got GIANT soft pretzels and were we to do it all again I would get those in a heartbeat, they looked amazing.
We ended up finding a jewelry shop that our friend had told us about where they make pieces from locally mined Lapis Lazuli, the Crested Butte Lapis Lazuli! Bobby surprised me by buying me a gorgeous necklace from there to commemorate a most excellent day spent in stunning Crested Butte.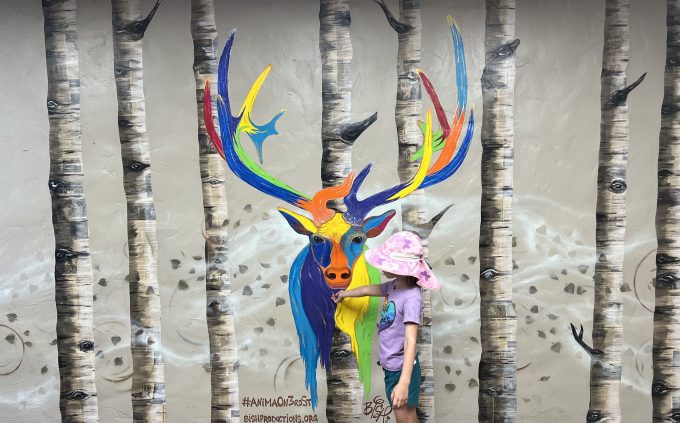 The town of Crested Butte is so incredible and we can't wait to go back, stay more locally, and explore everything (especially the mountain biking) this place has to offer.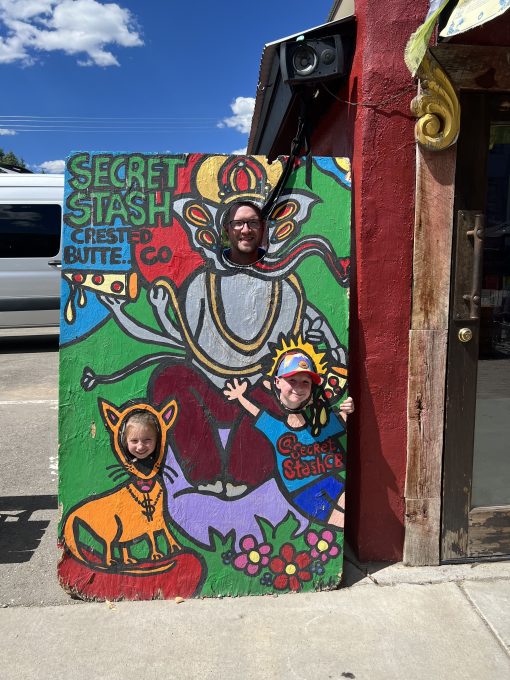 Blue Mesa Reservoir
A thirty minute drive away from the campground is one of Colorado's largest bodies of water, the Blue Mesa Reservoir. At 20 miles long there is ample opportunity for both motorized and non-motorized boaters alike. We went to the Bay of Chickens, located within Curecanti National Recreation Area for an evening of paddle boarding and a picnic dinner.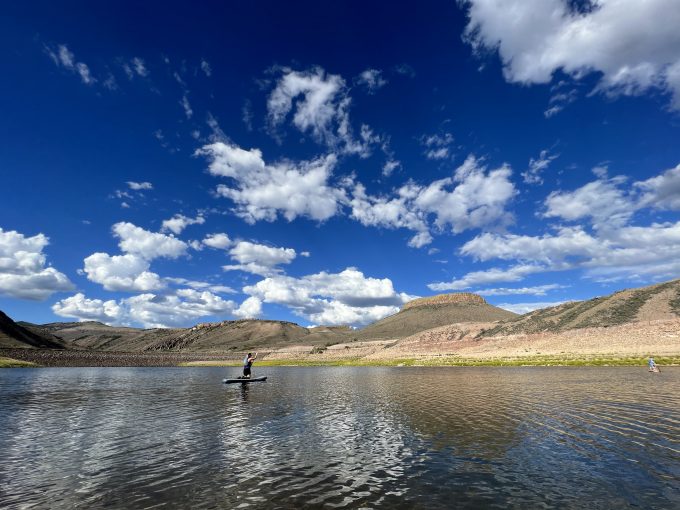 The water levels are shockingly low and we ended up having to drive off road for a little bit to get down to the beach/water area. Once there, we found ourselves with one other paddle boarder and a lot to explore.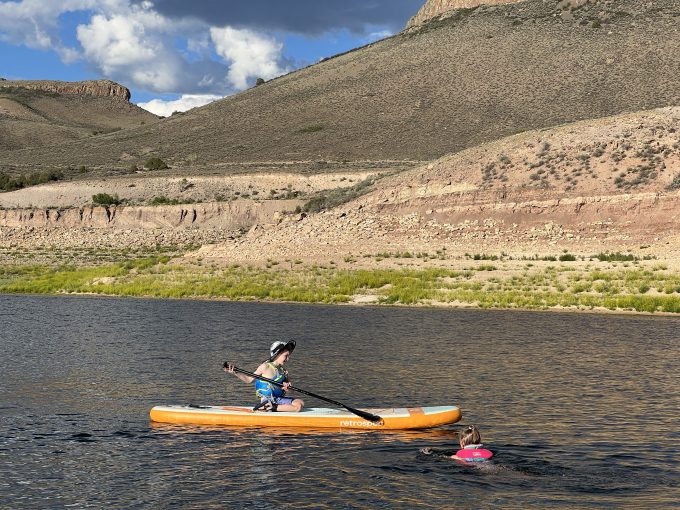 Rowan loves jumping off the board and going for a swim while Jack finds shear joy in paddling solo and embarking on adventures to islands or nearby tracts of land. We have two Retrospec inflatable boards and absolutely love them. While we considered getting child-sized boards we eventually decided to get them adult-sized boards so we can all use them. The kids don't have any problem maneuvering or paddling them and we have been very happy with our choice.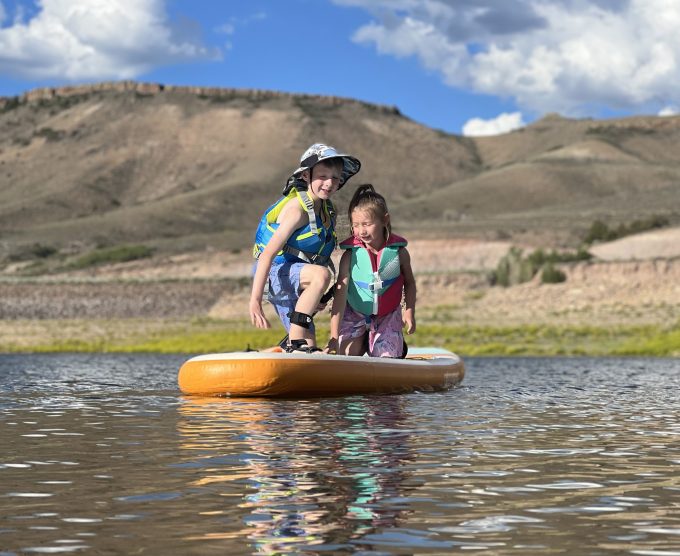 There are so many pulloffs throughout the Curecanti on the Blue Mesa, some seem to be more popular with motorized boats, those are the areas nearer the boat ramps. And there are numerous spots like the ones we found at Bay of Chickens that have little inlets and quieter spots to do some paddling with kids without any worries.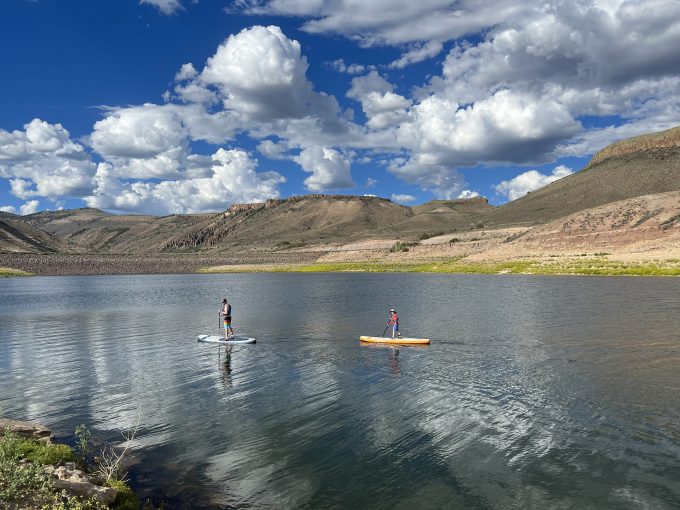 Because Bobby works during the day we do a lot of activities in the evenings and have picnic dinners. We are loving our new cooler bag from Hydroflask and our new picnic blanket from Pendleton, they are both getting lots of use and love on this trip!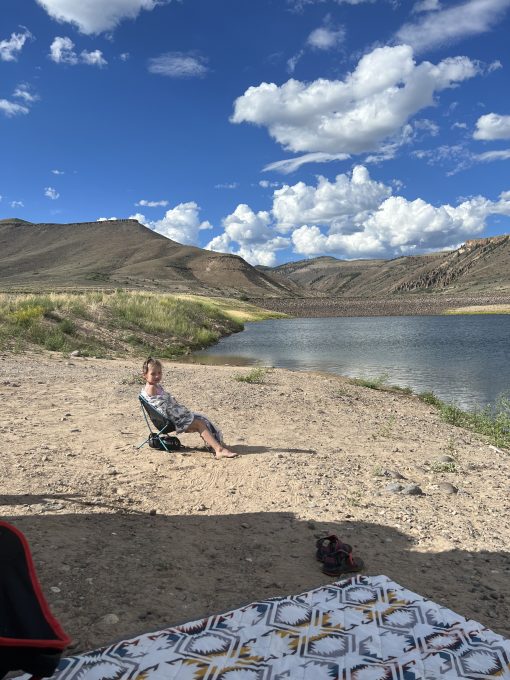 One of the things we love about paddle boarding is what a relaxing activity it is. It's an activity easily done in the evenings after work without a lot of effort and it's such amazing time spent together as a family. Having the boards be inflatable makes them so easily transportable and stow away easily in our camper storage area.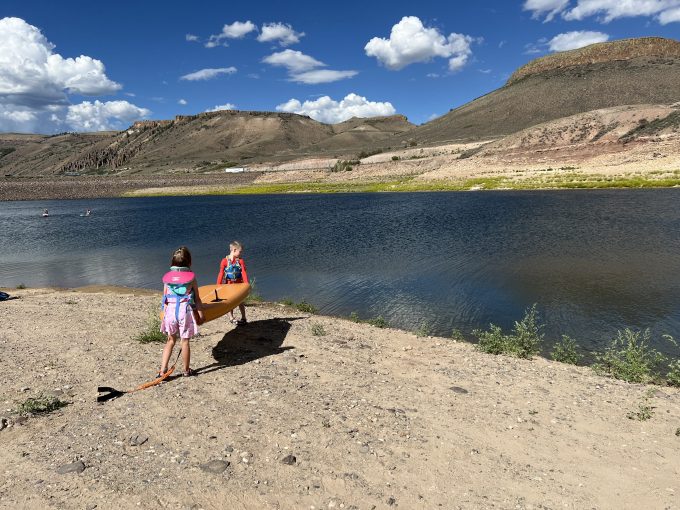 Curecanti National Recreation Area
Our first day in Gunnison we headed to the Curecanti visitor center to learn more about the area that was located so closely to our campground. Oddly enough when I asked for Junior Ranger books they gave us books for Black Canyon of the Gunnison… While strange it ended up working out for the best as we were able to complete most of the book before we arrived at the canyon, and, due to the traffic jam and closing visitor center it really worked out well!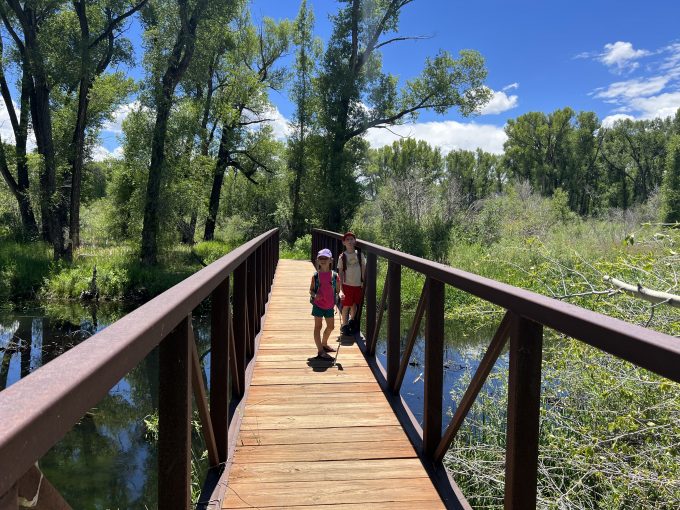 The Ranger at the Visitor Center recommended a hike for me to do with the kids, but with no cell service, and forgetting our emergency beacon back at the camper, we opted for a shorter hike, closer to the campground that had cell service. Because of Jack's bee allergy we always hike with a Garmin InReach. Should he get stung or somebody gets hurt and we need assistance getting out I can push the emergency button and communicate with first responders. I also carry 4 epipens when in the backcountry to ensure we have ample meds if needed.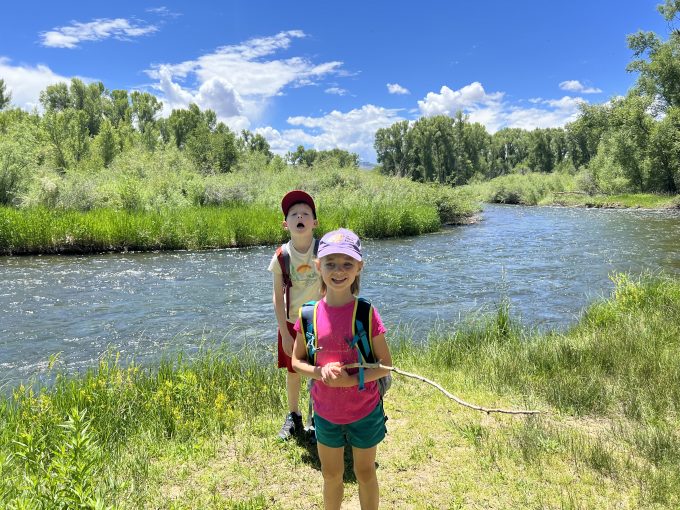 We opted to hike the Neversink Trail, a 1.3 mile out and back trail along the Gunnison River. The trail was flat and easy but soon became super buggy… The trail also got increasingly narrow and overgrown and with the swarms of bugs descending upon us we decided to turn around after a picture-perfect stop along the bank of the river and some fun playing in the water.
We returned the following day to Curecanti to hike the trail originally recommended by the ranger, with our beacon! The Pine Creek Trail descends down 232 steps into the canyon. A 2.3 mile out and back hike make this an awesome hike to do with kids. Interpretive signage about the railroad that once brought visitors down into the canyon line the trail.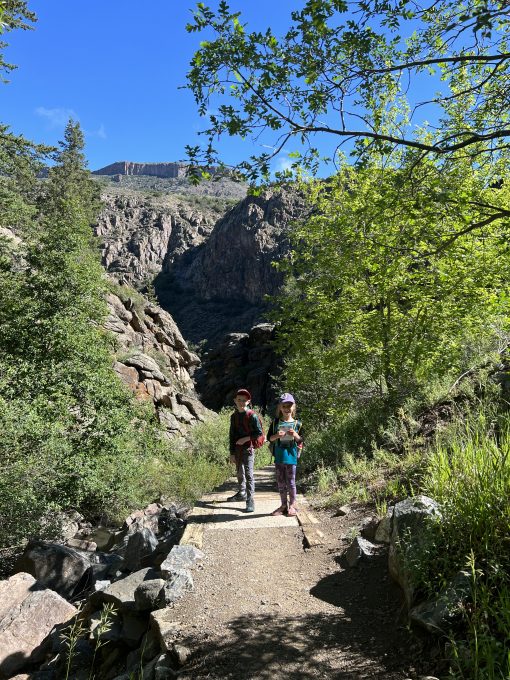 We ran into a park ranger along the way who told us that if we look closely we might spy some artifacts leftover from the railroad. Jack looked super hard and we spotted a couple pipes and holes as we went, high above us on the rock faces.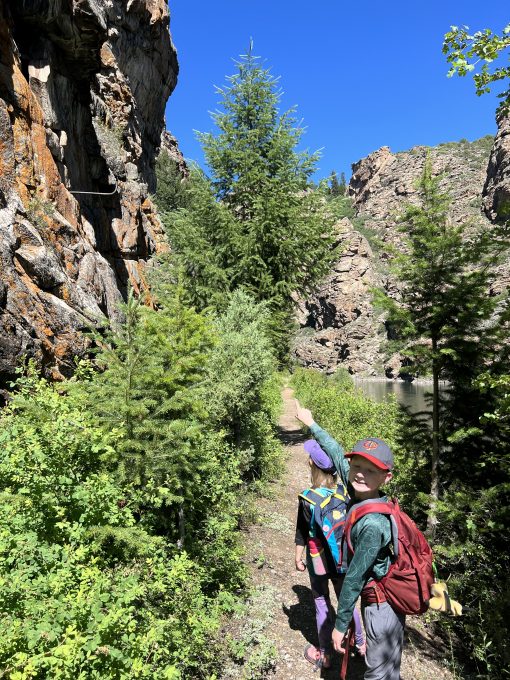 Jack loves hikes with stairs and this was no exception! We had a great time going down and up as the creek roared along side us. The best way to distract any hiker on a slog up a bunch of stairs in the blazing sun, count those stairs!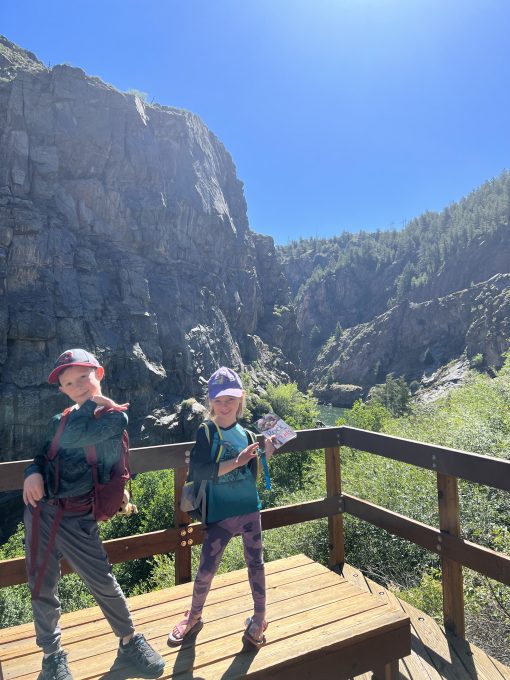 In normal times this trail brings visitors to a boat launch where the National Park Service offers guided boat tours down into the canyon. Due to low water levels the boats were sadly not running. There are picnic shelters along the way and we happily stopped for lunch at one.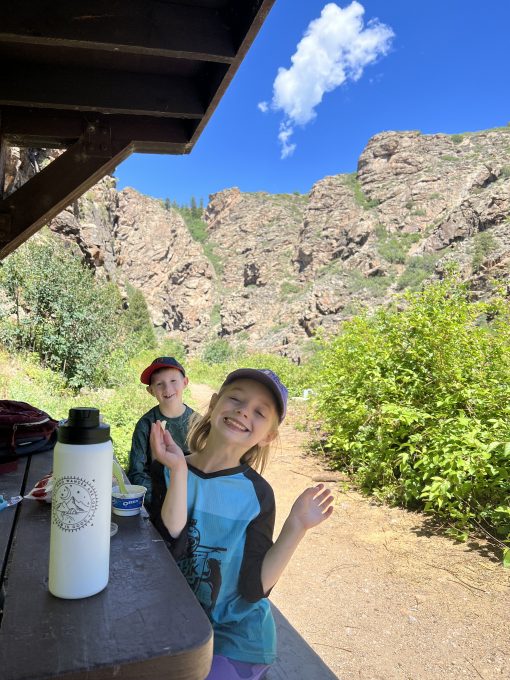 While not getting to take a boat tour was a bummer, we did enjoy a very peaceful hike only seeing a handful of other visitors while there. I found myself wondering how different our experience would be had it been full of people hiking down to take the boat.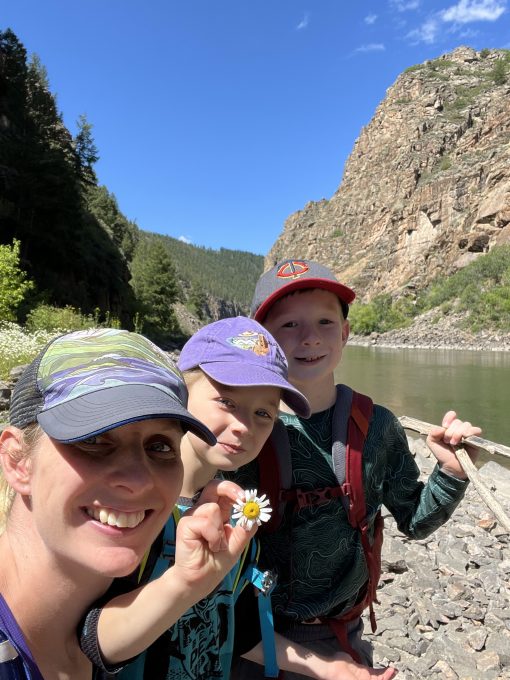 Rowan loves flowers, and they were in perfect bloom while we were hiking in the canyon. She always manages to find fallen flowers that she befriends and carries for awhile along the trail. She never brings them home and knows to never pick them. It's never too young to teach Leave No Trace!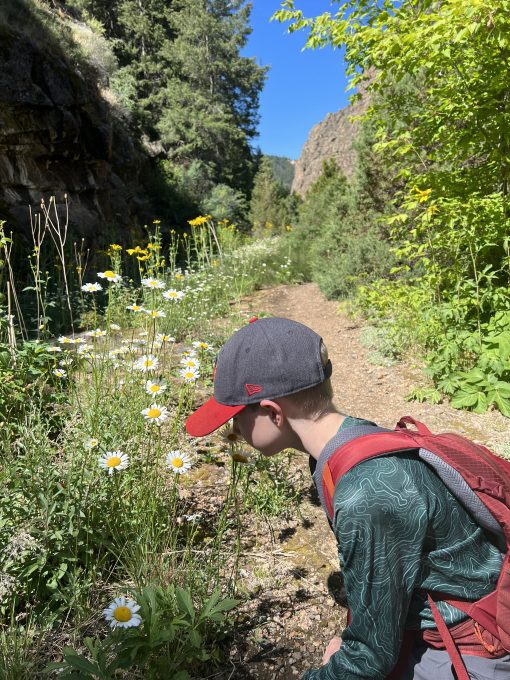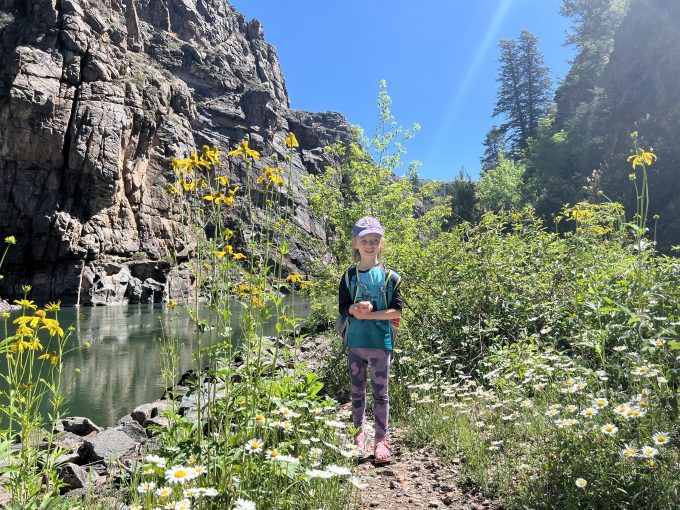 The flowers were so amazing!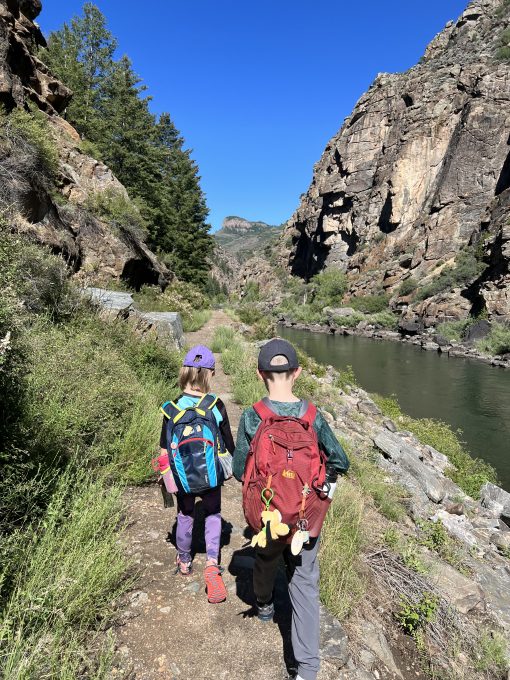 This was an absolutely perfect day hike to do with kids and I highly recommend it if you're ever in the area.
We know that we only scratched the surface of all that Gunnison and its surrounding areas have to offer. I am so glad we visited this area and can't wait to go back and explore more!