Bobby's cousin was getting married in Salida, CO on the 4th of July so we ended up spending almost a week and a half exploring in and around the area. We absolutely loved this town and spent a lot of down time here playing at the park, seeing family, and enjoying the wonderful community around us.
Experience
Riverside Park
Historic Downtown Salida is nestled along the Arkansas River. Our favorite spot to hang out and spend lazy afternoons was Riverside Park. This playground has raft-themed playground equipment that is fun for all ages. My one beef as a parent is the lack of shady seating for the adults while the kids play.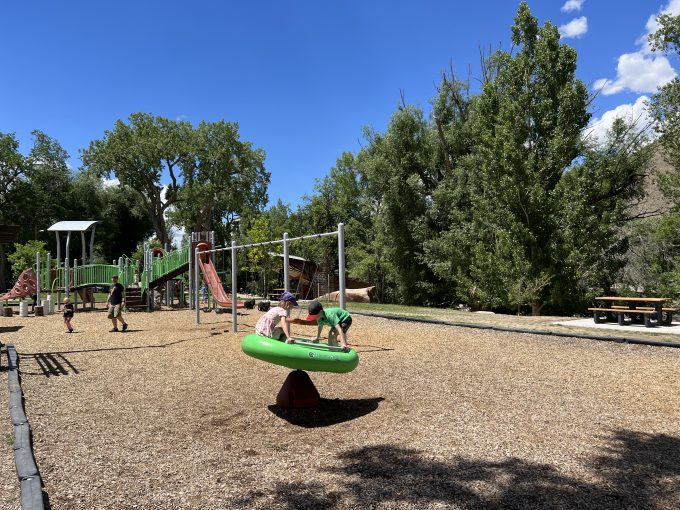 With the river right there, a whitewater park has been built in the heart of downtown. Even if you aren't a kayaker practicing your rolls, cruising down in a raft, or floating with only a lifejacket like many of the locals do daily, just watching all of this happening is entertainment for hours!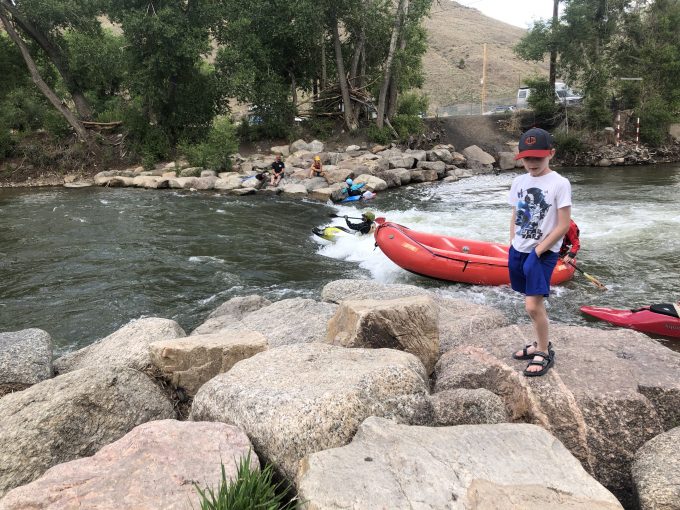 The highlight of the park for our family was the bouldering wall. With routes of varying difficulty there truly is a climb for everybody here. I will say, Jack got stuck on a route and started to panic and called me to help him, but, the wall was too tall and I couldn't reach him. While the ground is a little squishy here, I was suddenly panicking wondering what would happen if he fell over 6 feet. Another Dad also tried to help me but neither of us could reach him. Another kiddo climbing also tried to help him from above. He was able to muster his strength and energy and pull himself over the top but, after that, I was a little more leery of this area… But, it was yet another example of how wonderful this local community was by having so many people quickly step in to help us.
The park also has a bandshell and we were able to catch a really fun concert by the Air Force Academy Jazz band. We stumbled upon the event and were grateful that we always keep a picnic blanket and collapsible camping chairs in our truck at all times for just such an occasion!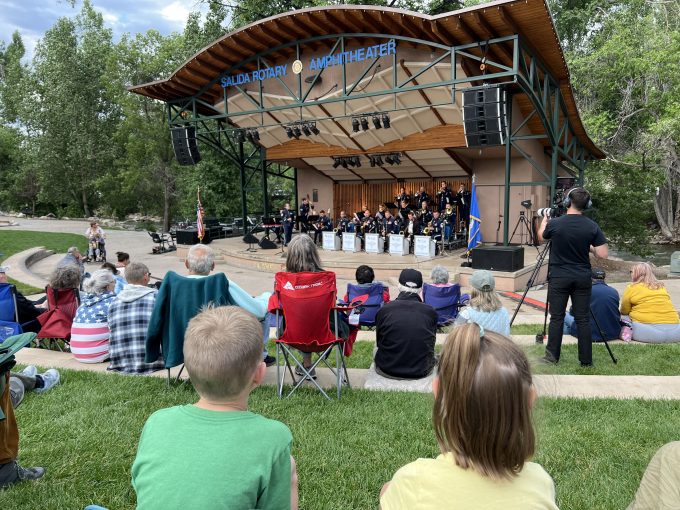 Hot Springs Pool
Eight miles from Salida is a hot springs, back in 1937 a pipeline was built to bring the warm, 80-100 degree water to the Hot Springs Aquatic Facility in town. The facility has two pools, one larger and much deeper pool that runs between 82-84 degrees and has lanes for lap swimming, a small water slide, a climbing wall, and a diving board in the 12 foot deep section. The smaller, much warmer pool, usually between 94-100 degrees, is great for kids. Water spouts and sprays in here and a small net between two sections of the smaller pool for bopping a beach ball around (provided by the facility) made this our favorite area to hang out.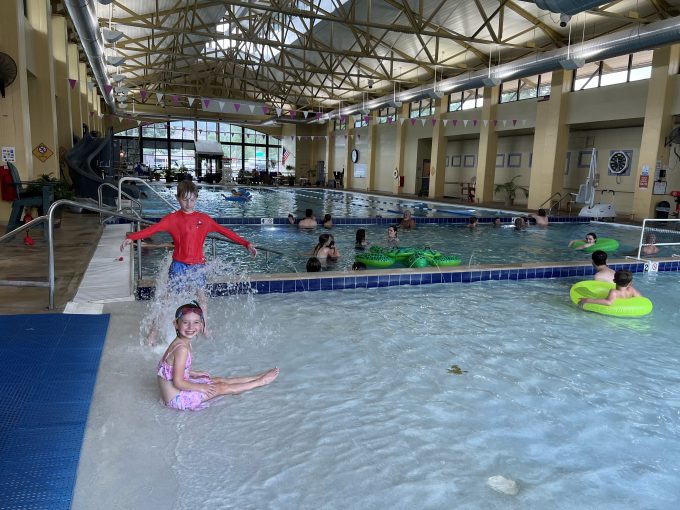 If your children 14 and younger want to use the diving board or climbing wall they need to pass a swim test and get a wristband. The swimming test is swimming one full length of the large pool. We had the kids in swimming lessons all year in preparation for this trip, hoping they would become more proficient swimmers to make pools less stressful. Jack insisted on taking the swimming test and I was very leery, I really didn't think he would pass, but, I wanted to let him try and knowing a lifeguard was right next to him the whole time reminded me he was safe. I was SHOCKED when he rocked the swim test and swam the length of the pool!! He almost gave up at the end because he was tired but we all cheered him on and he made it! Soon he was jumping into the 12 foot deep section (the deepest pool he's ever been in) and easily swimming back to the side like he'd been doing it for years!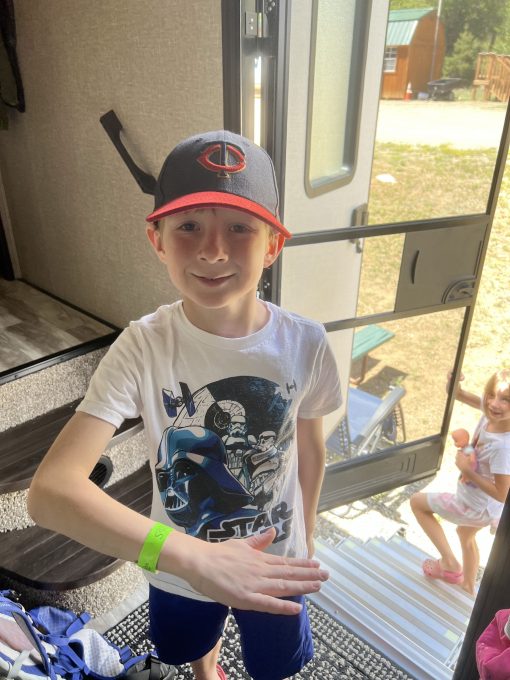 He was so very proud of himself for passing the test he asked me to take a picture of his fancy wristband! We ended up visiting the pool twice during our stay and you can tell them when you check-in that you've already passed the swim test and receive your wristband again so, much to Jack's pleasure, he didn't have to take the swim test again!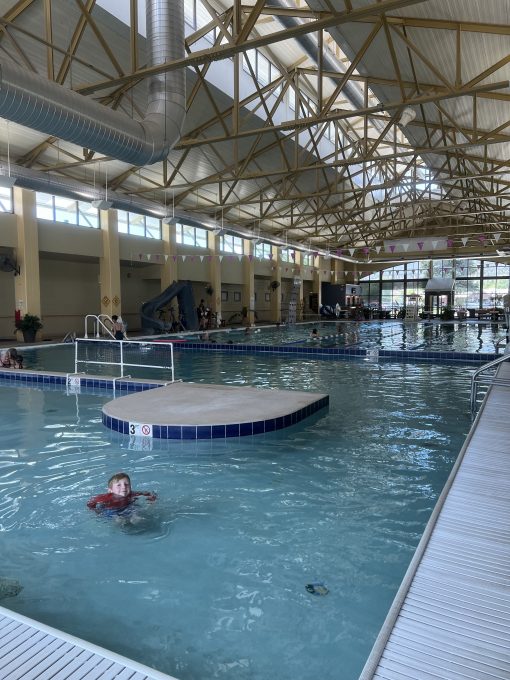 The pool is very reasonably priced with adults being $14, ages 6-17 are $7 and children up to age 5 are $4. The whole facility from the changing rooms, to the bathrooms, and the pools are impeccably maintained and can be enjoyed for hours on end. There is an area for having a picnic lunch inside and the main desk sells ice cream treats so you can very easily spend most of the day here.
Monarch Crest Scenic Tramway
About 30 miles west of Salida is Monarch Pass with a ski area in winter and a scenic tramway in summer. The cost of the ride is $12/adult and $7/child. A 9 minute gondola ride takes you to the top of the pass for spectacular views of the Continental Divide atop the 11,312 ft mountain. The tram has been in operation since 1966 and it definitely shows its age. We watched as some visitors had windows fall out and need to be crammed back into place.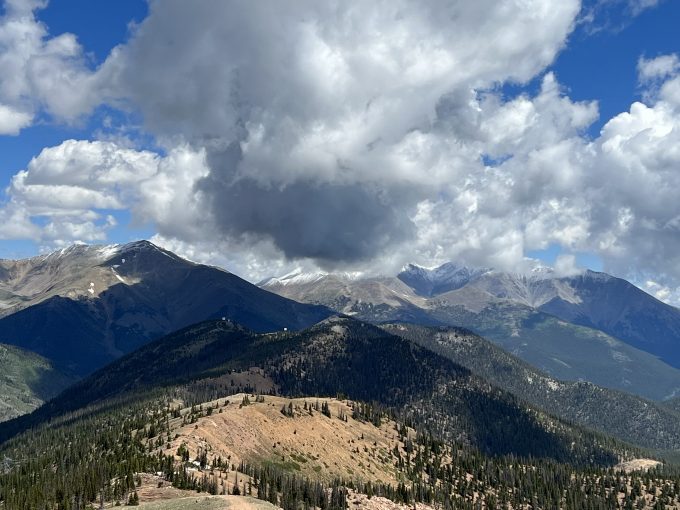 Atop the mountain, aside from the seriously amazing views, there isn't much else to do. There's an observation deck over the tramway with information about surrounding mountains, pay-to-use binocular viewers, and a whole heck of a lot of cellphone towers.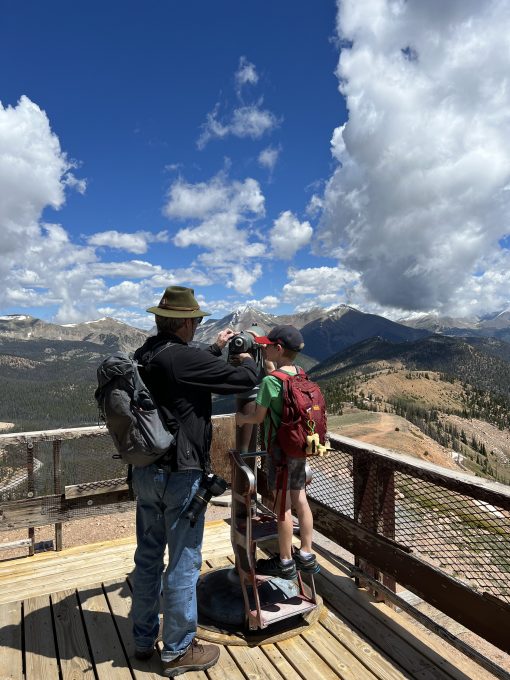 The gift shop at the base, where you buy your tram tickets, is surprisingly large and has a small cafe. After your ride up and down the gondola you are eligible for some free popcorn (included with the price of your ticket).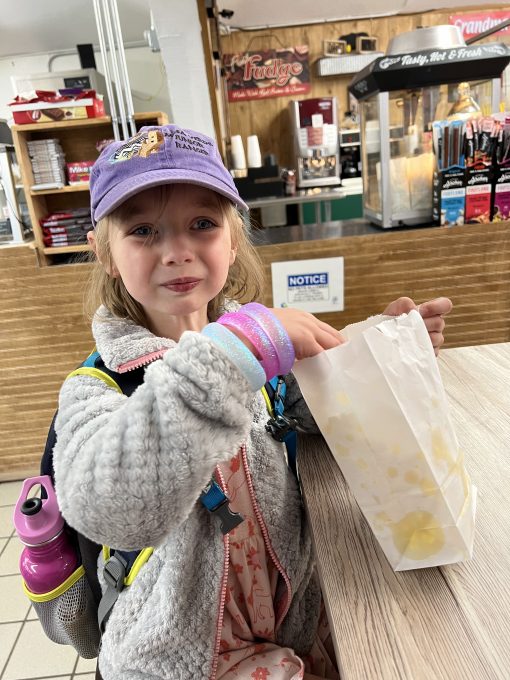 If you have small children or people in your group who aren't able to hike far this is an absolutely excellent way to get some stellar mountain views. Plus, who doesn't love a ride in a gondola?!?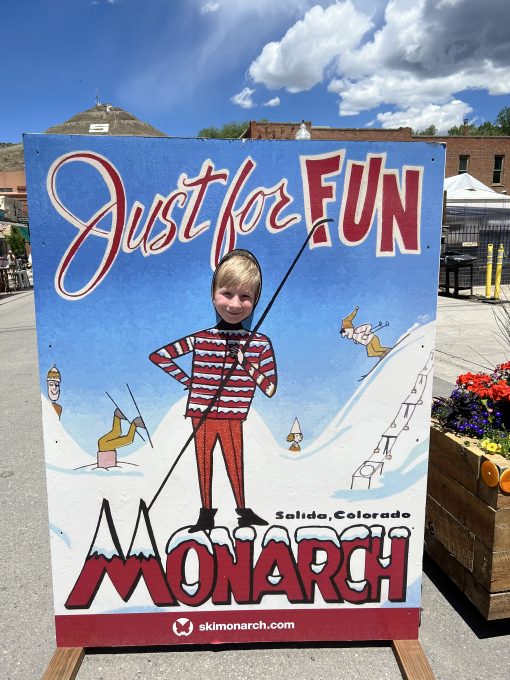 Explore
Hike Browns Canyon National Monument
In 2015 President Obama designated Browns Canyon as a National Monument. With almost 22,000 acres and the nation's most popular spot for whitewater rafting this is a must-see when visiting the area. The Arkansas River roars through this canyon offering class 1-5 rapids. When we first arrived to the area we opted to hike. The area has many hikes with varying degrees of difficulty and we opted for the brief 2.1 mile Arkansas River Trail from Hecla Junction. With minimal elevation and stunning views of the river this is a great hike for kids.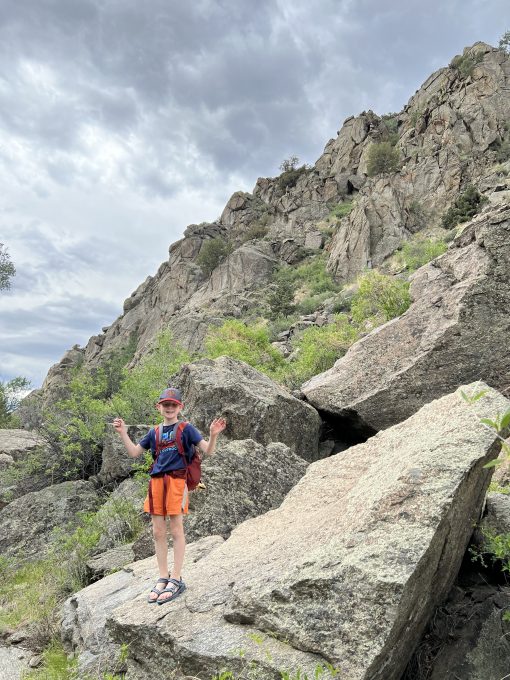 The trail was very rocky but no steep elevation made exploring very fun!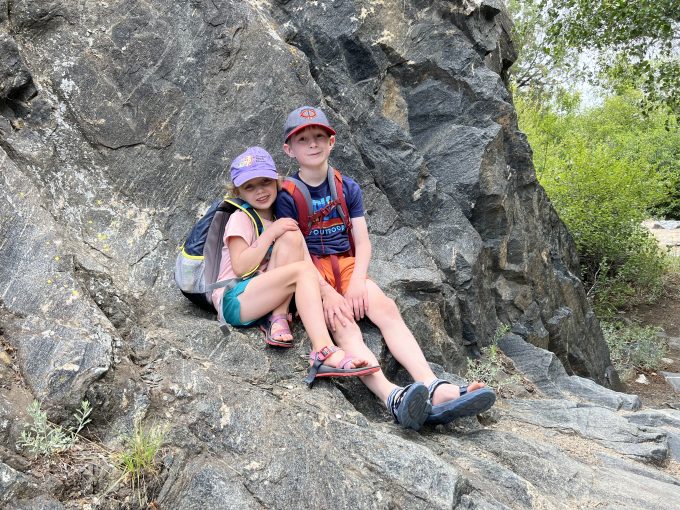 The kids loved watching the rafters go by as we hiked. Many of the companies actually take out at Hecla Junction but a few keep going beyond that point for longer all day trips.
This out and back hike was a fun one and I would definitely recommend if you're looking to get out an explore with young children along.
Raft Browns Canyon National Park
As this is the most popular river to raft in America it seems only fitting that your whole party should book a rafting adventure. There's a myriad of companies that offer rafting in the area with everything from a family-friendly float to multi-day trips. Sifting through the companies and landing on a good one can be difficult but we definitely nailed it when we chose Independent Whitewater. They had a rafting trip that Jack (aged 7) could participate on that included 12 miles down the Arkansas river and navigated 12 class 3 rapids and went beyond the usual takeout at Hecla Junction, continuing further down the river than most tours and getting two bonus rapids. Rowan was too young and would only have been able to do a family float so she opted to have a morning shopping excursion with Grandma and Grandpa who were with us.
Our river guide, Grant, was amazing, fun, and endlessly patient with our curious and question-filled Jack. (Don't forget some cash to tip these wonderful humans who spend their days on the river keeping you safe and above water!) He made sure to make the trip was extra fun for our raft and was happy to oblige Jack's frequent requests to do spins or go backwards down rapids!
Be warned, there isn't a snack break and no bathrooms are available once the river trip begins. We had packed some snacks in a dry bag along with Jack's epi pens (for his bee allergy) and thankfully, because it had epinephrine in it, the guide strapped it down with his gear. I'm not sure if they would've done that or not had we just had a bag of snacks but I think it's worth it to ask! About halfway through your trip you pull off onto shore to experience "Jump Rock" I think you could all probably imagine what this entails, a little cliff jumping. Jack and I opted to stay safely on shore and were able to have our snacks then. This rafting trip doesn't finish until almost 12:30 and begins at 8:15 so we were all seriously hungry by the time we were finished.
The rapids were so much fun and we definitely got wet and the water is COLD! We opted to rent wetsuits (you can wear your own if you have them) and booties for the journey but we were all honestly very hot as the sun was blazing down on us despite the chilly morning temps. I think you could probably get away with not renting either and save a little money.
Great Sand Dune National Park
About 2 hours from Salida is Great Sand Dune National Park. That seems like a pretty far drive but it actually made for an absolutely perfect day trip! If you are visiting the park with kids you definitely need to stop at one of the businesses along the way that rents sand boards and/or sand sleds. Trust me when I say this will make your trip far more enjoyable and far more memorable than if you arrive and simply hike through the sand in the blazing desert sun.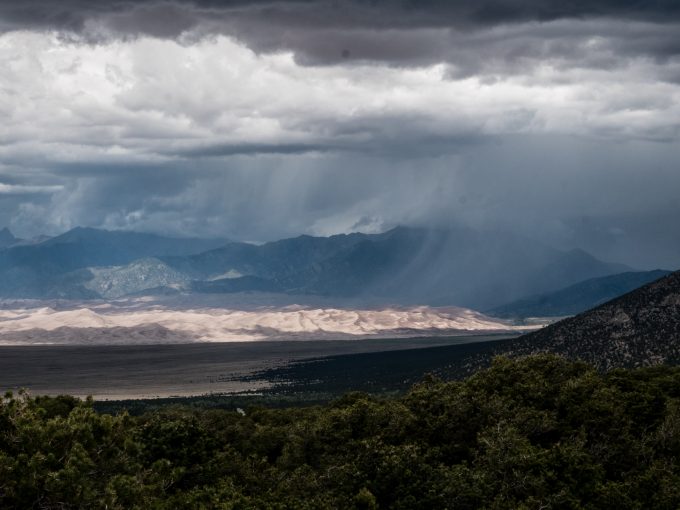 We stopped at Kristi Mountain Sports in Alamosa to pick up some sleds and a board for $20 each for the day. We debated hotly whether or not the kids would enjoy sledding or boarding more and got it completely wrong! We rented two sand sleds thinking that would be much easier and more enjoyable for them. Well, it turns out they both took quickly to sand boarding and soon Bobby, Jack, and Rowan were all vying for turns on the board!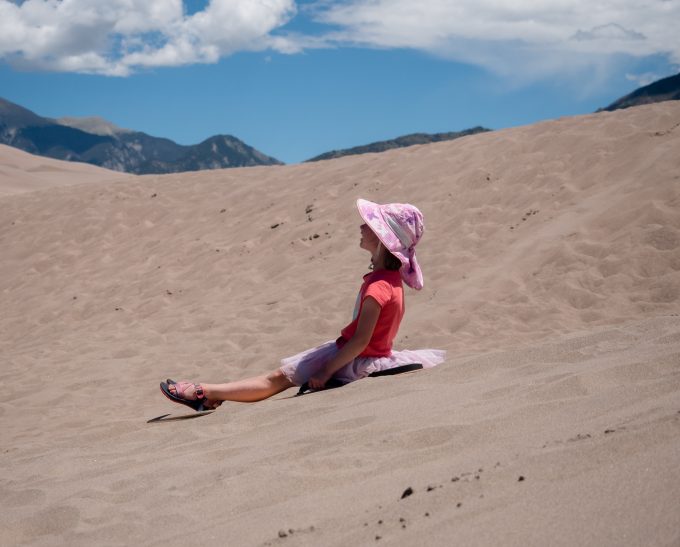 The sleds and boards come in both adult and youth sizes (all are the same cost)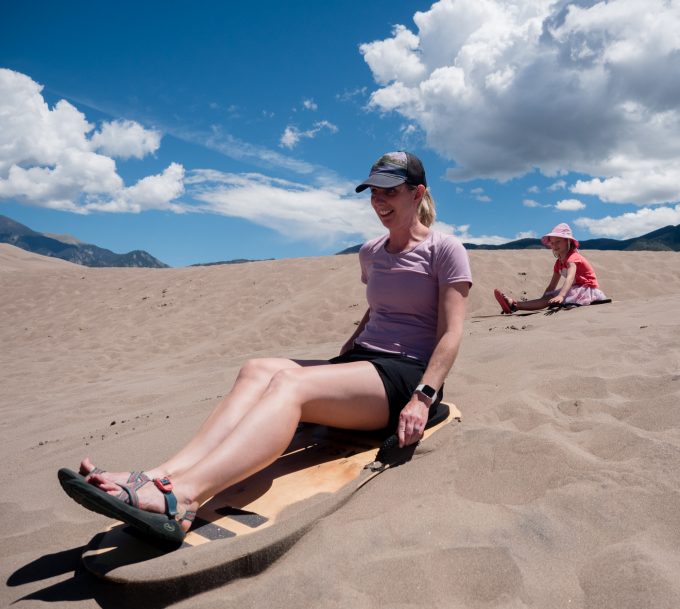 The sand is super hot so I would recommend putting small kids in socks as they won't want to wear shoes but bare feet will get burned on the sand. There is zero shade here so if you are traveling with infants I would definitely recommend bringing an umbrella to keep them covered and protected from the intense sun.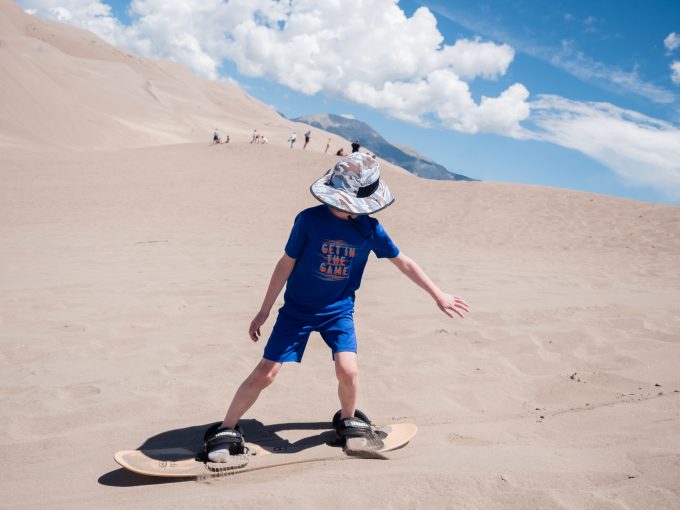 I still can't get over how well the kids did sand boarding and what an absolute blast we had doing it! The hike from the carpark (which fills up quickly) is longer than expected so, be sure to pack snacks and loads of water. We brought a picnic lunch and enjoyed it on the dunes. There is a picnic area near the parking lot that is also available for visitor use.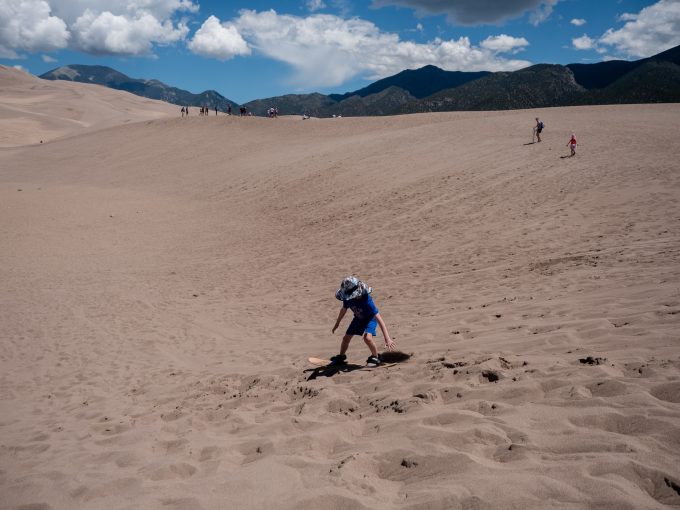 This is a really remarkable park and I'm so glad we made the long drive to go visit it. We returned our boards and sleds to Alamos and enjoyed dinner in town before making the long drive back.
Zapata Falls
Located just outside of Great Sand Dunes National Park is the super cool hike to Zapata Falls. At less than a mile long this out and back hike is brief and extremely popular. You begin along a wide, rocky path and soon transition to walking through the river up to the falls that, while you can hear them early on, are difficult to spot. You have to wade into the ankle-deep, freezing water to catch a glimpse of this thunderous natural wonder.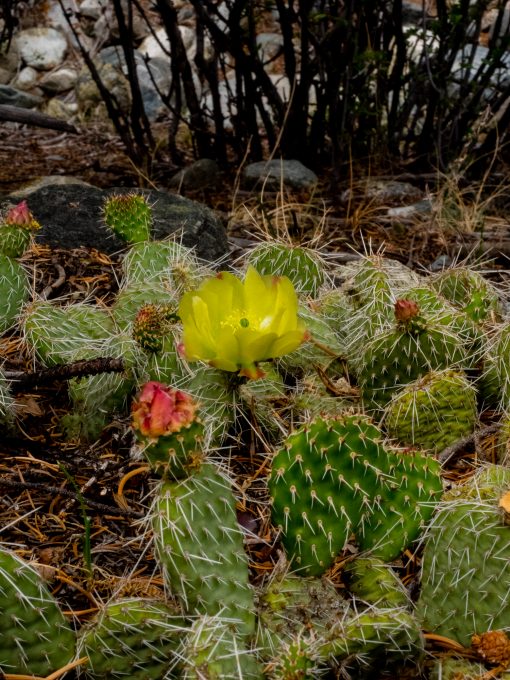 Bring good hiking water shoes, chacos are Rowan's favorite while Jack prefers Tevas. If you have little toddlers I recommend Keens due to their close-toed options that help save tiny stubbed toes. If I had my way the kids would still be in Keens, but now that they're older they have a lot more opinions on the clothes and shoes they wear so we often have to compromise. As Rowan prefers to be barefoot but frequently cuts and stubs her toes the sturdier, taller Chaco is the perfect option. Jack prefers lightweight, less bulky so the thinner, more flexible Teva works well for him!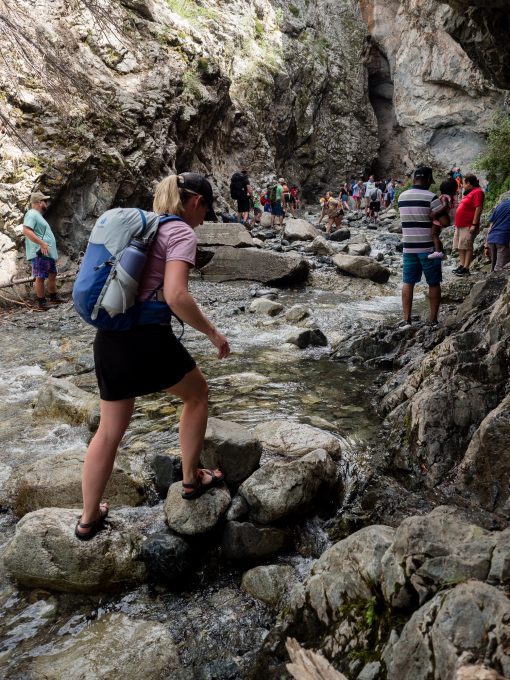 A note to all you hikers out there who are on a popular trail that culminates at a small, popular photo op. Don't be rude, don't budge, and just chill out. Our family was patiently waiting for our chance to take a picture at the falls when younger couples pushed passed us and began taking numerous photos, including checking to make sure the pictures met with their approval and multiple poses. I asked why they felt the need to push past others who were waiting patiently to take their pictures when it happened the second time and both couples played dumb like they didn't realize we were waiting… It made me super sad to see this pretty appalling trail behavior and once again reminds me that hiking seems to becoming almost too popular.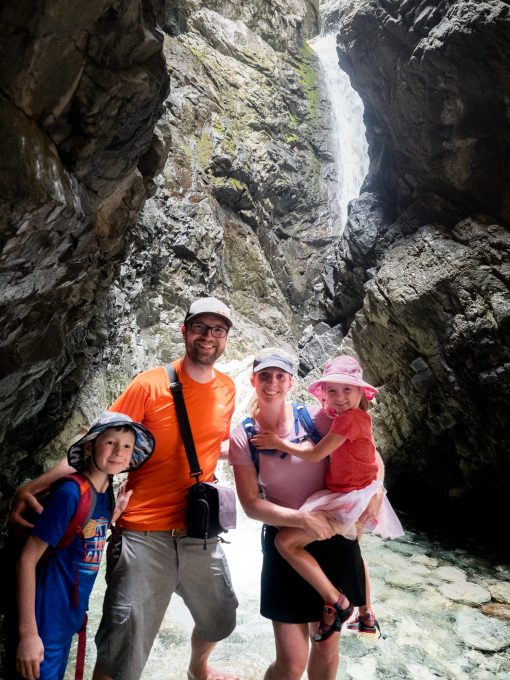 Jack was so silly throughout this hike, as Rowan and I charged ahead, getting wet and cold in the rushing water, he insisted on finding stranger, more difficult paths through so as to prevent himself from getting wet at all on the hike.
The kid that we usually can't keep out and can't get out of the water made it this entire hike without getting wet at all! I still don't really know how he managed it but it was hilarious, and somewhat frustrating to watch throughout the hike. It may have taken him a bit longer, and this is when that magical parental patience comes majorly into play, but he managed to successfully stay perfectly dry!
This really is an absolutely stunning spot, with amazing views of Great Sand Dunes National Park along the way. Despite the crowds I would still highly recommend this family-friendly hike. There are warnings at the base of the winding entrance road that there is a "rough road" ahead but it was recently redone and vehicles have no issues making it to the busy trailhead. There are privies at the trailhead.
Eat
Moonlight Pizza
After a full day of adventuring in and around Salida some sustenance is definitely needed! For a super kid-friendly and absolutely delicious dining experience look no further than Moonlight Pizza. This wonderfully charming restaurant has indoor and ample outdoor seating. The food is all made from scratch on site and you can tell the care that goes into their food. The kids quickly gobbled up their own cheese pizza and requested daily that we go back for more. Which we did return for one last slice on our last evening in town.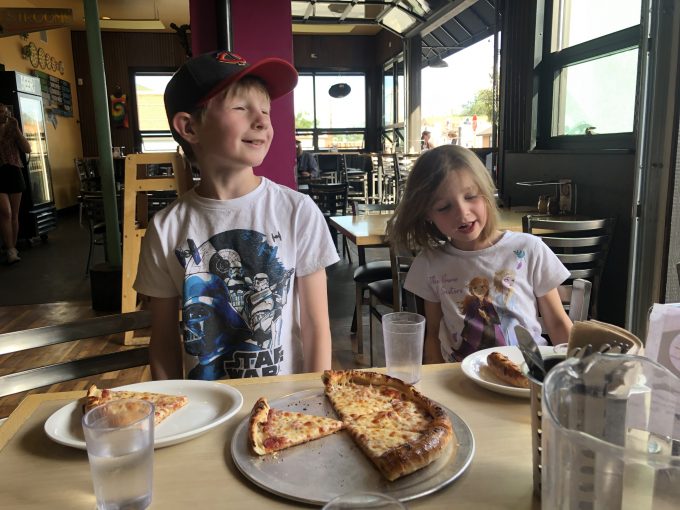 Bobby and I enjoyed a delicious salad with the most amazing honey balsamic vinaigrette we've ever had! Thankfully they sell it by the bottle and we have enjoyed numerous spinach salads with their amazing homemade dressing over and over again!
The Boathouse
The Boathouse, a fun restaurant located right on the shore of the Arkansas river with a mix of American and Mexican fare. It was pretty good and the views couldn't be beat! We were able to request a riverside table and only had to wait a few extra minutes and I definitely think it's worth the wait.
Mo Burrito
We had lunch at the very tasty Mo Burrito, similar to Chipotle, and equally, if not more tasty stop for quesadillas, salads, burritos, and more. Mo Burrito did have a Foosball table and an old Skee-Ball game that were free to use and super fun for the kids.
Chill Ice Cream
Head to Chill Ice Cream for some ridiculously tasty ice cream! It has varied, patio seating in this cool little alley for a relaxing reprieve from the sun. And is located only steps away from the river. Relax in the shade, head to the river, or even enjoy some live music out on the patio while you enjoy this absolutely delicious ice cream!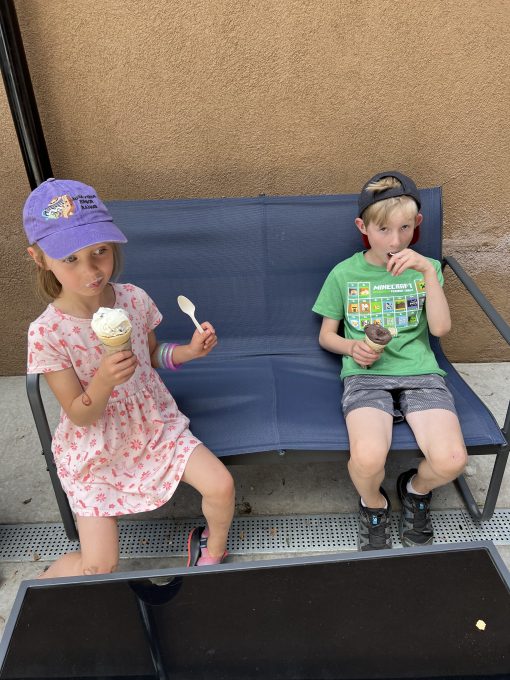 We enjoyed this ice cream so much we may have returned multiple times…