Colorado Springs is a perfect vacation getaway, with loads to see and do. We have visited this wonderful city for the last three years. During our trips we've explored a lot, so here's a fairly comprehensive list of things to see and do in and around the Colorado Springs area with kids along!
1. Garden of the Gods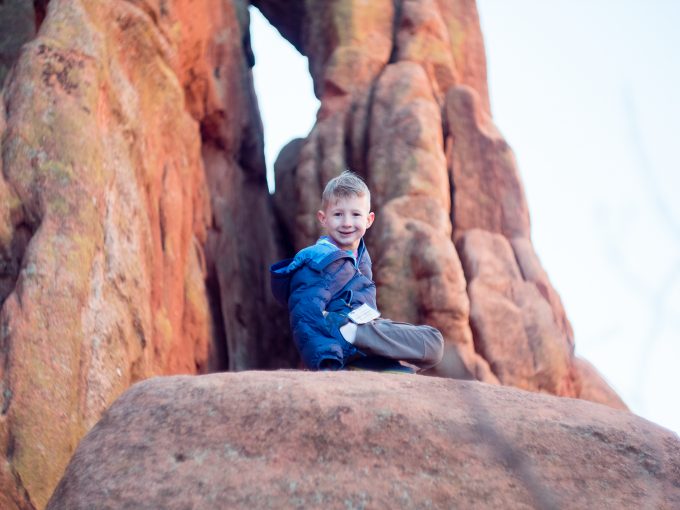 Garden of the Gods is such a beautiful and fun stop in Colorado Springs, we actually stopped here with some friends on our way to New Mexico for Spring Break in 2020. It was a chilly spring morning and the kids had a blast scrambling and climbing the rocks and finding secret, seemingly undiscovered tunnels.
This place gets busy quickly, so early morning seems to be a good time to visit, especially when that early morning timeframe also brings the wonders of some local wildlife!
We didn't have a lot of time here, as we were making our way further south and definitely wished we had brought our climbing gear with us! One unexpected aspect of this rocky natural wonder was the sheer amount of geese loitering atop the cliffs making quite the cacophony of sound…
2. Manitou Springs
We ended up visiting Manitou Springs during our visit in 2021 thanks to a local visitor's guide that touted "Free Pottery Making" on Tuesdays. It just so happened to be Tuesday as I read it and the timing was perfect. This town is SO MUCH FUN! A giant arcade, with a sea of coin operated rideable attractions, ice cream shops, art boutiques, restaurants and a really fun playground had us spending a very enjoyable afternoon here.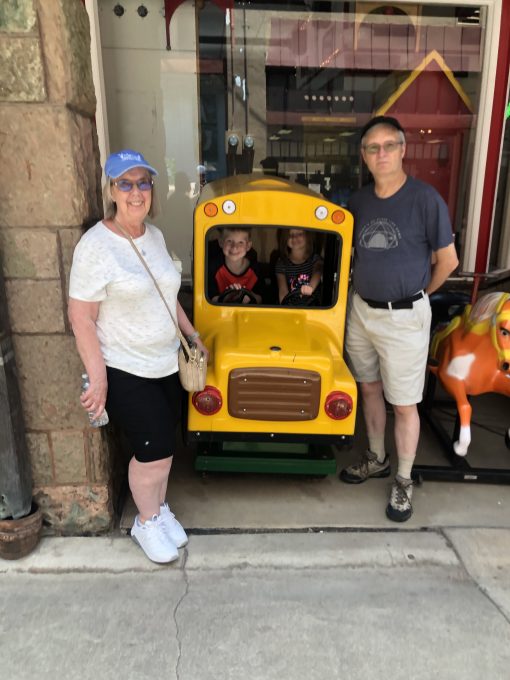 I jokingly told my in-laws, who were along, to be in the picture since only Grandparents actually pay for these rides. The Grandma next to us laughed and wholeheartedly agreed as her granddaughter enjoyed her 30 second ride.
At the beginning of the summer we always ask the kids what some of their goals or wishes are for the summer. One item on their list was, "Visit 30 new Playgrouds". They love exploring and discovering what new parks have to offer and quickly make friends with whomever is at the park that day.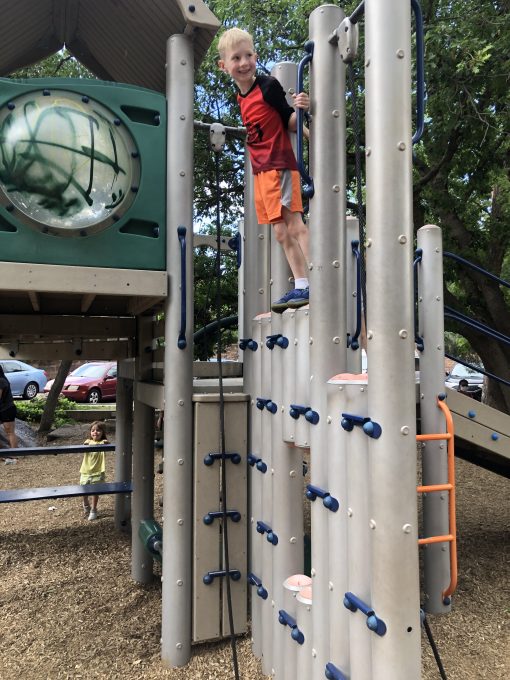 The free pottery making in the park was super fun and from what I understand is a common occurrence in the summer months. Both kids got to make a bowl with the help of a local, volunteer potter. The finished products were placed in a kiln, and since we wouldn't be in town long enough they told us they would be given away at the next free event they hosted.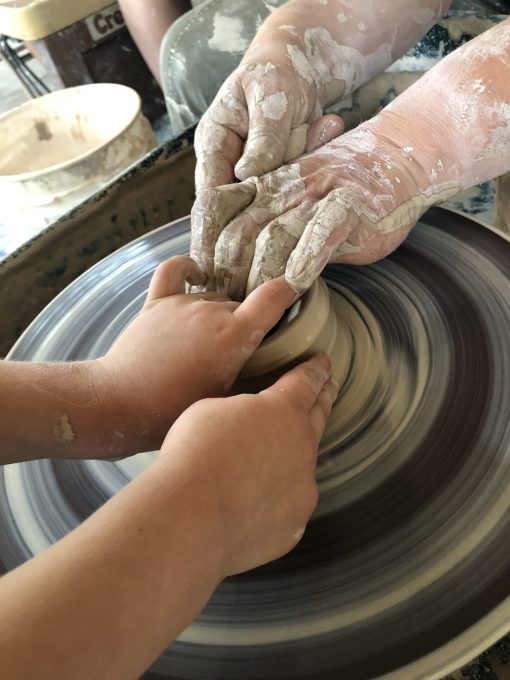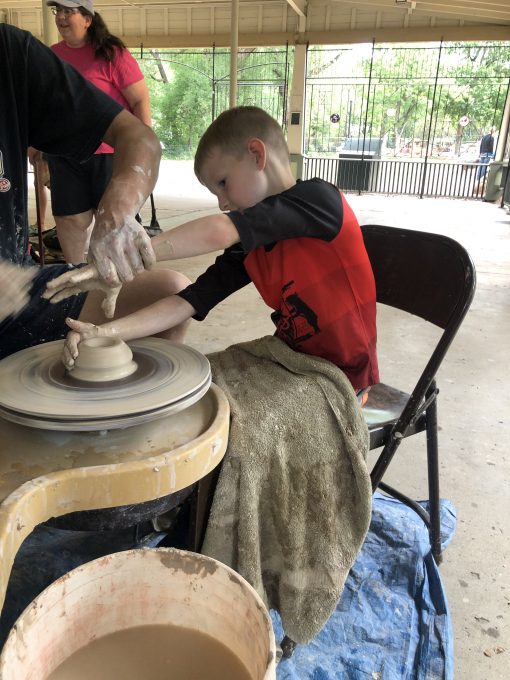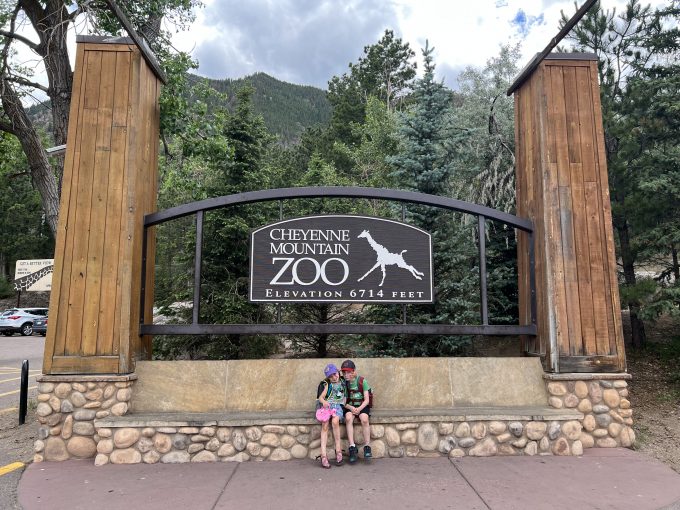 We have visited a lot of zoos on our adventures, but this one was by far the coolest zoo we've ever been to, so cool we've visited two years in a row (2021 and 2022)! Built on the side of a mountain you slowly gain elevation with each new animal enclosure you visit.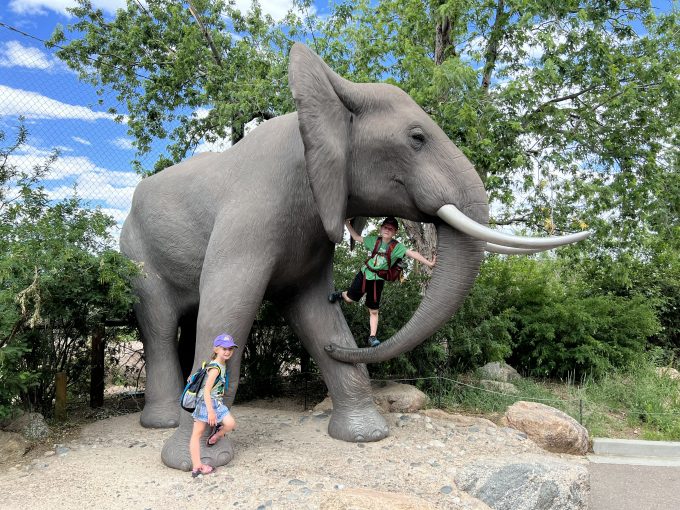 The misting fans located around the park provide excellent relief from the intense heat and sun you will experience here during the summer months. There are also several delicious dining options here and outside food is allowed to be brought in.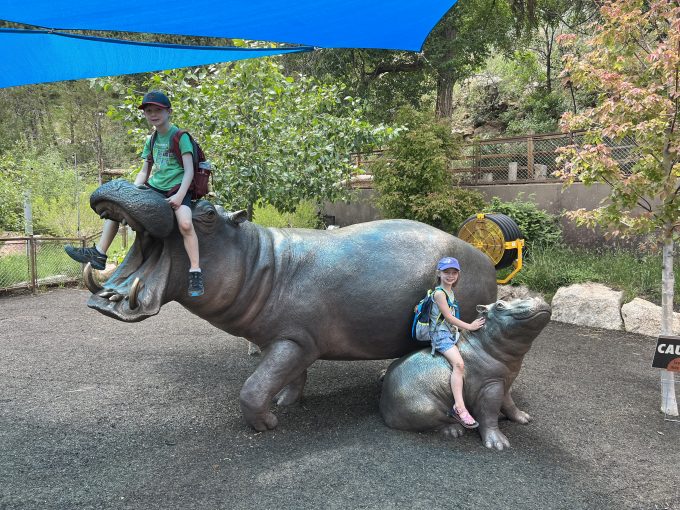 The two years we visited timed entry tickets were required to be purchased in advance so keep that in mind when planning your itinerary. Keep in mind the heat and try to get the earliest ticket possible to make your day last longer and to make parking easier because from what I've seen when we leave in the afternoon their lots fill up!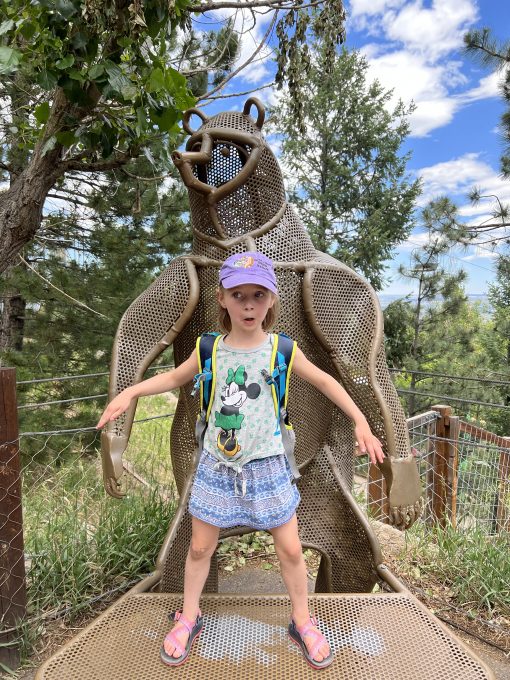 The zoo even has a t-bar lift to bring you to the top of the mountain for some pretty epic views and a yurt with a bouldering cave inside (yes we thought it was a little strange also). The lift does cost extra and I'm not sure I would pay for it again (much to the kiddos chagrin I said no to the lift for our second visit…) as the kids weren't that interested in the viewpoint at the top, but it was fun to do once!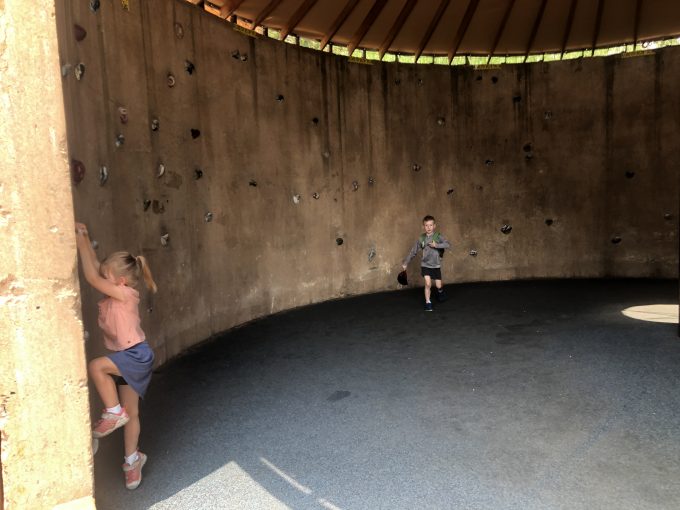 This zoo has so much to see and do including a carousel (Rowan's FAVORITE thing) and an opportunity to feed the giraffes which is definitely worth the added cost ($5 for a large bundle of lettuce) as well as a myriad of other animal feeding opportunities, for an added cost, and various animal enrichment talks that are free to attend. I'm not joking that returning to this zoo a year later was even more fun then the first time! We got to see so much more of the zoo that we somehow missed on our first visit we spent over 4 hours at the zoo during our second trip so plan for at least a half day here.
Pro Tip: A lot of people crowd around the larger herd of giraffes near the lettuce pay station, if you walk further along the path solo giraffes will still come seek you out and happily gobble up your lettuce and you won't be stuck in the crowds!
4. Royal Gorge
The Royal Gorge can be pricey as there is a lot to do and see but this was definitely a memorable stop on our trip in 2021 that the kids still talk about today.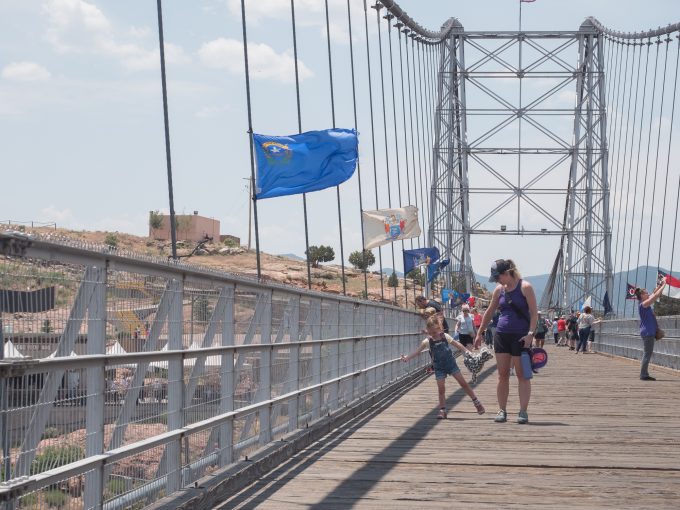 Per the Royal Gorge website, "General Admission includes access to America's Bridge, Aerial Gondola's, the Plaza Theater, the Children's Playland, and Spectacular views of the Royal Gorge. Zipline, Skycoaster, and Via Ferrata are extra pay experiences."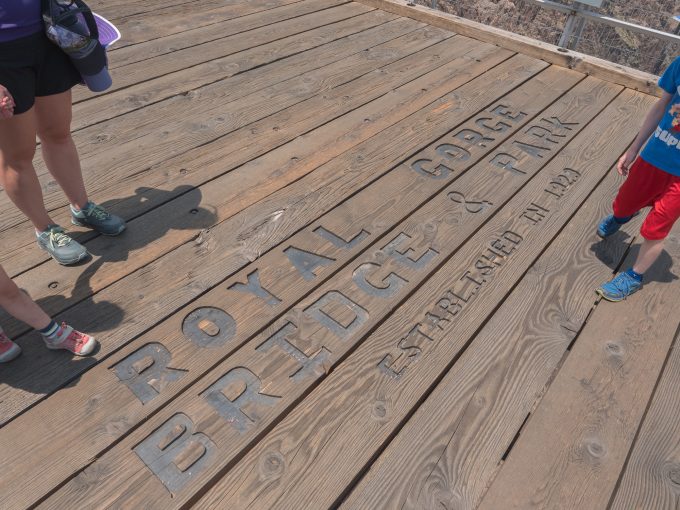 Your entry ticket allows you to take the gondola over the gorge which is really cool, you can return the same way or walk across the famous, highest suspension bridge in the US. The bridge came very close to being destroyed by wildfires in 2013. The rest of the complex was destroyed but the bridge, built in 1929, was saved. The complex was rebuilt and reopened in 2015.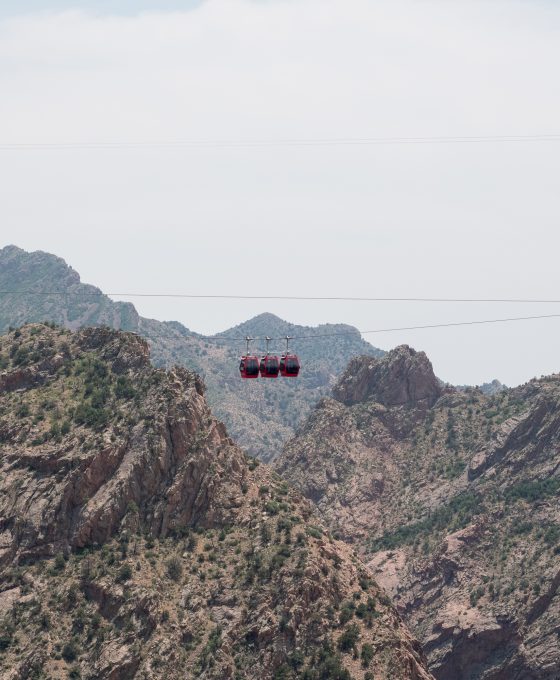 While your kids might not be able to do the zipline over the gorge don't worry, there are plenty of activities for them to do! A wonderful playground, dip 'n dots, a carousel, and lots of room to run make this a great stop for the whole family! You can also get a scavenger hunt from the main office that has a junior ranger style badge as a reward for completing it. There is, of course, a gift shop to explore at the end.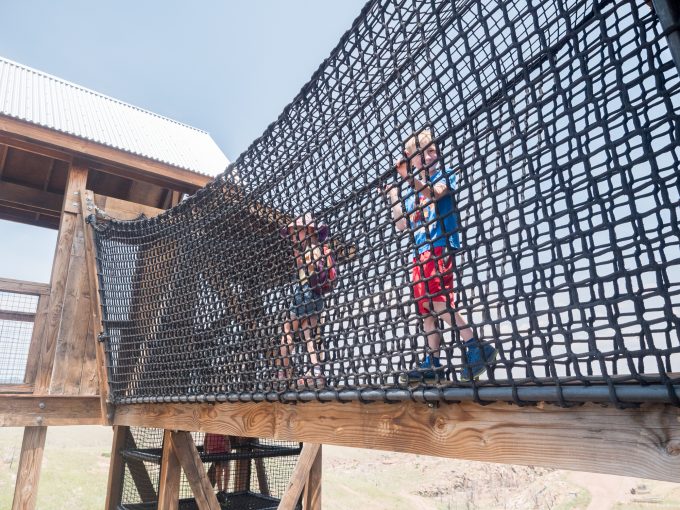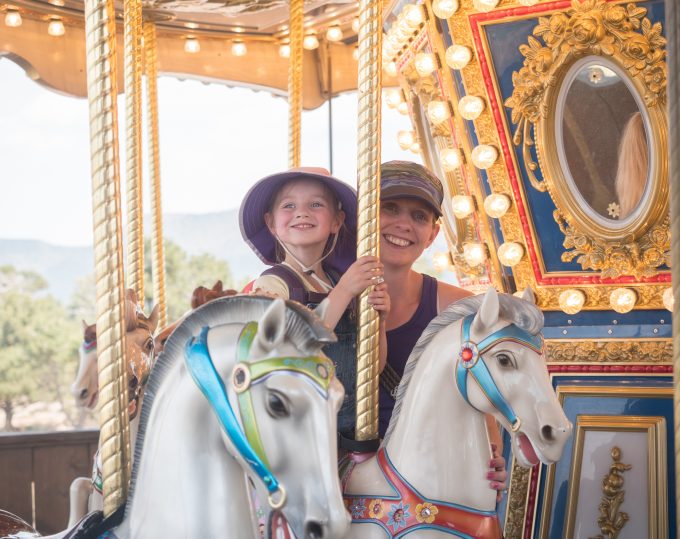 5. Skyline Drive Dinosaur Prints
Skyline Drive is a truly epic driving experience located just outside of Canon City, CO. The one-way, narrow drive built by inmates from the nearby prison in the early 1900s first takes you under a beautiful stone archway built in 1932 before you make your way up to a razor, ridgeline with no guardrails, just steep drop-offs on either side of your vehicle! Leave plenty of time for this 2.6 mile drive as you'll definitely want to go slowly AND you won't want to miss the opportunity to pull off and get out and explore, especially at the amazing dinosaur tracks!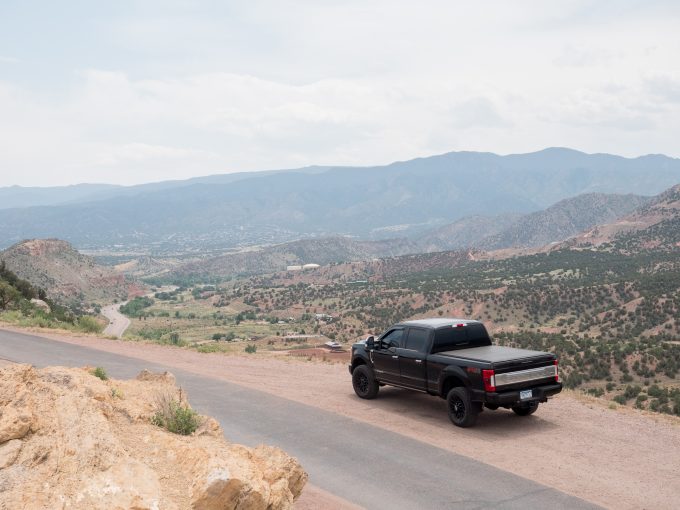 We often make day trips or detours for the specific purpose of seeing ancient dinosaur tracks and the tracks located on the incredible Skyline Drive are absolutely worth a trip! William Kurtz discovered and subsequently led the excavation of these amazing reverse cast (meaning you're actually seeing them from below!) ankylosaurus tracks in 1999. The tracks are estimated to be between 65-68 million years old. They were a little tricky to find as there's a trailhead at the pullout that we had assumed the tracks were along. The trail does NOT take you to the tracks. Instead walk the road back to the interpretive signage and marvel at these incredible historic fossils.
We were initially supposed to take the Cog Railway to the top of Pikes Peak during our visit in 2021,  but when our ride was unexpectedly cancelled by the company we were left feeling really bummed at not having a train ride to look forward to. We did some quick research and found the Royal Gorge Railroad and booked it quickly! This is a more expensive ride but we soon found out why. The train itself had the best kept historic railcars we've ever ridden in, had waitstaff visit you to take your orders for meals or snacks, and the ride itself was longer than average and had some of the most incredible views we've ever had on a scenic railway tour. It was so neat to see the gorge from below after having spent our morning exploring the top of it! If I were to pick one of the two I would see it from below on the train rather than from above on the bridge and gondola.
7. Pikes Peak/Cog Railway
The Cog Railroad is the premiere way to make your way to the top of this iconic 14,115 foot mountain. Sadly for us, our trip out to Colorado Springs in 2021 our train ride was unexpectedly cancelled due to track maintenance so we didn't get to experience summiting from a railcar. We ended up driving to the top which cost us $35 for the carload of 5 people we had along.
The mountain is run by a private vendor so everything has a cost even the junior ranger books they offer… The drive wasn't all that harrowing for us as we have pretty substantial experience driving in mountainous terrain. That, with the added benefit of having a truck with engine brakes made our descent a piece of cake and we easily passed the brake temperature testing point. If your brakes are too hot they have you stop and wait until they cool.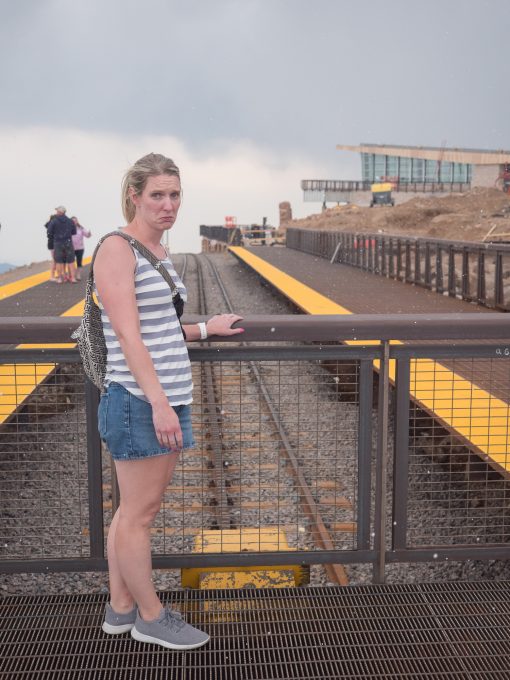 A few important things to remember before driving up: DO fill up with gas before leaving as there are no services and you will go through a lot more gas than you would expect. DO bring extra layers, especially windbreakers, for exploring the summit as it is significantly colder up there. DON'T be like us and forget to do all of these things! We had a harrowing drive down as our gas tank read empty the entire way. We had a 55 gallon gas tank installed on our F350 so we could tow longer but that means gas really moves around and away from the sensor especially when going downhill. We were fine and made it out no problem but it was beyond stressful and really didn't have to be. The kids were so cold at the top that they only left the safety of the truck for approximately 2.5 minutes.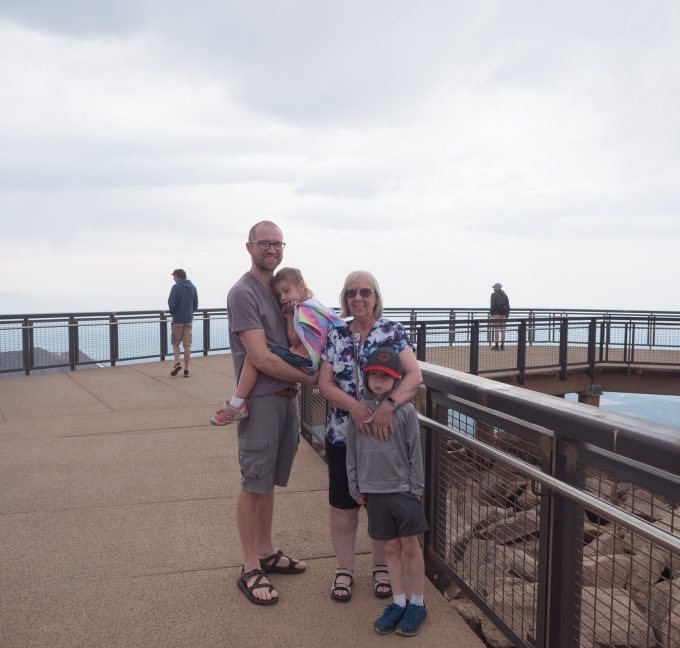 Our second visit to the city meant we were able to once again get tickets on the railway and it wasn't cancelled! We got to experience the hour long trek up the mountain on the iconic Cog Railway. Food and beverages are not allowed on the train (also no bathrooms are on the train) but we packed a picnic dinner to enjoy at the summit. Once you reach the summit you have 45 minutes to explore before your return trip departs. I highly recommend taking the last train of the day as we had the run of the visitor center, cafe, and gift shop as drivers are told to leave before we arrived, the mountain shuts down in the evening.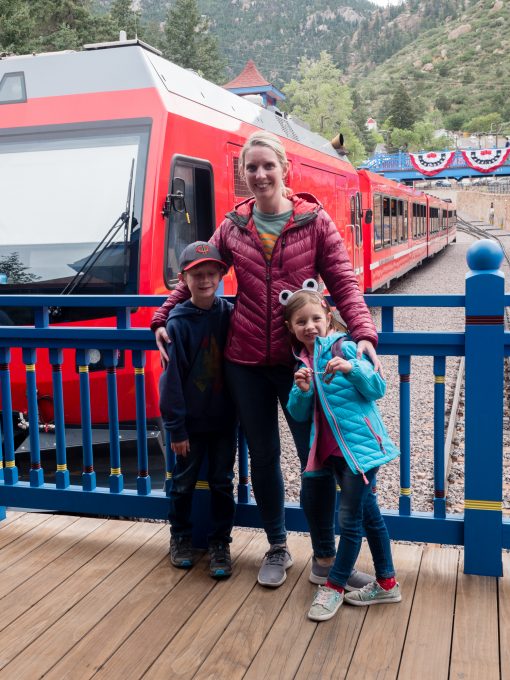 Not only was our train ride cancelled our first visit to Pikes Peak but the visitor center was also under construction and was, therefore, closed. This time we were able to go into the visitor center, explore and eat the famous 14,000 ft donuts! Having both driven and taken the railway to the top I would recommend the railway every time. It's an expensive trip but worth the cost as you listen to the stories of the conductor who will also answer questions and getting that historic background and having zero stress about your vehicle is completely worth it! There was one gentleman on our ride down that had hiked up beginning at 5:30 that morning and opted to take the train down, which you can also do in reverse, take the train up and hike back down!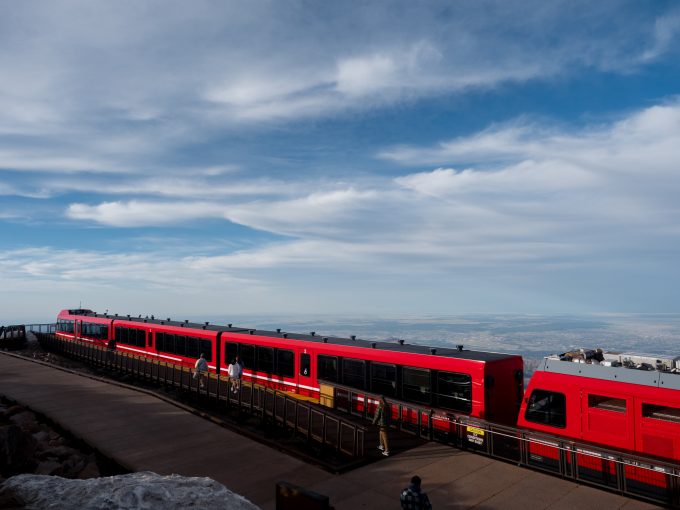 If you are feeling disappointed that you didn't get the opportunity to drive to the summit of a Colorado 14er, you can always head to Mount Evans, a much less controlled and popular mountain, that is actually slightly taller then Pikes Peak and drive to the top of that!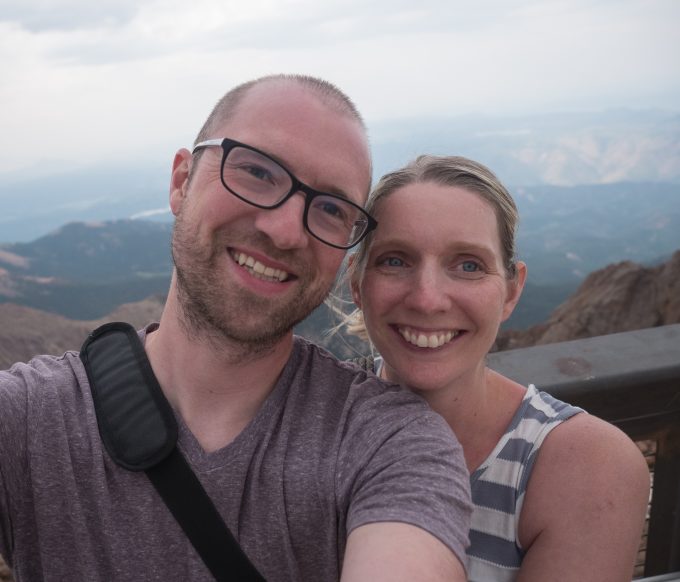 Where to Eat
The city of Colorado Springs is huge with a population of 464,871 so the dining options are endless. We ate out at some of the areas more iconic eateries.
My Father-in-law really wanted to bring his grandkids to experience the Chuckwagon in Colorado Springs because he had visited with scout troops in the past. The tickets are expensive but you soon realize why as a lot is offered AND this family is working incredibly hard to bring their business back to life as it had been completely destroyed by the Waldo Canyon Fire in 2012. This business has been in the family for generations and it's great to see them making a comeback. Before dinner there were many fun things to do with our highlight being the tiny train that went through a tunnel in a small rock mountain. I lost track of how many times we did that. There was also roping, dutchoven cooking demonstrations, and animals to see and pet.
Dinner was a fun ordeal of a ranch-style home cooked meal on giant tin plates with lemonade and spiced cake. Following dinner there was live music that the kids absolutely loved! I will say, as a parent, the gap between eating and the music is really long so bring along some coloring books or stories to read between the two. I finally bit the bullet and bought some sticker books from their gift shop to quiet the whining.
This restaurant is SO COOL! They turned a fully intact 1953 Boeing KC-97 into a restaurant! we were lucky enough to be seated inside the plane itself as the plane is built partially into a building there is normal seating like any other restaurant. The main restaurant area has lots of fun memorabilia around to admire, not to mention the airplane wing that looms overhead. Being seated inside the plane was awesome as the cockpit is open for diners to explore. The kids loved sitting in the pilot's chairs and playing with all the gadgets! The food wasn't too bad either.
The Whitewater Bar and Grill
If you've spent a whole day exploring the Royal Gorge and need a family friendly spot to grab some lunch or dinner, I cannot recommend the Whitewater Bar and Grill more.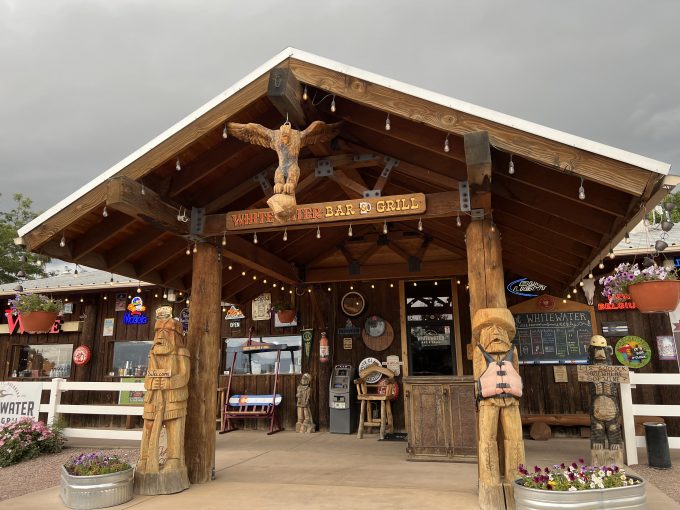 A playground, beach volleyball court, live music and fun and varied seating make this a must stop! The food is okay, nothing amazing but tasty and the atmosphere of the restaurant makes it definitely worth the stop!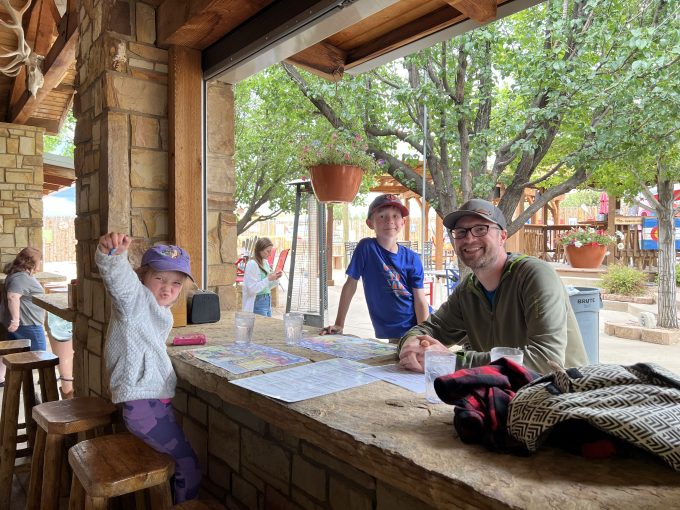 Day Trip Options
If you're visiting Colorado Springs for an extended period of time Colorado has endless options for day trips and options to explore.
Shelf Road Gold Belt Tour National Scenic Byway
If you're already in Canon City to see the Royal Gorge why not take the really long way around and drive some sections of the Gold Belt Tour. The Shelf Road section that we opted to drive between Cripple Creek and Canon City is harrowing at times and is called "Shelf Road" for a reason!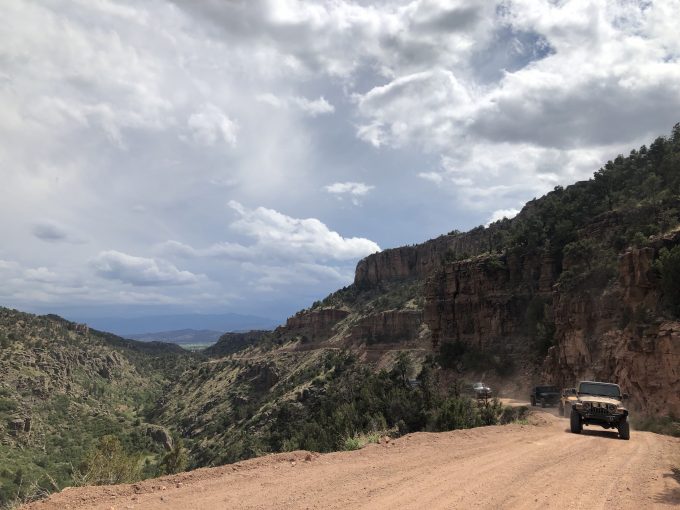 Getting to glimpse window rock was incredibly fun and the road itself is actually in fairly decent shape!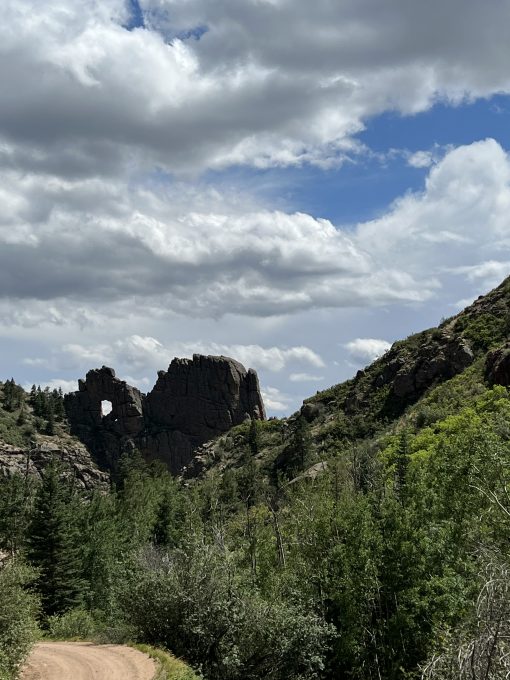 Take note, if your destination for the day is Cripple Creek, maybe to check out the famous wild donkey heard that roams town, be warned that this is not a very kid-friendly town.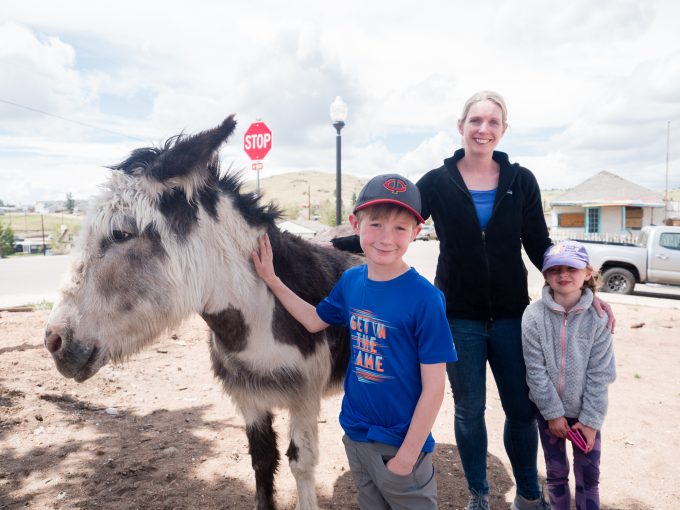 It's mainly casinos with only a few restaurants that admit anybody under the age of 21. We found a table at The Creek which has charming decor and very friendly staff. However, we did wait for food for over an hour only to be told they ran out of bread so Jack couldn't get the grilled cheese sandwich he'd ordered…
Florissant Fossil Bed National Monument
I know that most all national park/monument sites have wonderful staff but I have to say that the staff at Florissant Fossil Bed National Monument were by far the friendliest, most helpful, and knowledgable park staff I have come across in our travels. We got to meet their resident geologist, Dr. Bob who taught us all about what makes this fossil bed site so incredibly unique.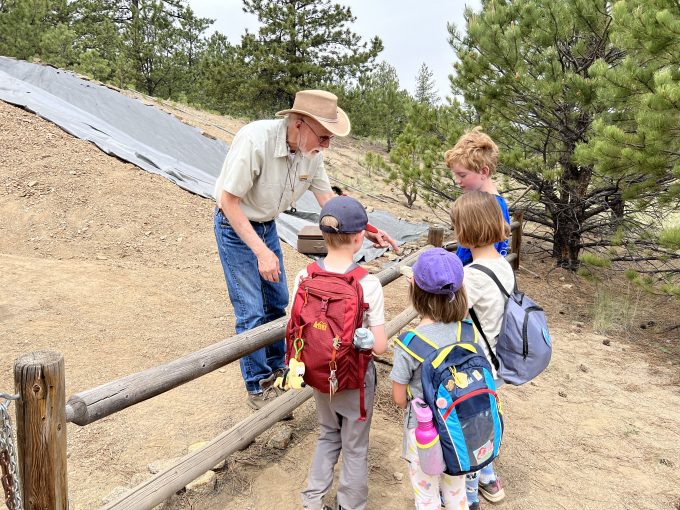 The kids got to touch real fossils found on the site. And I finally learned what petrified wood was, because I'm gonna be honest, I never really understood what it was before Dr. Bob patiently explained it to me!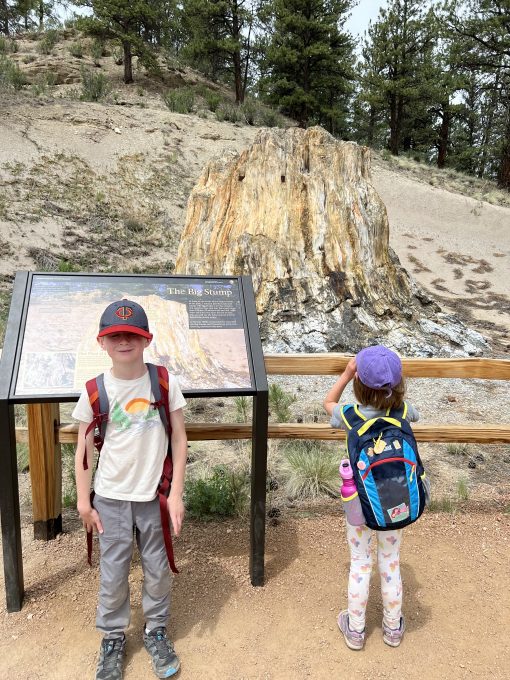 The short, 1 mile interpretive hike takes you through the history of the area and allows viewing of many giant sequoia petrified stumps. It's in an open prairie so bring sunscreen and hats along!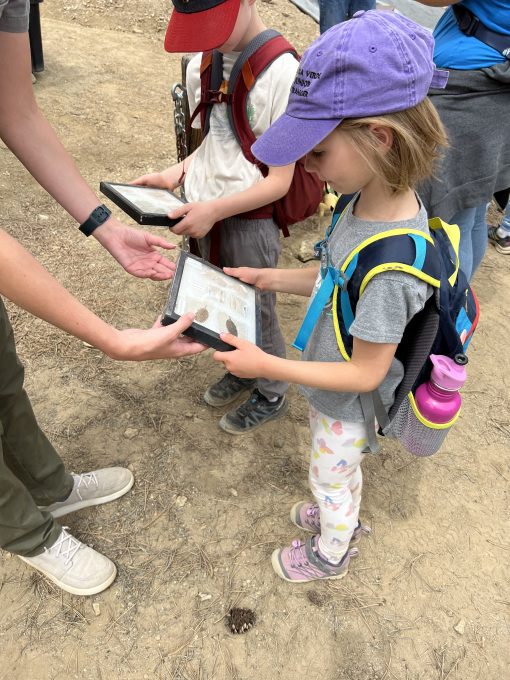 Allow plenty of time to also visit the visitor center, it has wonderful, informative displays not to mention many fossils to learn about.
Pro Tip: Most National Park sites have videos giving brief histories and highlight points of interest for visitors. While these can usually be viewed at the visitor center, I recommend finding them on YouTube before you visit the site. This allows all members of your group to get excited about what they are going to see. 
Vindicator Valley Trail
If you have a history buff kiddo, like we do, this hike is for you! Dozens of abandoned mines, in various states of disrepair line this hike with historical, informational signage to accompany each.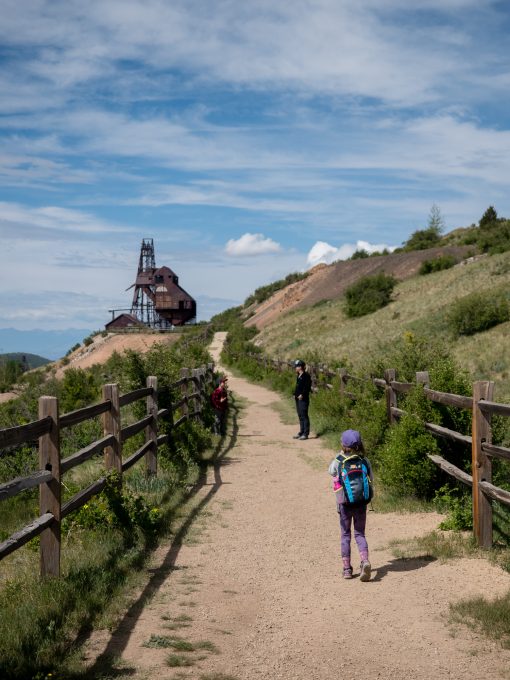 Some of the mines still have open doors and no fencing so you can go in an explore. Jack loved exploring the old buildings while Rowan was pretty freaked out by it and often refused to go in and explore. There are nails, glass, and lots of rusted metal so good, strong-souled shoes are definitely recommended for this hike.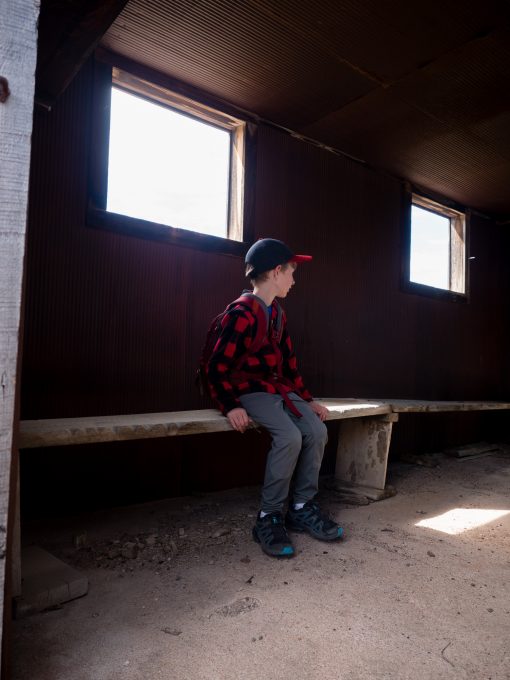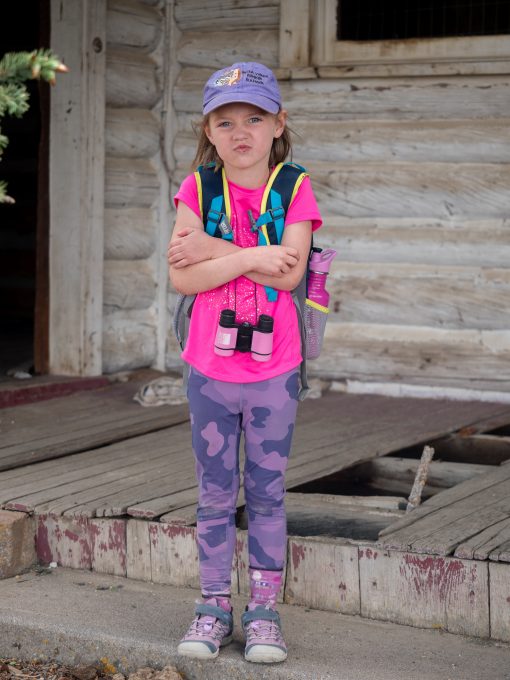 The trail is a loop and at 2.1 miles with minimal elevation gain it's good for all experience levels. The lower loop of the trail doesn't have much in the way of exciting mines to explore/see so I would recommend taking the upper loop first so you get to start off with a bang and see lots of cool stuff right away. Leave the boring section of the hike for the end to discuss all that you saw along the interesting parts! And, busting out some fun trail treats during the boring sections (DumDums and Starburst minis are family favorites) never hurts…