As Labor Day weekend approached Bobby and I put our heads together to come up with a fabulous weekend getaway. As often happens, we both wanted opposite things out of the weekend. I wanted to stay in a hotel and spend the weekend relaxing by the side of a pool and getting pampered in a spa. Bobby wanted to go backpacking. Don't get me wrong, I love backpacking and hiking and all of the outdoor recreation we have thrown ourselves into since arriving in Washington, but, I occasionally need a break from that. As is our habit we compromised. Bobby found a luxury resort and spa in the northern Cascades that sits atop a mountain, Sun Mountain Resort and Spa, with very little around it except 40 miles of hiking and mountain biking trails.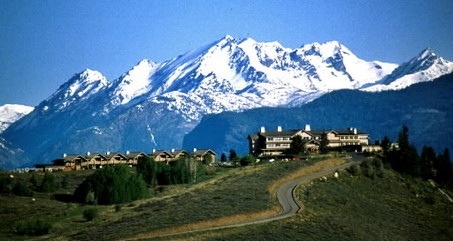 It's more expensive then we generally spend on a weekend getaway but this weekend jaunt is also replacing the 18 day European adventure we canceled when we decided to make our move from Minnesota to Washington. Bobby has still been feeling nothing but relief since we canceled the trip, but I have to admit that I have been feeling disappointed and longing for a vacation.
We decided to leave Saturday morning to avoid the horrible Seattle traffic on Friday afternoon. On Friday night as I cooked up some delicious sloppy joes for dinner Bobby suddenly realized that he didn't remember ever seeing a confirmation email from the resort, we had booked about two weeks previously. He searched his email and sure enough there was nothing there. Anxiety began to settle in the bottom of our bellies as Bobby called the resort. The polite man asked for Bobby's name, he gave it, and the man confirmed our address, a wave of relief swept over us, if they knew our address of course they had our reservation! The man followed up our address confirmation by saying, "No, we have no reservation for you." This time it wasn't anxiety that filled us but bitter disappointment as we were sure there'd be no way they'd have any availability for Labor Day weekend. The man alleviated our fears immediately by informing us that they had three rooms left and one of them was the exact room we had originally requested! Not only that, but because of the obvious error, seeing as how they had our information but no reservation, they gave us a $60 per night discount! Poor Bobby had thought that he had ruined our weekend getaway, when in fact it all worked out for the better!
As is our usual practice, we overpacked because we really didn't know what to expect, temperatures here range from 40 at night to 80 during the day. So along with swimsuits and shorts for pool time, we packed winter costs and beanies for night hikes, and hiking pants and wicking layers for day hikes. We left Seattle around nine o'clock and were thankful we didn't encounter any traffic. We drove the four hours to the small town of Winthrop that sits in the valley below the resort. The drive took us through some of the most scenic areas we have encountered thus far in Washington. We drove through the picturesque Northern Cascade National Park along with numerous National Forest recreation areas. Once we arrived in town we first made our way to Rovers Ranch, the local dog boarding facility Bobby found online to take Latigo to. We were so excited when he found this place, it's half the price of the facility we take Latigo to in Seattle and, unlike the facility in Seattle, it has a large outdoor area for the dogs. The facility itself is actually attached to the home of the couple who runs it, Kathryn and Patrick Heim.http://www.roversranchllc.com/ They were incredibly warm and welcoming and we felt immediately at ease that our precious Latigo would be more than happy there! As we were walking to our car to leave, Patrick shouted out, "He just jumped in the pool!" Latigo loves to swim!
It was still early, just a bit before one o'clock and seeing as we couldn't check in until 4:00 we headed back into Winthrop to find some lunch. Winthrop is an amazing little town that the townspeople restored to its early 1900s appearance in the 1970s.<,br />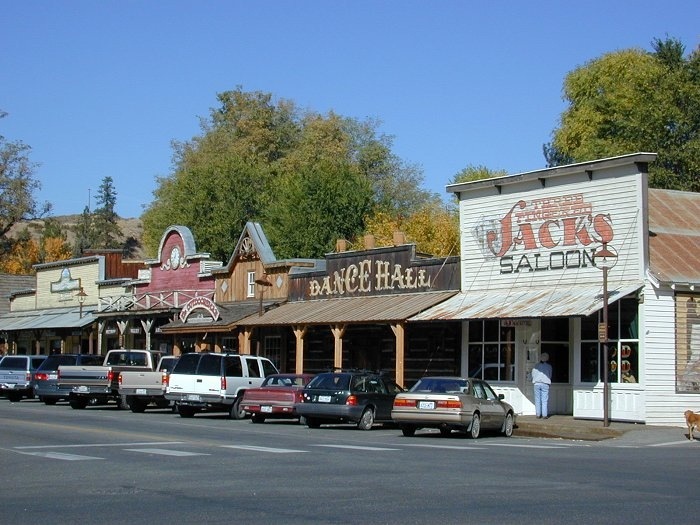 Small shops selling cowboy hats, local artists wares, and delicious homemade ice cream lined the one street downtown. The crowds were definitely manageable, despite the fact that there was a rodeo in town! We chose to park just outside of town in a small gravel public parking lot and walk the few blocks into town, rather then attempt to find scarce street parking. We found some lunch and then meandered around the town, visiting the shops, reading the informative historical interpretive signage and polishing off our visit with delicious waffle cones filled with delectable homemade ice cream! The towns quiet charm accompanied by the lazy afternoon made for the perfect beginning to our weekend getaway.
We drove the 7.4 miles up Sun Mountain and found ourselves greeted with a spectacular view and a beautiful resort nestled in among the poplars and evergreens. The lodge is a beautiful combination of luxury and backwoods. Very few of the rooms have TVs and all rooms come with a breathtaking view. Our room has a balcony, fireplace, and jacuzzi tub. One of my favorite aspects of the room is the large wall partition next to the tub that can be easily opened to allow yourself to enjoy the beautiful mountain view while relaxing in the tub.
For dinner we opted for the resorts bar and grill as opposed to the fine dinning, reservation-only, $40 per plate dinning room. The food was good, above par for a bar and grill and more reasonably priced. The service was efficient yet a bit eccentric. The atmosphere was laid back and we felt perfectly comfortable in our jeans and flip flops.
Before heading back to the room we stopped at the gift shop for a few trashy magazines for easy poolside reading and the activities shop to book our horseback riding adventure for the following day.
We crawled into bed and I soon found myself fast asleep well before 7:00 pm. I awoke around nine as Bobby brushed his teeth, apologized profusely for falling asleep and suggesting that we venture off on a night hike, which had been our original plan for the evening. He assured me that he too had been dozing and had just mustered up enough energy to get up to brush his teeth before allowing himself to completely succumb to sleep. We realized that since moving to Seattle we have not slept in one single day. Our apartment just isn't conducive to lazy Saturday mornings, with the sun blaring in our wall of windows, the temperature always being just a little bit (or a lot) off, and the constant street noise that surrounds us. Here the heavy curtains and complete seclusion (not to mention no puppy to wake us up early) allowed us to sleep until we couldn't sleep anymore. It was a wonderful treat!
Tomorrow we have a spa day and a horseback riding adventure to look forward to.