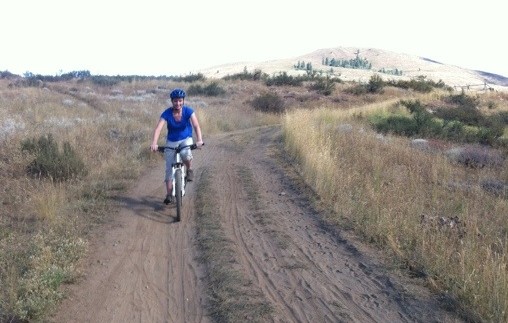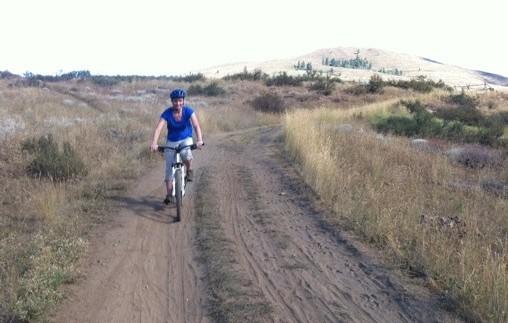 We arose after more then 12 hours of glorious sleep to a beautiful sunny morning atop a mountain! We went to the dinning room for breakfast, the service was so speedy that we had time to kill before our 9:30am spa appointment. We headed to the game room and, choosing between pool, foosball, and ping pong, we opted for a few rounds of ping pong. After I royally slaughtered Bobby in both rounds we headed to the second floor, directly above the lobby area to the spa. We were early still but they immediately greeted us and, after filling out a bit of paperwork we were shown to our room. The spa rooms were retrofitted hotel rooms, they were dimly lit with zen music playing in the background. The package we had booked, the Double Decadence, came with a bottle of champagne and a huge fruit plate. The appointment began with a foot soak and private time together to enjoy our fruit and bubbly. Not generally partial to champagne and having just eaten we sipped and ate lightly, they had told us we'd be able to take both the plate and the bottle back to the room with us so we weren't concerned about gobbling up everything. I had a massage while Bobby had a facial and then the two spa employees switched and Bobby got his massage and I got my facial. It was pure bliss. It had taken some convincing to get Bobby to agree to a day in the spa just for a massage, but when we learned that the Double Decadence was also a facial, the convincing was brought to new heights. After a little help from some friends, Bobby agreed to at least give it a try. We are both always urging one another to try new things. You never know if you like it or not until you give it a try! The end result? He loved the facial, more then the massage! I must say they were both incredibly relaxing. Sadly, it's hard for me to lay in a prone position for that length of time without moving, so near the end I was getting incredibly uncomfortable. The technicians were respectful and both had magic hands that eased away the tension in my neck and shoulders.
We both felt like liquid goo following our overly relaxing two hours in the spa and weren't yet ready for lunch so we donned swimsuits and headed to one of the two outdoor pool and hot tub areas. Luckily the one closer to our room was much less popular, when compared to the one directly behind the main lodge, and we were pleased to find ourselves the only ones there. We swam in the cool water of the pool and soaked in the hot tub to warm up as we looked out at the surrounding mountain ranges.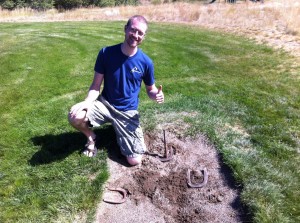 After some lunch, a round of horseshoes, and a brief afternoon siesta we headed to the activities office to rent some mountain bikes. I was more then skeptical about this particular activity, having never done it before, but knowing that Bobby had been to the spa with me that morning I sucked up my fear and trepidation and soon found myself hurtling down a trail and crazy fast speeds, my fingers clinging to the breaks and handle bars for dear live. Nearby Bobby was jumping over rocks and roots in the trail with his hands firmly on his handlebars and not near his breaks. He was kind enough to stop and wait for me when he would get too far ahead of me. The dust from the trail was intense and while I was mostly terrified I did find myself enjoying the ride at times! The way back up to the resort was less awesome and mostly exhausting and I may or may not have briefly wished that we were going downhill at those terrifying speeds once again…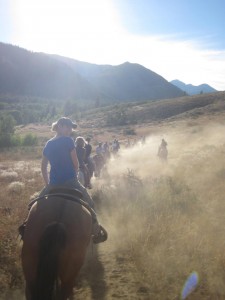 We got back to the resort just in time to quickly change into long pants and hike down to the stable for our evening horseback ride and "cowboy dinner". This was hands down one of the most organized and well maintained outfitter we have ever seen. For only $50 each we got a beautiful hour long ride with a delicious steak dinner in the middle. We both agree that they could be charging at least double that and it would be totally worth it. A young couple bought the outfit a few years ago and they are doing a spectacular job! The dinner was scrumptious and there was a nice fire waiting for us to warm ourselves as the night cooled off. I was most delighted by the fact that four women had handled the guests and horses while the men were waiting for us at the dinner spot with food beautifully prepared! What a wonderful role reversal! We would highly recommend anybody in Methow Valley make a stop at this stable for a fun and picturesque trail ride.
By the time the trail ride was over it was dark and a chill had filled the air. Tomorrow will be our last day and who knows what adventures await us on the drive home.