Today began like many others have on this trip, with morning arriving a little too quickly for us. We were planing a day trip to Versailles, Rick Steve's guidebook encouraged us to leave Paris by 8:00 in the morning, in order to arrive there by 9:00 (or shortly before) to beat the lines. We didn't arise until a little after 8:00… The morning was pristine and the walk to the Metro stop was pleasant. We purchased the specialty tickets we would need to get to Versailles and were soon waiting on the train platform alongside hoards of other tourists all going the same place. We were lucky enough to get seats on the packed train and found ourselves sitting across from two young college students from Utah, who were on a study abroad trip. We chatted with them on and off during the 30 minute train ride.
As soon as we were at the Versailles train stop we were surrounded by hundreds, if not thousands of tourists from all over the globe. For the rest of the day we found ourselves waiting in extremely long lines and being shuffled along like cattle through the sites at Versailles. Luckily we didn't have to wait in the line to buy tickets because of our Museum Pass (The Chateau is usually 15 Euros and the Trianon Palaces and Domaine de Marie-Antoinette is usually 10 Euros). However, we still had to wait in the security line, that happened to be the longest line, to see the Chateau at Versailles. When we finally reached the security checkpoint we learned the reason for the slow and enormous line, there was one metal detector and xray machine for the thousands of people trying to get through. 
This palace was built by Louis the XIV and was the seat of France's government for a hundred years. This gilded palace was immense, ornate, and beautiful (It even had a two story chapel).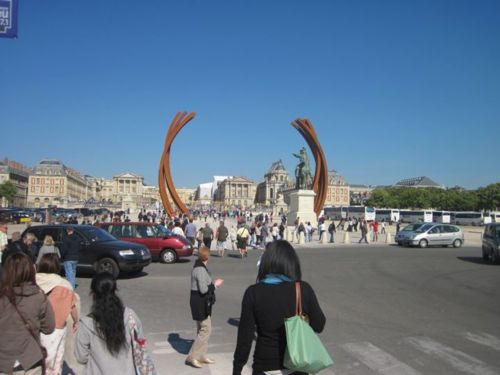 Sadly, our camera battery died today so we don't have many pictures.
We used Rick Steve's audio guide rather than the one provided by the museum, mainly because we didn't know their audio guide was also free… Still, old Ricky is good for a laugh and his guide to the main palace was helpful and well laid out. The most exciting part of the tour was being inside the Guards room where Louis and Marie-Antoinette hid while rebels stormed their palace during the revolt! We could almost picture them cowering in a corner.We had planned on walking through the extensive gardens of the palace to make our way towards the Grand and Petit Trianon palaces after the chateau. However, they were charging an entrance fee at the gardens (8 Euros) because they had the musical fountains going (generally the gardens are free). Not wanting to pay the steep fee that wasn't covered by our trusty museum pass, we took the long way around using the streets of the surrounding town. The walk was long but a pleasant respite from the large groups. The streets surrounding the palace were virtually deserted and it was nice to move freely and not bump into anybody! Once back into the free section of the gardens, that double as a public park, we walked along a shaded path with a cool breeze blowing. The path was lined by horse pastures on one side and a popular picnic spot on the other. We enjoyed some snacks we had brought along as we strolled. The maps they had posted about rarely had a "You Are Here" icon, so we really had no idea where we were or if we were even headed in the right direction. Luckily, After an hour or so we soon found ourselves directly in front of the Petit Trianon and a small cafe!
After a quick lunch of french bread sandwiches and a strange dessert called, Mont Blanc, that was sort of tasty, we headed into the small palace. The Petit Trianon was Marie-Antoinette's escape from reality. It was a beautiful palace with amazing gardens surrounding it. She even built a small village and working farm for herself in the surrounding gardens where she would pretend to be a commoner. The crops and animals raised on the farm were served at her table. Today there are still many animals on the farm including hogs, chickens, rabbits, asses, horses, cows, goats, sheep, and many types of fowl. Not many of the tourists went this far out into the grounds and we, once again, found ourselves with some much appreciated peace and quiet! Sadly it kept getting quieter and quieter as we continued to unknowingly go in the wrong direction. We found ourselves trapped in the maze of the gardens and it would be close to an hour before we found our way out again. During our meanderings we stopped at Aphrodites temple, a rose garden, a granite gazebo music hall, and even a giant Sequoia! This site used to be another King's botanical gardens so the plant life was diverse and beautiful.
Eventually we found our way back to the main garden and found a local merchant selling freshly squeezed orange juice (literally squeezed in front of your very eyes)! Our adventures in the garden had left us desperately thirsty and we bought ourselves two glasses! It was like tasting a little bit of heaven! He even put ice in the glass! We haven't seen ice since we left the states! We sat under a tree and quenched our thirst!
We toured the Grand Trianon next which was King Louis escape from Versailles and found ourselves members of another massive crowd and shuffled through the palace. The grounds surrounding this palace were much more elegant and orderly, with strictly trimmed hedges and trees. Apparently, while King Louis was living there the flowers in the beds were changed daily in the garden to please him! We decided not to venture into this even larger garden for fear of getting lost again! Instead we headed home.
The train ride home gave us a much needed rest and we discussed what to do in the evening. Neither of us felt much like going out to a restaurant so we decided to stop at a grocers and pick something up to cook in our tiny kitchen. We got some ravioli, spaghetti sauce, a Heineken, a bottle of Rose Wine, cheese, and some crackers.
Back in the apartment, we collapsed with exhaustion and were shocked to discover that it was already past 6:00 (we both thought it was only three or four)! While we ate supper I tried my hardest to drink and enjoy the wine we had bought without success 🙁 I have decided to finally give up my goal of learning to like wine. We did some laundry, ate chocolate, and watched some television! It was the perfect, lazy evening we had been looking forward to!