Well today I write about the antics of both today and yesterday. Yesterday didn't really deserve it's own post considering we basically did nothing. Bobby came down with the flu in the morning and spent the majority of the day in bed. He did his best to put on a happy face and even managed to convince me that he was up to a short hike. I told him I would be okay with it as long as he chose an easy valley hike. He assured me he would and off we went. As we started along the trail it became apparent that Bobby hadn't picked an easy valley hike. The first clue was that we were going up steep switchbacks with no end in sight…  After only an hour on the trail we were both huffing and puffing and I was hungry. We stopped for a bite to eat.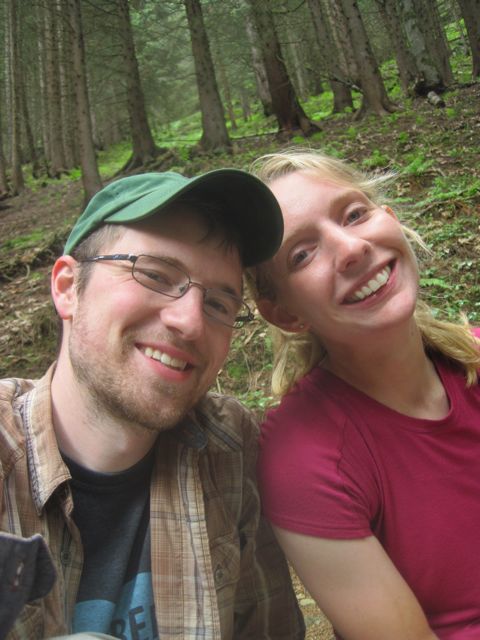 Bobby had kept pretty quiet during our break and was only able to eat half an apple. So, I tried to convince Bobby to turn around and head back. He claimed that he wanted to keep going, that he was feeling okay, but after two years of marriage I know him a bit better than that. I knew that his pride wouldn't allow him to turn back so I convinced him that I was really tired and had to turn around. He finally agreed and we turned around. On the way back down the switchbacks we found an amazing spot to view the valley below.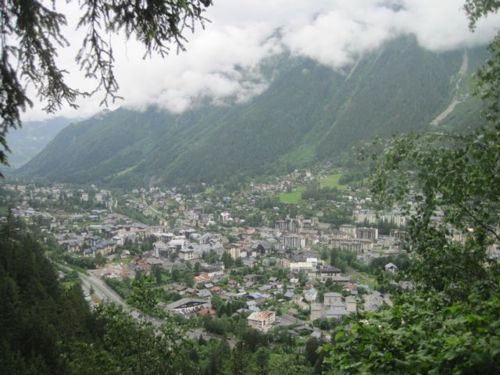 As we were nearing home he thanked me for making us turn around. He was back in bed in no time and slept the rest of the day. I bummed around the apartment playing solitaire, finishing my book, and watching some television. We ended the day with Chinese takeout (Bobby had rice and I had duck with pineapple).
Today Bobby woke up feeling better and was able to eat cereal no problem! It is our two-year wedding anniversary today and Bobby wanted to climb, sadly the weather forecast said it was going to rain all morning. We decided to figure out the Chamonix bus system and simply scope out some of the climbing areas. The tax we paid on our apartment rental got us free bus passes for the area and the stop is only a short walk from our apartment. We boarded the first bus that came by that, most luckily, was the exact bus we needed in order to check out the first climbing area! After a quick five-minute ride we were walking the path into a park with a huge multi pitch crag! Nobody was around and the sun was shining brightly and it was beginning to heat up! Once again the weather forecast seemed to be completely wrong! We decided we couldn't pass up the weather and the empty crag so we hopped back on the bus, back into town, and back into our apartment where we gathered our gear and set off again. We had been lucky in the morning and just happened to catch the bus we needed. Sadly that luck was soon to run out. The bus only runs very frequently in the early morning and after that it's every hour. So, we hiked the 2 km (about 1.2 miles) back to the crag. By that time however, the climbers had swarmed and there were lots of people around, some tour groups, some climbing duos (like us), and some guides were being trained and getting certified in rescue techniques. Luckily, the easy breezy climb we had picked out earlier was still free so we prepped.
The rock here is unlike anything we have back in Minnesota. It's hard to say whether it's better or worse, it's just different! For those who are geologically inclined, it's Gneiss. It was very neat to watch the other groups, all speaking different languages, and yet everybody's climbing styles and safety techniques were the same. Bobby at one point said, rather cheesily, "We're all speaking the same language, the language of climbing." I've never been a fan of climbing with so many people around so instead of attempting our first multi pitch route together in that particular spot we treated this first climb as a warm up.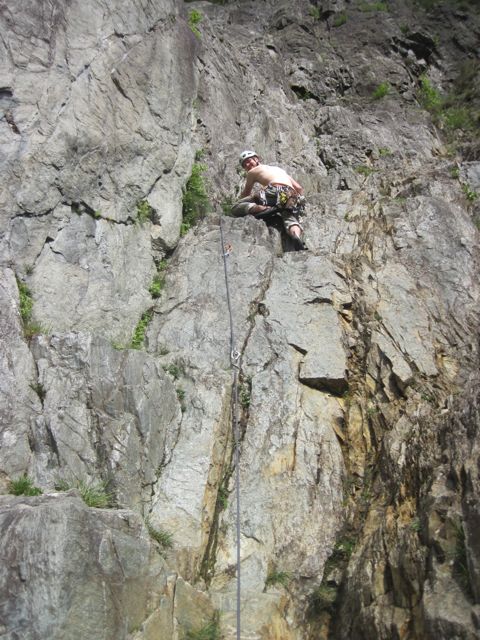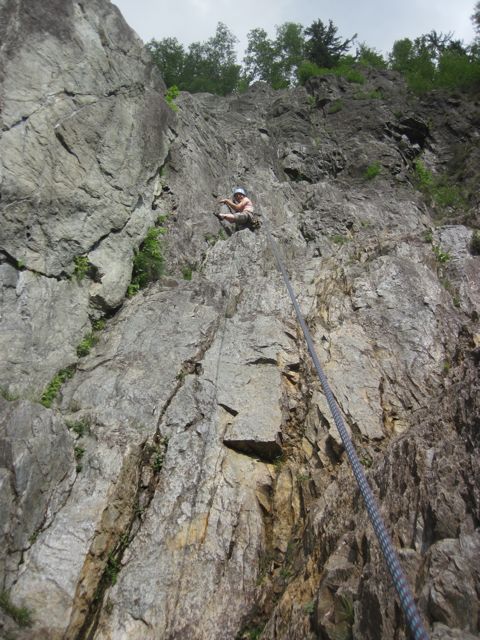 On a side note, for those that don't know, a multi pitch climb is when the route is too tall for one rope so it is done in stages. Stage One: Climber #1 lead climbs up to a certain point (usually where there is a solid ledge) and sets up a belay anchor. Stage Two: Climber #2 follows the same route as Climber #1 cleaning the route of gear as they go and they meet on the ledge. Stage Three: Climber #2 lead climbs the second portion of the climb until a solid ledge and belay anchor is set up. It continues in this order any number of times until the climbers reach the top. To get down, you take turns rappelling back to the ledges (So if you climbed two pitches, you will rappel two separate times).
Back to the action! According to our guidebook there was an area in the woods a few meters away from where we climbed in the morning that was a perfect place for beginners! Once we found it we were pleased to discover that we were the only ones in the easy section! Working together, we successfully completed our first multi pitch climb as a couple!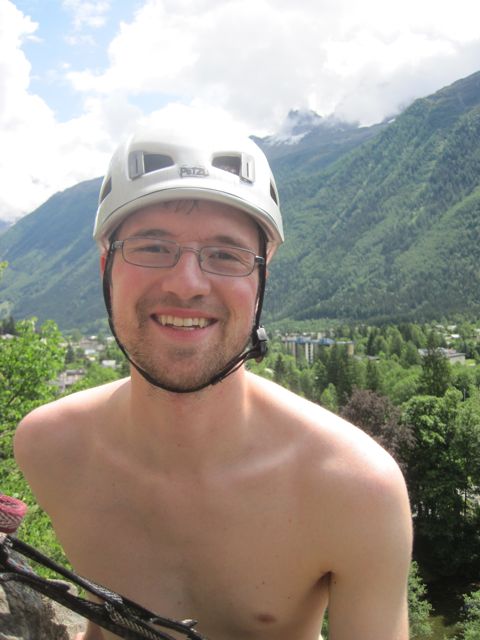 It was only two pitches, but still exciting! I had never multi pitch climbed before and I found it completely terrifying, while Bobby (who has done it with friends in the past) found it exhilarating! The smile, no I should say, the GRIN he had on his face was contagious! He was so extraordinarily happy! Lately we have both been struggling with our confidence on the wall and for Bobby this was exactly what he needed to boost his confidence! In the past when he has gone with friends there have always been more experienced climbers that he has leaned on for help and support. In today's situation he was the experienced one whom I was leaning on and he did magnificently! While I was mostly scared shitless during this climb the view from the top was worth it!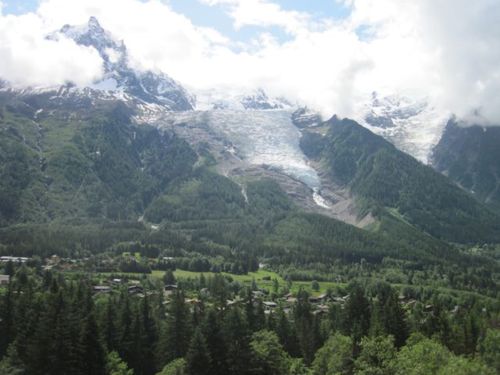 It was lunch time and we headed back into town (on foot again, we had just missed the bus) for a break! We munched on yummy sandwiches, washing them down with cold Fanta in the town center, fending off the overly assertive and begging pigeons. We did some souvenir shopping to give ourselves time to digest before heading to the ice cream shop and then home. The highlight of the shopping trip was finally finding peanut butter! It's a tiny jar of creamy skippy that cost over 3 Euros but we are stoked! It's all I've been wanting for days!
We lazed in the apartment for an hour and then decided it would be fun to end the day at 3842 meters (that's about 11,424 feet) on Aiguille du Midi. Now, you might be asking yourself, how did they get up there? Did they climb? Did they fly? No no, we took the world's tallest gondola to the top! The gondola platform is about a four minute walk from our apartment!
SIDE NOTE! There are several different gondolas in the area, sadly most of them are closed because it currently isn't peak season. We could even take a horizontal gondola into Italy if we really wanted (for a small fortune of 60 Euros per person). We got a three day pass for the Gondola because we are planning a day hike in which you climb down from the first stop along the way and the ticket is also good for the Montenvers train that climbs up a mountain to a glacier! The tickets were a pricy purchase at over $200 for the two of us but in the end we are saving money by having the pass due to the number of times we plan on using them.
Anywhoos, despite the fact that we could clearly see that it was clouded over before we began the ascent we couldn't think of a better way to celebrate this day!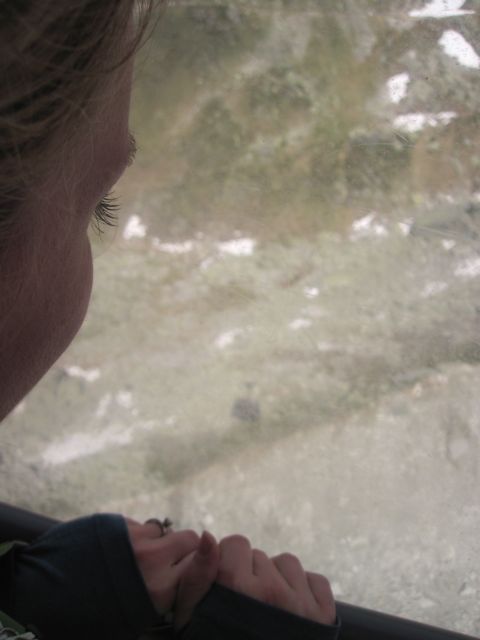 From the first stop we could see far and the views were spectacular!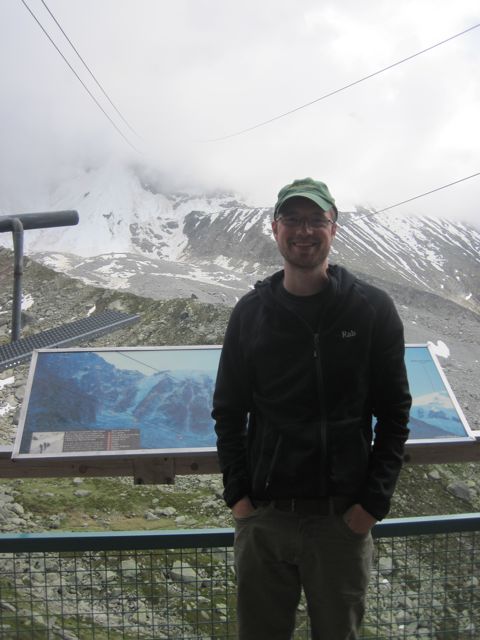 As we boarded the second gondola to continue up we soon found ourselves surrounded by clouds! All we could see was a few feet of the cable in front of and behind us… It was rather eerie!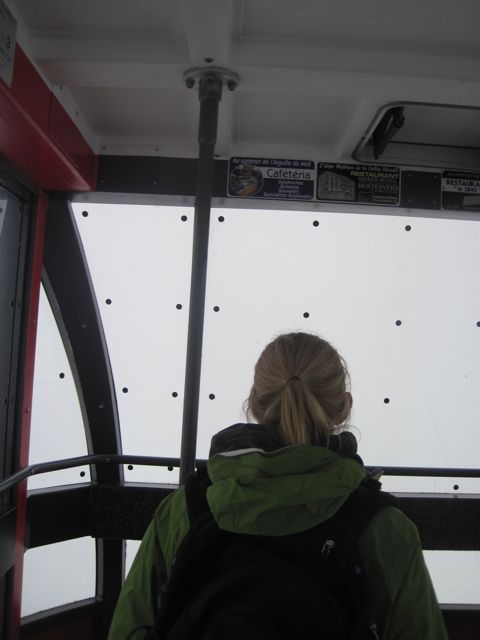 Once at the top gondola station, that is built inside the rock, we then took an elevator to the summit!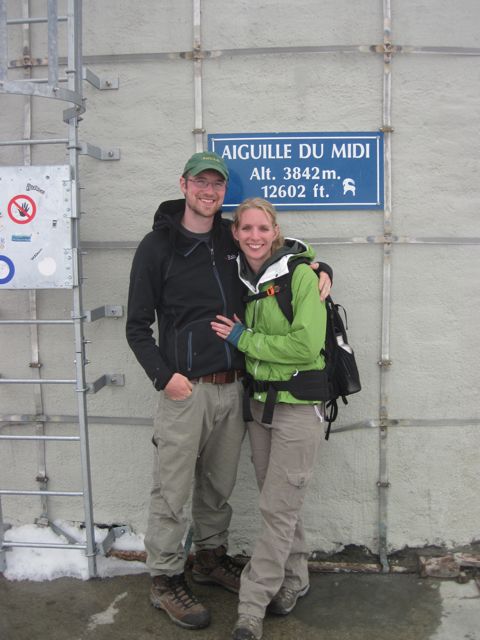 Where the views were not so spectacular mainly because we couldn't see anything! It was cold, but not as cold as we had expected, and it was sleeting slightly. We didn't have much time at the top (where there is a restaurant and shops) seeing as we were on the last trip of the day and were required to descend rather quickly. Despite the briefness of the trip and the fog we both couldn't help but smile! What a way to spend your afternoon!
Once down and out of the gift shop the clouds on the mountain top cleared and the view was clear! One of the two other couples we had gone up with stopped and chatted with us about how sad it was that we hadn't gone up just 15 minutes later. But, that's the mountains for ya!
We headed into the town center and checked out the gear shops and the souvenirs shops, waiting for that magical hour of 7:00, when the French deem it appropriate to eat dinner. Luckily, here in Chamonix tourists tend to dominate, so food is usually served whenever at most places! We gave into our hunger at 6:30. Seeing as it's our anniversary we decided to try something special! Fondue seems to be a local specialty so we decided to give it a try. BIG MISTAKE! This was the most expensive meal we've had while in France and it was, by far, the worst! The cheese tasted like a burnt foot.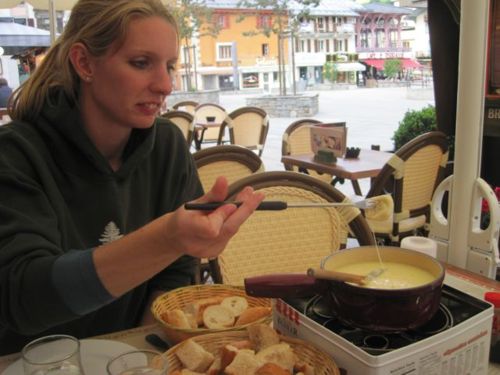 I basically munched on the bread while putting as little foot-cheese as possible on it! Luckily we still have leftover takeout Chinese for later! Hopefully tomorrow the weather will continue to be wrong and we will, once again, be blessed with picture perfect weather so our adventures can continue! As far as I know we are planning on hiking tomorrow, but Bobby has the guidebooks and map out and is plotting away, so who knows what we might be doing…