This morning I was awoken by a blazing sun shining through the skylight over our bed. It was only 7:00 a.m. and yet the sun seemed more powerful than it ever has. It was enough to get me out of bed and when I looked out the window I saw something I haven't seen since the day we got here, clear skies! There were almost no clouds to be found and I hollered at Bobby to get out of bed! Why was this so exciting you might ask? Well, if we could get on the first ride of the gondola we might actually get a clear view of the valley below and the surrounding Alps range. We rushed to get ready, the first gondola of the morning leaves at 8:10 and we wanted to be there early to get in line. We hastily packed and dressed and were thanking our lucky stars that the apartment we're staying at is only a block away from the gondola!
As we approached the gondola station we were wowed by the line that had already formed and gave a sigh of relief when we realized it was the line to buy tickets, we had bought ours the night before! We headed to the much shorter line waiting for the doors to open. The mountaineers were swarming and we soon found ourselves surrounded by climbing ropes, harnesses, crampons, and ice axes.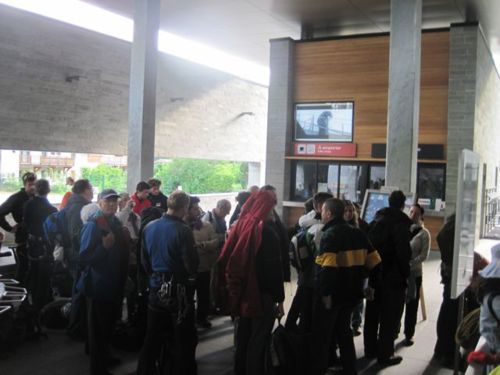 We were in line with a couple of Canadians who were back for their ninth trip to Chamonix to do some ice climbing. We felt a little silly saying that we were planning to spend our day hiking…
The day before we had been lucky enough to be in the gondola with only two other couples. Today we were crammed in with at least 50 other people, some tourists, but mostly male mountaineers (a couple female were there but the number of men was overwhelming), each of whom had a pack. The ride up seemed to take longer than the day before but the view was unbelievable!
We were once again atop Aiguille du Midi but this time we could see for miles and we were shocked at the number of mountains that we hadn't been able to see before.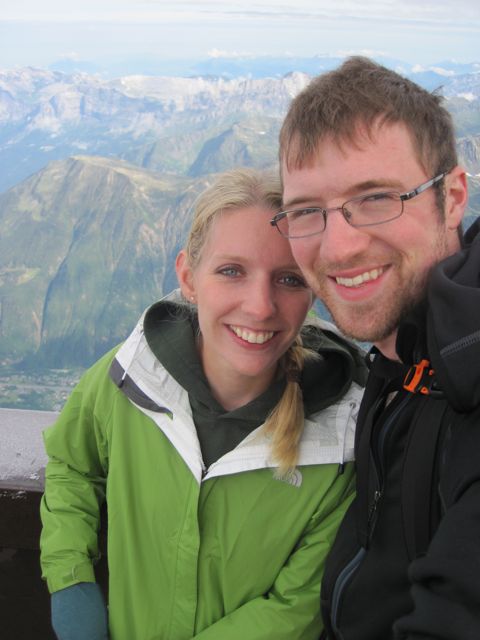 We wanted to see where the mountaineers left from and soon found a hallway carved from the ice and rock.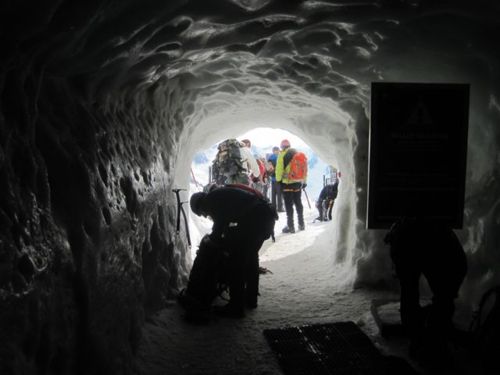 The ledge led to a snow ridge that teams (all tied together) were already heading out to find some bomber climbing (usually a mix of rock and ice climbing).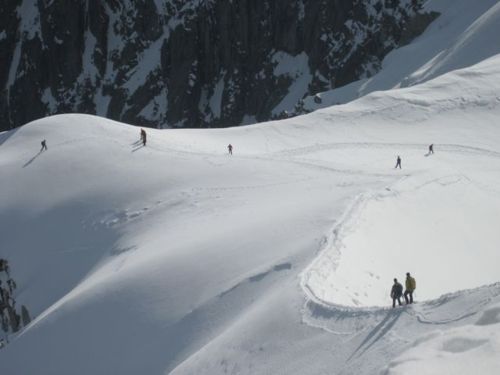 After snapping some pictures we headed back down to the first gondola station where we were planning on setting off for our day hike. The plan was to complete the Refuge du Plan de l'Aiguille (a hotel not far from the gondola station) to Montenvers a 10 km (or 6.2 mile) hike down the mountain. Bobby wanted a hike that went down and not up because it's easier! Luckily we had the gondola to bring us up! The hiking guidebook we bought by Hilary Sharp rated this hike's difficulty somewhere between a 1 or a 2 (her grades range from 1-3).
As the hike progressed we began to understand her rating this a 1/2 because at times it was incredibly easy with level paths for extended periods of time but there were other times when we were switchbacking up to cross over a ridge and we found ourselves huffing and puffing. The views of the hike were breathtaking!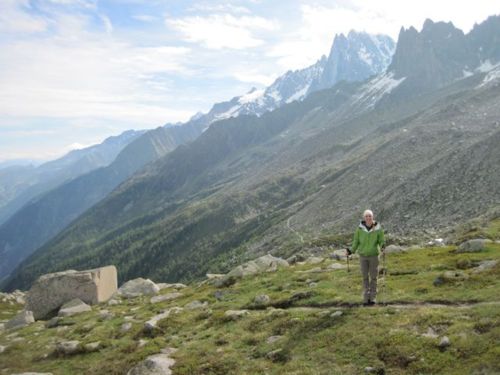 However, as we hiked more and more clouds began rolling in, never a good sign…. During the hike we passed an historical marker, The Signal, where James Forbes first figured out why glaciers have alternating bands of color. It was very anticlimactic because the glacier he used as an example for his discovery has receded so much since he was there so long ago. As we continued the hike we soon saw the glacier and signs of civilization!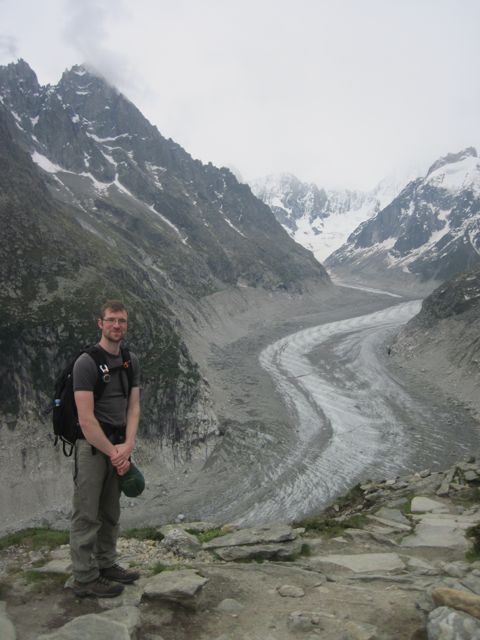 When we reached the halfway point there was a restaurant, alpine train station, alpine Fauna museum, and best of all bathrooms! We stopped and ate our packed lunch as the rain began to slowly fall. We hiked around the area and soon realized that this was also the site of the Ice Grotto, a manmade cave inside the La Mer de Glace (Sea of Ice) glacier (The largest glacier in France).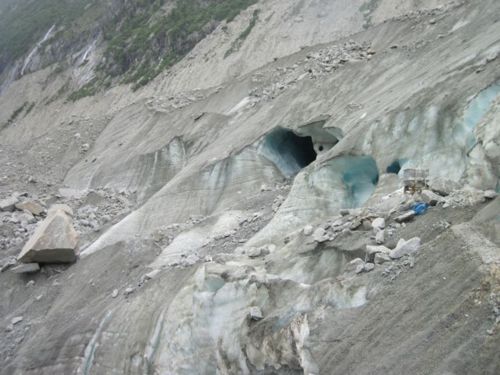 To get to it you have to take a gondola or hike 30 minutes along a slippery trail with danger signs along it… We knew we didn't want to do the hike but were skeptical about paying a lot of money to see it. Luckily we realized that the multi pass we had bought for the Aiguille du Midi gondola was also good for this smaller gondola and gave us entry into the cave!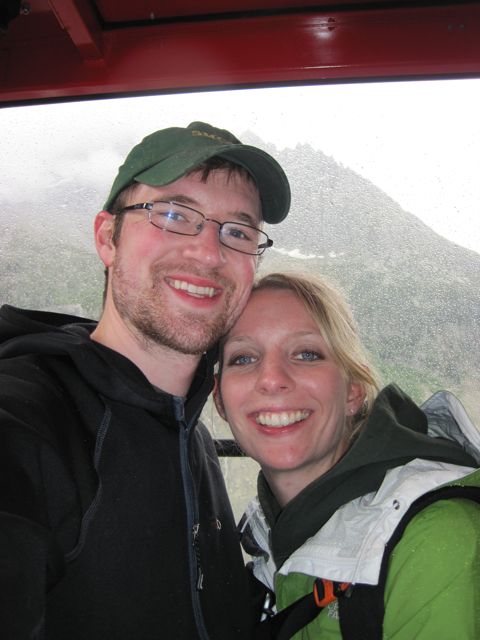 A gondola ride and 350 steps down we were soon completely surrounded by ice that was illuminated with colored LEDs and strange French hiphop was playing.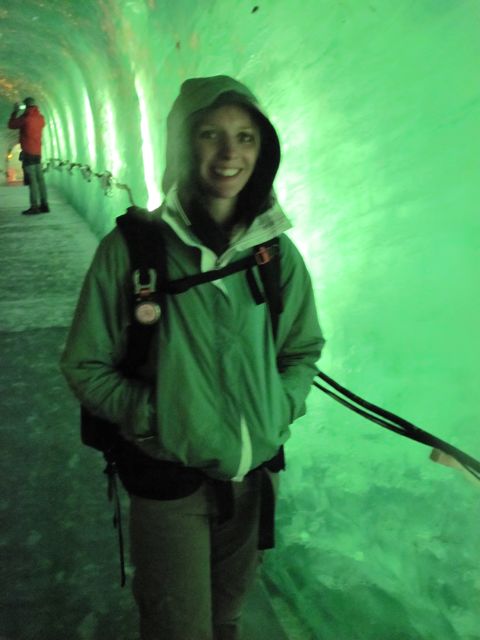 It was truly remarkable! They had carved out little rooms and artists had sculpted things like a bed, animals, and a sink out of the ice.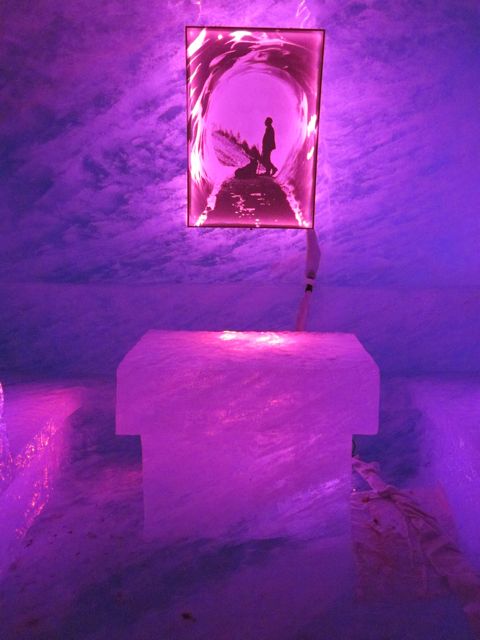 According to the interpretive signage found within, the formation of the cave requires four months of labor in the bitter cold using a specialized machine and ice picks, not to mention the daily maintenance. Why so much work? The glacier recedes every day by about 1 cm and therefore the cave has been moved several times to accommodate the changes. Even while we were inside we could tell that things were changing rapidly, water was dripping all around us and we were grateful for our rain gear!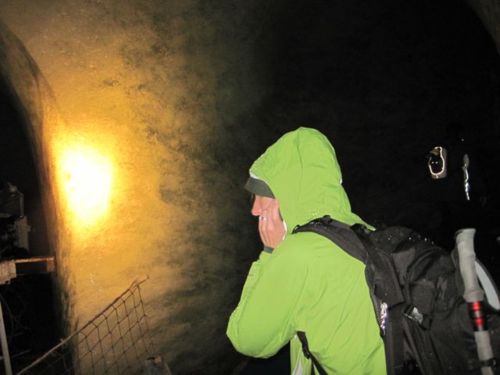 At the end of the ice cave tour there was a tourist photo op! And, since we are tourists we had to do it! For 6 Euros an old Frenchman would take your picture with a giant St. Bernard (weighing in at 70 kilos or 154 pounds) and then print out a copy for you in less then a minute! Who could resist?!?! The dog was incredibly friendly and well trained, he knew exactly where to sit and waited patiently while the man cleaned the drool from his chin before the picture was taken!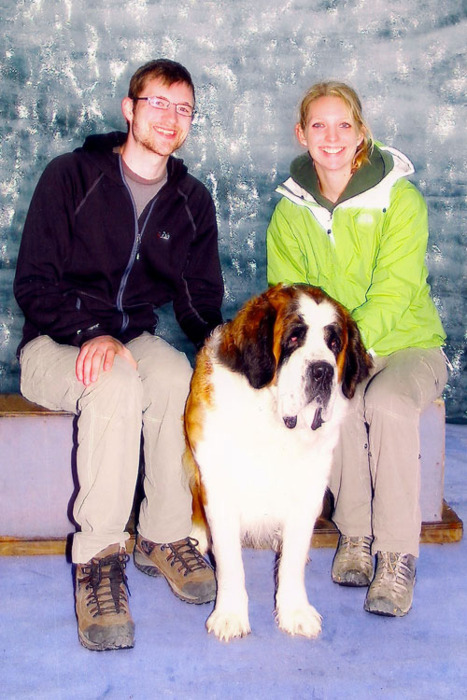 Back outside and the rain was still falling readily. Rather than walk the other three miles down the mountain we opted to take the alpine train, which again, our multi pass covered!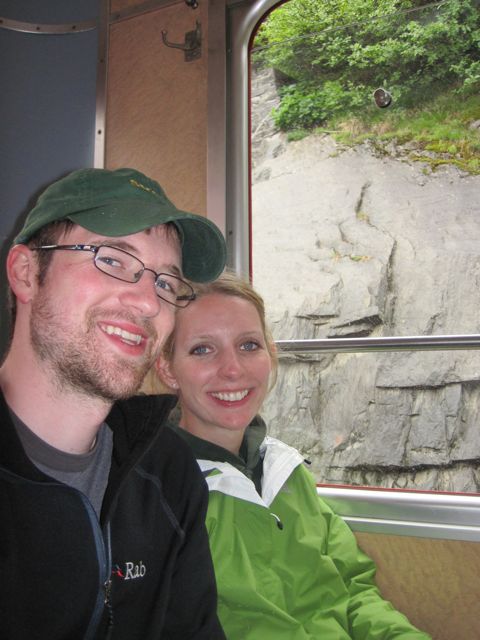 Again we were surrounded by mountaineers, all abandoning there climbs due to the rain and looking for a fast way down the mountain!
Once we were back in the town center the rain had abated a bit but we were pooped and headed back to the apartment for a rest. We made a quick trip into the town center for a few more groceries and a takeout pizza and were glad we made it back to the apartment before the rain really started to come down! Here we are laying in bed watching and listening to the rain coming down on the skylight above us that had shown so much promise of a beautiful cloudless day.