Yesterday evening, after finally getting dry pants back from our host, Angela, we headed into town for a look around. It had been raining on and off throughout the day so we went prepared with rain jackets. Thankfully we did as it rained several times as we roamed around. The coastal village offers a sandy/rocky beach where we took off our Toms and walked along the ocean front as the waves of icy ocean water lapped at our bare feet. We ducked into a souvenir shop a little ways off the beach as the winds continued to rip through the sleepy village. Our dilemma with purchasing souvenirs is the fact that we will have to carry whatever we buy. So, we often find things we like and hope that we will be able to find them in Dublin before we leave. As we continued to walk back in the direction of our B&B it began raining lightly, but with the gusting winds our faces were being pelted with tiny needles. Luckily the shower was short lived. We stopped at the grocery store where you could have a fresh pizza cooked for you. We got some beverages and fresh strawberries to accompany it and an ice cream cone to enjoy on the short walk back to our B&B. we aren't totally sure if we are allowed to bring food back to the B&B's but since nobody stopped us we assume it was ok. The price of that dinner couldn't have been beat, a mere 12€!
With only an eight mile day on the trail we opted to have breakfast at 8:30. Since the pancakes were disappointing the previous day we had both chosen alternative options for this morning. I had opted for the fresh fruit and yogurt plate while Bobby had requested scrambled eggs and bacon. Today's breakfast was better then the "pancakes" we had yesterday. We packed our things, checked out, stopped at the local deli for baguettes, apples, and a Fanta for lunch, and were back on the trail for Day 5 of walking!
After the rain throughout the day yesterday the forecast for today looked extremely promising with sun and, according to one local, heat! It rarely goes above 60 here in Ireland, so with a high of 60 we were due to experience one of the hotter days in the country! Today's hike began, like many of the others, with a road walk out of town. We passed through an outer suburb of fine homes with neat lawns and back into farmland. We were steadily gaining elevation as we were set to summit one small hill for the day. Our pace was fast, and it seemed as if we had finally hit our stride on this long distance walk. We reached the summit just as our 11:00 snack time came around, and although it was windy at the top we were both due for a break. In under two hours we had already gone over four miles and hadn't stopped longer than for a quick drink of water and moment to catch our breath. As has become our custom we found a solid sittin' rock and perched upon it as we munched on cereal bars. The view that greeted us was ridiculously picturesque with the coast and more mountains in the distance.
Throughout the descent our pace remained steady, while the aches and pains of an extended walk were present we have learned to push past them. I always try to keep in mind, if I find myself slowing down, that the slower I go equals more time on the trail equals more time in my boots, a thought which I do not find encouraging… Another prospect that excited me was reaching town at lunchtime so we could eat a good solid lunch!
We made our way through fields, passed magnificent boulders and rock faces that made Bobby ache for his climbing gear, and eventually made our way into a forested area. We haven't crossed through forests for several days and it was remarkably lovely to enjoy the shade they offered and listen to the breeze through the trees. The sun that had been promised in the forecast didn't disappoint and our rain gear was stowed securely in our packs as our ball caps and sunscreen resurfaced!

Today the trail was muddy at times as we ascended the hill but the descent was drier with many more rocks/logs to aid in passing the boggier patches. As we emerged from the trail and had less than a 1/4 of a mile to go along the road and into the next town, Caherdaniel, we met a postman who stopped his vehicle and wanted a quick chat. He inquired as to the conditions on the trail that we experienced. He sized up the amount of mud we had acquired on our pants and boots. He said that he was part of the group that helps to maintain that section of the trail and he likes to stop the hikers and ask what their opinions are of the trail conditions. We praised his portion, seeing as how it was one of the best maintained sections we've experienced thus far. An added bonus to today's hike was the addition of interpretive signage along the trail. Rather than simply wonder about what and where things were there were historical and informative signs giving lots of good information along the way.
We came into town just as it reached 12:30 and we were definitely ready for lunch after having traveled 8.4 miles. We had managed to maintain a pace of 2.5 miles per hour with over 1700 feet of elevation gain. We were pleased that the first pub we happened upon was called, The Blind Piper, a pub which our host from the previous evening had told us about just that morning. They had a West Highland Terrier named Piper and had named him for that pub. Where else could we eat but there? We stopped in and opted to split a burger. It was scrumptious, though a little rich, and I ended the meal with an overly delicious scoop of chocolate ice cream covered with chocolate sauce and chocolate sprinkles. Bobby was disappointed when he looked up from pouring over the guidebook to discover I hadn't left him any. I told him at if he had wanted some he should've ordered it himself! We had spent over an hour in the pub, prolonging lunch so as not to arrive at the B&B too early. We had about a 1/2 mile walk to the B&B, The Old Forge, and we set off after thanking the bar matron for the tasty food!
Unfortunately, the walk to the B&B was along a busy and curvy section of road and we found ourselves repeating the common litany of, "Please see us. Please see us." as cars would come careening around the windy roads. They all did and we arrived safely at the picturesque B&B that would be our home for the night. Located just a short five minute walk off the ocean and a friendly dog named Donnie to greet us at the door we knew we had chosen wisely.
A young woman checked us in and we quickly changed into shorts and Toms and headed down to the beach. We sat in the sun and soaked in the beauty around us, thankful not only for the opportunity of this amazing vacation but also for the ridiculously amazing, and wholly unexpected, weather we have been blessed with. Today will be a hard day to top in terms of weather and the ease of the hike but we shall see what tomorrow's 11 mile day will have in store for us as we make our way to Sneem.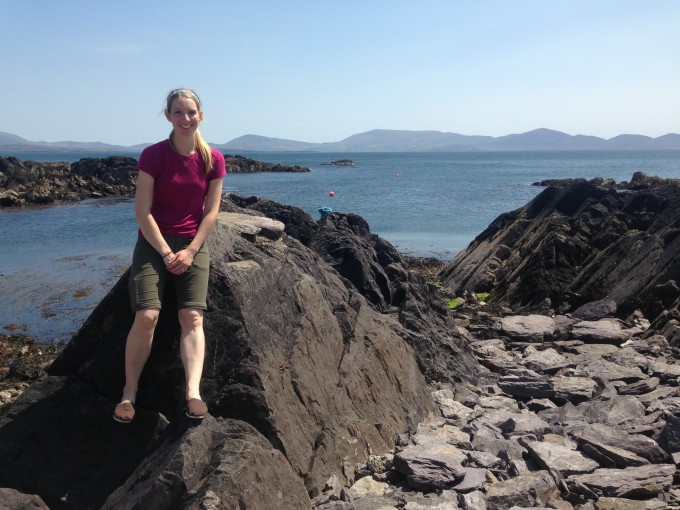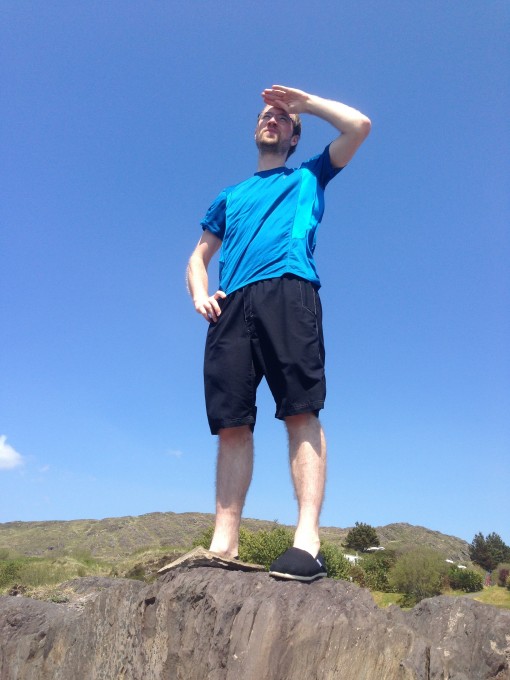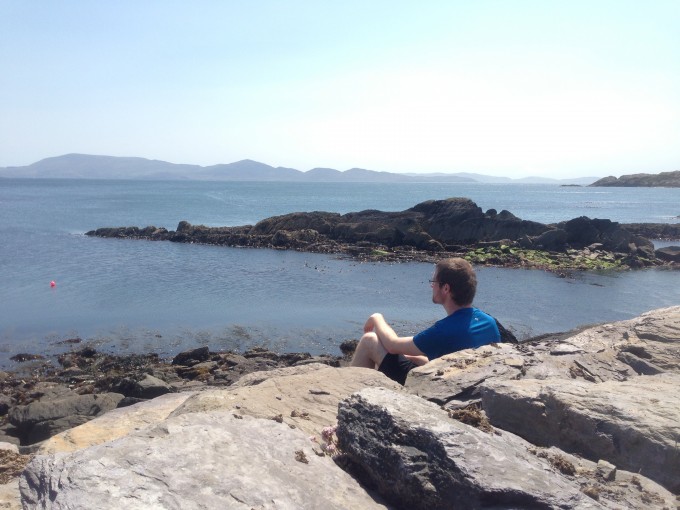 The Kerry Way Day 5 at EveryTrail

---
In 2013 we hiked The Kerry Way over a 10 day period (we had 2 rest days). Read all of the posts in this series: