Due to not being given the password to the wifi at our B&B we had spent the majority of the evening in town at a small pub that offered free wifi. We had originally ordered drinks, it was only 5:00, and hadn't planned on eating dinner there. We have had our full of pub food but when our hunger and dinner time rolled around we still weren't finished creating and fine tuning the latest blog post so we decided to eat there. We got dinner menus and ordered an appetizer and an entree to split. The 'Bruschetta' appetizer was crappy but the pasta entree was large and hardy. With the latest post up we took our leave hoping that the homemade ice cream shop we had found earlier would still be open. Alas, it wasn't. Apparently the small town of Sneem closes down around 7:00 so we were left with going to the grocery store and buying frozen ice cream bars.
In the town's center there is a large lawn with benches so Bobby and I sat, reflecting on what an amazing vacation we were having thus far. We returned to our B&B to find several cars in the driveway and several couples enjoying the beautiful evening. We didn't linger seeing as Bobby's new favorite tv show, Britain's Got Talent, was due to come on.
This B&B, Sneem River Lodge, has clearly been renovated recently and while it looked very nice, it offered us the worst night's sleep we have had since the start of this trip. The other guests were noisy until a very late hour, the hosts did dishes at 11:00 at night, the rooster continually crowed from 4:00am on and the dog, caged directly below our window, whined, barked, and howled in response to the roosters crows. I was wide awake well before our alarm was due to go off at 7:00… We ate, packed, and checked out hurriedly as we were faced with a daunting 19 mile day on the trail. Bobby and I both had a lot of nerves about today, seeing as it would be incredibly difficult. I had hoped that I could have my pack transported to our next B&B, a service the B&B had claimed they offered on the Kerry Way website, through which I had booked our stay. Sadly, that wasn't the case and the host of the B&B had never heard of such a thing.
Our hike started off fast and positive, how quickly it would go downhill from there. This was, by far, the worst day on the trail we have ever experienced as a couple. My right ankle had started to feel a bit better, still painful to walk but definitely manageable. After reaching 10 miles shortly after our lunch break my left heel really began bothering me. Soon, both my feet were throbbing with pain and we had eight miles to go. We had been able to cut a bit of time off by using a logging road and going through a rather foreboding looking gate and had decided we would do more road walking along the major roadway that circles County Kerry, N70. Our day's hike would already call for us to spend 1.5 miles on it and with our shortcut we were only adding on about a quarter of a mile to that. The Kerry Way signs began appearing along the roadway, as we knew they would, but suddenly, and much too early, the signs were directing us off the road and up a side street. We pulled out our GPS and thought that maybe a new shortcut had been created so up we went, following the signs that had never before led us astray. This was the BIGGEST mistake of the trip. The signs led us up steep, narrow country roads past million dollar mansions, the whole while we were thinking that it would cut over and have us join up with the original trail. After traversing over a bit, feeling a little more optimistic that it was indeed leading us to where we needed to be, we suddenly started going downhill. And we kept going downhill, never joining up with the trail when we thought we would. It took us very close to the bottom and N70, what would have been a quick 1 mile road walk had turned into an additional 3 miles with close to 1000 feet in extra elevation gain. Our 19 mile day had just been turned into a 20+ mile day… Overwhelming exhaustion came over me in waves and sobs escaped my throat as I despaired at the daunting task of two extreme peak climbs and at least 6 more miles of walking that still faced us. We seriously considered simply walking the last 5 miles on the road, but fear of being hit by the crazy drivers kept us going towards the hills.
Up, up, up we went with searing pain in our feet, shoulders, and knees. Normally I never ever cut off switchbacks, not wanting to create social trails, but today was the exception to the rule. I went straight up following the tracks of so many livestock animals before me. Usually I look for ways around mud, but today was the exception. I traversed through mud and muck, taking the most direct route possible. Bobby watched from behind as the mud splatter on my pants intensified. As we summited the second peak we were greeted with spectacular views that I found difficult to enjoy due to the pain I was in and the shear exhaustion that enveloped me. I didn't want to stop, because I knew that starting again would be so difficult but Bobby really needed a snack and I knew that some food would do me good. We ate apples and then started the long trek down.
We had a magical moment as we crossed through a small herd of horses grazing in their field and a pony walked right up to me for some pets. He helped give me the strength I needed to make it the rest of the way down.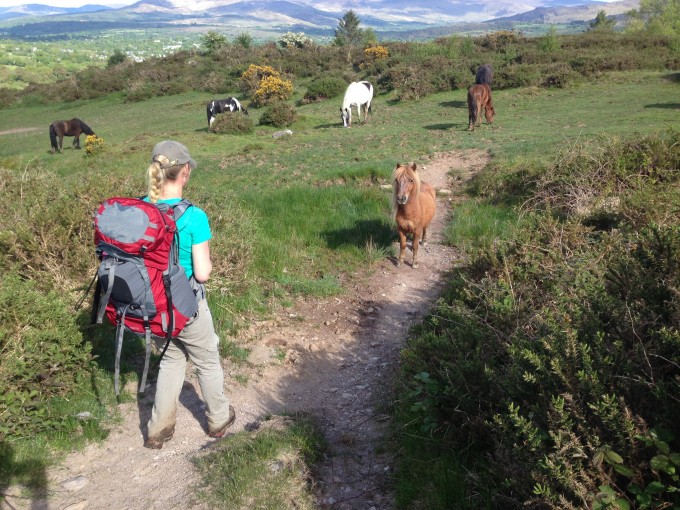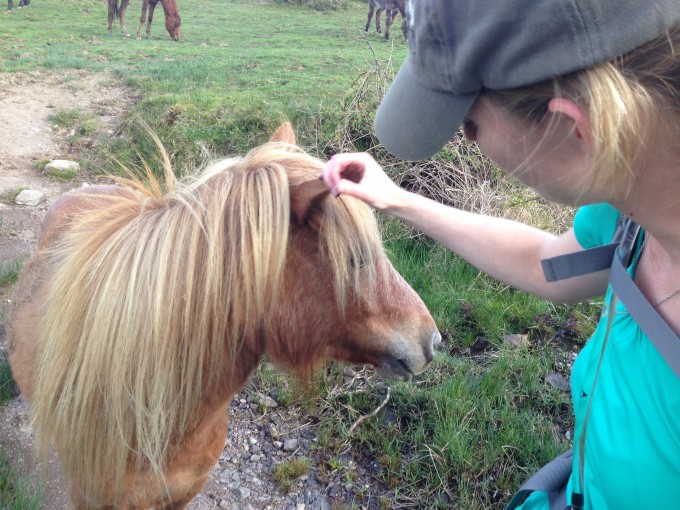 The walk through the outskirts of town to our B&B for the night, An Brauchen, seemed interminable but soon we were ringing the bell of the charming cottage with red trim and a bright red door. Julie, our hostess for the night, opened the door, gave a big sigh of relief and said, "You've made it!" I wanted to hug her. We had finally arrived after 10 hours on the trail completing 22 miles and more than 3,800 feet of vertical elevation gain. She praised us for getting that far, lent a sympathetic ear to our complaints of the asinine detour route that added on so much time and pain, and offered us a ride into town (only a ten minute walk but that seemed impossible to us) to get some dinner. We changed and rested for about 15 minutes and hobbled to her car. We chatted about my sister Suzy being in labor with our newest nephew and she dropped us off in the center of this bustling, and somewhat large town. We found a restaurant that I knew would be good after our encounter with the pony in the hills, it was called The Horseshoe. The service was welcoming, the food was delicious, the ice cream delectable! We were about ready to fall asleep at the table but still had to walk back to the B&B. So, we limped our way back. I wouldn't lay down till I had showered and brushed my teeth, because I knew that when I laid down, I wouldn't be getting up again. While Bobby was eager to see another episode of Britain's Got Talent, I was soon fast asleep.
The Kerry Way Day 7 at EveryTrail

---
In 2013 we hiked The Kerry Way over a 10 day period (we had 2 rest days). Read all of the posts in this series: