When I first heard about Isle Royale National Park I was reading a book given to me by my Grandmother, Nevada Barr's book, A Superior Death. Her marvelous murder mystery series stars a female park ranger who solves mysterious deaths in National Parks around the nation and are an utter delight for murder mystery fans!
Isle Royale National Park is one of the least visited national parks having around 25,000 annual visitors. When you compare that to the more than 11,000,000 people who visit the Great Smokey Mountains National Park you realize just how few people actual get to see this great park. Access to the park is the most limiting factor in visitor usage as the island, located 34.8 miles from Grand Portage, MN, is only accessible by ferry or sea plane.
Getting There
There are three ferry options: The Voyageur II, The Queen IV, and The Ranger III. Each ferry departs from different ports, take different amounts of time and price varies. Generally tickets are between $35-$150 round trip. The ferry rides are long between 2-6 hours depending on which ferry you choose and where you want to depart from and arrive at.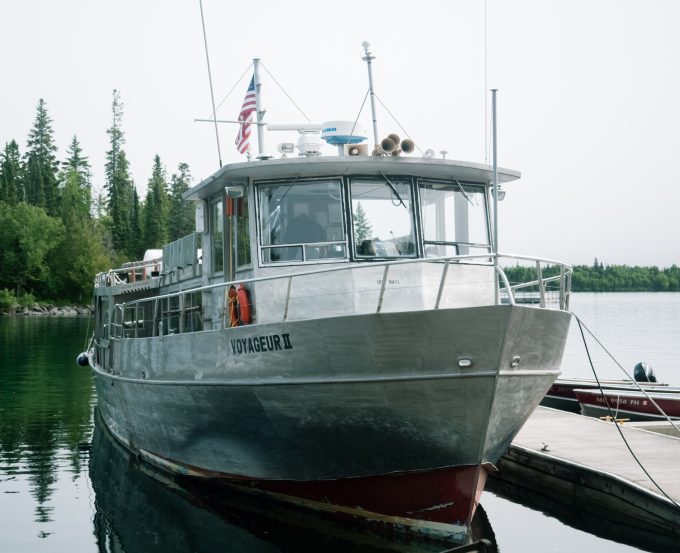 There are two entry points to the park; Rock Harbor on the southeastern side of the island and Windigo on the southwestern side. Both have visitor centers, flush toilets, showers, laundry, and stores available to visitors. Be warned the showers and laundry services are expensive at $6 a shower and $6 for a load in the washer. Rock Harbor is home to the Rock Harbor Lodge, has a marina with motor boats, canoes, and kayaks for rent, a grill and a restaurant.
We ended up taking the Isle Royale Sea Planes out of Houghton, MI into Rock Harbor. The choice of flying out of MI versus Grand Marais, MN was a simple one. The Grand Marais flight was full and the Houghton one wasn't. Thankfully, the drive time to Houghton versus Grand Marais was only slightly longer for us coming from the Twin Cities are of Minnesota. We chose to visit Rock Harbor knowing it was less remote and would offer a bit more security for us as we were traveling with a 2 and 4 year old.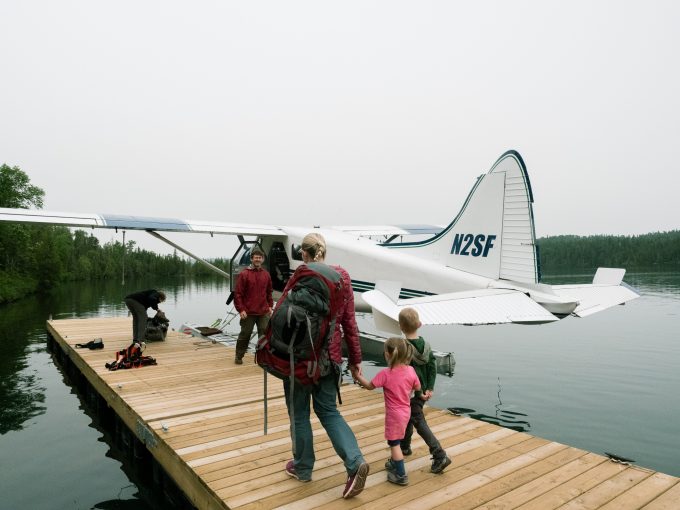 It's pretty remarkable to visit a place only accessible by boat or seaplane. The ride in the Isle Royale Sea Plane is a trip we won't soon forget.
Pro tip: you won't have access to your gear when aboard as they load packs into the pontoon of the plane. If traveling with small children don't forget snacks and water. While one would think a child would be more than capable of spending 30-45 minutes of their lives without a snack or sip of water close at hand you would be wrong.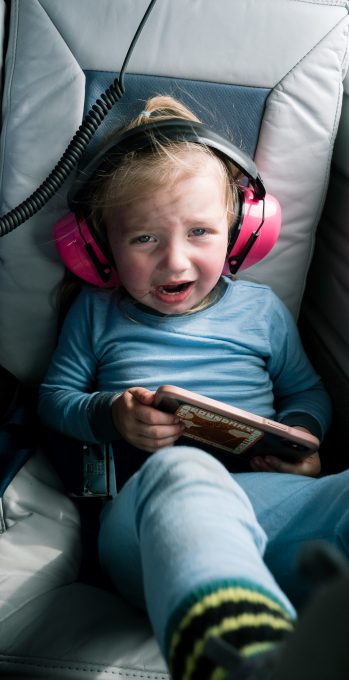 The flight out ended up being miserable due to Rowan screaming bloody murder demanding a snack that I didn't have. The plane was thankfully loud and all passengers and pilot wore headphones. Overall, Jack was completely entranced by the journey and loved looking out the window.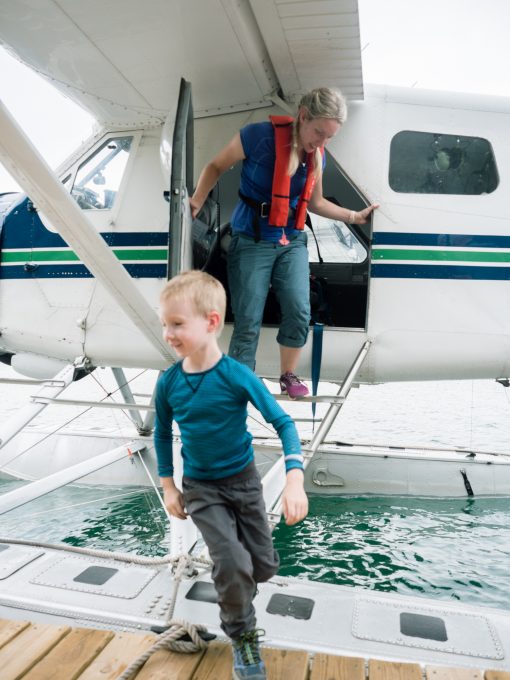 Camping
Isle Royale has 36 campgrounds across its 134,400 acres of wilderness. Campgrounds offer a mix of shelter sites, tent sites, and group campsites. Aside from the group site, they are first-come-first-serve campgrounds. Most of the campsites don't have fire pits available but they do have a picnic table. Privies are available at the campgrounds and while the more popular, and busier campground privies are equipped with toilet paper the more remote ones are likely to be out.
Pro Tip: It's always good practice to bring along extra TP, a shovel, and hand sanitizer. Even though the campgrounds offer a privy, that doesn't mean you will always be in camp when nature calls.
Parent Pro Tip: Scrape solids out of diapers and into an available privy or cat-hole. Bring along scented dog poop bags for any soiled, smelly diapers. Wet diapers can be set out in the sun to dry to reduce weight.
There are no extra camping fees at this park. Once you pay the entrance fee ($7/person/day or $60/year for up to three people) there are no additional fees for using the island. An annual National Parks pass,  the America the Beautiful Pass, will also cover entrance fees.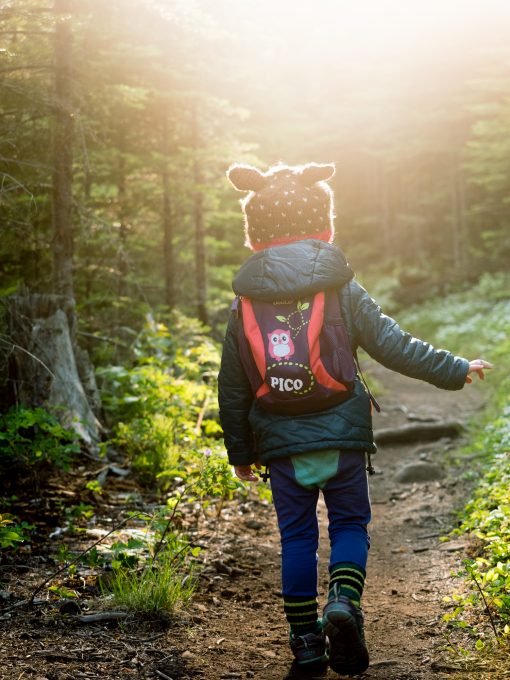 When we arrived on the island our plane didn't land until after 5:00 p.m. so we opted to stay at the Rock Harbor campground just steps from the visitor center.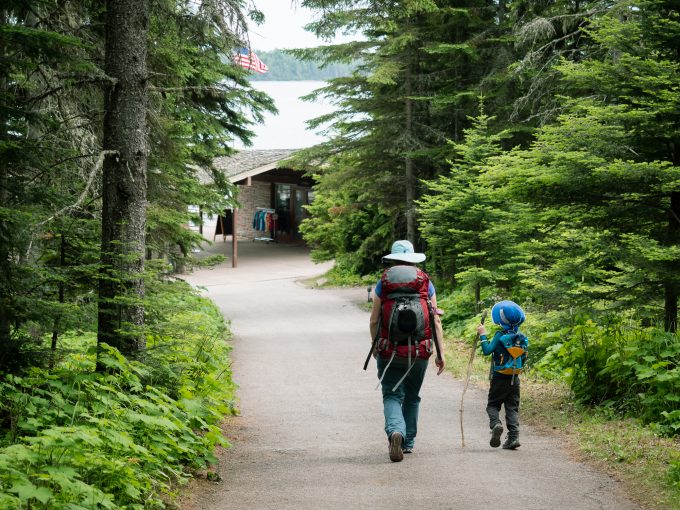 We were mildly concerned about finding an available campsite due to the late hour, the holiday weekend (we visited over the 4th of July), and the prime location of the campground. All the shelter sites were taken but all the tent sites were available. We set about making camp, delighting in the fact that the Rock Harbor Campground offers water spigots! We had a free day of not needing to filter water!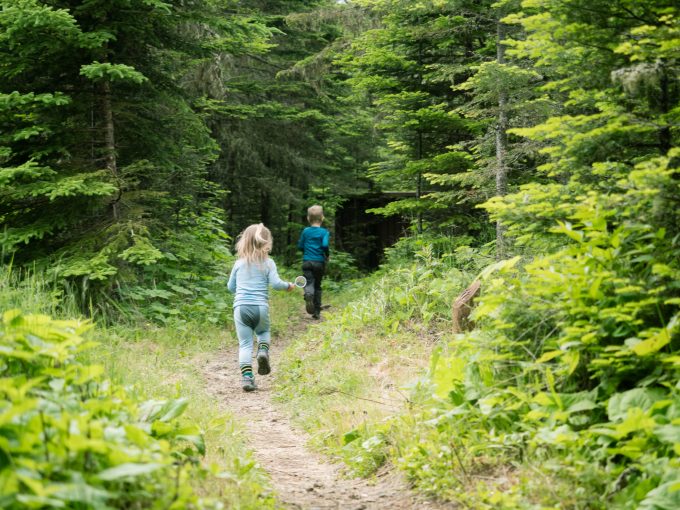 The shelter sites offer screened in, three-sided lean-tos that were much larger than we expected. Campers have the option of setting up a tent inside the shelter or simply sleeping inside. Our kiddos were adamant that we set up our tent, as we were camping after all.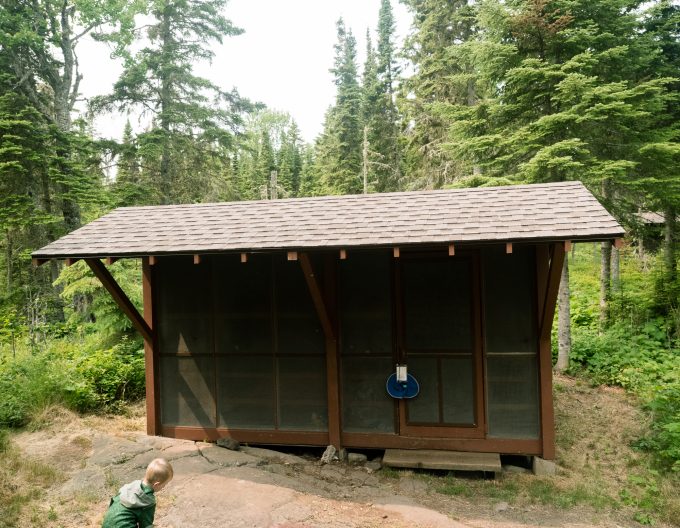 The Trails
While the trails on Isle Royale aren't signed and there is raging debate around the use of cairns (rock trail markers) on the island, the trail is generally easy to navigate. Some visitors feel compelled to knock over cairns when they see them because they believe they violate Leave No Trace Principals. These cairns are often placed by park service staff and shouldn't be disrupted. Building your own cairns is a big backcountry no no.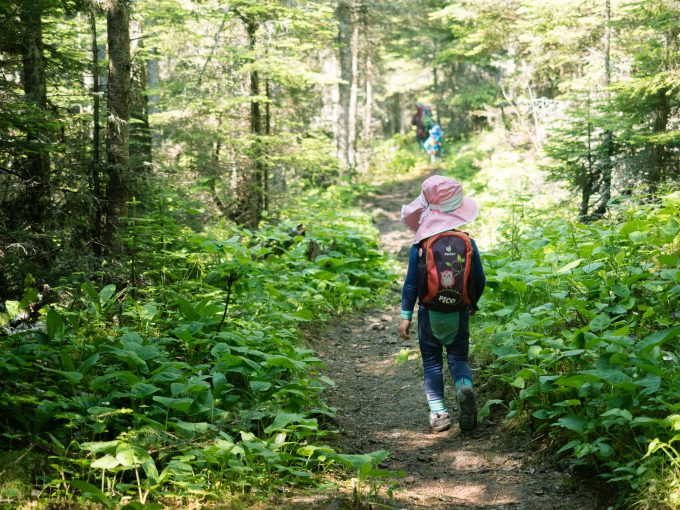 Due to the thriving moose population on the island the trail is delightfully littered with moose droppings and moose prints which thrilled our children to no end! We happened to be there when the wildflowers were bursting. Everywhere we looked there was color and interest. The island is even home to the beloved Pink Lady's Slipper which is the Minnesota state flower and a personal favorite of mine. It was my first encounter with the bloom in the wild and I was beyond excited to have spotted it!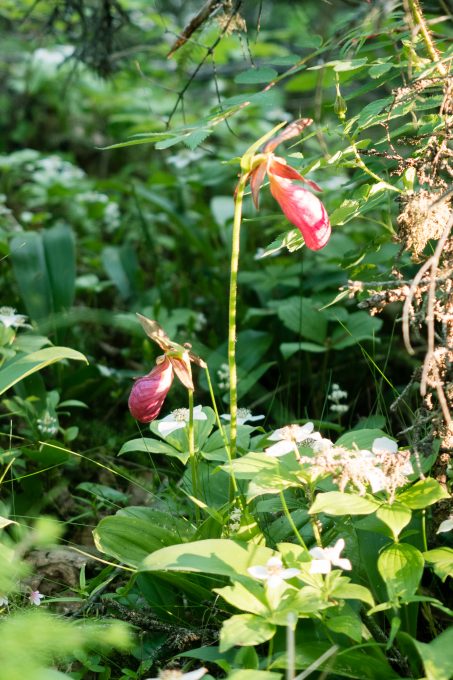 There are lots of swampy, muddy spots but boardwalks are in place to keep hikers feet dry and the landscape undisturbed. Though narrow, our 2-year-old, Rowan, only stumbled once despite some of these boardwalks being surprisingly long. The few trails we explored on our visit had been well cleared, well maintained, and well respected by visitors.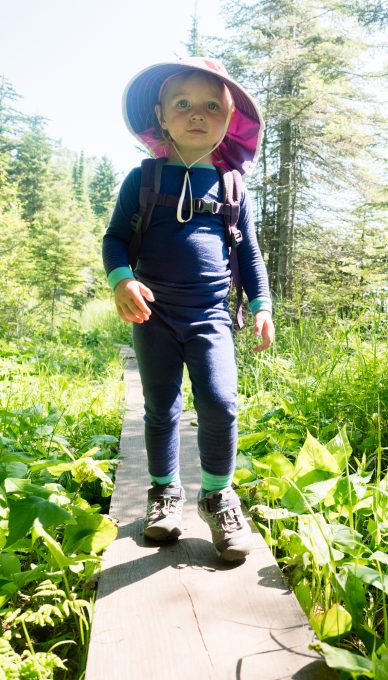 The Wildlife
Isle Royale is known for the moose and wolf population. The populations and relationships between moose and wolves have been studied on the island since 1958. We even had the amazing opportunity to meet Candy and Rolf Peterson at their cabin during our visit to the park. The cabin is accessible by boat, leaving Rock Harbor head southwest towards the light house and Historical Edison Fishery. They have bone specimens from over 250 moose and have been conducting their research since the 1970s.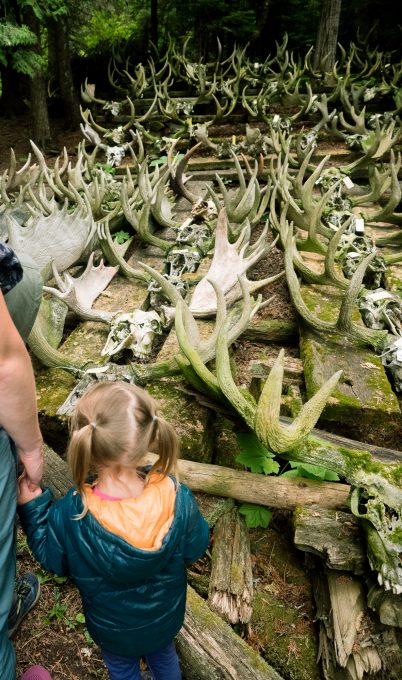 They are warm and welcoming people who answered our curious kid and adult questions with patience and kindness. Candy even read our kids a story and offered us a homemade rhubarb treat she had made.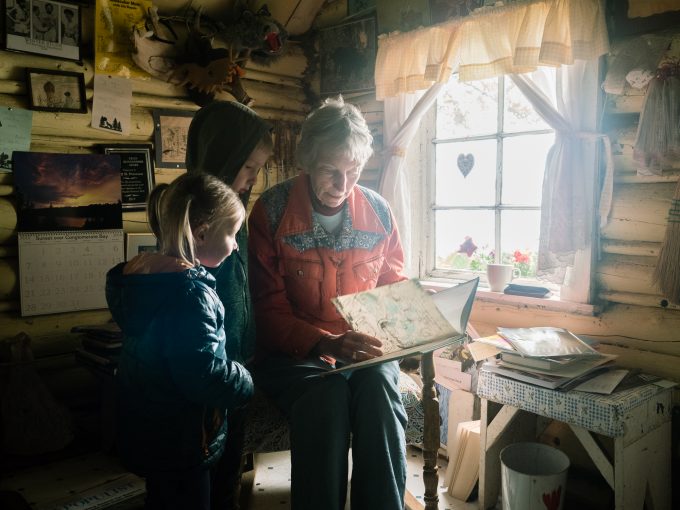 We felt very lucky that we got to see TWO moose while there. We never saw, nor heard the wolves we know call the woods their home. We met two other hikers who had spotted a wolf but weren't surprised that we didn't. The ranger told us during our welcome orientation that we were unlikely to have any sort of encounter with the wolves.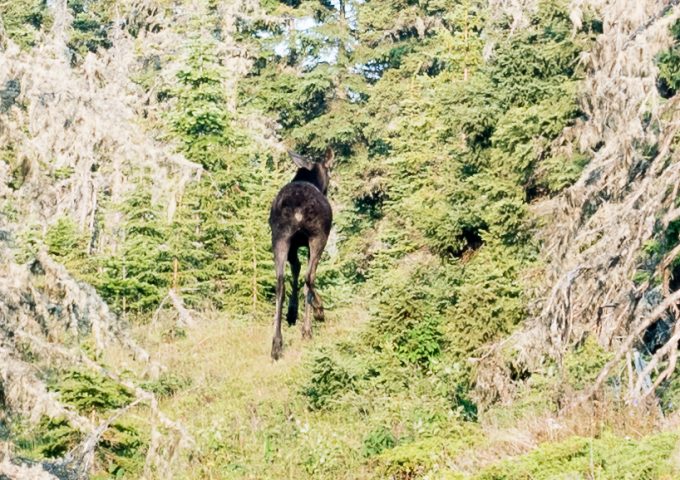 The island is so remote that not a whole lot of animals have made their way there. While the island is home to squirrels and chipmunks there are no deer, no skunks, no porcupines, and no bears. We found the strangest part of our ranger orientation to the park to be the section around food storage at night. Since there are no bears, hanging a bear bag serves no purpose as the small critters can still easily access food that is hanging. The critters have become so notorious for chewing through packs that rangers recommend you sleep with your food, double bagged, in the middle of your tent. Sleeping with all our smellables nestled against my body went against most everything I have been taught around wilderness camping but it worked!
We definitely experienced the aggressive tendencies of the critters and their familiarity with humans. Jack and Rowan had a grand time playing guardians to our garbage bag during the day. We did hang that from a tree at night and were actually successful in keeping it safe from pointy claws and tiny teeth.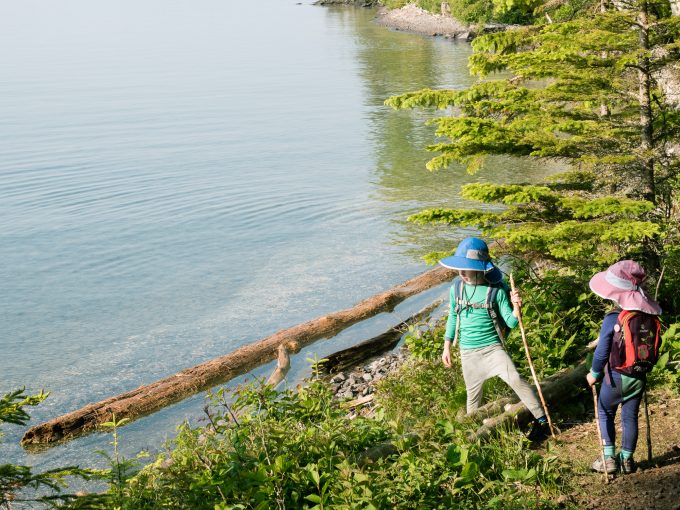 The Bugs
As most outdoor activities are concerned people always want to know how bad the bugs were. How do we deal with bugs and our small children? Aren't we worried about ticks? The concern is valid and I'm here to tell you the bugs on Isle Royale weren't too bad. The cool thing about the island is there are no ticks that will bother humans! One less thing to worry about. Mosquitos were definitely there and at times were swarming. Our first day on the trail was primarily along the shoreline with a good breeze so we weren't bothered at all by them.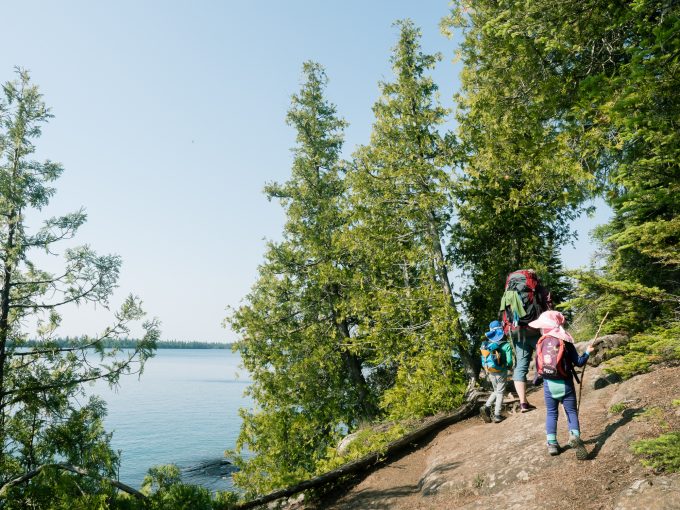 Our second day on the trail was more inland and through swampier environments. While this meant moose sightings were basically assured it also meant that the mosquitos were out and busy. Jack is extremely allergic to mosquito bites and swells up horribly when bitten. We had brought along mosquito head nets and he happily wore his in conjunction with his wide-brimmed Sunday Afternoon's kids hat. We dabbed some Picardin lotion on our cheeks to add a second layer of defense.
Pro Tip: Pre-treating clothing with a Peremethrin spray keeps biting insects and ticks away. Wearing long sleeves and long pants also helps.
Parenting Pro Tip: Invest in solid, wicking base layers for kids. Our favorites are Wee Woolies. They keep them warm in cold months and cool and dry even in hot temps.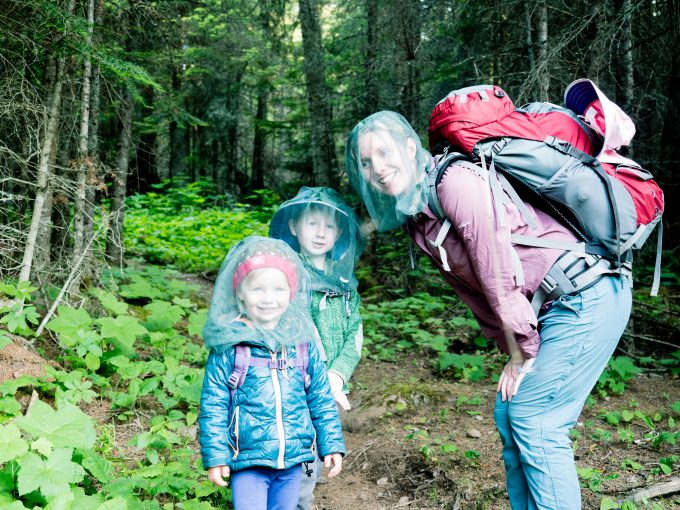 When bug bites do happen we trust hydrocortisone cream to keep itching and swelling to a minimum. Jack has a myriad of other allergies so he already takes a dose of liquid anti-histamine every day and we up it a little if bug bites are becoming too much of a nuisance for him.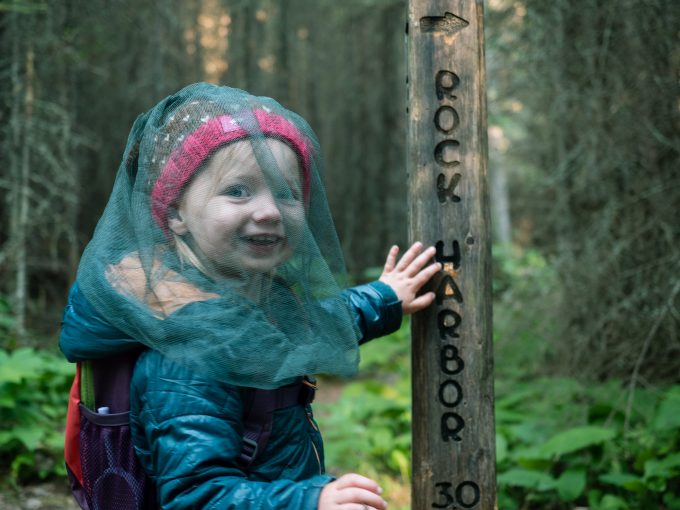 Keeping Kids Moving
Bringing small children on a backpacking trip into the wilderness isn't an activity every parent wants to do. It takes a lot of work, a lot of patience, and a lot of creativity. I'll admit that there were times on the trip when I longed for the ease of traveling the wilderness by canoe, as we have done so many times before in the Boundary Waters with our kids, but looking back I see just how much our babies accomplished on our short stay on the island. We got creative and found ways to keep whining to a minimum and legs moving to a maximum.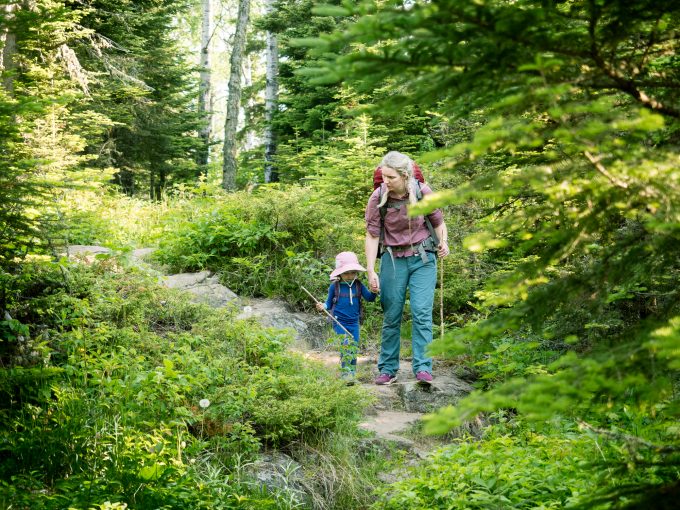 We sing songs to keep a good tempo and beat for legs to walk to. The songs are creative and keep their brains engaged. We sing "The Ants Go Marching" and all take turns finding rhymes. We sing "Going on a Bear Hunt" and take turns coming up with crazy obstacles and what we have in our packs to help move beyond the imaginary blockade.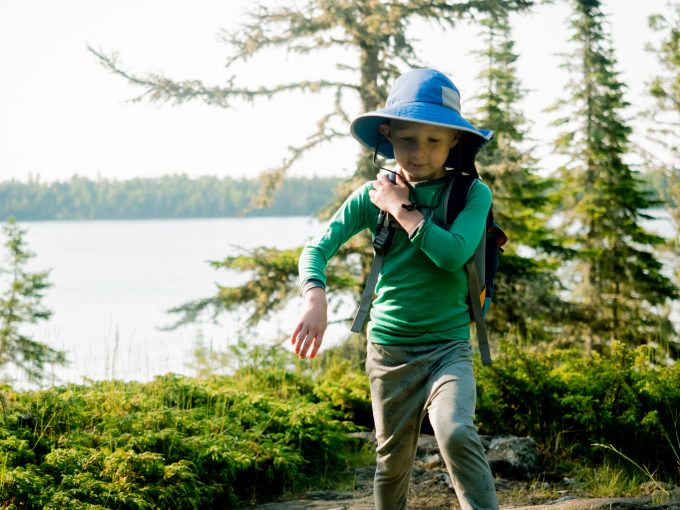 We make up elaborate stories that are added on to and embellished by each member of the group. The narrator has to remember all that came before and continually repeat the story as more and more is added on. We spent almost an hour and a mile of hiking describing the intricate Tuesday night drum parties the fairies of Isle Royale put on. Dogs, stick bugs, leprechauns, and many other creatures all made appearances bringing gifts, food and drink, and animals to join in on the fun.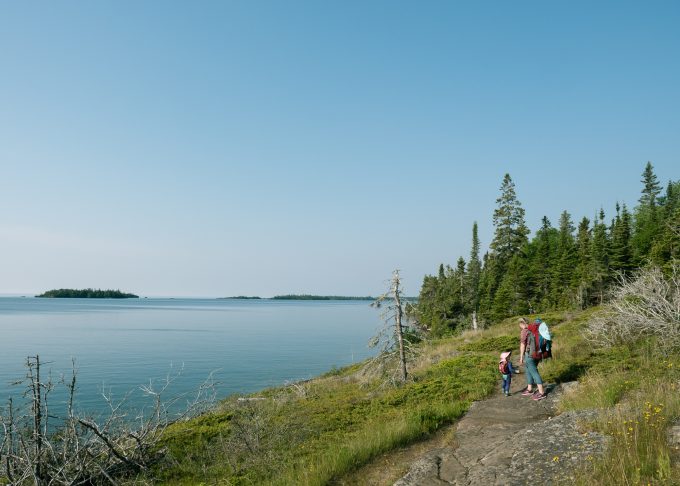 We also take a lot of breaks. We do family "H2OYEAH" breaks together. Thankfully, our children find drinking from the hose of a dromedary bag high excitement so we rarely have to worry about dehydration.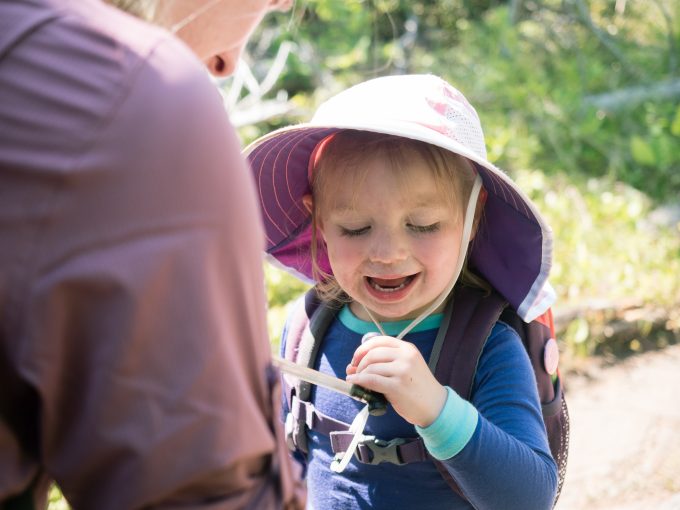 Snacks and special treats also help. Give food whenever it is asked for. I also remind my kids regularly of all that will be waiting for them at the campsite. "We'll have Snickers bars when we get to the campsite." or "We can swim in our undies in the cold, cold lake when we get there." Jack has become a professional 'Sitting rock-finder' and never hesitates to take a load of. Being patient and allowing them these regular breaks is a great way to break up the monotony of walking.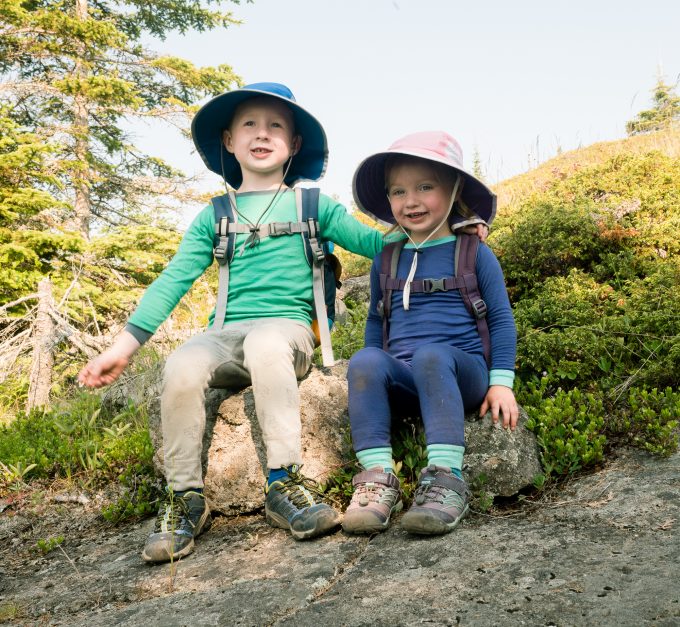 We have found that just holding hands and chatting, being silly, saying things like "poop" or "butt" hold an invisible power of getting rid of the whines and encouraging laughter and fun on the trail.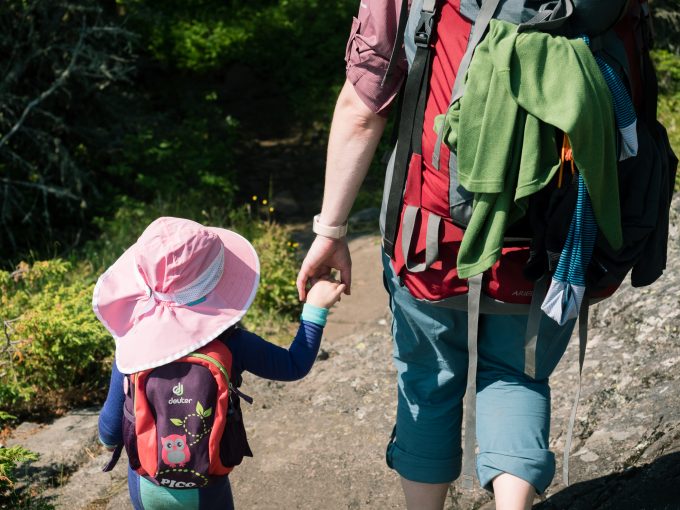 Other Activities
We had originally planned on hiking far longer and farther than we actually did on our visit to the island. This was our first trip leaving the framed baby carrier at home and we only brought a soft structured carrier as an emergency backup. We wanted the kids to do almost, if not all, of the hiking on their own. Jack (age 4) did amazing and could've easily accomplished the planned 8 mile route. Rowan (age 2) however, was more than done after the 3 miles we did on our first day.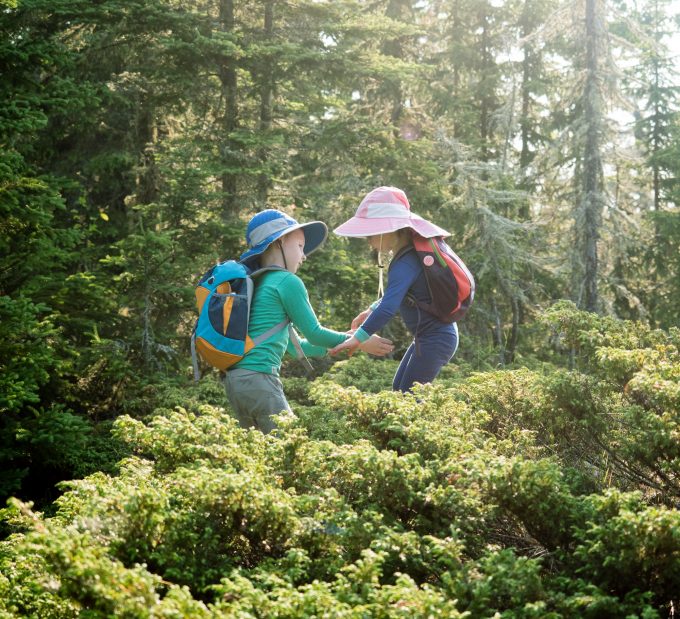 This meant we had a lot of downtime and not a whole lot of activities to fill it with. We had brought along the card game Slap Jack and had many hilarious rounds in the campsite.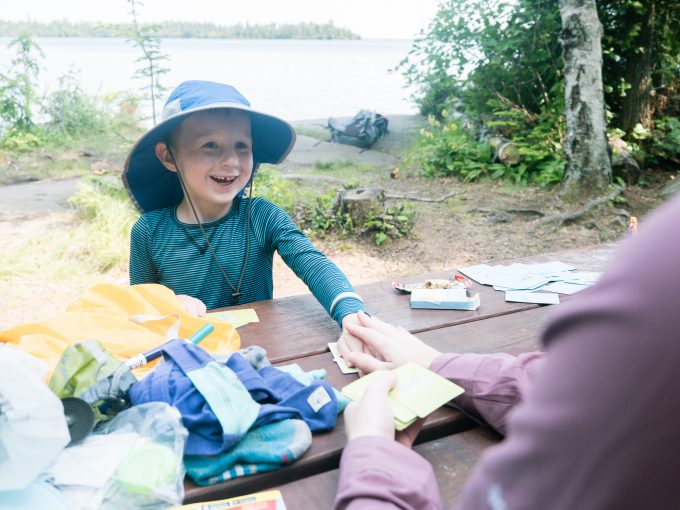 We also brought along a few action figures and tiny diggers to play in the dirt with. The kids built nests, dug tunnels, and found creative ways to make art using dirt, twigs, and moss. At one campsite we stayed in at Three Mile Campground an old metal bucket attached to a rope had been left behind and became an instant treasure for the kids. We played waterfall, made soup, and had a grand old time.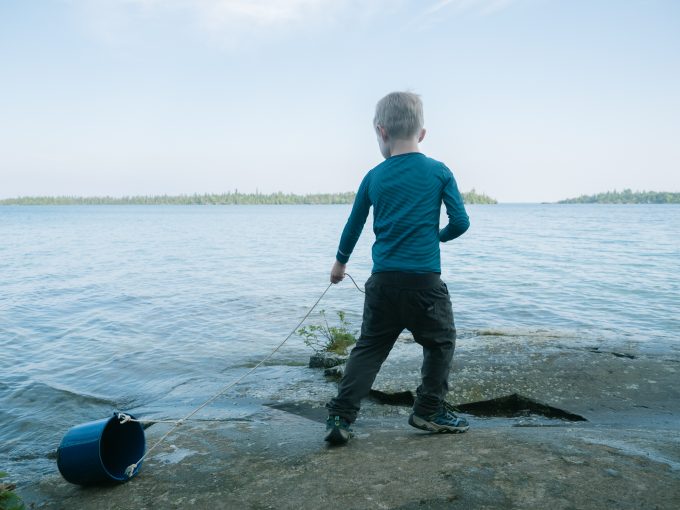 When we returned to Rock Harbor for our final night of camping before catching our float plane early the following day we opted to rent a motor boat from the lodge and explore the old fishery, climb to the top of a lighthouse, and meet Rolf and Candy Peterson.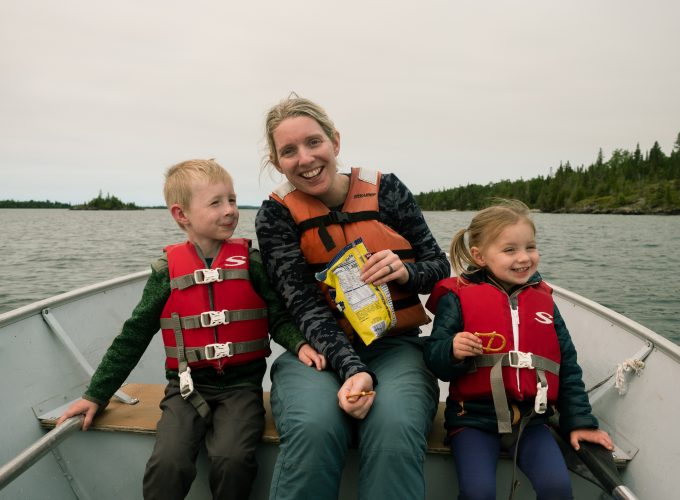 The kiddos were so excited to cruise on the waters of Lake superior and eat the special treat of pretzels and drink Gatorade and apple juice that I had purchased from the little store before we set off.
We hadn't really planned on doing any of this going into the trip. We assumed we'd be hiking the whole time, but that's the nature of traveling with kids. Adventures rarely go according to plan. We have found that the beauty in the unexpected is all we get to see and do that probably wouldn't have happened when it was just us adults along.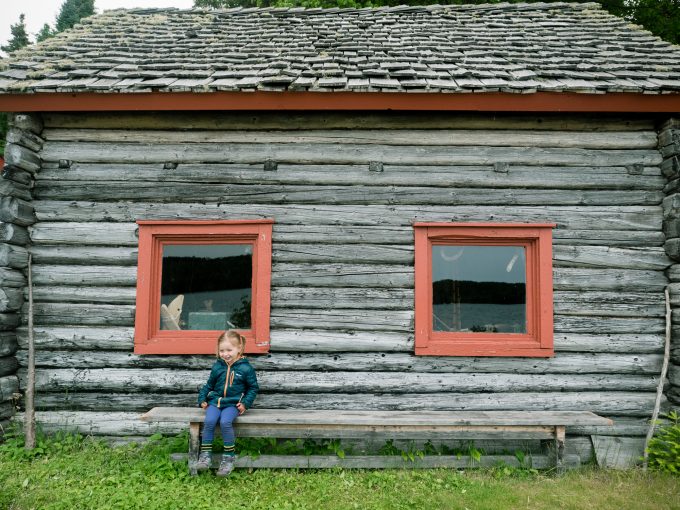 Isle Royale is a magical place and worth a visit no matter your physical abilities. Every person we met was happy experiencing the island just the way they wanted to wether by boat or by foot. Whether they had spent 11 days traveling from one end of the island to the other. Or if they were out for a day hike after sleeping in a comfy bed at the lodge. This isn't a just a place for the hardened explorer. It is a place for us all.