This past summer we had the opportunity to spend two whole weeks exploring in and around Glacier National Park located in Montana. This National Park experiences extremely high visitor usage during the non-winter months and is actually the tenth most visited National Park in the country. In 2017 alone the park had 3.31 million visitors. What is truly shocking about that number of visitors is the fact that in 2008, just 9 years previously, the park recorded only 1.81 million visitors. Due to these incredibly high numbers of visitors finding kid-friendly hikes that aren't ridiculously over crowded is definitely a challenge.
In the end we found 5 hikes that we, and our toddler and preschooler loved. While some of the hikes were busier than we would normally have liked the views and trips along the trails were always worth it.
This is THE hike to do when visiting the tallest drivable point in the park, Logan Pass. After surviving the harrowing journey up the famous Going to the Sun Road your next task will prove to be even more challenging, finding a parking spot. They say you need to arrive before 9:00 a.m. to get a spot. That seemed to hold true for us as we arrived shortly after 9:00 a.m. and watched as the last spot was taken. We were fortunate to find parking at the next shuttle stop down and took the shuttle back to the top. At the time we were traveling with my sister and her three children and quickly learned that getting a shuttle all together would be impossible. We split into three groups in order to make it to the top.
The hike resembled a highway with a steady stream of hikers dotting the landscape.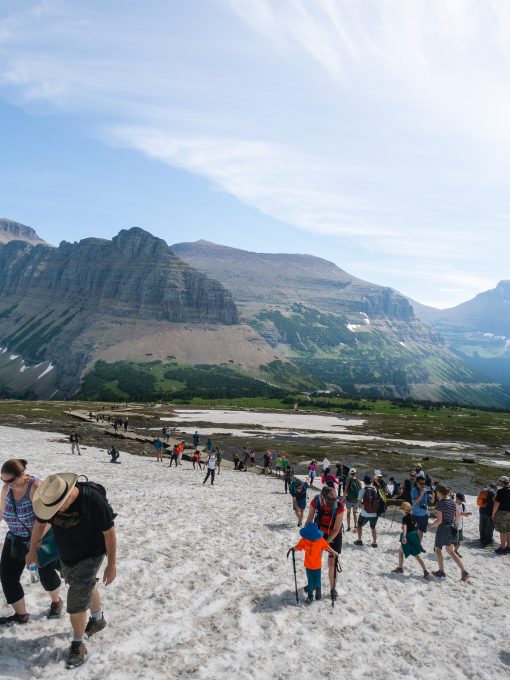 Wildlife was also very busy along this route. We saw bighorn sheep, mountain goats, and marmots.
We were visiting the park mid July and weren't surprised to see that portions of the trail were still snow covered.
Pro Tip: Bring along collapsable trekking poles. They proved very helpful while navigating steep, snowy inclines for all of us. Collapsable allows the height to be adjusted for all hikers and easily stowed away in a backpack when not needed.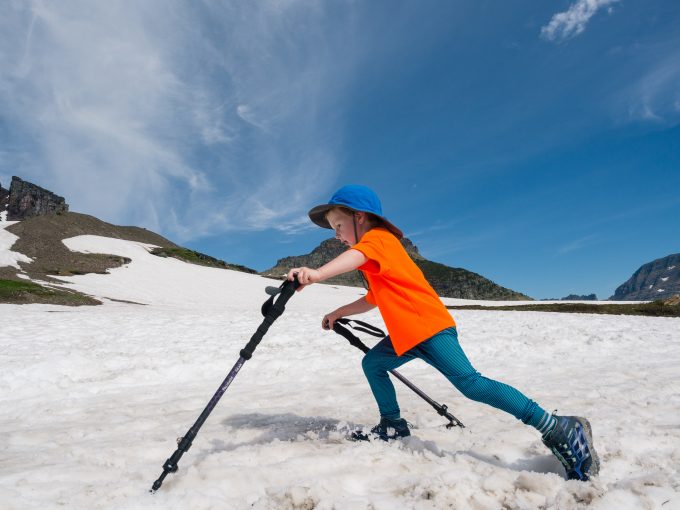 It would be easy for kids to get frustrated or scared by the slippery snow so we tried to make it as fun as possible. We slipped and slid alongside them and giggled rather than bemoan the aches in our calf muscles. We brought along a soft structured carrier for Jack in case he wasn't able to, or didn't want to cross sections of the trail. We only needed it once but were grateful to have it along. As for the toddler, she spent most of the hike in her pack. The snow was just too tricky for her.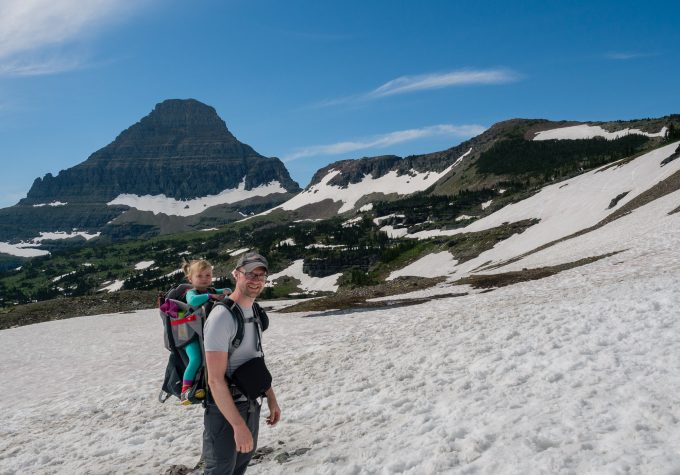 The trail is a combination of pavement, boardwalk, snow, and dirt. If you happen to be there during the rare moments when snow doesn't still cover portions of it I would say most toddlers and preschoolers would have no problem completing the 1.3 mile hike to the lookout at Hidden Lake.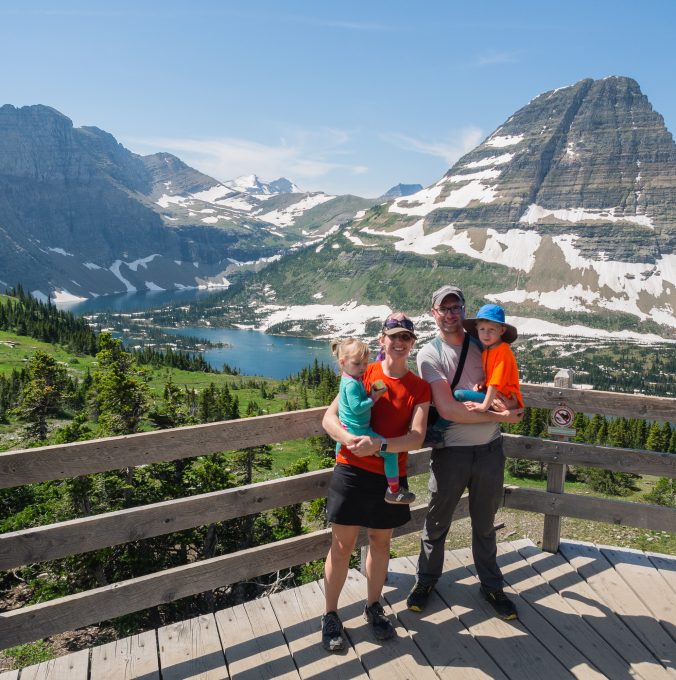 Another bonus to this hike is the fact that you get to cross the Continental Divide on the way to the lookout, something I always enjoy seeing. Most hikers continue the hike down towards the lake itself. However, at the time of our visit there was Grizzly Bear Activity in the area, and for the safety of both wildlife and human life the trail was closed and all hikers had to return back to the overcrowded visitor center. Rowan was grateful when the snowfields were in our rearview mirror and she was able to stretch her legs along the boardwalk. She loved jumping down each stair and brought many smiles to other hikers heading up.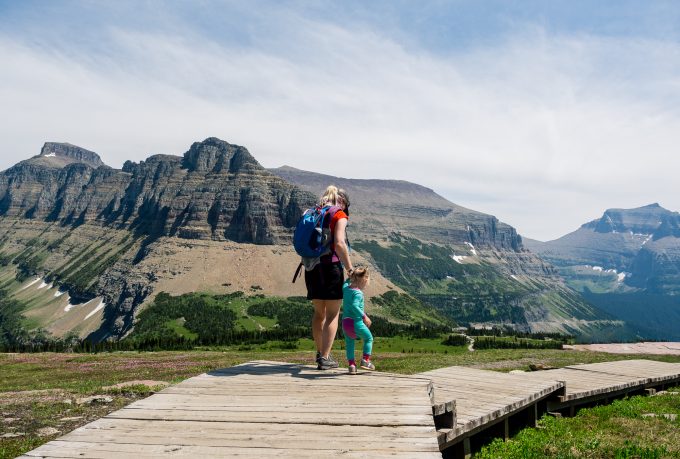 While we generally try to avoid popular hikes due to our dislike of crowds I would put this hike near the top of any 'must-see while in Glacier' list. The views, the wildlife, and the ease with which you get to see it all make the parking headache well worth it.
We had originally planned to do some water sports on Two Medicine Lake after our 2 hour drive to the east side of the park but upon arrival we found ourselves bombarded with strong winds. We opted to hike the 4 mile trail to the top of Aster Park Overlook.
The trail took us into the woods and away from the winds. We wandered through fields of wildflowers and were once again grateful for the plant ID card we had purchased at the visitor center early on in our trip.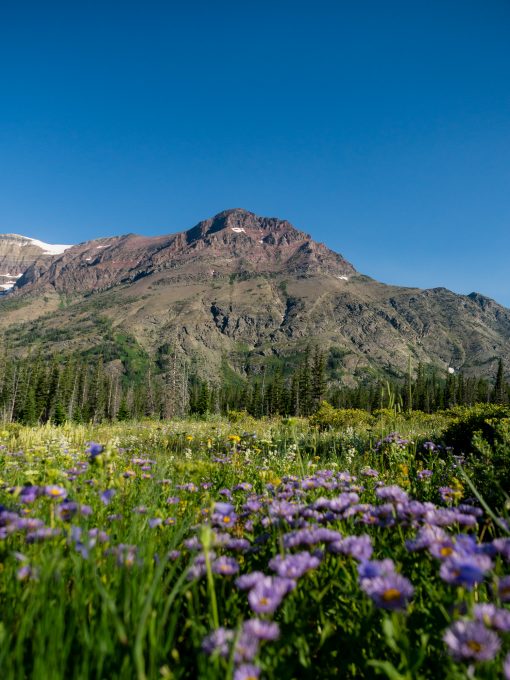 Our trip started off rough with an early fall by Rowan who had already scraped her knee badly on a previous hike. She managed to rip open all her scabs and add some new ouchies to her banged up knee.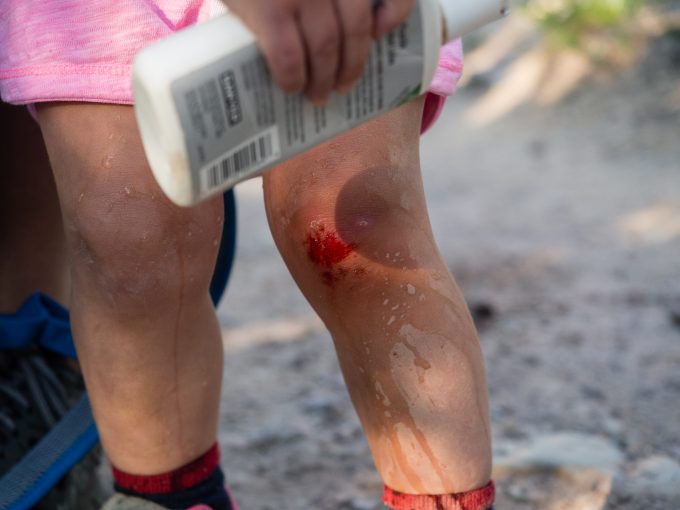 Despite what was surely a painful injury Rowan insisted on walking. After cleaning it up and covering it with our favorite Tegaderm she kept trekking along like a total boss.
Pro Tip: For parents who intend to do lots of backcountry exploring with children, we highly recommend taking a NOLS Wilderness First Aid course. It helped give me the confidence and knowledge I needed to enter serious backcountry situations with my kids along.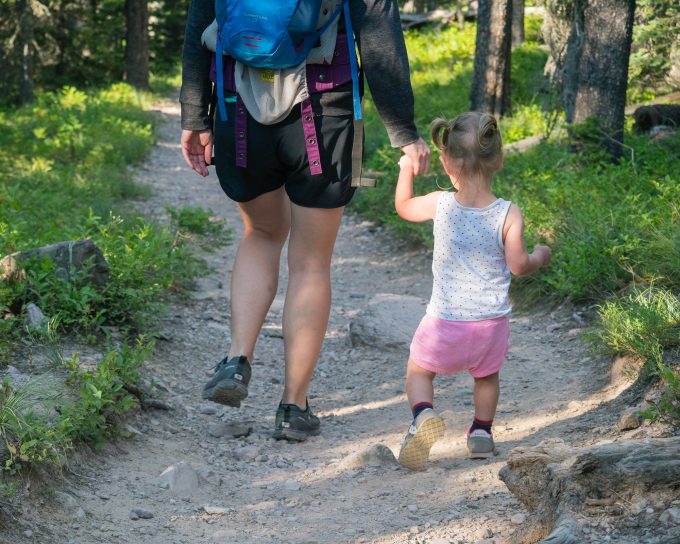 One of the things I loved about this trail was its variations. We got to cross bridges, see wildflowers in a beautiful meadow with a mountainous backdrop, forested sections giving us a reprieve from the hot sun, a waterfall after a short (and well-worth) detour, fun elevation gain, and spectacular views at the end.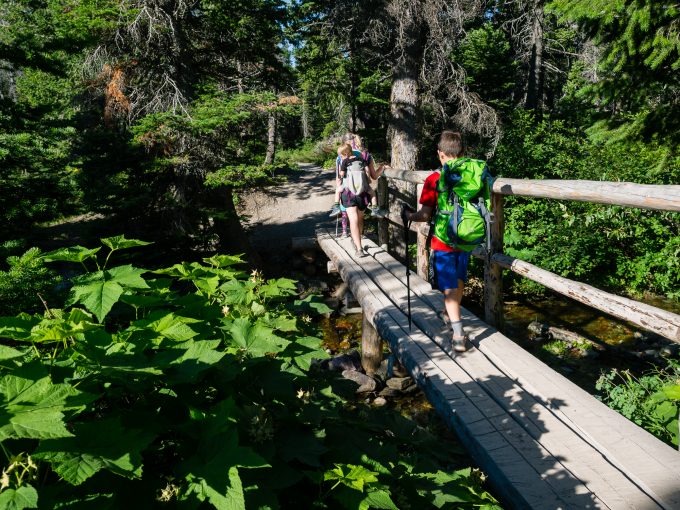 This trail had it all and was doable for our preschooler despite his tantrums and volatile emotions of the day.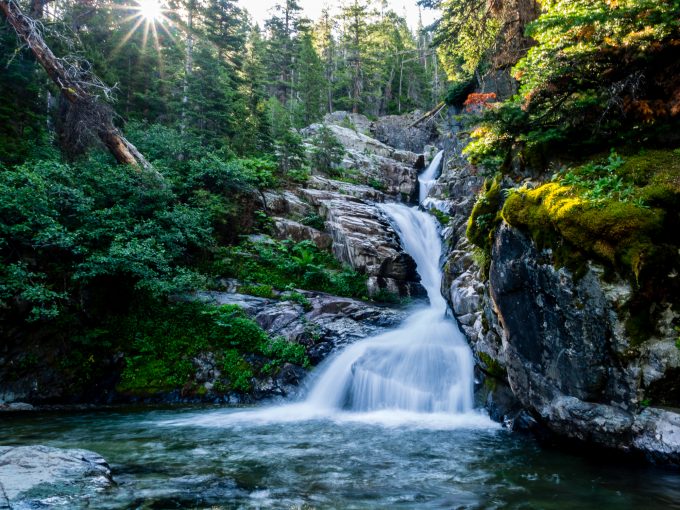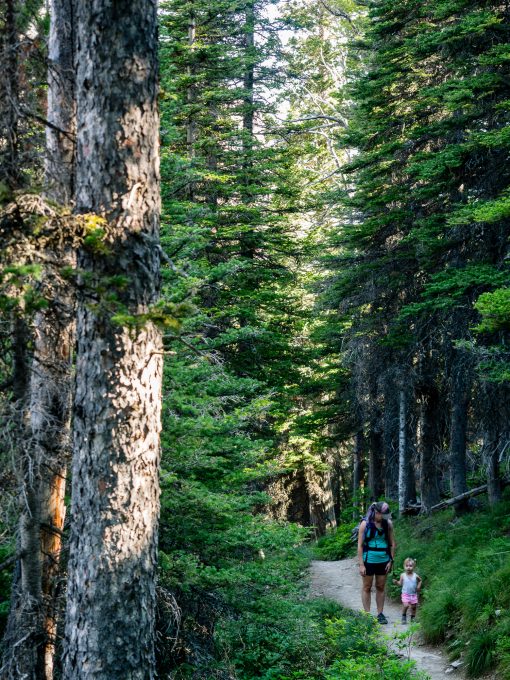 One of the best parts of this hike was how few people we saw. We arrived here early and got one of the first spots in the lot. We only saw a handful of other people on our way up.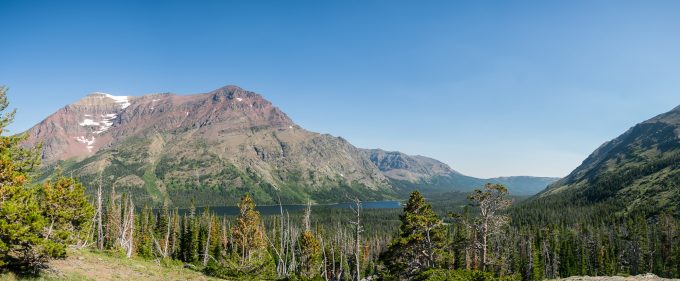 Once we made it back to Two Medicine Lake we got to swim and relax on the shore after a hot and sweaty trek. There's a large visitor center and flush toilets near the parking area as well. By the time we were back at the parking area it was full and people were everywhere. Sometimes traveling with tiny humans that wake up far too early does have its advantages!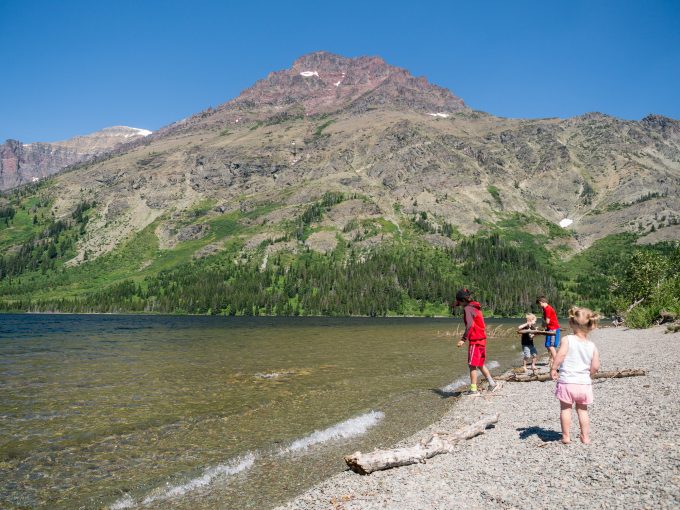 The best destinations to hike when kids are along are waterfalls because kids love all things water. The trek we took from the Sun Point parking area brought us past three different waterfalls. At 5 miles this was by far the farthest we've hiked in awhile with our two kiddos and we were grateful to have cousins along with us to encourage our kids to keep hiking.
Pro tip: Kids will often hike better (and with less complaining) in a group setting. Bring along a friend or relative whenever you can.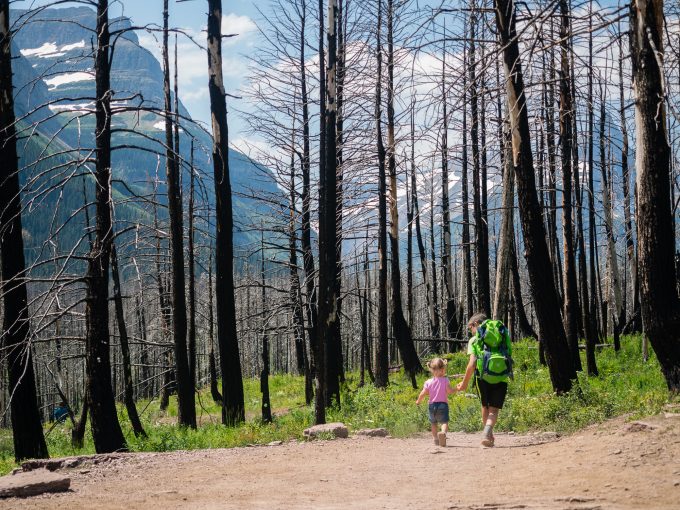 Though lengthy, this hike is relatively flat and very scenic making the miles easy going. You begin hiking through an old burn and the kids loved touching the charred bark of the partially standing trees. We had brought along a flower identification card and enjoyed naming all the pioneer species we were seeing.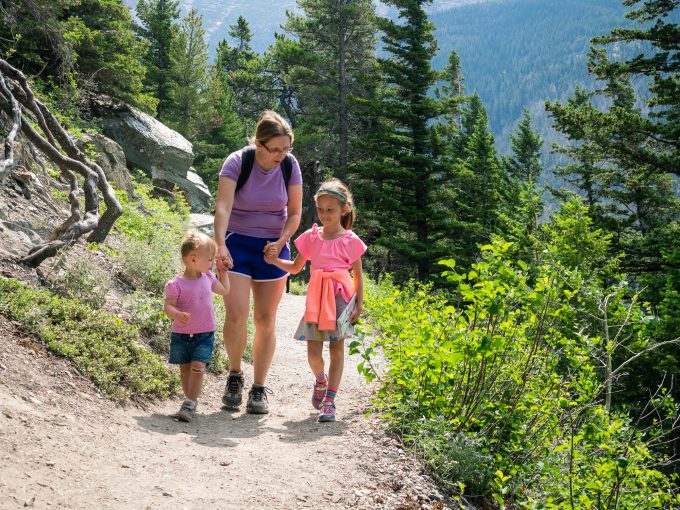 The first waterfall, Baring Falls, is an impressive 25 foot drop with lots of exploring to do around its base.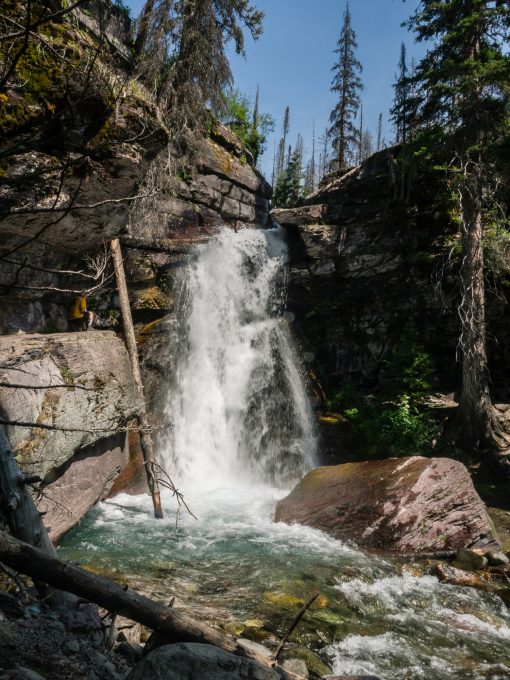 Several of the kiddos in our crew wanted a closer look at the falls. Be careful because it's no fun when a shoe falls in the water and you're left with a soggy sock and shoe all day (not that that happened or anything…).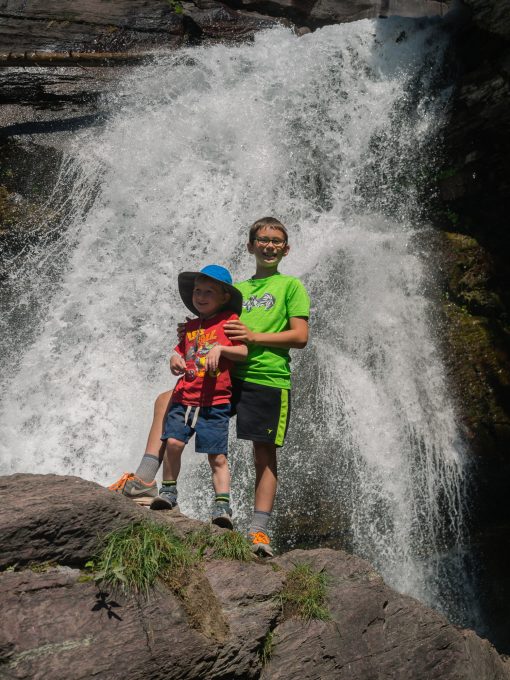 Continue along the trail, traveling alongside stunning St. Mary's Lake until you reach St. Mary Falls.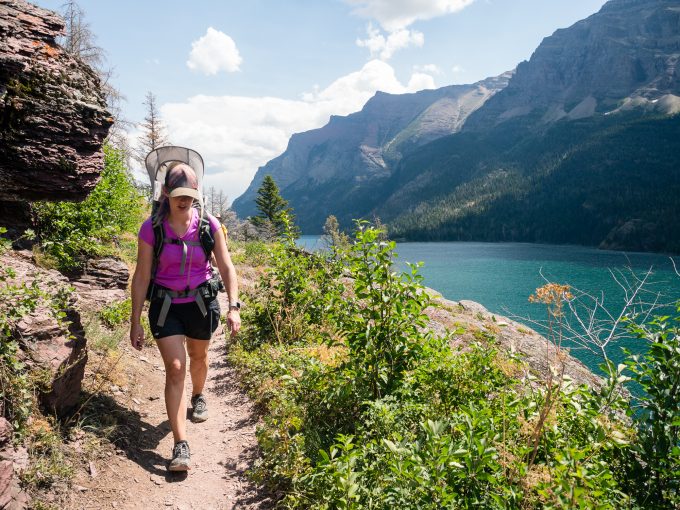 This one we didn't stay long as it wasn't a safe spot to stop with young, running toddlers.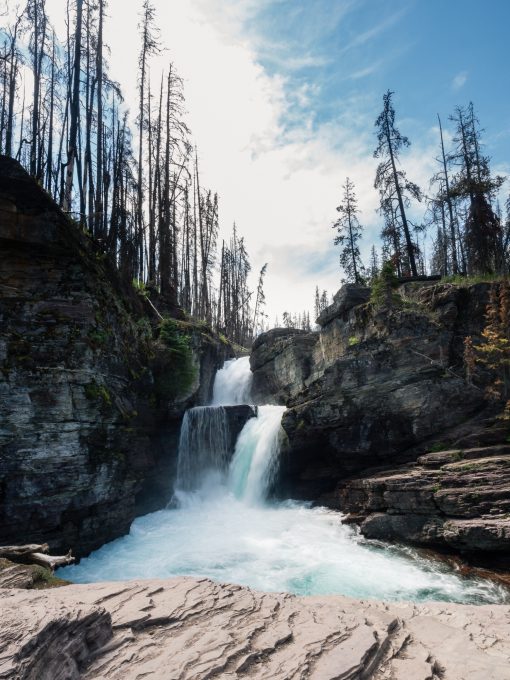 Further down the trail is where it started to get busier with more hikers as we neared Virginia Falls. This is a multi-tiered waterfall with multiple viewpoints. Keep going until you reach the spectacular top where water cascades down the rocks for 50 feet.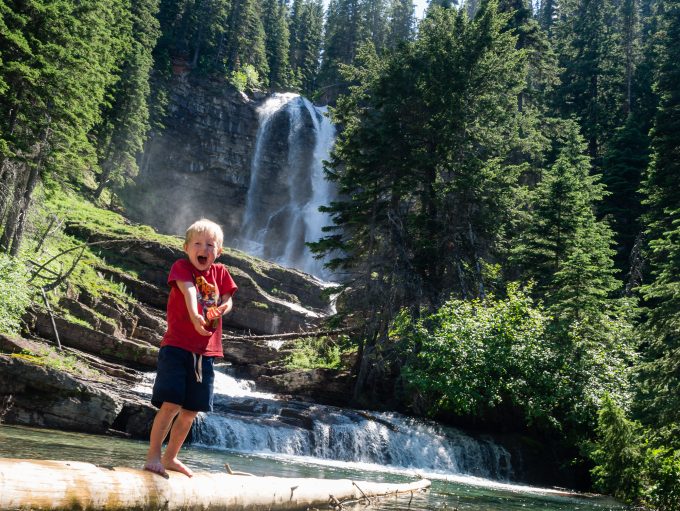 Follow the signs for the privy and you'll come to a great spot for relaxing on the rocks and splashing in some shallow pools of water. All kids the opportunity to play and explore after having spent so much time walking along a dusty trail. If you need the facilities be sure to bring your own toilet paper and an ability to hold your breath. The tiny pit toilet has a door that must be kept closed due to bears so it's not a spot I would linger at.
Argue amongst your fellow hikers as to which waterfall you found the most beautiful as you trek back the way you came towards the St. Mary's Shuttle stop and catch a shuttle back to the Sun Point parking area.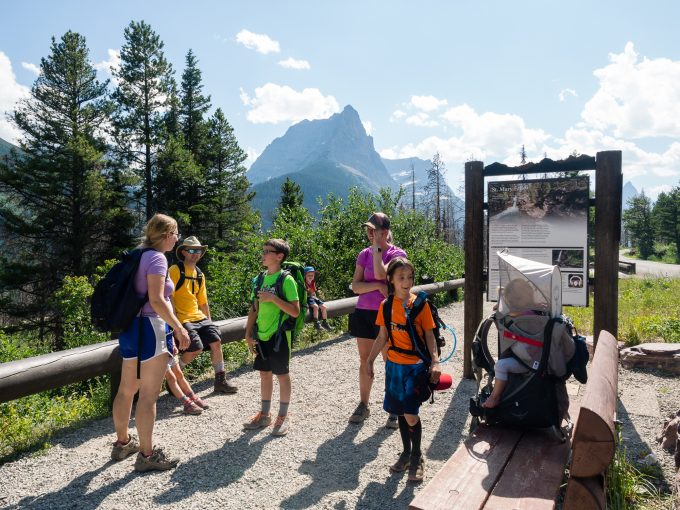 If you are like us, and had been waiting for over 45 minutes for a shuttle that didn't seem to be coming send the strongest hikers the 1.5 miles back to the parking area and have them come pick you up.
Located in the Flathead National Forest this hike is a great way to explore a less busy and equally scenic part of the area without entering the park. It is a more strenuous hike with 4.3 miles and 750 feet of elevation gain.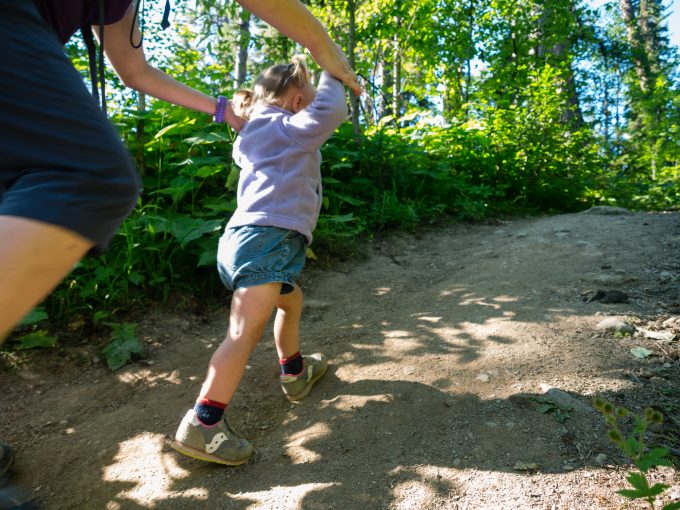 This trail is lined with some seriously tall berry bushes and is prime bear habitat. Be sure to be noisy and bring bear spray along on this trail. Hiking this trail during peak Huckleberry season is fantastically fun as the kids race to find the next patch of ripe berries. It does also slow them down a bit… But, the sweet juicy berries are well worth the added time on the trail.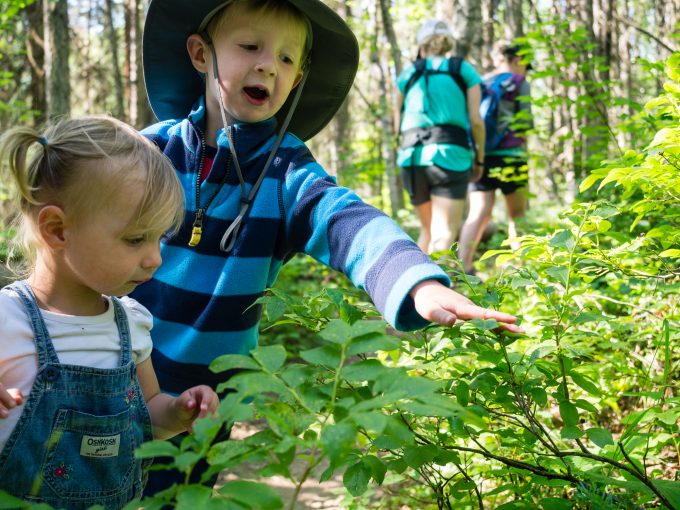 The trail can be rather steep at times and it does have sections with fairly high drop-offs. Keep small children close in sight. We always bring along a carrier for each child, a frame pack for the toddler, and a lightweight soft structured carrier for the preschooler. Not only is this gear helpful when kiddos get too tired and whiney but are also a great way to keep kids safe in more rugged terrain.
Pro tip: if you have a child that doesn't want to get in the carrier have special treats that can only be enjoyed while in the pack. We use suckers as a motivator for getting them into (or out of, whichever the case may be) the carrier.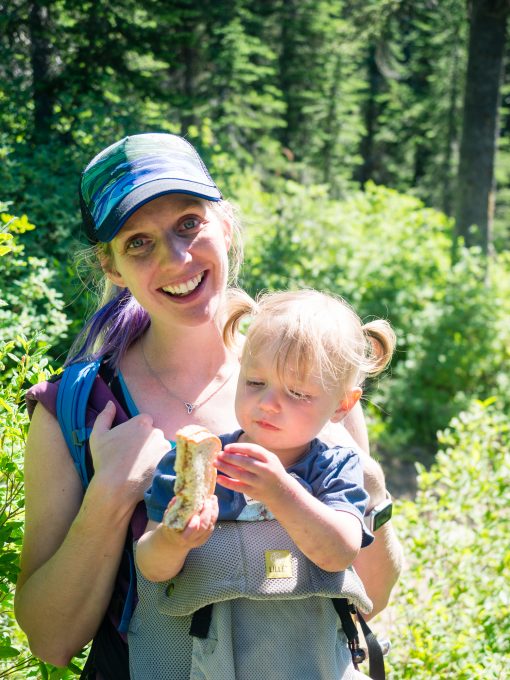 The effort needed for this hike is well worth it as Stanton Lake is surrounded by mountains and has crystal clear waters.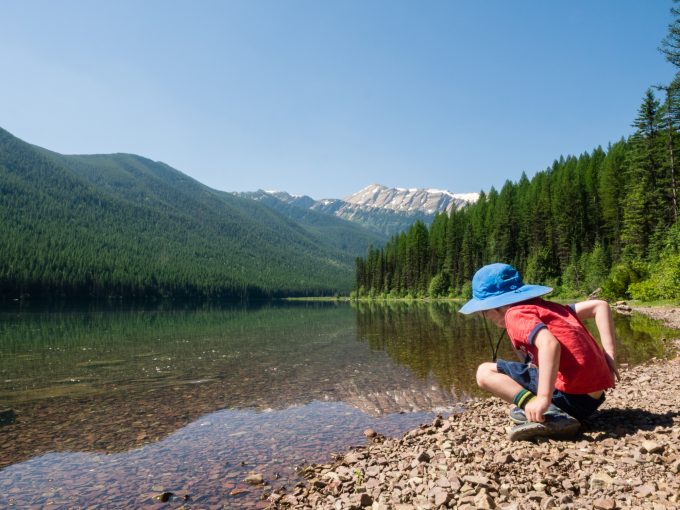 We packed in two small inner tubes bought from the dollar store and blew them up lakeside, letting the kiddos float and cool off. Bringing along additional items like swimwear, towels, and inner tubes does make packs heavier for the adults on the crew, but it also means the kiddos have that much more fun and the memories made are totally worth it!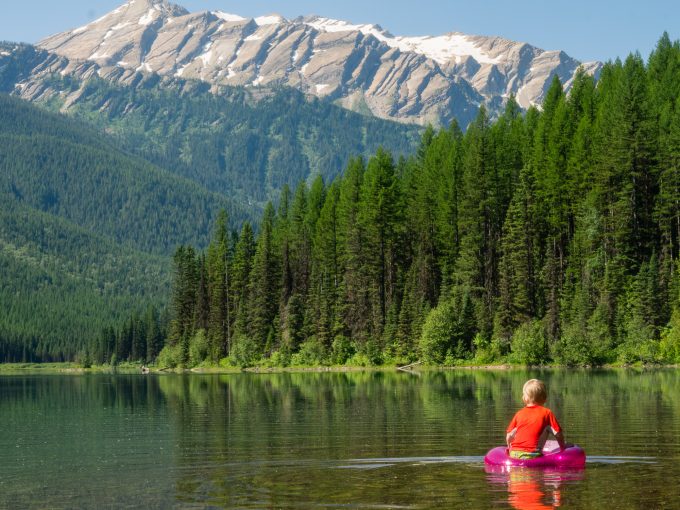 This is one of those iconic hikes that most do when visiting Glacier. It's easily accessible to all ability levels at only 1 mile roundtrip and mostly walking on well maintained boardwalks.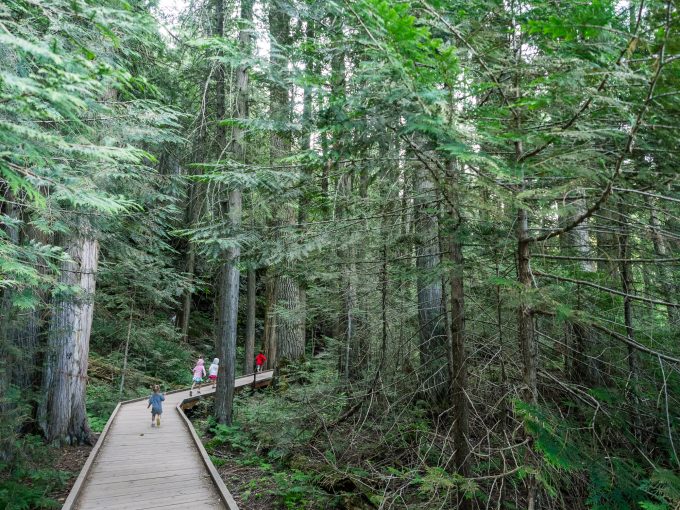 The trees in this area are truly remarkable and well worth the headache that parking may present. Arrive early or come late in the evening. This is also a hike where views aren't that important so don't worry if it's raining or cloudy as it will possibly be even more majestic on a gloomy day.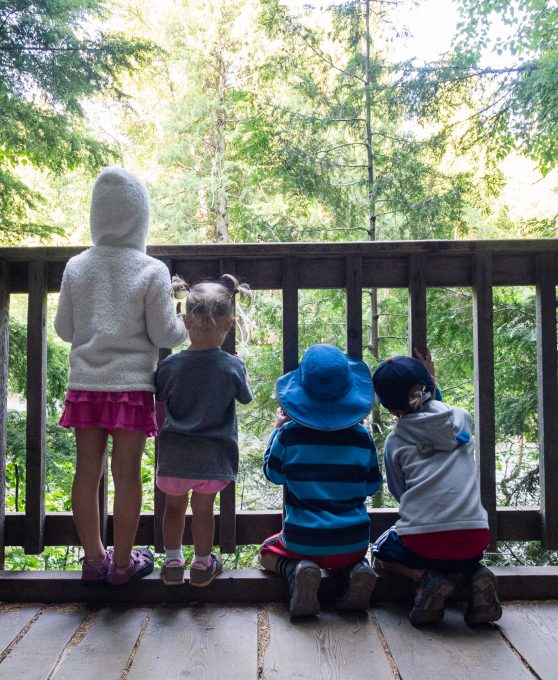 Most of my family joined us for all or part of this trek out to Glacier and this was the one hike we decided to do all together. All 24 of us with a vast array of ages, abilities, and moods were able to successfully complete this beautiful loop.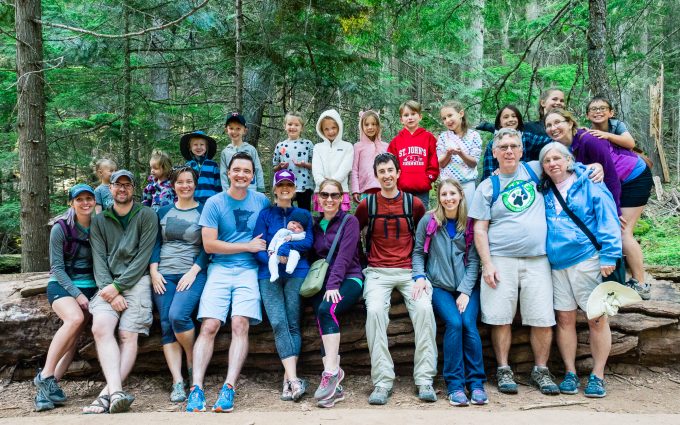 We began the loop on the east side, walking along the boardwalk and reading the beautiful Haiku that follows along the trail. A bridge leads hikers to a stunning waterfall on Avalanche Creek. It felt like a secret mermaid cove. The rounded rocks, the beautiful blue water, it was as if we were watching an absolutely stunning piece of art, made by Mother Nature.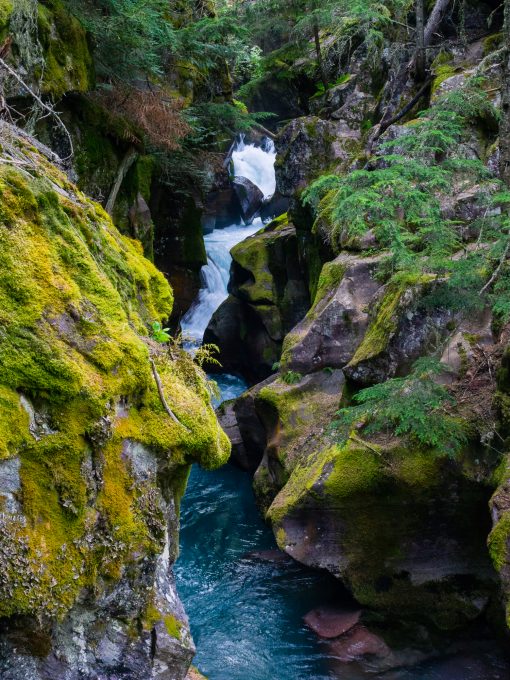 The children we had on this hike were 13 in number ranging in age from 3 months to 11 years. All had a great time exploring this magical, ancient forest. Many found inch worms along the way and all enjoyed splashing in the creek before reaching the end.
Pro Tip: When some are fast and some are slow give the older kids a job. Assign a younger child to them. The added responsibility makes them feel that the slower pace isn't too bad.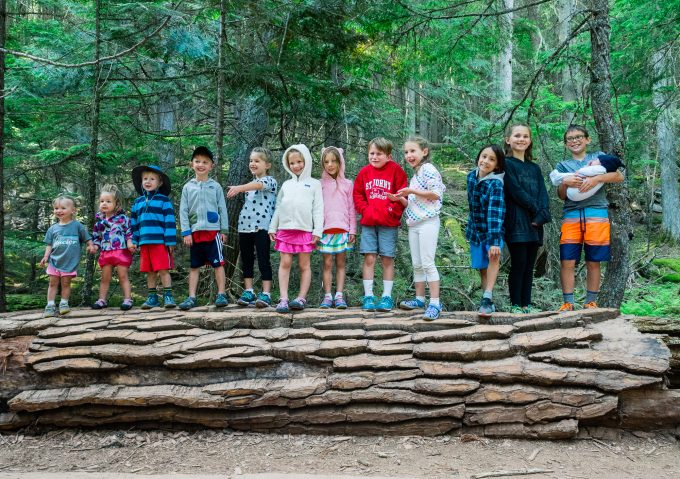 A perk to this trail are the flush toilets you pass on the way out when walking along the boundary of the campground.
More intrepid hikers will frequently link the Trail of the Cedars to the longer, more difficult hike up to Avalanche Lake. We completed this trail when our kids were napping and Grandma and Grandpa were watching them (love traveling with family). It was a more rugged hike that younger children, preschool and up, could complete on their own. Allow ample time and bring plenty of food and water along to ensure happy hikers on this more difficult route.
We ended our day on the trail by letting the kids splash in the rocks and shallow pools of Avalanche Creek. It was our final day in Glacier and nobody wanted it to end.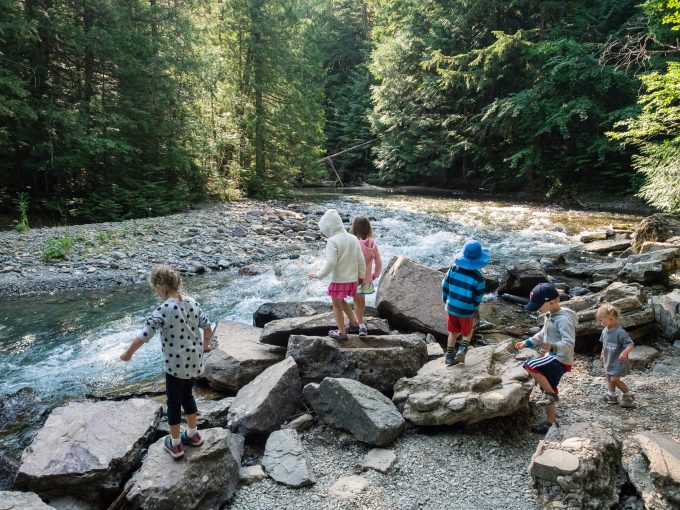 Spending time in and around Glacier National Park is bucket list worthy thing to be sure. Being there with all of my sisters, my parents, and so many nieces and nephews was a dream come true.