Spring break is coming, who's planning a warm weather getaway?!? For the past two years Utah has been our destination for our hiking vacation spot. Why do we keep returning to Utah? The simple answer is that it's beautiful with endless opportunities for outdoor recreation. It also happens to be incredibly kid friendly which is a must for us!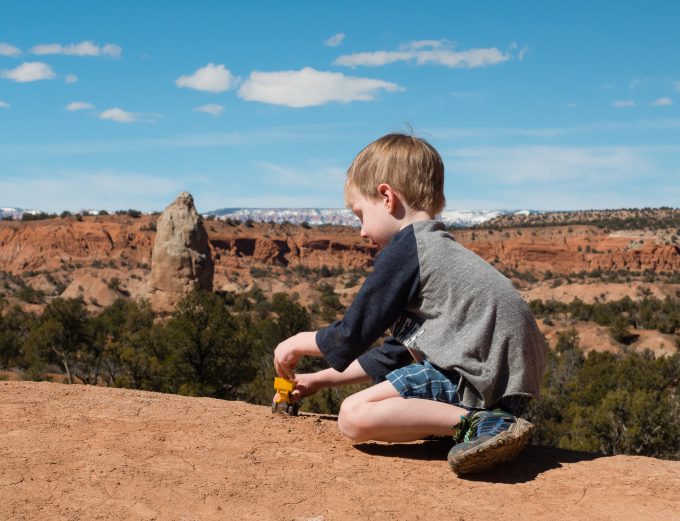 Utah is home to a plethora of stunningly beautiful National and State Parks. Neighboring states like Arizona, Nevada, Idaho, and Colorado make Utah an ultimate U.S. road trip destination with plenty to do and see along the way and in the surrounding areas.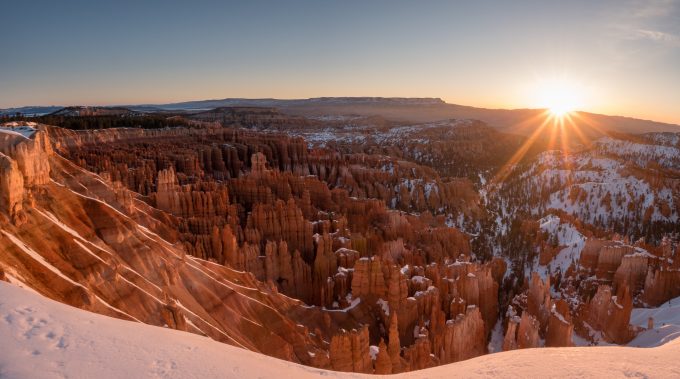 We have visited Canyonlands National Park, Arches National Park, Dead Horse Point State Park, Bryce Canyon National Park, Kodachrome Basin State Park, Grand Staircase Escalante National Monument, Horseshoe Bend, Lake Powell, The Grand Canyon, Zion National Park, and Coral Pink Sand Dunes State Park during our trips to Utah. The possibilities truly are endless and despite spending close to a month exploring the state non-stop we still feel as though we have only scratched the surface and there is much more to see.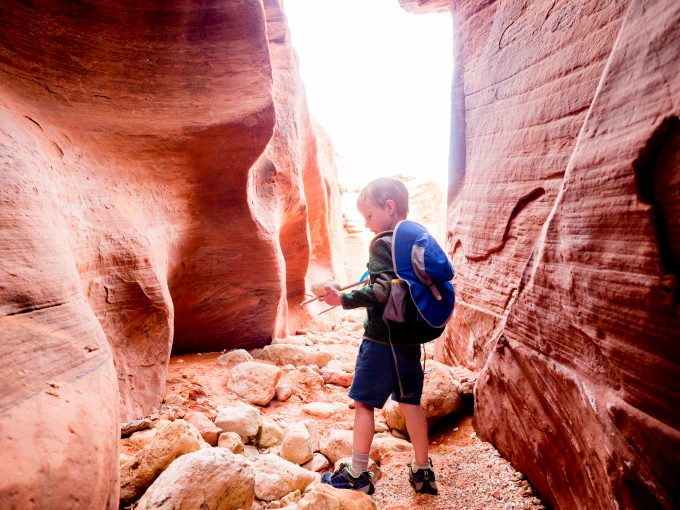 We have hiked extensively in the area and have chosen our seven favorite hiking spots we have discovered and wanted to share them. The children along on these hikes have ranged in age from 1-5 years old.
1. Buckskin Gulch
Buckskin Gulch is known as the world's longest slot canyon and, according to Backpacker Magazine, one of the most dangerous hikes in America. The risk of flash flooding is very real and very deadly here so make sure you are hiking on a dry day.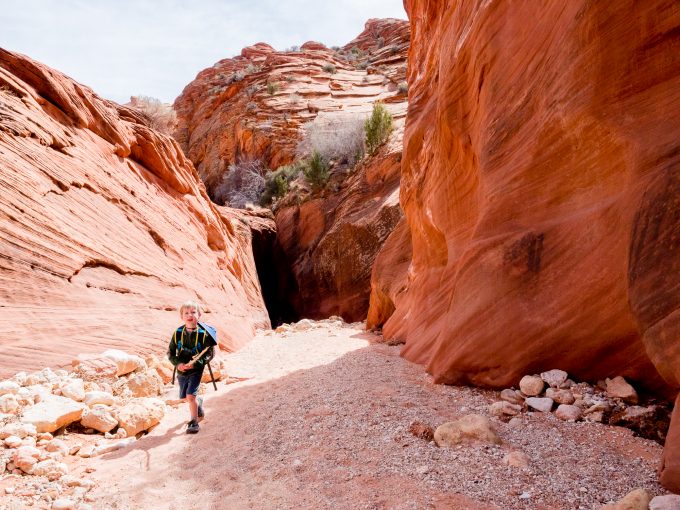 This hike begins with a brief hike through a wash before entering Wire Pass.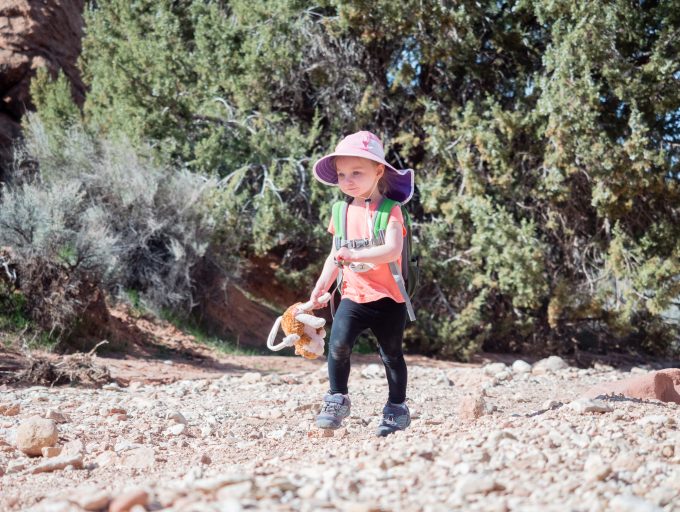 The cool reprieve of the canyon walls is welcome after the initial hike in full sun. It was amazing to go from a normal hike in the desert to feeling like we were entering a different world within the smooth, colorful walls of the canyon.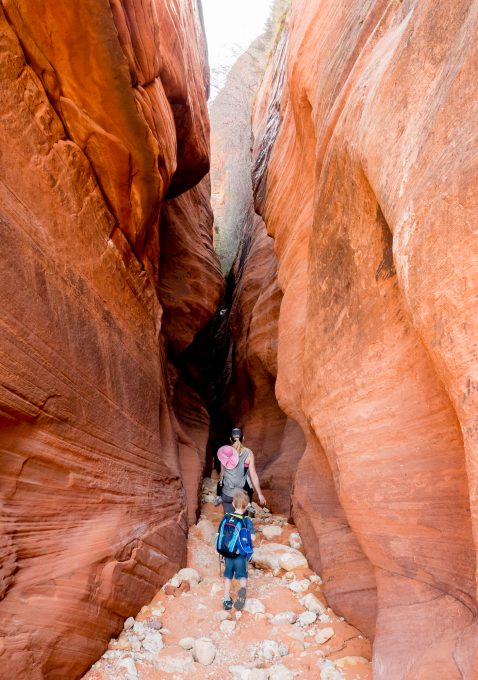 There is one section of the trail that requires an 8 foot down climb. Having additional adults along to help get kids up and down is definitely helpful. There is a way around the down climb by going up and around to the right of the canyon. The down climb from the alternate route can be slippery and difficult to navigate but we did it both ways and everybody made it without incident.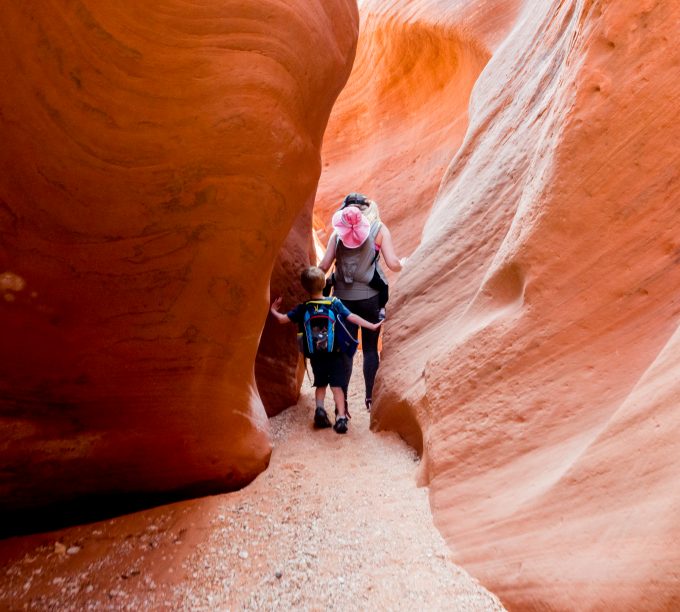 We hiked as far as the petroglyphs which can be found 1.7 miles in as Wire Pass meets up with Buckskin Gulch in a large rock amphitheater. The petroglyphs were remarkable and we love finding these historical symbols as often as we can.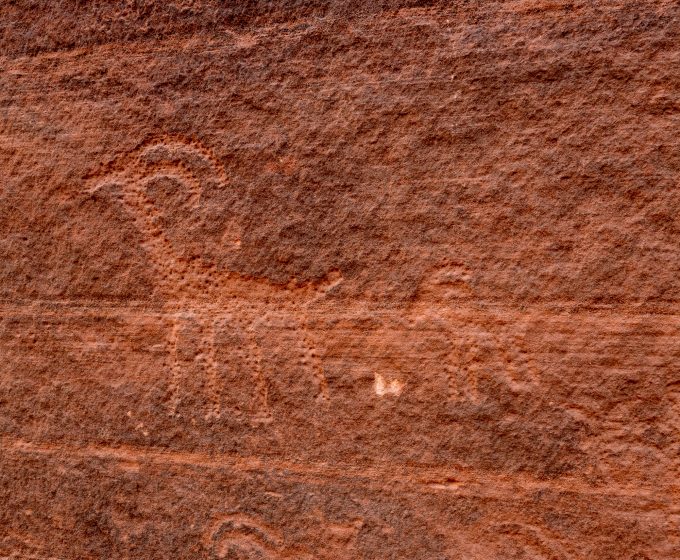 \
We only did a brief out and back (3.4 miles) of this hike that is 20.6 miles and generally takes 2 days to accomplish. We knew we would never do it all, but we wanted to see it and explore the area.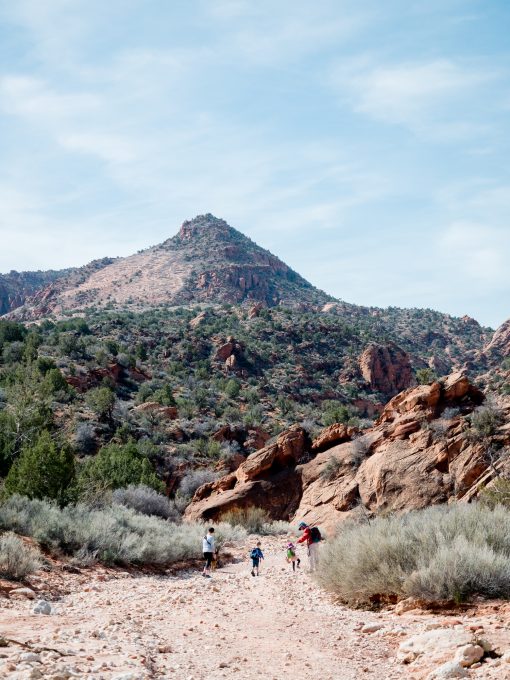 Pro Tip: Don't let a hike with long mileage scare you away when planning a trip with children. Just do a section of the trip and be happy with what you get to see along that shorter section!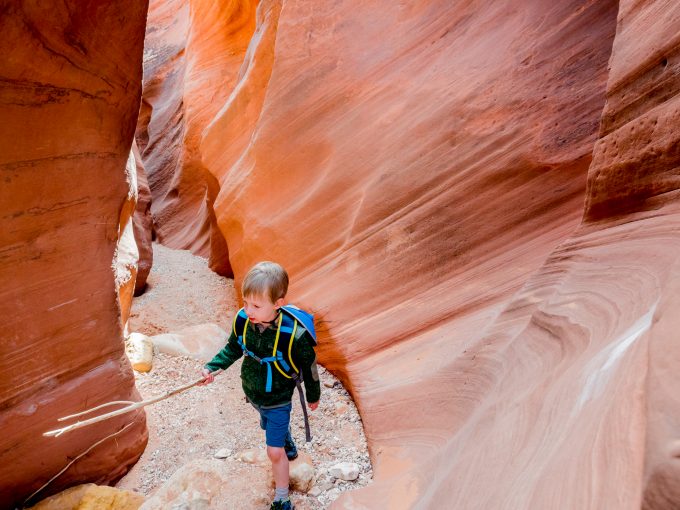 2. Red Canyon
On every trip we like to splurge on one tour or popular local attraction. Our family had never gone off roading before and when we found Kanab Tour Company we were stoked to find a safe, easy way to get right to Red Canyon (aka Peek-a-Boo Canyon). The side-by-sides we rented were super fun and the kid's carseats fit so we knew they were safe and secure.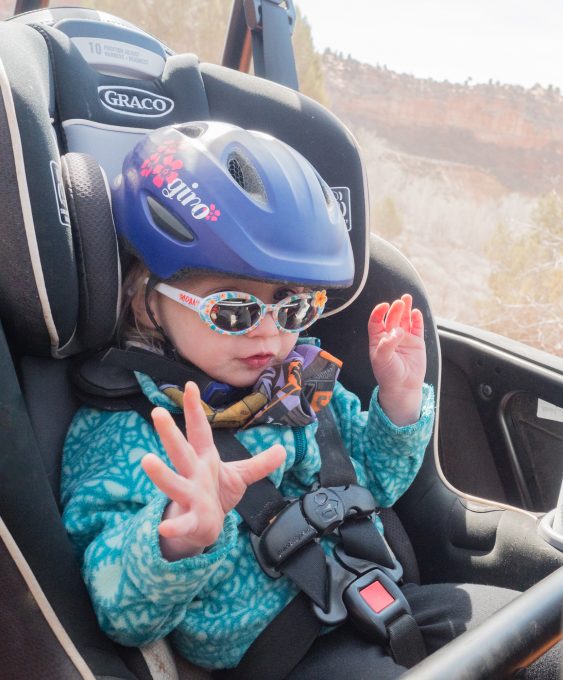 Also, at the time hiking 4.7 miles was beyond the kid's ability levels, and walking through squishy sand makes it all the more difficult to keep little legs moving. Zipping around the sand dunes in these sweet rides was way more fun than any of us anticipated! Our friends Jess, Daniel, and Skylar (age 4.5) were along for this trip!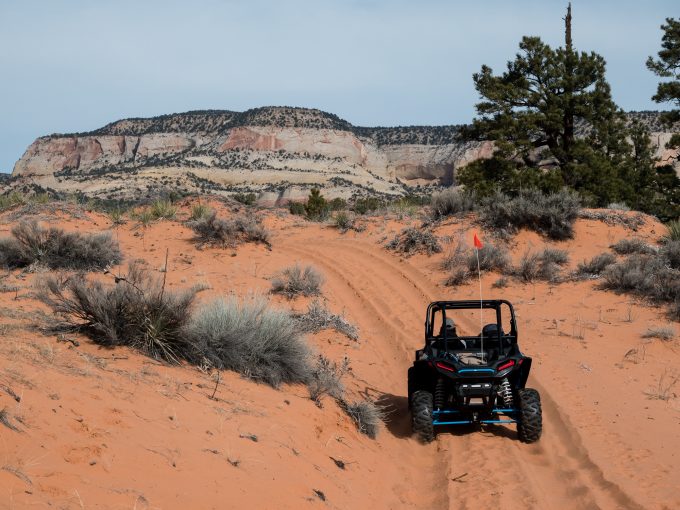 We pulled directly up to the canyon and got a personalized tour of the area. One of the things we love about guided tours is getting the inside scoop from locals who know the area really well. Our guide, Cory, talked about how the canyon has changed over the years and through the seasons. He knew just where to look for all the unique features of the canyon (like fossils!) and interesting tidbits that both adults and children appreciated.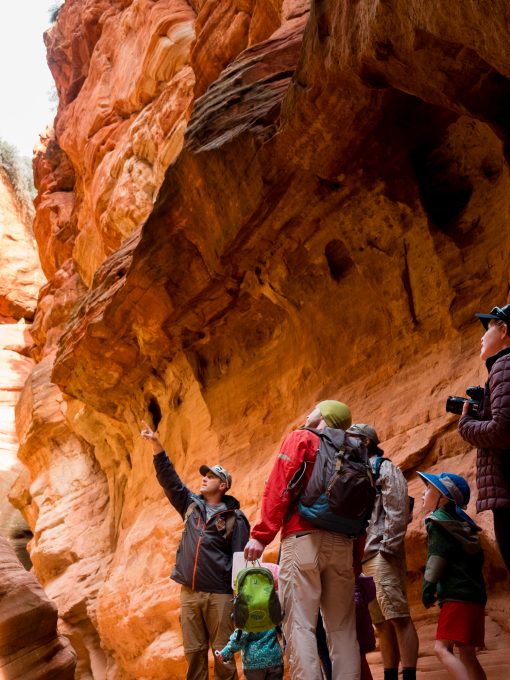 The canyon itself is a brief and beyond stunning 1/2 mile that the kids easily walked.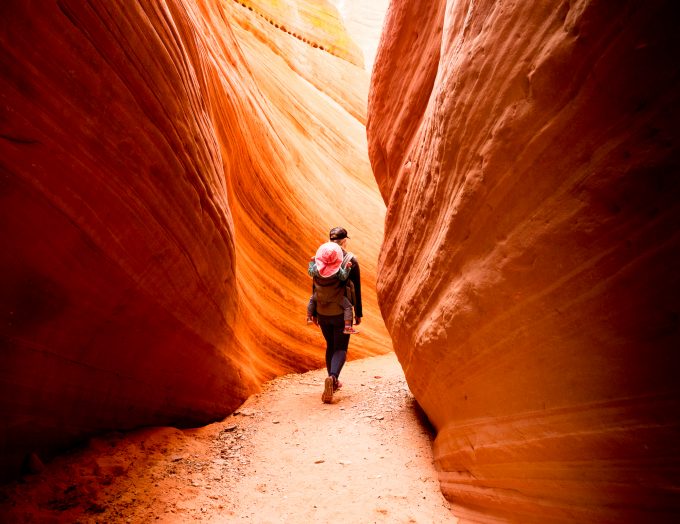 I can't say enough about the guides we had on this trip. They went the extra mile to make sure the kids were engaged and we all had an amazing time! We even met up with one of our guides and his family afterwards and had a blast hanging out and playing. Traveling with young children and making friends along the way is one of my favorite things!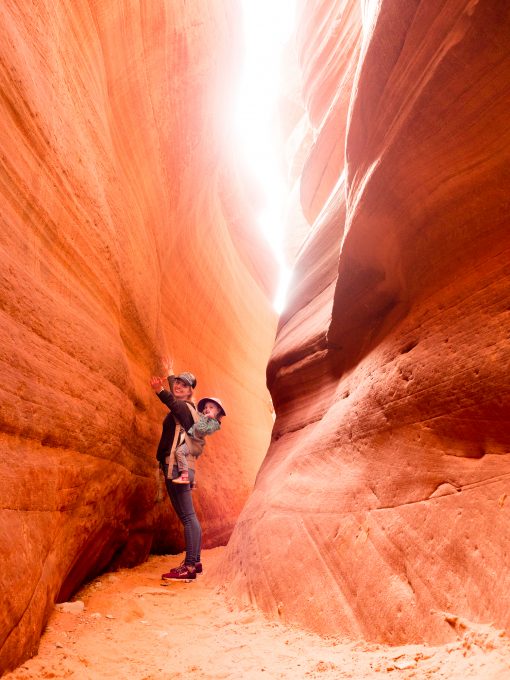 Our guides took us to a few other noteworthy sites including ruins from an old Indian settlement complete with petroglyphs and pottery shards. If you want an in-depth and easily accessible way to view this awesome place just north of Kanab I highly recommend hiring a guide and off-roading it.
Pro Tip: If you have young children along bring your own bike helmets as they didn't have helmets small enough for 2 year old Rowan. The 4 year olds and adults were fine. Adults aren't required to wear helmets but we all did so the kids didn't feel singled out.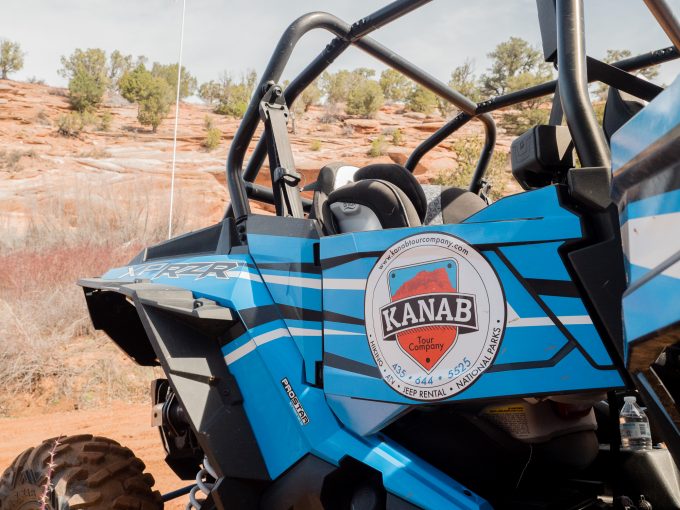 3. Panorama Trail
This 2.9 mile loop trail found in Kodacrome Basin State Park is a great place to bring kids and see some truly remarkable monolithic stone spires.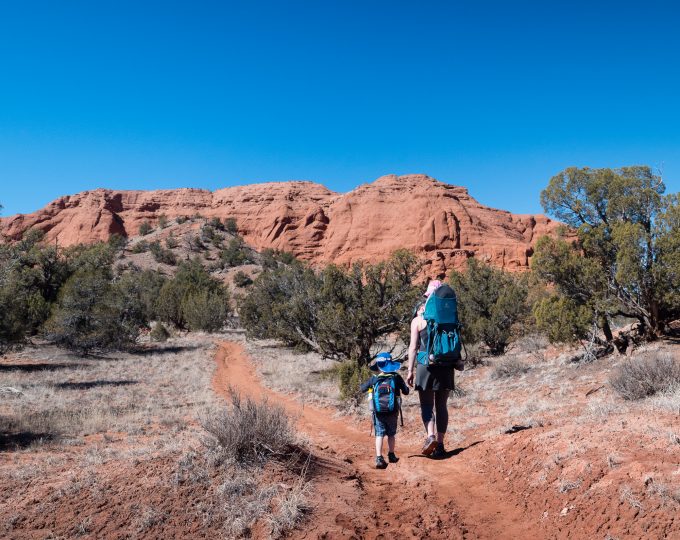 This is a relatively flat hike that can be made up to 6 miles long. We didn't go quite that far with our little ones on this trip, but we still saw amazing views, beautiful sandstone pipes and had a lot of fun along the way. Jack and Rowan were so happy to be in a warm, snow-free environment so there was a lot of horseplay going on! They kept pretending to be bears chasing us it was great, dirty fun!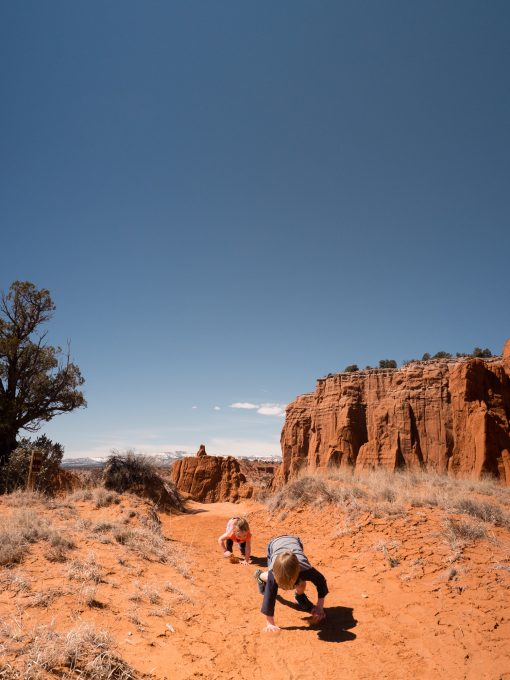 This hike takes hikers past six major features including the stunning Ballerina Spire and Hat Shop. We weren't planning on stopping here and had initially planned to explore nearby Bryce Canyon National Park more, but we were there in January and the park was mostly closed due to snow. Kodachrome State Park is only 30 minutes away but so much warmer!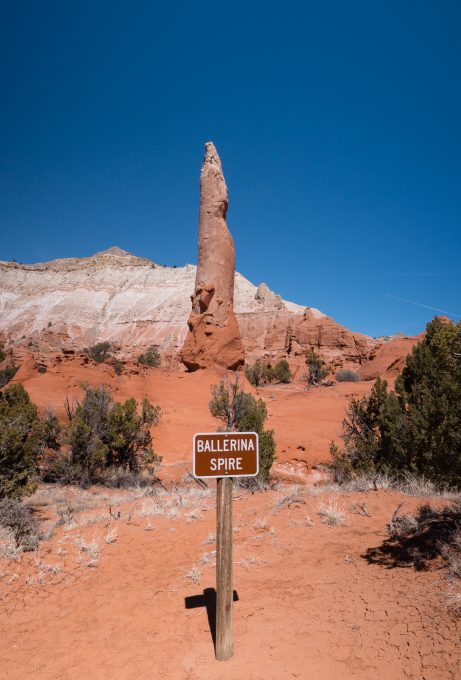 Pro Tip: If the weather is crappy and plans are going off the rails, don't panic! Find alternatives, talk to locals, and figure out a new plan that works for everybody. Being flexible when traveling, especially with children, is the key to a fantastic adventure-filled vacation!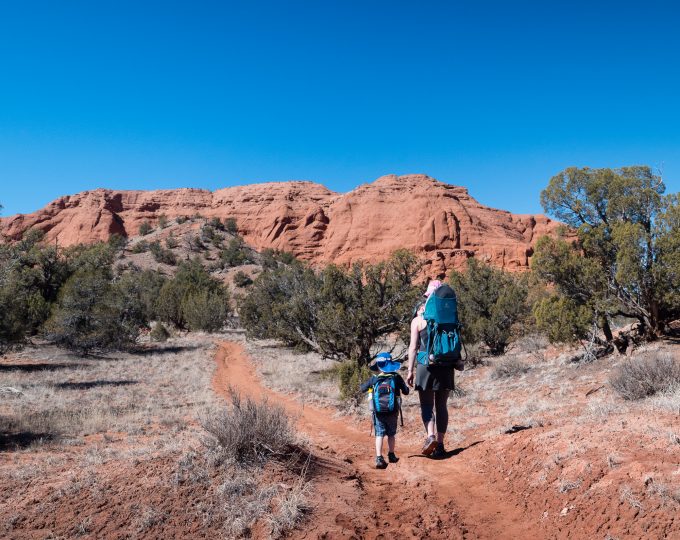 4. Chesler Park
Canyonlands National Park remains my absolute favorite National Park of all time (so far…). We visited 3 years ago and I still vividly remember this trail and this day. The Chesler Park Loop is super long at 11.7 miles and listed as a strenuous hike on the NPS website. We knew we wouldn't do the whole thing and our goal was to make it to one of the large fractures in the rocks and maybe all the way to the Needles overlook.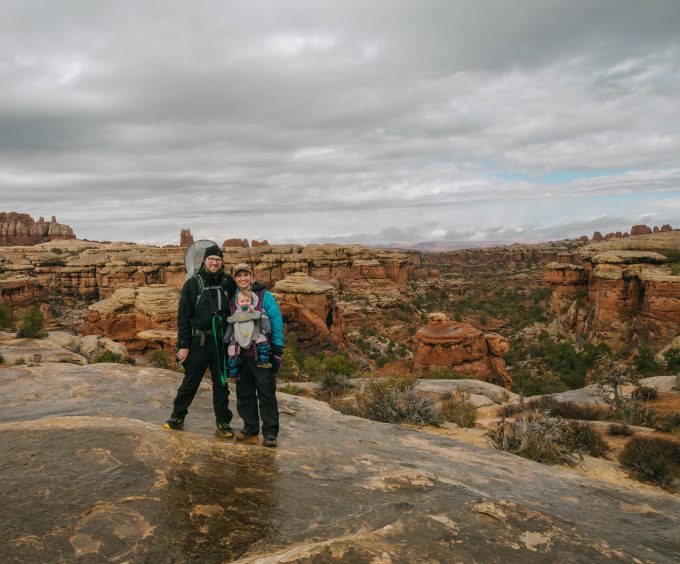 We saw all the weather along this hike including rain, snow and sun. That's one of the joys of traveling during the shoulder seasons, you never know what to expect in regards to the weather.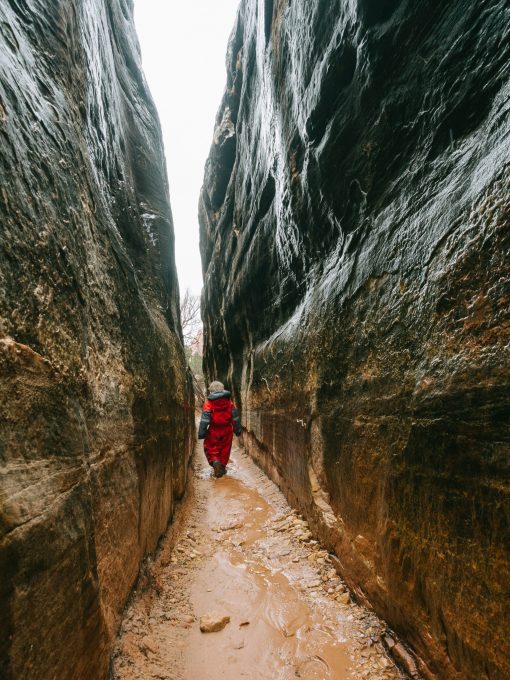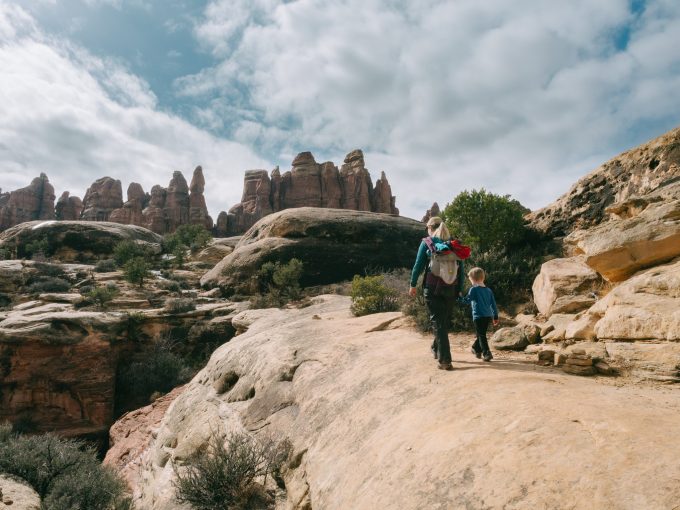 Pro Tip: Be sure to bring along a W.A.G. bag for human waste disposal if hiking for extended periods of time. In Canyonlands cat holes aren't allowed so you either have to hold it in until to return to the trailhead and the privies found there or bring along a human waste disposal bag. Jack ended up needing to poop and we found ourselves without the appropriate bag, thankfully we did have a dog poop bag along so we were able to pack it out. Bobby quickly became the caboose of our crew as the odor was a little strong…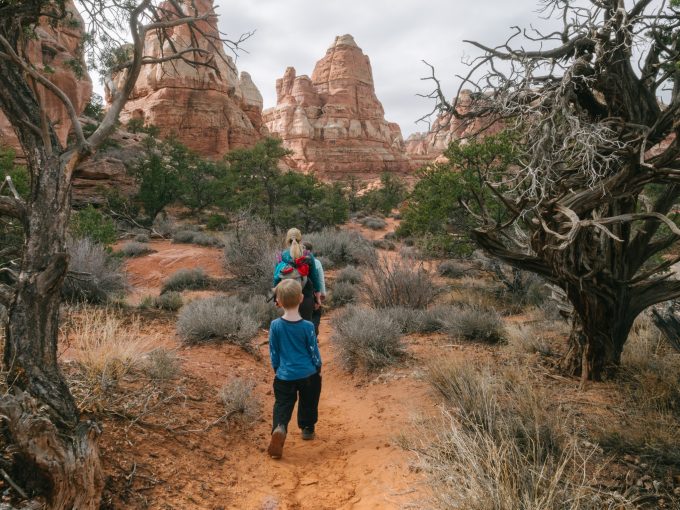 One of the really amazing things about this hike is all the different landscapes we hiked through, around, over, and under. Unexpected and beautiful sights seemed to be around every turn.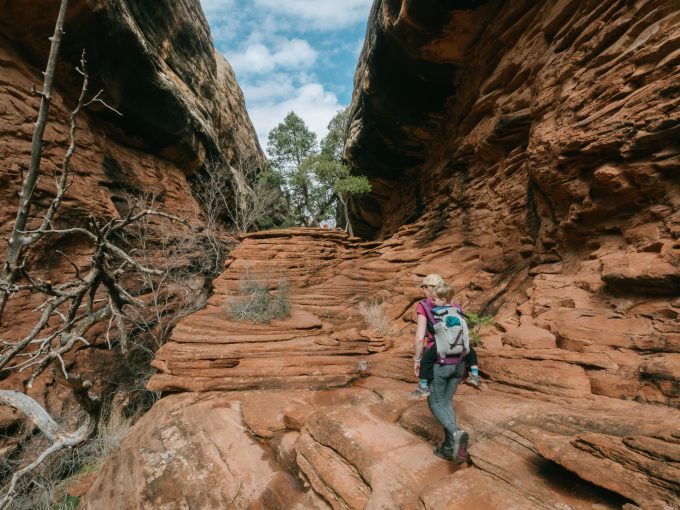 We did end up making it all the way to the Needles overlook and we were struck dumb by the beauty and the strangeness of this unparalleled area.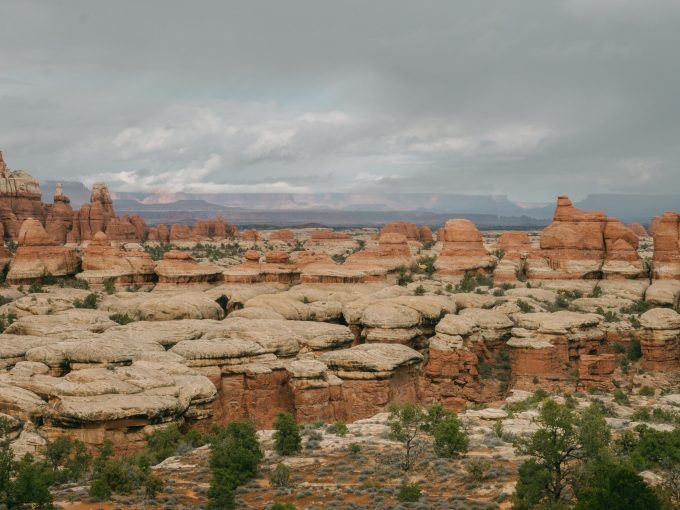 One of our favorite parts about this hike was we only saw two other hikers all day long. Finding that level of solitude on a hike that children can do is rare, but that's what you find within Canyonlands.
5. Delicate Arch
Delicate Arch may be the most iconic symbol in the whole state of Utah (it's literally on the license plates).  There are two ways to view the arch. One is an ADA 0.5 mile paved trail to an overlook. We opted for the more difficult and scenic 3.1 mile hike through the park. This hike begins with a sweet bonus of petroglyphs! Just follow the short spur trail off to the right as you begin the hike to view some spectacular, ancient petroglyphs.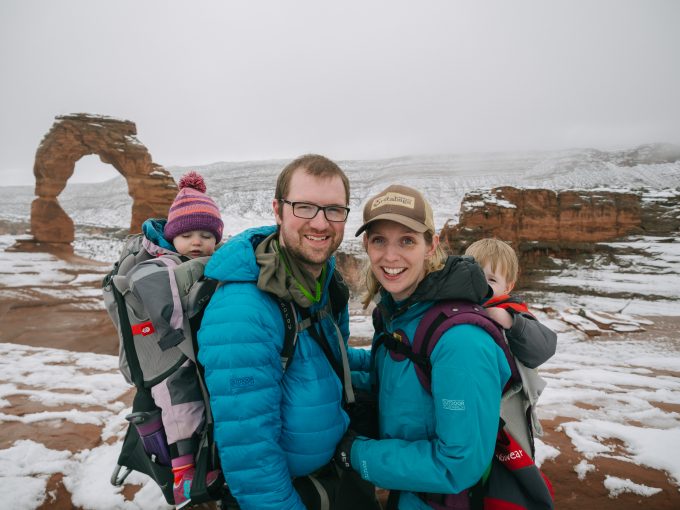 As we were there in February it was snowing regularly and the trail was icy and slippery. Looking back on these photos I often wonder what we were thinking! At the time, it didn't feel quite so intense and scary. The final section of the trail is by far the most harrowing. The nice thing is the rock wall on the one side is very nice for making you feel more secure. However, this is a popular hike with two-way traffic which can make this narrow trail seem impossibly small. Go slow, be patient, and be kind and you'll make it!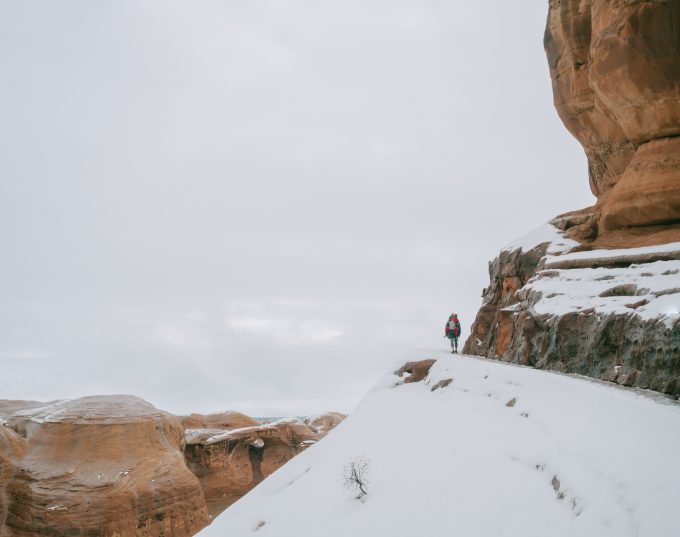 Jack was 3 at the time of this trip and having a toddler-sized soft structured carrier along is key for those sketchy (or whiney) moments on the trail. At the time of this hike we used our LilleBaby Complete Airflow but have since changed to the Onya Pure. I really like both carriers, the Onya is now our mainstay as it is a little more lightweight and less bulky, making it better for bringing along on backpacking trips.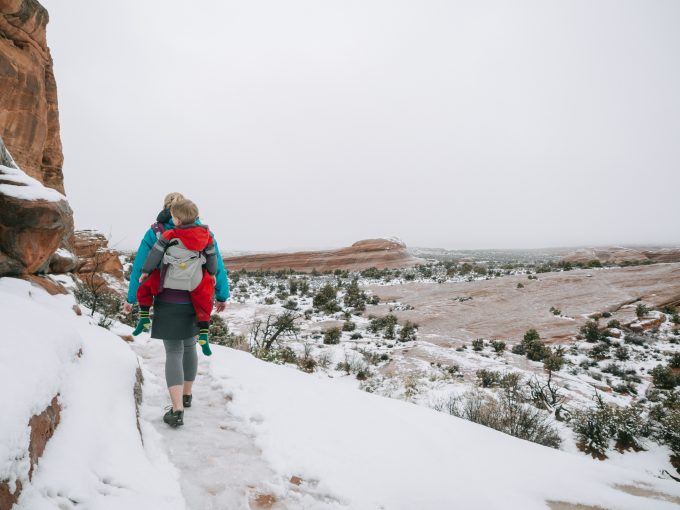 Pro Tip: Take wet, muddy shoes off of kids after putting them in a carrier to prevent getting yourself wet and muddy.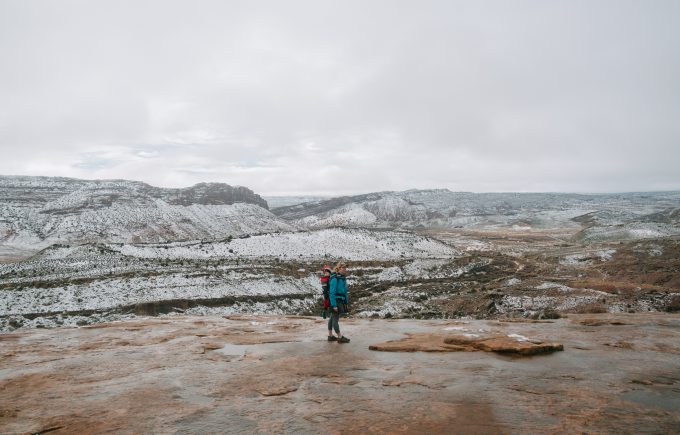 If traveling during the wet season be sure to come prepared with waterproof shoes. There were many spots of running water and spontaneous waterfalls along this trail. As the day progressed and warmed the water on the trail only increased as the overnight snow continued to melt.
6. Corona Arch
As the hike to Corona Arch (2.3 miles out and back) isn't on National Park land it is popular amongst dog owners as pets are welcome! I was shocked to see a three-legged dog along this trail has several ladders needed to be navigated. I gaped and asked the owner how he managed, she just smiled and said "He finds a way!"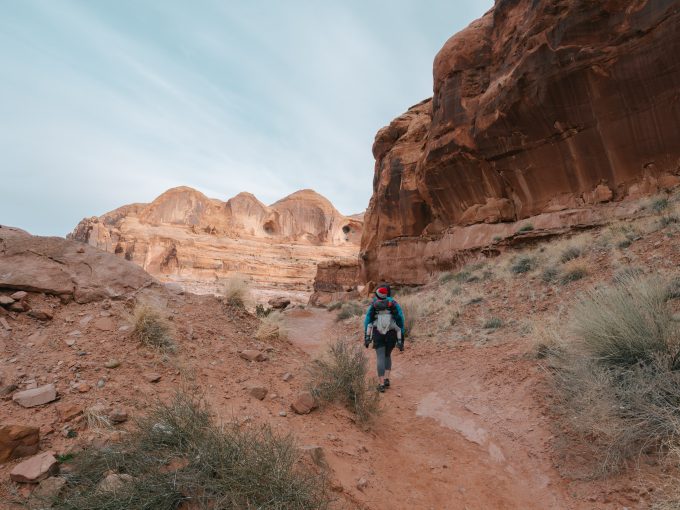 As the beginning of this hike is relatively flat and uninteresting along the way (in other words no big boulders to climb up and over and other things that little kids love about trails) I found myself carrying Jack most of the way. The trail does get more technical with ladders and chains, but we did this hike near the end of our trip so Jack was tired and I carried him almost the whole way. Which was totally fine as I wouldn't have felt super comfortable having him navigate some of the obstacles along the way.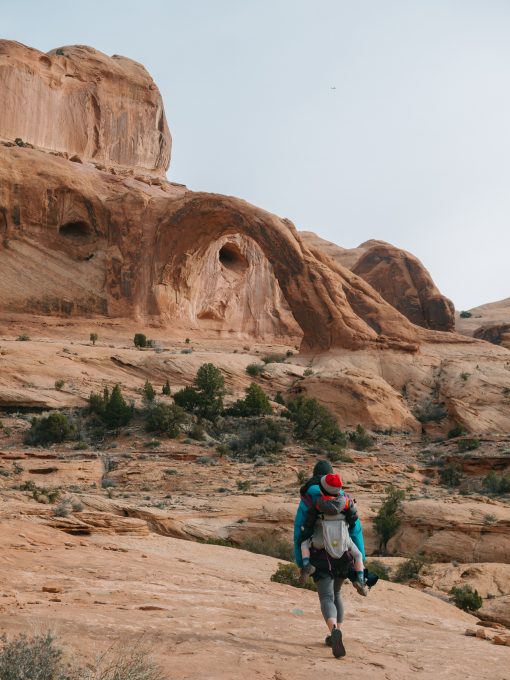 Corona Arch can be a very popular place so we were very happy to find ourselves enjoying it almost completely solo! We met a few other hikers along the way and while marveling at this massive wonder we weren't battling hoards of people. Again, shoulder season hiking during the week is the BEST!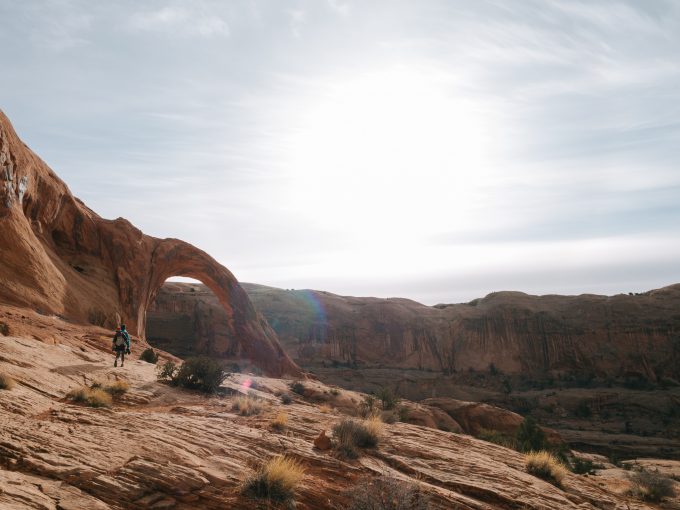 Rowan insisted on walking a ways on this trail which was a painfully slow experience, but we find as parents it's best to encourage and appreciate any effort put in by the kids along on a trip. We try to always encourage and applaud every success.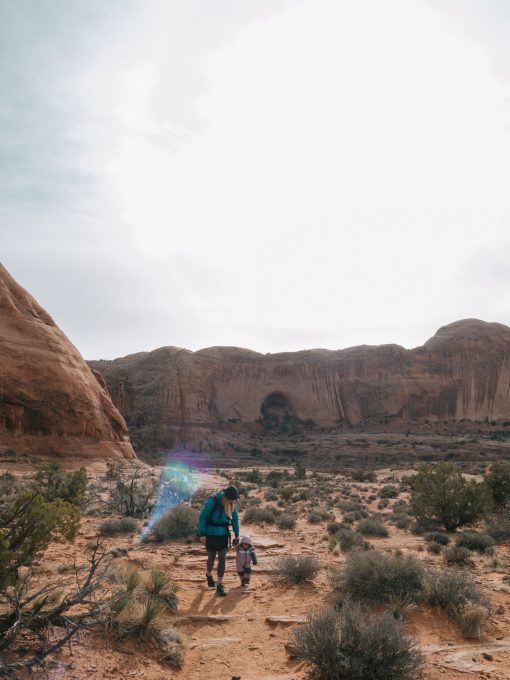 Pro Tip: When little feet stop working, start distracting! Play games, sing songs, and be silly! Try hard not to get frustrated and do your best to stay positive! That attitude quickly rubs off on the kids and makes the whole trip more fun for everyone!
7. Canyon Overlook Trail
Zion National Park is ridiculously popular. I've done many hikes there, including the famous Angels Landing which I would never bring children on. The Canyon Overlook Trail is only 1 mile long and VERY popular. The small pullout and parking lot fill up quickly. BUT, due to the shortness of the hike traffic moves in and out and a relatively quick pace. I've done this hike at sunrise and midday both had us encountering full parking and lots of people. Both times I absolutely loved this hike.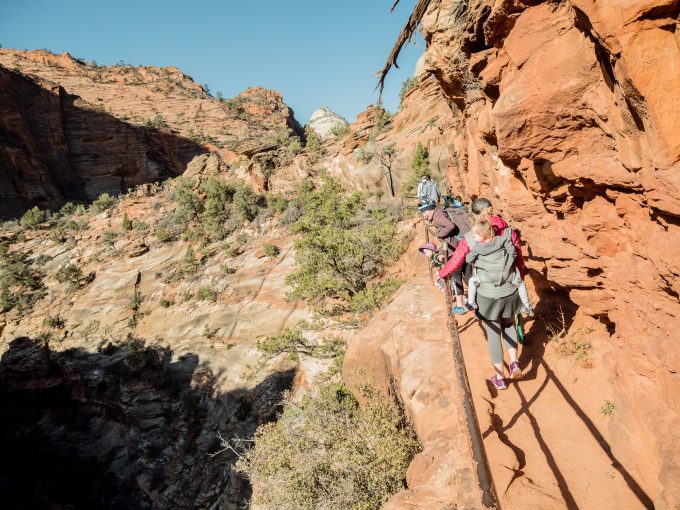 Hikers are protected from the drop-offs by railings and walking along the edge of a precipice can be nerve-racking for the more timid hiker. For us it was shear fun with lots of "Slow, walking feet" thrown into the mix.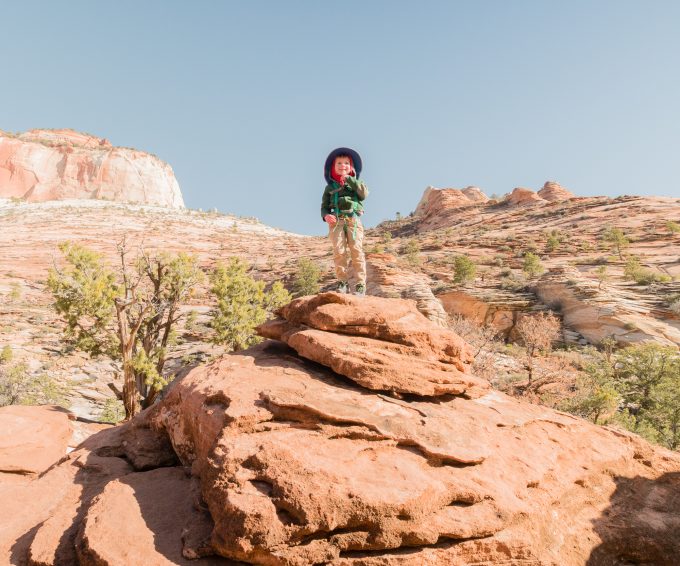 Kids, generally speaking, aren't terribly interested in stunning vistas that can capture the attention of adults for extended periods of time. Remember, when hiking with children make it about them and let them have the fun they need and want. We found little holes to climb in, sticks to play with, and sand to draw in while at this stunning vista.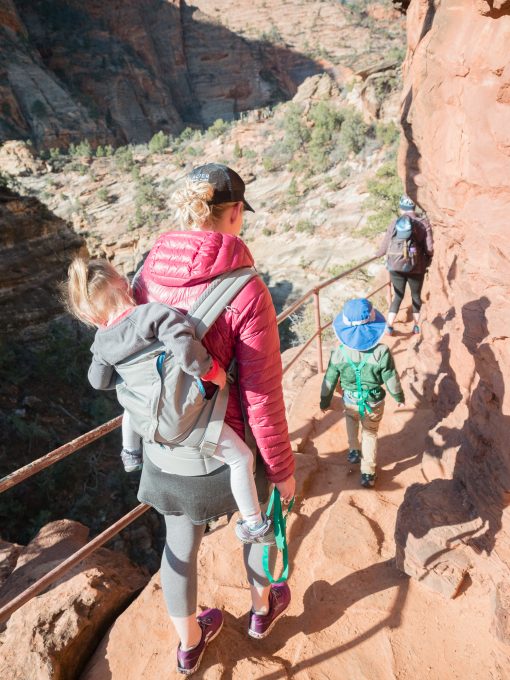 Pro Tip: Consider a hiking harness for walking-aged children who still can't really be trusted near drop-offs. This prevents power struggles and "I can do it, I'm okay" statements and arguments. Our kids know that sometimes they have to wear a hiking harness to be safe or we can't do the hike. Bobby actually sewed the kids harnesses out of webbing. You could also use a rock climbing harness instead.