Over winter break we flew into Las Vegas, NV and headed south toward Joshua Tree National Park direct from the airport. This trip had started off with some of the longest airport and car rental lines we have ever encountered. Like good travelers we arrived at the airport two hours ahead of our scheduled flight departure yet due to the lines at ticketing, baggage drop, and security we arrived at our gate as the plane was boarding. Note to self; traveling on one of the busiest days of the year (December 27th) may not be a great idea… The worst line of all was at the car rental at the Vegas airport. Bobby stood in line to get our car for over an hour! When we finally got down to the garage to pick up our car, the ramp was almost empty because so many of the cars had already been rented!
The wait was well worth it as our SUV was literally brand new and had arrived only that morning to the rental agency. We had to peel off the stickers from all of the consoles! We began the drive feeling beyond excited to leave the lines of the airport behind us! Little did we know that the notorious Las Vegas traffic would soon grasp us in her stationary clutches. Both Jack and Rowan fell asleep for more than an hour and we had progressed less than 20 miles.
Eventually we were on back roads winding through the stunning Mojave desert heading toward our AirBnB located on the outskirts of 29 Palms, CA in Morongo Valley. We had stopped for dinner and provisions in town before making our way to the house we had rented for the weekend. Little did we know the property didn't take kids! Perhaps they shouldn't have a "number of children" option on their reservations… It all worked out in the end since they weren't aware until the end of our stay that the kids were there.
Joshua Tree had gotten snow which is a big deal and people were very excited. We had come to rock climb and escape the winter landscape so we were less than thrilled by Mother Nature's choice. Not to mention that the snow caused an influx of visitors all jumping giddily at the sight of such a miraculous wonder. We wanted to hike. We wanted to climb. All the parking areas were jam-packed and the freezing temperatures had us less than enthused with our current situation.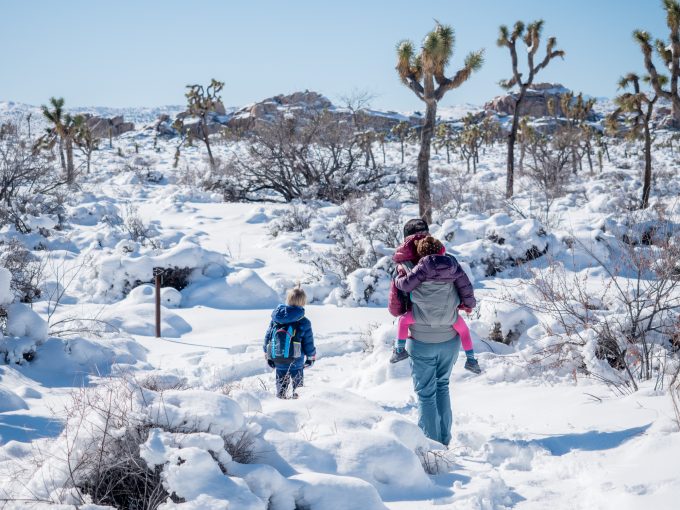 We tried our best to plod along the slushy, snow-filled trails but we had not come prepared for this level of snow. We had foolishly left our boots and snow pants in MN because we were visiting CA and didn't think they would be necessary!
Our first day at the park was a pretty big bust and we were feeling more than a little discouraged. We decided to go back to our rental and regroup and plan better for the following day. In the morning we arrived at the park as it opened and easily found parking in a pullout near an area we hoped to climb. You won't find these climbing routes in a guidebook as they are so easy, but thanks to Mountain Project we found the perfect spot for our kids to climb!
Due to the cold temps Bobby was committed to finding a spot in the sun AND easy enough for the kids to climb. As always, he came through and Jack summitted his first CA climb!
His smile at the top said it all and the angst and stress from the initial days of our trip soon became a whispy thought of the past. Unfortunately, Rowan wasn't nearly as happy as Jack and soon began wailing at the top of her lungs. She had gotten cold waiting for Jack to climb and stubbornly refused to sit in the sun and insisted on a dark corner near cold rocks. I took her back to the car and let her warm up as Bobby and Jack continued to climb.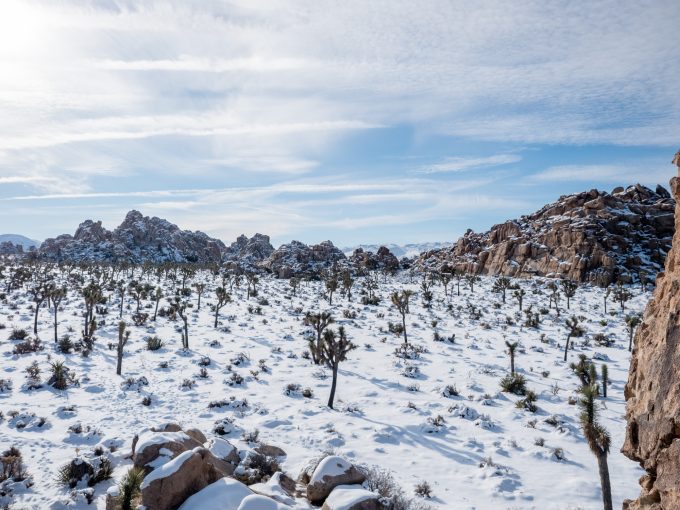 We had planned on camping at the park for the next two nights but quickly realized nobody would have fun without the proper equipment. We canceled our reservations and happily headed south toward the warmer, snow-free side of the park. We stopped at the Cholla Cactus Garden for lunch and a "REAL HIKE WITH NO SNOW!" according to Jack.
Spirits continued to climb and we found ourselves easily falling into the pattern of our ever-favorite explorers lifestyle. We wanted to make up for the rocky start and booked a hotel room in Palm Springs, CA for the next two days complete with pool and pancake machine for breakfast! We always like to mix in tourist attractions with our adventures and opted to visit the Living Desert Zoo and Gardens. This zoo was massive and we didn't have time to see it all in our one days visit. We wanted to do it up for the kids so we fed giraffes, met camels, rode the merry-go-round and spent a long time at the unexpected, massive model railroad display.
The first leg of our journey had a rocky beginning but we for sure had a lot of fun along the way and the kids continue to prove to us that they are incredible travelers.