This morning we woke up to the same sound we fell asleep listening to, the rain pattering against the skylight above us. We checked the forecast and were disappointed to see that it was supposed to rain all day.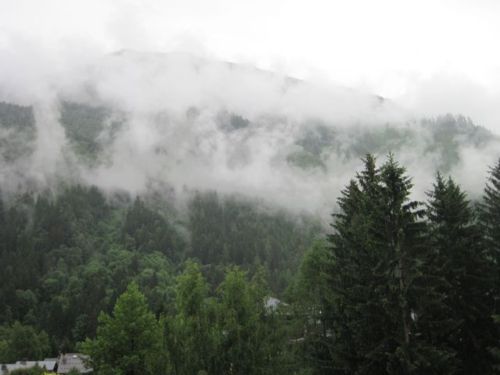 Our plans of hiking an hour to a sweet climbing spot would have to be put on the back burner. We went out to buy a few more final souvenirs and snacks and then stopped at the office of our rental company to pick up a game/DVD pack they rent out for 10 Euros. The pack contains several dozen DVDs and PlayStation II games. Because we're they're only guests currently they didn't charge us for the pack and allowed us to take several! We settled in on our uncomfortable futon and started off by watching such wonderful films as Executive Decision and The Hoax.
A couple of hours after lunch the rain stopped and I was antsy. We decided to do Hike #13, the Chamonix Valley Walk, in our hiking guidebook ("Mont Blanc Walks"). The author, Hilary Sharp, described it as the perfect walk for an easy rest day. We liked the sound of it because it remained in the valley and was always close to a town. So, for a day when the weather on the mountains was so uncertain we still felt safe going for a quick 6.7 mile hike! While 6.7 miles may sound like a long way the trail was level and easy! No switchbacks for us today!
It rained on and off throughout the hike but was thankfully cool enough that hiking and wearing a raincoat kept us at the perfect temperature.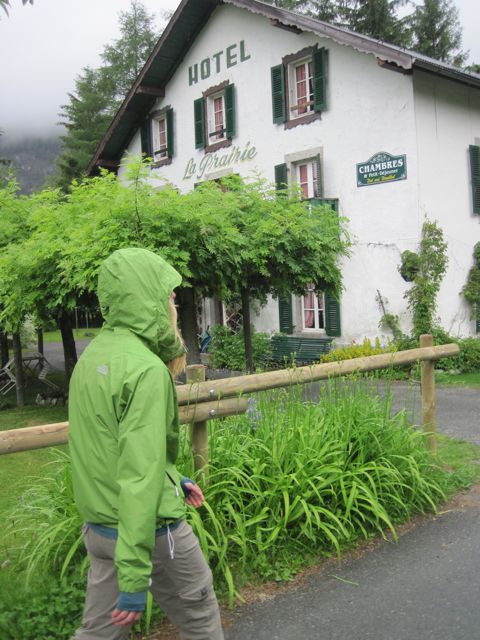 The hike took us through a working farm where there was a herd of goats in a corral being guarded by a dog!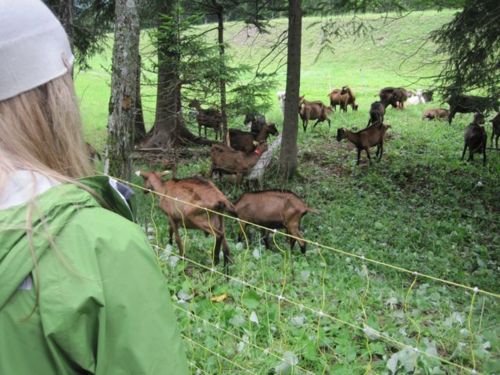 We even got to watch the dog in action when another dog came along and barked at, and spooked, the herd. The guard dog sprung into action, running at the other dog while barking angrily at it.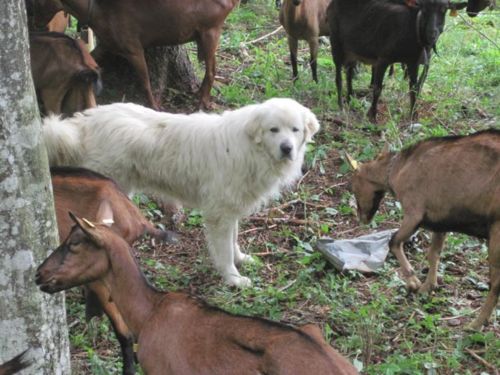 Later on we passed a sign warning that if a guard dog approaches you to remain calm and let it assess whether you are friend or foe.
As we continued along the trail a little white dog came running at us and right past us. We found it fairly odd considering there was nobody around and yet there always seems to be random dogs running about here. However, we later passed the owner of the little dog who hollered imploringly at us in French, "Had we seen a petit chien (small dog)?" We said yes and pointed in the direction we had seen the little duffer run. Hopefully, she found it before one of the guard dogs ate it as a snack!
The hike took us through quaint villages, a forested trail, a golf course, and then beside a river. Due to the clouds the views weren't as spectacular as outlined in our guidebook and yet the picturesque villages were well worth the hike.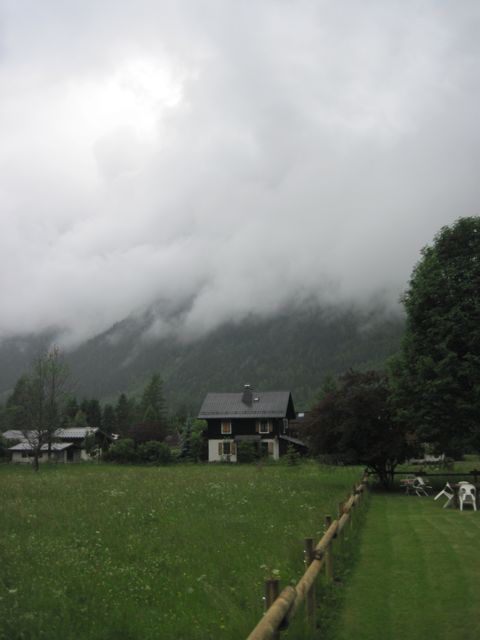 We even saw a slug along the trail!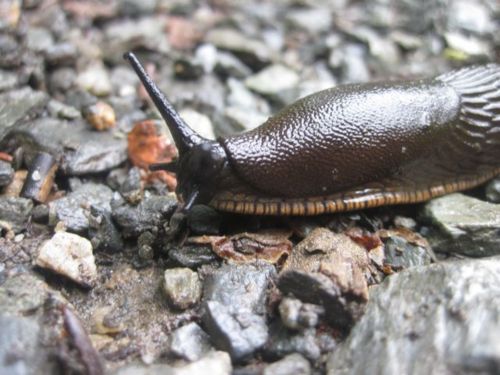 After 4 hours we were back in town center and were starving! Alas it was only a little past 5:00 and dinner wasn't being served most places. We headed home and munched on a baguette and peanut butter.
Upon our checkin at the apartment we were given a voucher for a free pitcher of beer or bottle of wine from the restaurant that the owners of the apartment own. We liked the sound of it from the menu we were given for several reasons. Number one, the menu was completely in English. Number two, their specialty was burgers and we have both been wanting a good burger and have yet to find one. Number three, dinner service started at 6:00! We made our way there and entered the almost completely deserted bar where Mumford and Sons was playing loudly! We instantly knew we would like it there! The barman came over and informed us that we were still a little early for dinner so we ordered a hard cider and water and sat in the wonderful ambiance, chatting about how amazing the last two weeks have been!
When the barman returned and delivered our drinks he informed us that if we wanted burgers we'd have to wait for 1/2 an hour because their butcher hadn't delivered the ground beef yet! For fresh meat we were willing to wait! We ordered an appetizer of nachos which is another treat we have both been missing. When the butcher had arrived we ordered a burger to share! The food was delicious and we were overly full, which was too bad because I had gotten excited when I saw that one of the dessert options was chocolate fondue. Alas, we were both so full we headed out. We went to bed hoping that tomorrow's weather would bring sunshine and no rain…