We've officially made it almost a full month living fulltime on the road in our 36 foot 5th wheel with our 5 and 7 year old along for the journey. First, a few myths about living fulltime that need to be debunked. It is not like being on vacation all the time. Bobby is continuing to work full time, the kids continue to argue and whine when I suggest fun outings, and things on the camper break and cause stress regularly.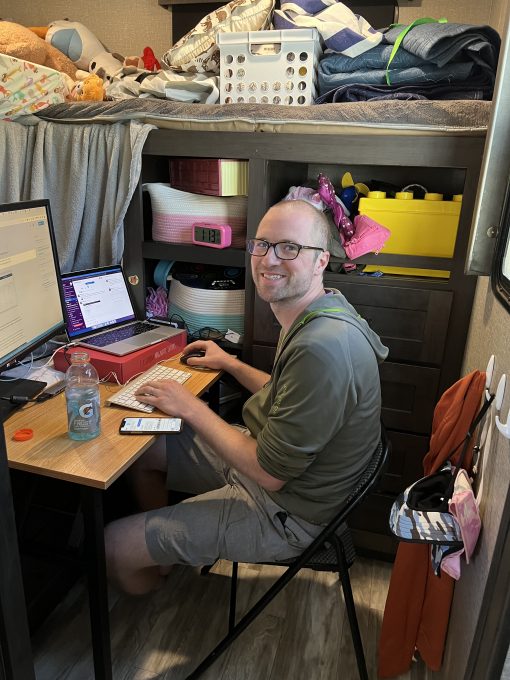 However, we wouldn't change this for anything. We definitely have our, "holy crap what did we get ourselves into" moments but then we look out the camper window and see the mountains around us and remember all that we are going to see and experience with our family, we're reminded why we made this decision. Our evenings, when work is done, are spent exploring and adventuring together as a family which is when we are at our most happy.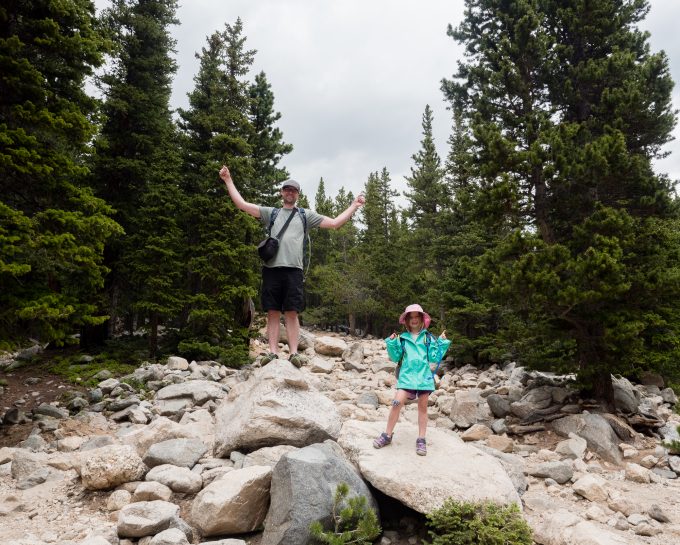 Our journey began back in June by spending three consecutive days traveling to make it to Colorado, our first official stop on this journey. We pulled into a stunning campground at 9,000 feet outside of Central City, CO, this KOA Campground is situated atop a mountain and we were immediately struck by the incredibly nice staff during our registration process and were stunned by how well maintained, and fully equipped the campground was. The playground was wonderful, there was a beautiful GaGa Ball pit (Jack's favorite game), and loads of fun over-sized camp games like Jenga, Connect 4 and Checkers. I cannot recommend this campground highly enough, it was absolutely amazing!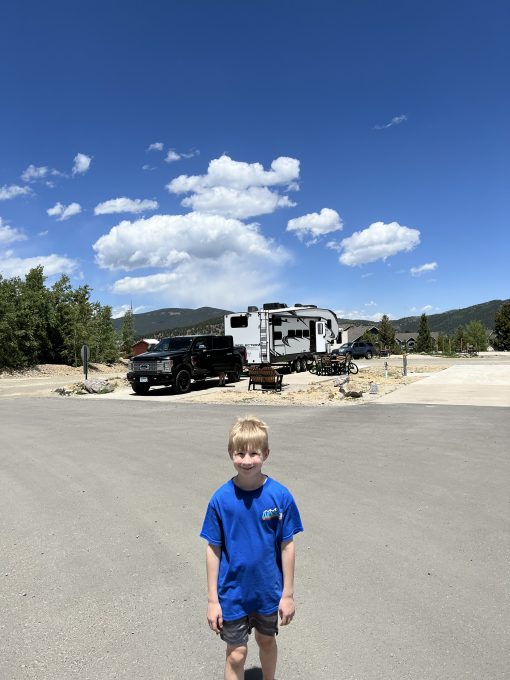 We got an end campsite, just steps away from the hot tubs, bathrooms, and playground, a huge advantage for us as we can always be within eyesight or earshot of the kids while allowing them some freedom to explore and discover on their own (obviously not alone in the hot tubs but at the playground).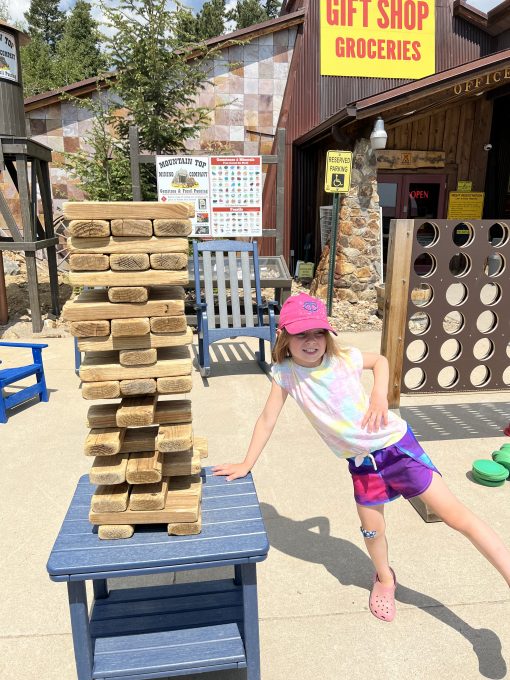 The Central City/Idaho Springs area is teeming with outdoor recreation opportunities and it was super difficult to choose what to do and where we would go during our stay.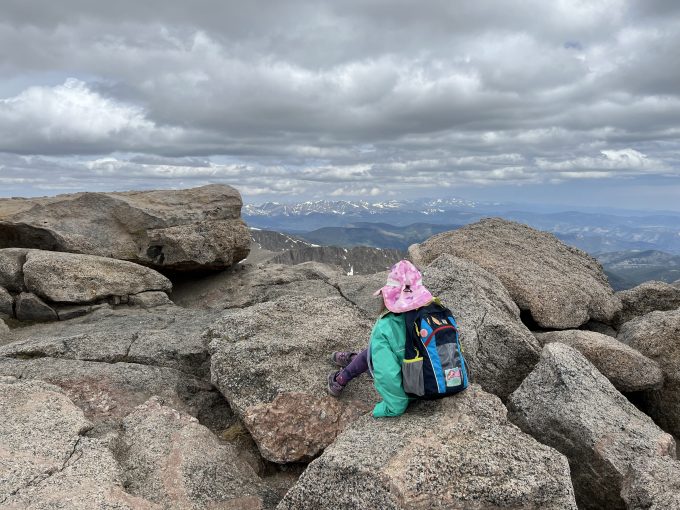 Mountain Biking
Bobby quickly found a nearby mountain biking option in Blackhawk on Maryland Mountain and we loaded up our bikes and went to hit the trails! Unfortunately, the green trail we were hoping to do ran along the side of the mountain with steep dropoffs on one side of the trail at all times.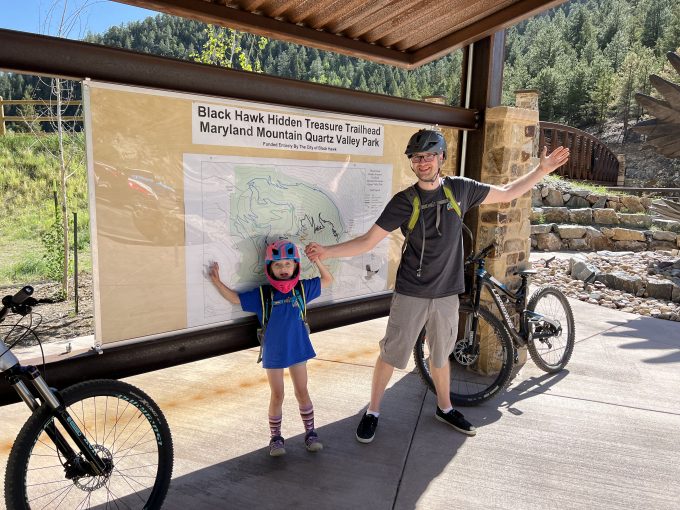 For experienced, predictable riders this wouldn't be a problem as the trail was wide, but with little kids who aren't always good at staying on track and focused while riding their bikes, this was a terrifying ride. We only made it a little more than a mile up the trail before we were all exhausted, not just because of the high elevation we were exerting ourselves at, but also because of the steady and constant incline of the trail and the stress of staying focused, staying on track, and staying safe.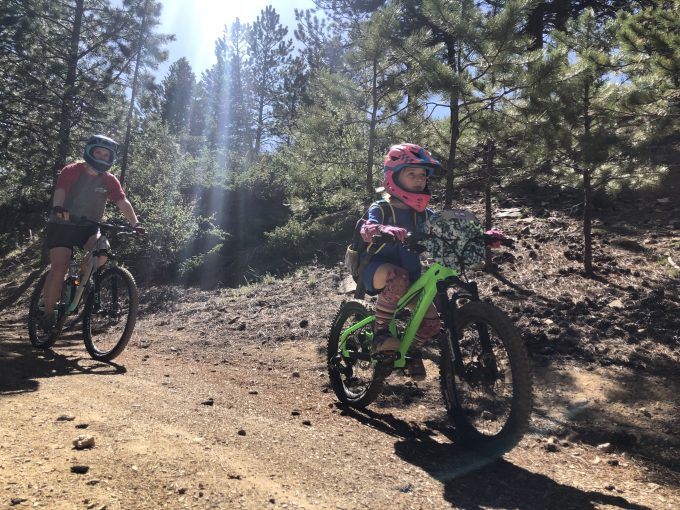 Rowan whined out, "My hands are so sore from gripping too hard!" So were mine. We turned around and split into two groups, Bobby and Jack went faster down the trail while Rowan and I wanted to take our time and frequently got off our bikes to walk them down when she wasn't feeling safe.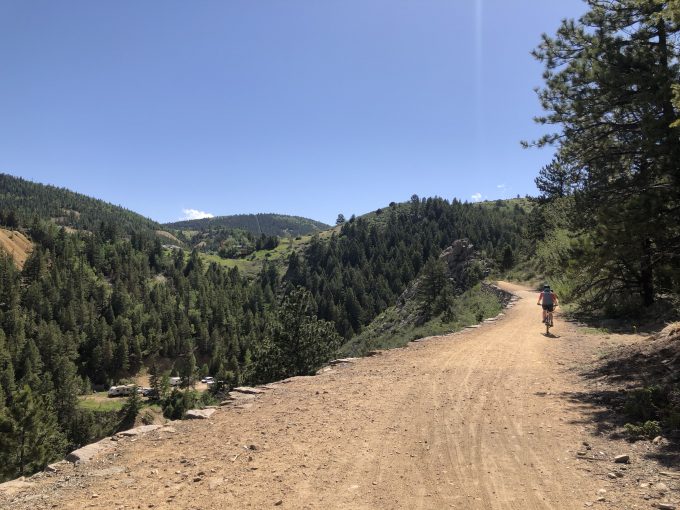 Gold Mine Tour
Being so close to Idaho Springs where the Colorado Gold Rush started we had to tour a mine! The Argo Gold Mill and Mine Tour fit the bill perfectly, it was a little pricey but I felt it was totally worth the money.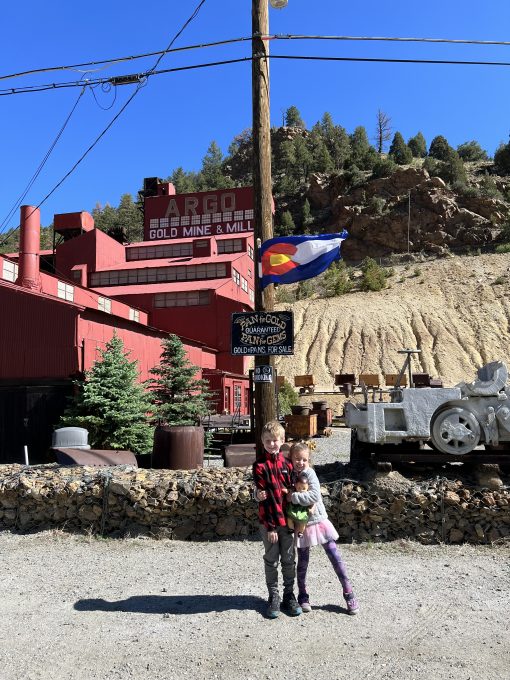 Prepare your kiddos though, the majority of the tour took place in the mill, and we only spent about 10 minutes in a mine tunnel on the side of the mountain mainly discussing how much work the EPA has had to do to help clean up the environmental disaster this mine managed to create.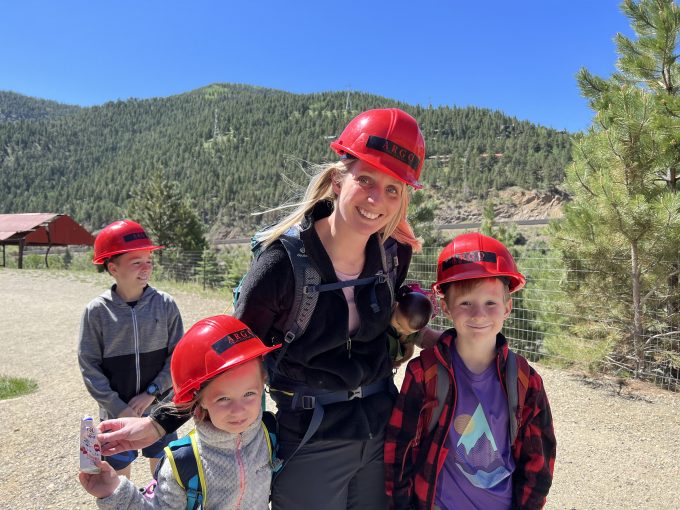 Hearing how this mine and mill worked, the physical toll the miners experienced and the overall science and ingenuity that was developed at the mine was really remarkable. The tour ended with an opportunity for everybody to pan for gold or gems. I would recommend panning for gems as you get a baggie full of fun gems/rocks, when you pan for gold you get 2-4 flecks. The tour guide was very knowledgable, kind, and patient and happily answered all of our questions.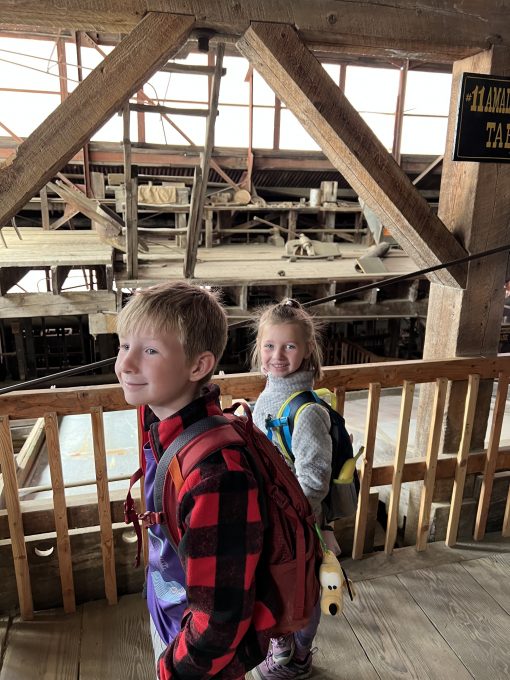 There is an amazing playground just across the river from the mine, we arrived a little early and opted to spend the time playing there!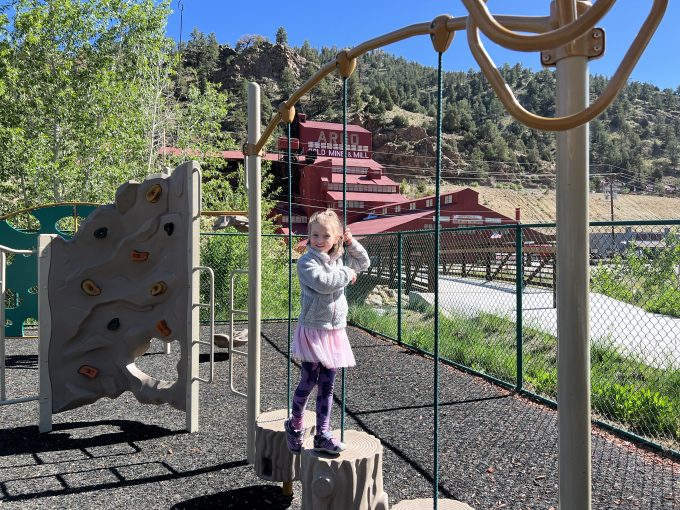 Children's Museum of Denver
This is an ABSOLUTE MUST if you're in the area with small children. The kids and I all agreed that this was the coolest Children's Museum of ALL TIME! It was worth the cost, worth the almost 50 minute drive from our campground and I only wish we could go back there on a weekly basis.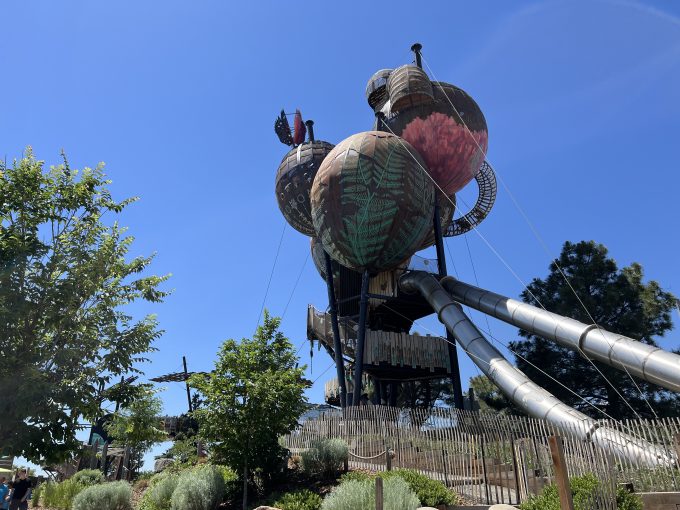 Some protips for visiting, pack lunches they don't have much in the way of food choices while there, it's a grab and go station of prepackaged sandwiches and salads with some snack and beverage choices. Pack swimsuits, sunscreen, and hats; a lot of this museum is outside with sand/water features to play in and explore and there isn't a lot of shade coverage. Bring good shoes for the kids; a lot of climbing and exploring happen here (seriously when two different areas require the kids to put helmets on for safety you know it's an awesome place!).
St. Mary's Glacier
The popular hike to St. Mary's Glacier is one that shouldn't be missed if you're in the area. This may be the most rewarding hike with such little effort we've ever done.
The trail is steep, but short, with absolutely spectacular views at the top! Getting to touch a glacier, or even hike up the glacier if you are feeling so inclined can be done.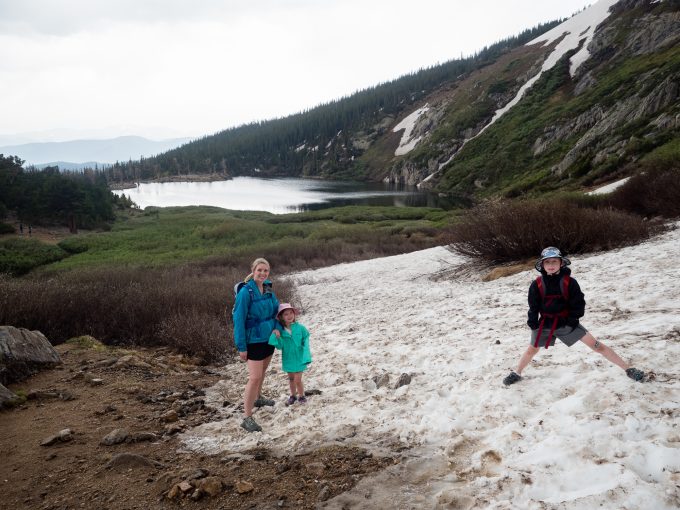 There is a $5 fee to park, as this is managed by a private entity and the parking lot is about 900 feet from the actual trailhead, so some road walking will start and end your journey.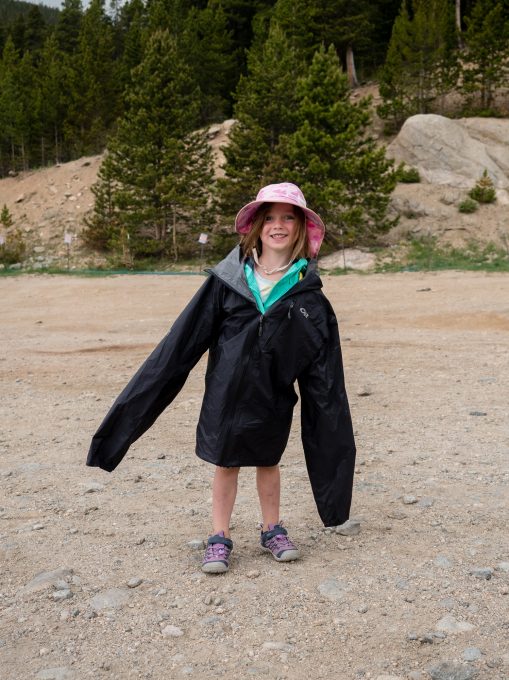 The day we were out hiking we literally experienced all 4 seasons, sun and heat, drizzle, downpour, and sleet. Come prepared! We made the unfortunate mistake of wearing shorts as it was hot that day at our nearby campground but overall we were cold the entire trek. The trail is rocky and a paradise for the climber in your life as our kids thrilled at the innumerable chances to climb giant boulders and test their limits.
Mount Evans
This 14,247 foot peak just outside of Idaho Springs is actually taller than nearby Pikes Peak and much less visited. A timed entry permit is required to go to the summit, or the highest city park at summit lake. However, if just driving the road without stopping, an entry permit is not required.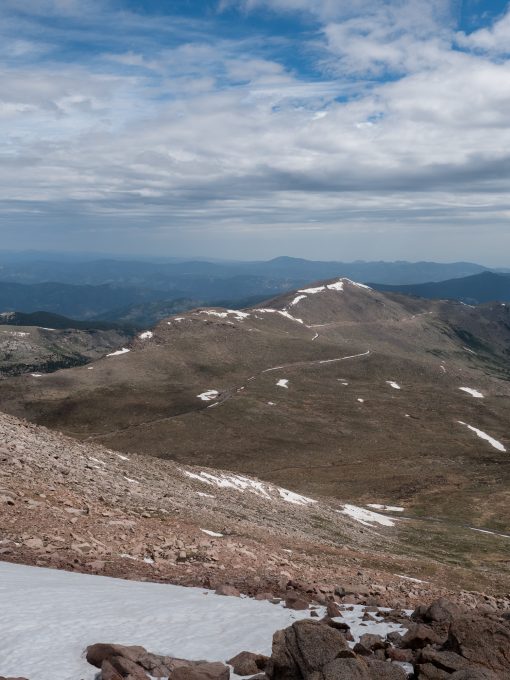 If you stop at Dos Chappell Nature Center you can pick up your Junior Ranger books, just out for the taking when the area isn't staffed. This is the absolute perfect thing to grab on your way up the mountain as it kept our kids entertained throughout the drive, and the book follows the drive up as you make your way through the various ecosystems of the mountains. We finished our books as we reached the top. We asked a ranger we saw on the way if we could grab our badges from them, she said she didn't have any on her and that we should get them from the entrance booth at the bottom of the mountain. We felt guilty interrupting the flow of traffic to get our badges but the ranger at the booth was happy to oblige!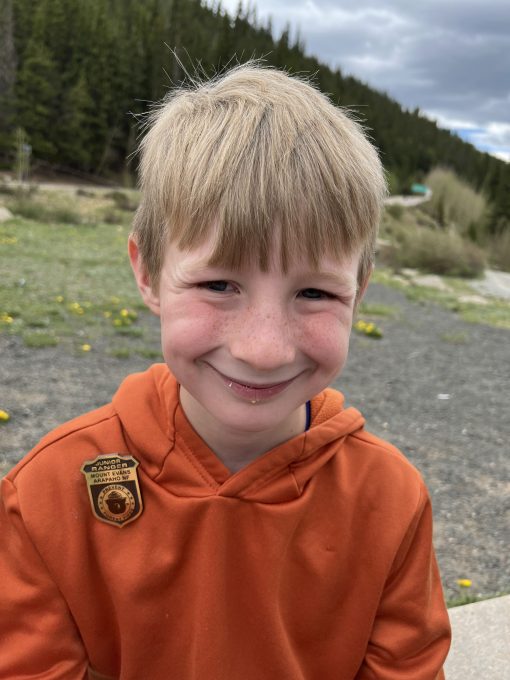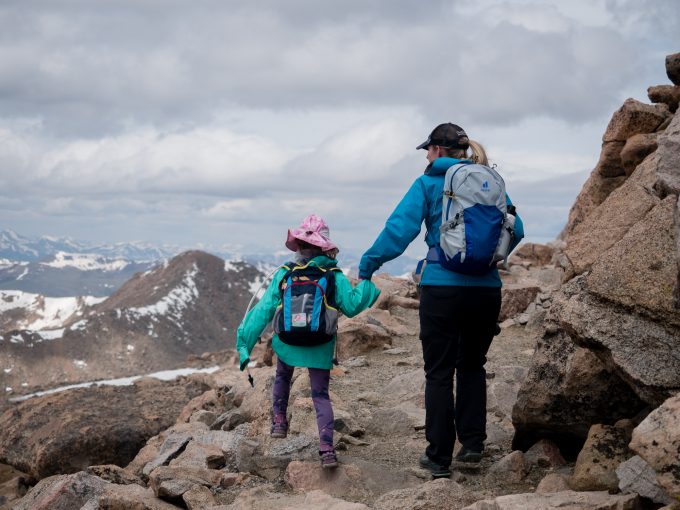 The summit was spectacular and includes a brief hike up to the tippity top among large boulders. Keep young ones very close or in a carrier here as there were big dropoffs on the top. We have Rowan, who is more than happy to remain an awkwardly big distance from the edge and Jack, who loves to test the boundaries and the limits of my patience at summits.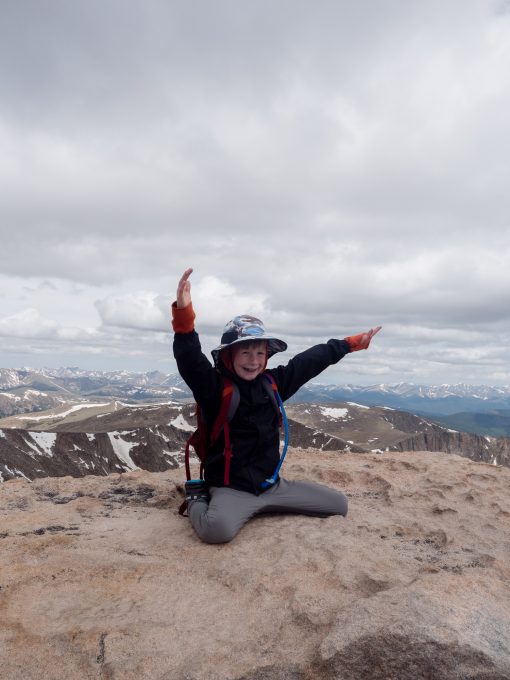 Remember, this peak is over 14,000 feet and elevation sickness can be a very real concern. Watch kiddos closely for changes in behavior and remember the best cure for altitude sickness is to just go down! Don't worry if you miss the picture or don't reach the summit, it's better to be safe. For our hiking crew, Bobby is the one that suffers the most from being at high altitude, the kids generally do okay, and their biggest complaints are usually ears that have popped or are feeling uncomfortable. We bring lots of chewy snacks, like Starburst minis, skittles, or even DumDum suckers to help ears stay open during drives or hikes.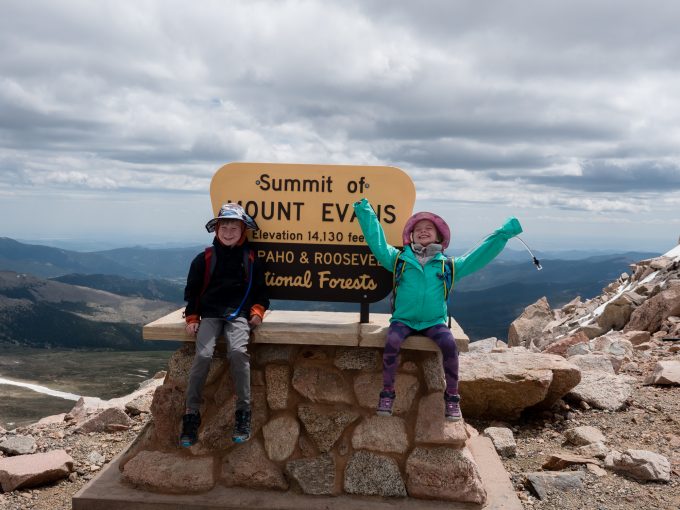 This is also a prime spot for wildlife viewing, we saw loads of Marmots and 6 mountain goats! Remember to keep your distance and never feed the wildlife.
Overall, our time in Central City was amazing filled with adventure and learning! I would happily return the area and the campground again to explore further.