Our favorite campground of all time is in Heber Valley, UT just outside of Park City. Mountain Valley RVResort is everything you want in a campground when traveling in a larger camper. Level, pull-thru concrete pads, full hookups, grassy areas, great amenities including 2 pools and 2 hot tubs (there's a 3rd pool in the 21+ only section of the campground), pickle ball courts, a stellar playground, and so much more! Because of all this we've stayed at this campground for the last three years. Not only is it an amazing campground, it's in a great location with loads to do, see and experience.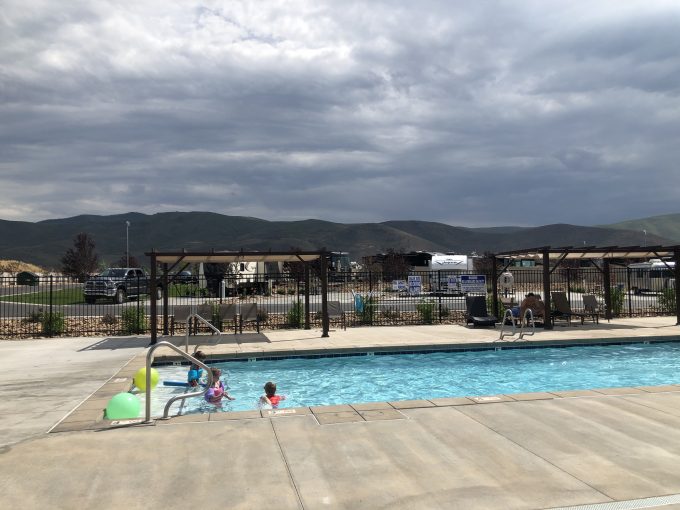 Heber Valley Railroad
Whenever you're in Heber you have to take a trip on the Heber Valley Railroad. There are many different types of trips you can take and from what we experienced on the two we've taken I'm assuming they are all entertaining, incredibly scenic, and very hot! These are historic railcars so there's no air conditioning and the hot summer sun bakes down on you so dress for the heat and bring water!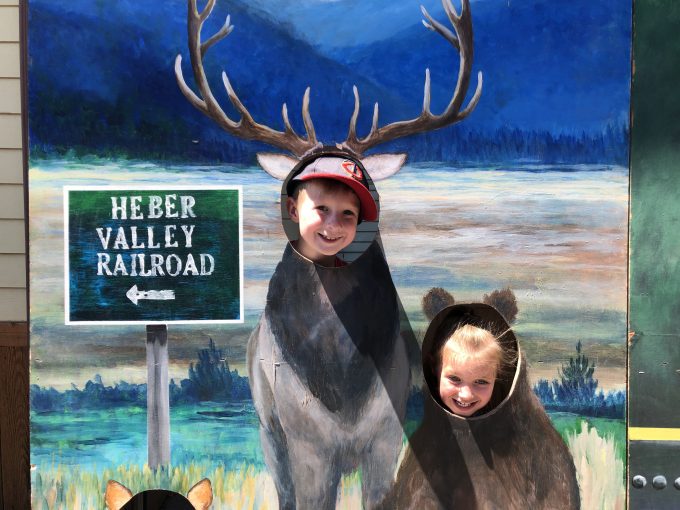 In 2021 the kids and I took the Provo Canyon Limited trip which was a longer ride, with a chance to get out and stretch your legs during a stop at Vivian Park. Getting to watch the train "turn around" as the engine switches sides of the train during the stop was very fun. A clever ice cream truck had stationed themselves at the park and, after a hot ride in the train, a giant line quickly formed for some cool treats. Reason number 5,768 why I always have a packet of travel wipes in my purse, you never know when there might be an ice cream truck!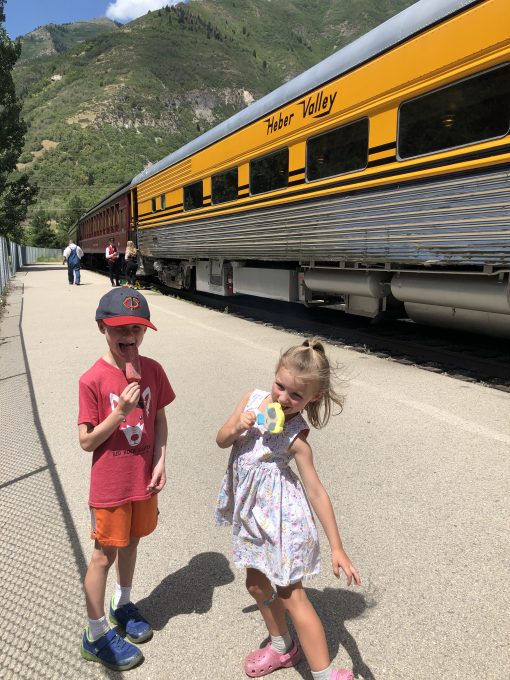 Box lunches can be added to any train ticket and you'll get a very tasty sandwich, a bag of potato chips, and a cookie! There are also snacks available for purchase in one of the cars that they've retrofitted to be a snack bar.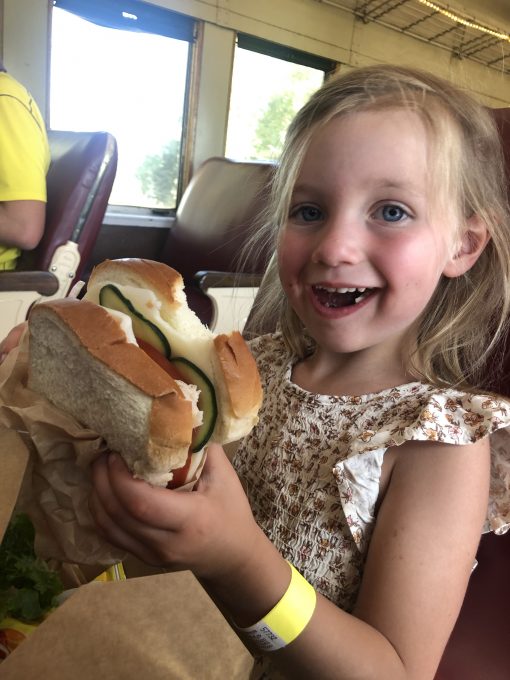 There is live entertainment on the ride. Musicians file into your car and give a brief, fun concert full of fiddles, guitars, and voices. Little ones might be scared by the railroad "bandits" that appear and pretend to hold up the train (Rowan still talks about how scary this was) so be forewarned and perhaps prepare your kiddos for the pretend robbery that may occur to help ease the fear.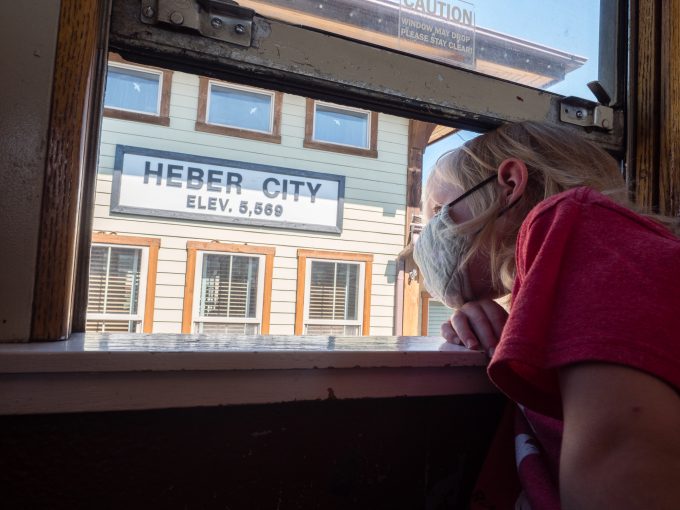 In 2020 we took an adventure train ride that included box lunches and stopping halfway through the trip to be picked up by vans that took us down to the Provo River for an afternoon of rafting. This was such a fun afternoon and greatly enjoyed by all! I sadly don't see that option on their website (in 2022) but hopefully it will return!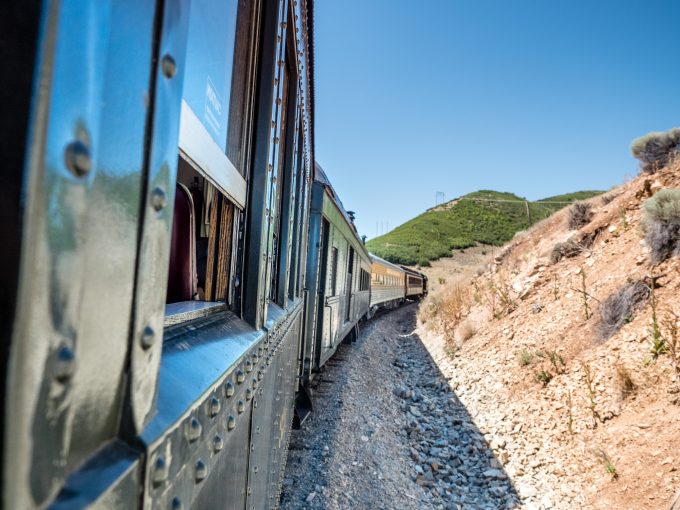 Raft the Provo River
Rafting and tubing the Provo River are a huge draw to the area and for good reason. This incredibly scenic river is perfect for a lazy day enjoying the water.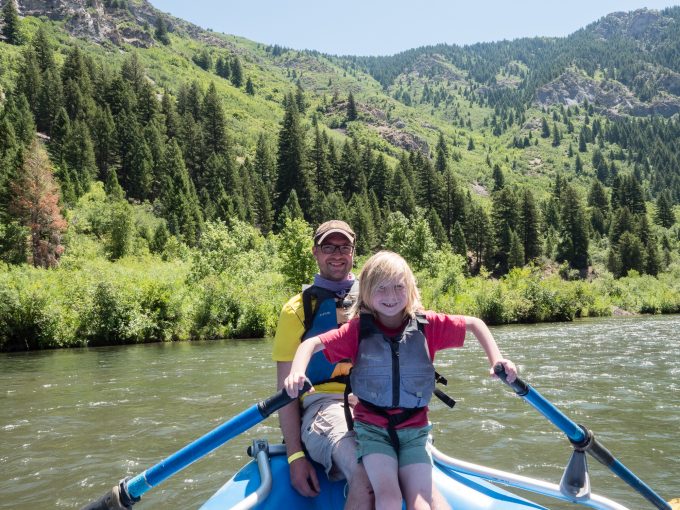 After we got off the Heber Valley Railroad we met our river guide. We had assumed we would be paddling but the guide was completely in charge (we weren't even given paddles) but let Bobby and the kids do some paddling on extra quiet spots along the way.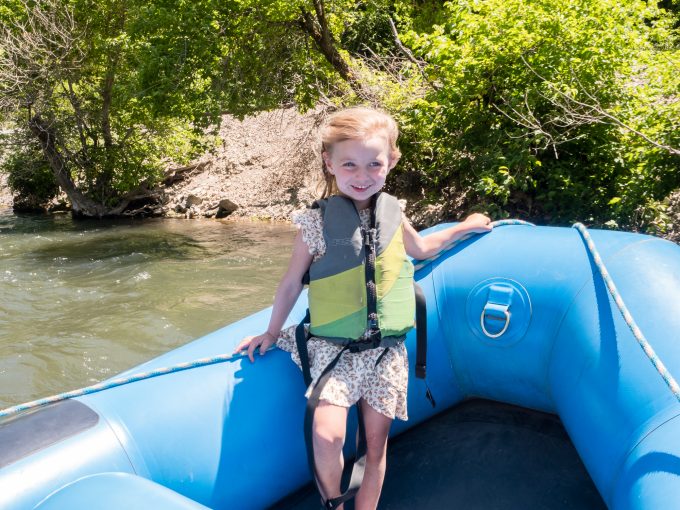 It was a little less adventurous than we were hoping but we still had a great time chatting and getting to know our wonderful, patient guide. The kids had such a great time and the guide made sure to make it extra-special for them any chance he could get.
There's an historic railroad bridge along the river where tubes need to exit due to safety concerns but our guide had been trained to maneuver through the small opening and it was pretty cool. There is currently a great debate about the safety versus the historical significance of the bridge and if it should continue to remain in the river. There were scuba divers present and busy diving for all the things that get dropped and lost along this section of the river from tubers flipping over and going into the water.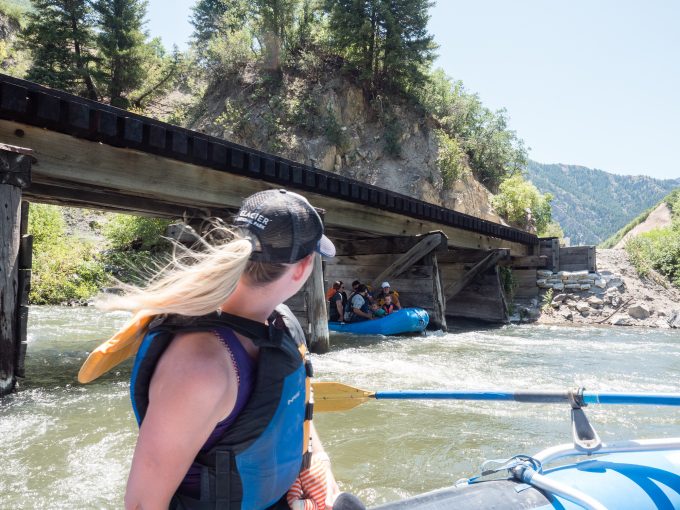 We had such a fun day on the water with very few, small rapids making this a perfect family outing for people with small children. Rowan was 3 and Jack 6 at the time of this trip.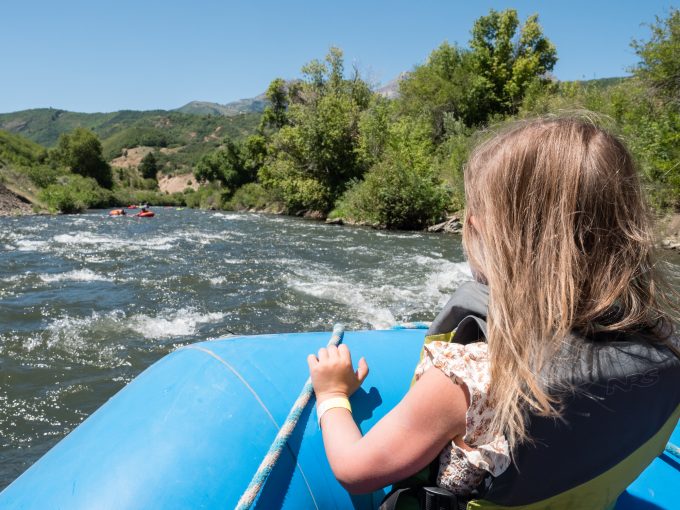 Timpanogos Cave National Monument
I know I keep saying this but Timpanogos Cave National Monument is a MUST SEE! So, get your tickets early for this stunning natural wonder and enjoy an exceptional Ranger-led hike through three separate caves hidden in the Wasatch Mountains. You can only enter the caves with a ranger so a ticket is required and they sell out. If, like us, you forgot to plan ahead, check the website daily for cancellations. That's how we were able to snag our spots on a late afternoon tour.
To get to the cave you do need to be exceptionally fit as the hike up is rather "dreadful" according to Jack. We were there in the afternoon for the 3:00 cave tour and it was HOT and the sun was baking the mountainside we needed to ascend to get to the cave.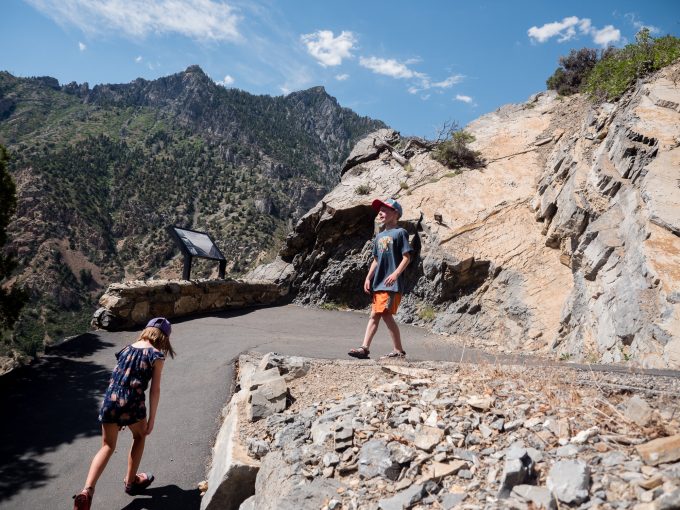 While the trail to the cave opening is only 1.5 miles, it gains over 1,000 feet of elevation and has a crazy steep grade. I was surprised by how many kids were making it up to the top! We did encounter one gentlemen along the trail who was coming down and was vomiting so be sure to take your time, know your limits, and drink loads of water.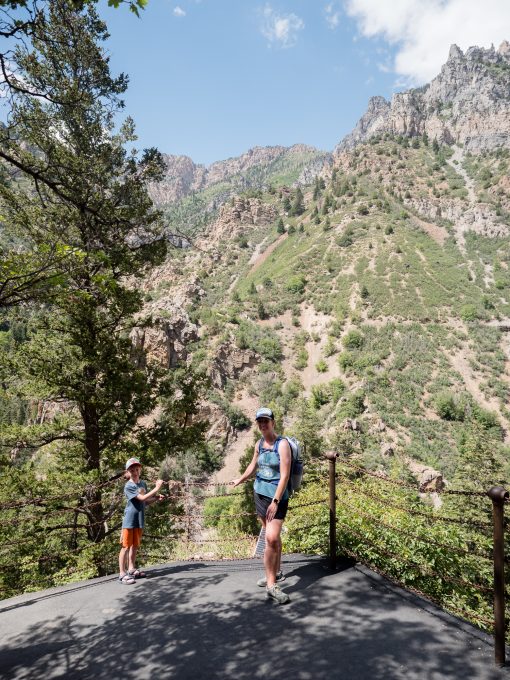 The trail is paved and incredibly well signed and marked. Interpretive signage teaches you about the geology, formation, and history of the caves. While handy dandy markers help you track your progress.
There are really neat markers imbedded in the trail that indicate what geological era of stone you are currently walking through. There are also yellow and red stripes painted on the trail in sections where stopping isn't allowed due to the dangers of potential rock fall. The Rangers will tell you before embarking on your hike the correct protocol if you hear a rock fall and how to best keep yourself safe. Sometimes I wondered if the markings were put there just to keep everybody moving so as not to be late for the tour, since the threat of falling rocks definitely keeps your pace going!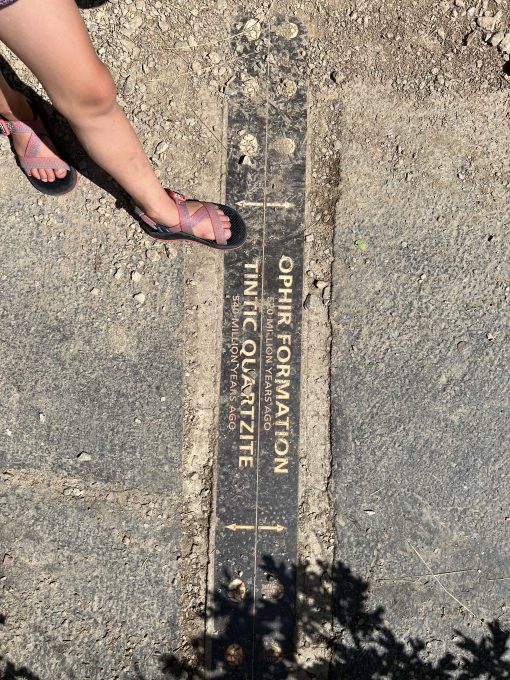 The kids absolutely stunned us by getting up this incredibly strenuous trail in record time! We had 1.5 hours to make it to the top and we managed to do it in an hour! We had 1/2 an hour before our tour officially started and were so grateful for the small rock cave with seating that provided amazing shade and cooler temperatures to relax in, have a snack, and wait for our tour to start. If you arrive early there is a chance you may get on an earlier tour. Everybody had arrived for the 3:00 tour early and 3 people were chosen to attend the 2:30 tour since there was space.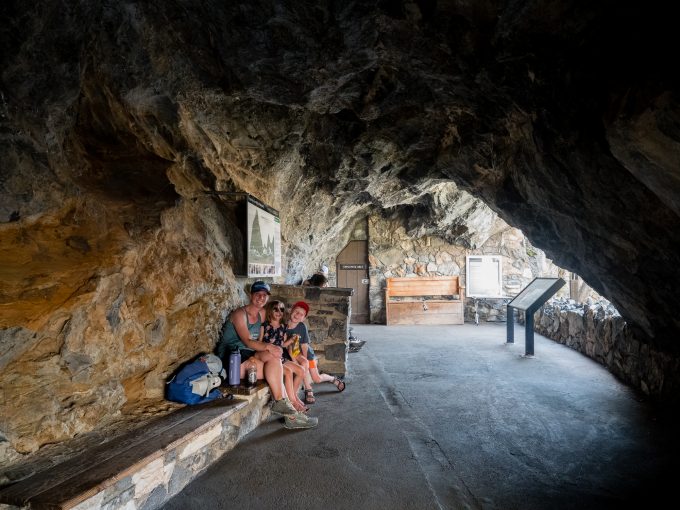 The cave tour lasted almost a full hour and took us through three separate caves. We learned about the discovery, history, and geology of the area. The group limit per tour is set to 16 which makes this an intimate, and wonderful tour to do with kids. The rangers are patient, filled with knowledge, and happy to answer any and all questions. I can't believe just how many rangers we saw while visiting this park. I'd say we saw at least 7 different rangers in a very short time!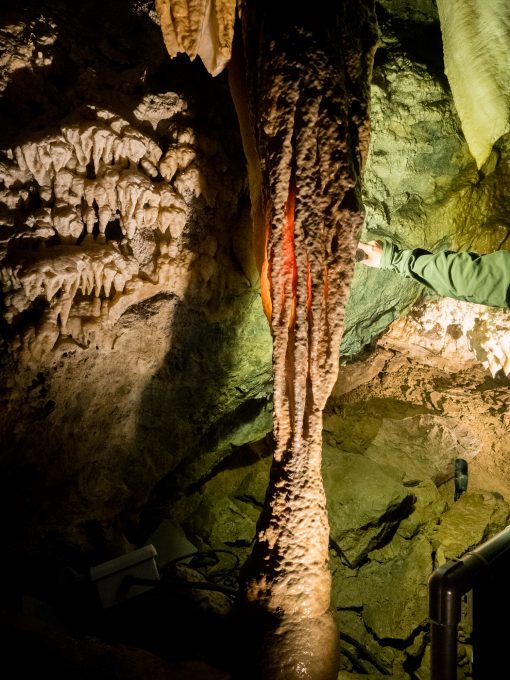 While we may have been swelteringly hot moments before, the caves are 45 degrees so we had packed warm, fuzzy sweaters for everybody and were so glad we did! The kids argued with us when we asked them to put them on before we entered the cave but we insisted and, once again, were glad we did. Not having to pull out layers and put them on during a tour and in somewhat close quarters made things a lot easier. The kids were grateful we had done it before and begrudgingly admitted that we parents were right (score!).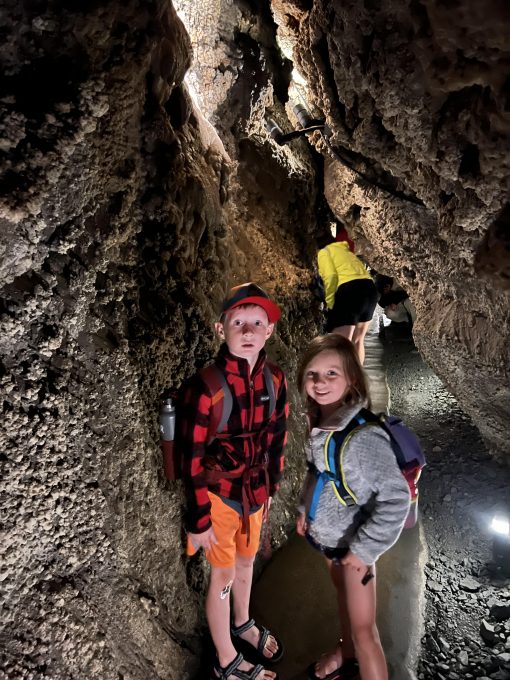 The caves have some tight squeezes, and Bobby did manage to smack his head pretty hard at one point so be sure to take off hats while you explore so you can see everything around and above you.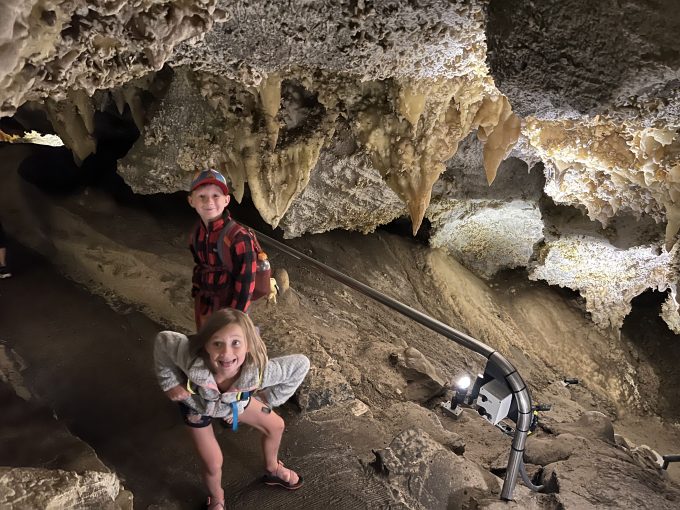 The monument offers multiple cave tours, including an Introduction to Caving Tour, which we really wanted to do but kids have to be 14 years old. We can't wait to come back to this stunning spot and explore more and try out that tour when the kids are older!
Mountain Biking
One of our favorite spots to bring the kids mountain biking when visiting Park City is Trailside Biking Park. With varying degrees of difficulty and a gentle uphill slope this makes Trailside an ideal spot to bring kids both beginners and advanced for an enjoyable evening of mountain biking. The various skills areas allows kids to build technique, confidence, and skills at their own pace. The giant playground at the base of the park is another bonus to this awesome spot!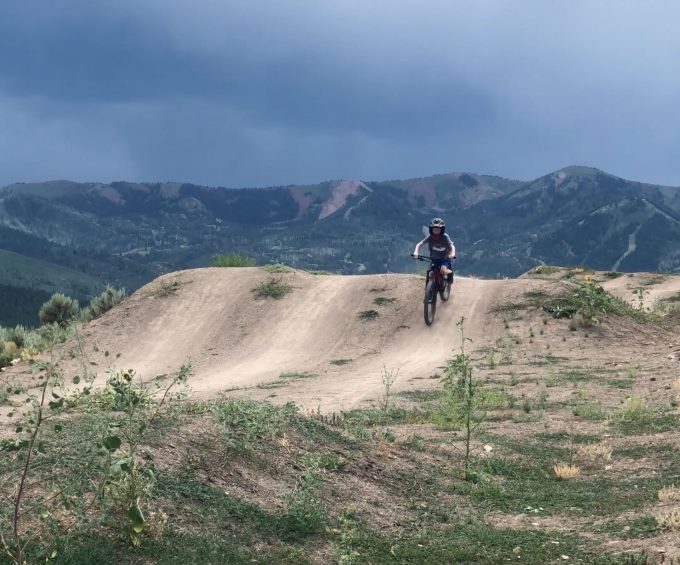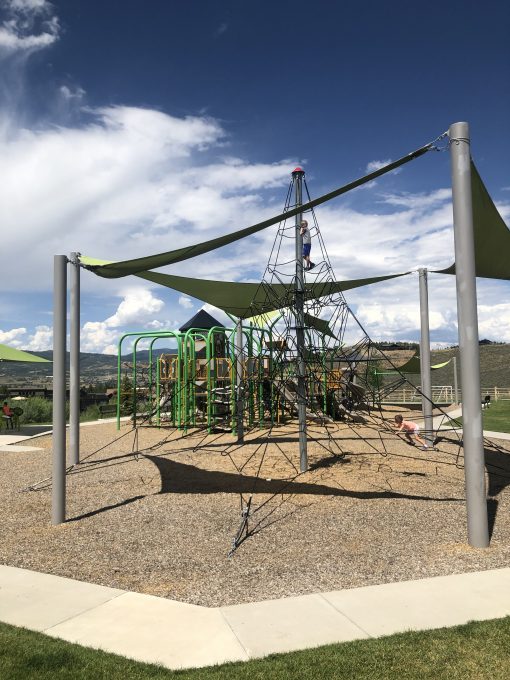 Bobby has a good friend who lives in Salt Lake and they meet up every visit for a more difficult, and sometimes harrowing, ride down some pretty epic mountains in the area. With 450 miles of trails and singletrack Park City was recently ranked "Top Mountain Bike Destinations in the USA." by singletrack.com. The International Mountain Bicycling Association (IMBA) has also ranked Park City as a Gold-Level Ride Center for "the sheer miles of trails".
No matter your experience level you will undoubtedly find a trail that fits your ability level, is beautiful, and super fun!
Hiking
Ruth Lake
At only 2.0 miles roundtrip, this lollipop loop is a popular hiking destination for families. With just over 250 feet of elevation gain this hike is doable for hikers of all ages.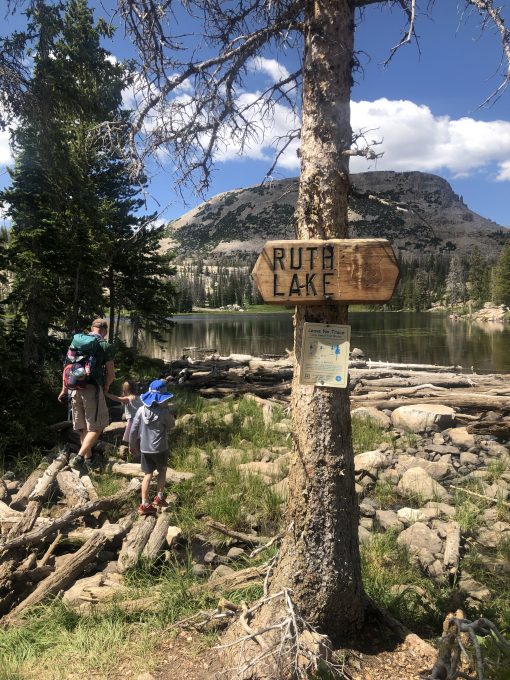 As is usually the case, the first glimpse of the lake is always the most popular spot for people to stop and hang out. Be persistent and keep walking around the lake to find a more secluded, private spot and you will have luck!
We tried to extend the trip and hike further to Lofty Lake, but sadly we lost the trail and ended up roaming a bit aimlessly… We always have maps along and were easily able to make our way back to the main trail. We met some other hikers who were also searching for the trail that supposedly continued so we weren't the only ones struggling.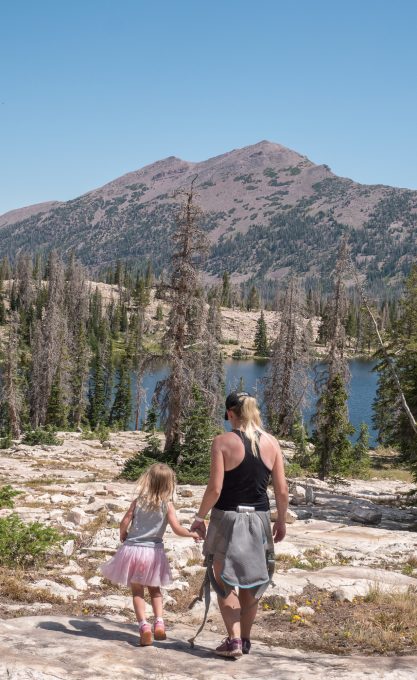 This hike is very popular for families so don't expect much solitude out here. We encountered loads of other families along the trail all out enjoying this easily accessible, beautiful lake.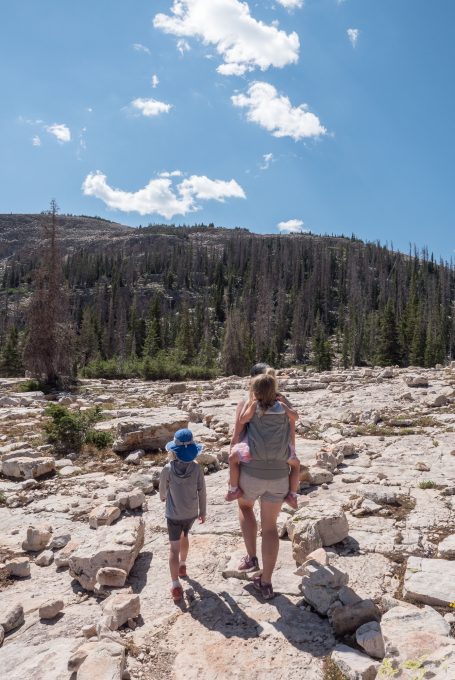 When searching for the trail to Lofty Lake we would occasionally happen upon very well marked sections of trail!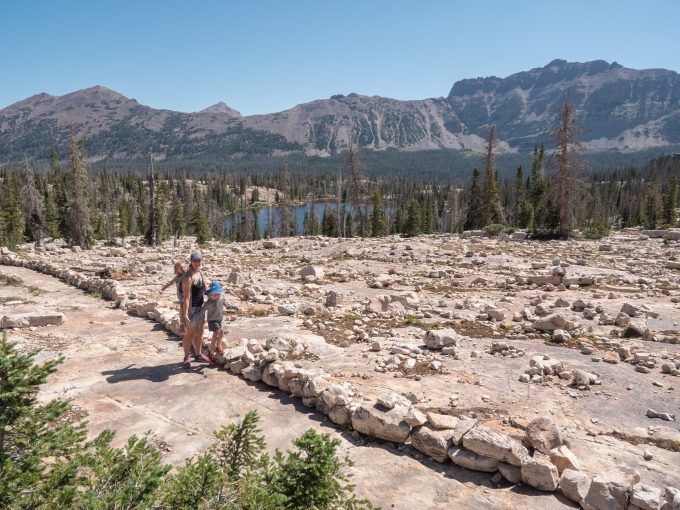 Despite not being able to find the trail to the next lake we had a wonderful day on the trail and would recommend this trail to families visiting the area, looking for an easily doable hike with their young kids along.
Mary Lake
We drove to the Brighton Ski Resort, about 45 minutes from Mountain Valley RV Resort, to embark on an epic hiking adventure! While there are loads of amazing looking hikes near Guardsman Pass (that we had planned to do), all of the lots were full and overflowing by the time we arrived at the trailhead around 11:00 so we decided to continue to the ski resort itself where we knew we'd be able to find parking.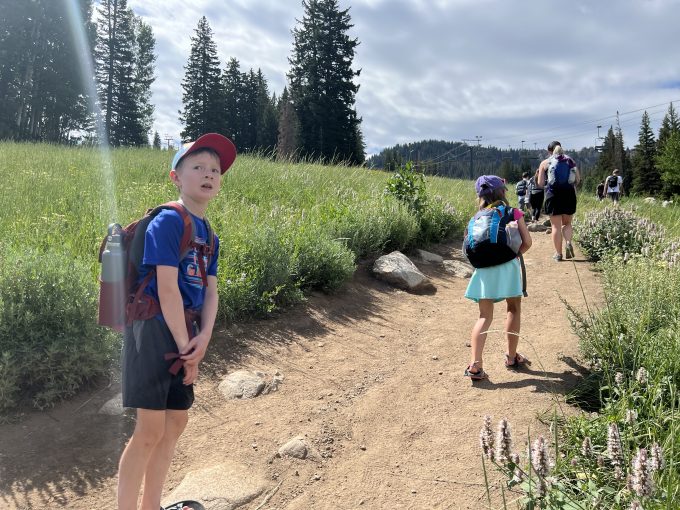 The Lake Mary trail in Big Cottonwood Canyon begins in full sun, under ski lifts with a fairly steep grade and we were soon huffing and puffing our way up the trail in the hot summer sun. The trail begins at over 8,000 feet and is only 2.2 miles but does have 778 feet of elevation gain making it a bit more difficult. It's a very popular hike and you will encounter a lot of people along this trail.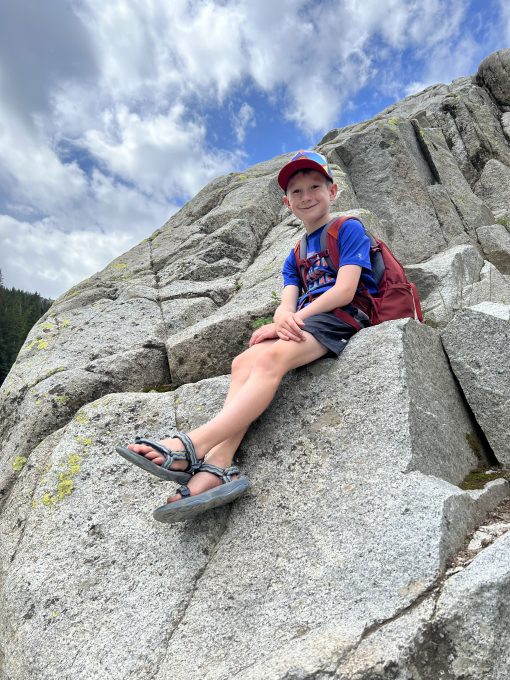 The lake was created by a dam, you'll walk by the dam before you get your first glimpse of the lake. The dam seemed to be in pretty rough shape, but the lake above it was absolutely stunning.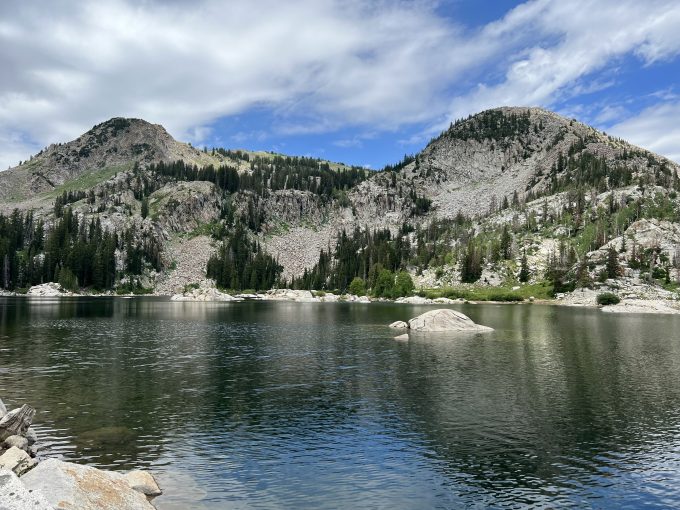 We stopped for lunch here and were very careful not to touch or disturb the water in anyway as this is a water source for drinking water and needs to be protected.
We weren't ready to return to the car just yet, and weren't excited about the large crowds that this popular trail boasted. So, we decided to traverse across the mountain, following the Twin Lakes Trail to make our way to Twin Lakes.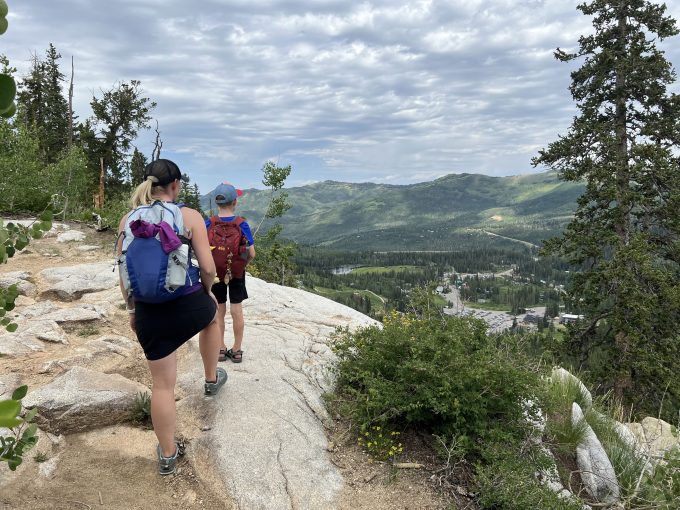 It was amazing how suddenly we were alone and enjoying a hike in the solitude only interrupted by an occasional trail runner or rock climbers off in the distance.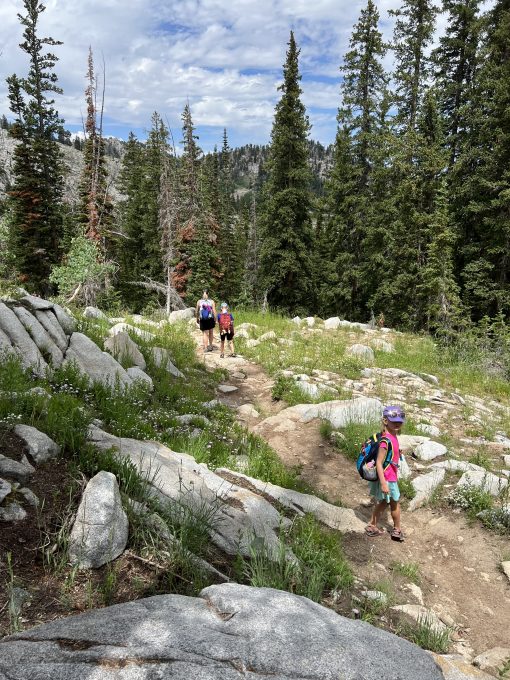 There were heavy rains in the area the night before our hike and as we traversed a boulder field we could hear water rushing beneath our feet but couldn't see it. It was one of the coolest experiences I've ever had while hiking. I wondered if it would've been like that had it not rained the night before.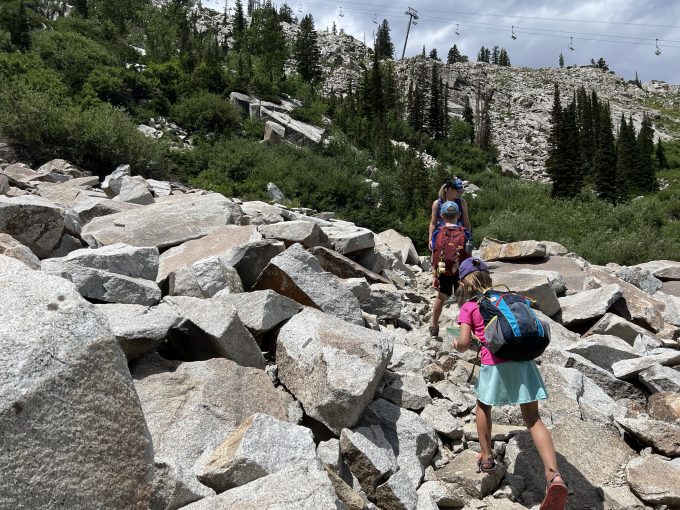 As we approached Twin Lakes the crowds once again began to form at this dam-created lake. We caught a quick glimpse of it and headed back down the mountain. This trail was even steeper than the Lake Mary Trail and was in much worse repair.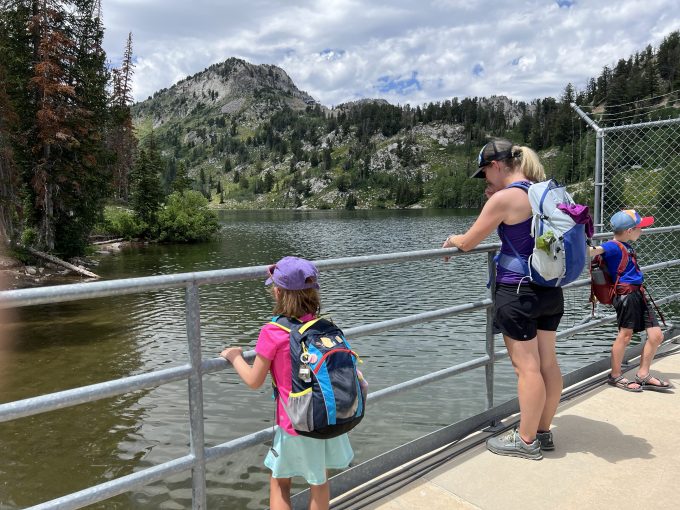 I think that Twin Lakes wasn't nearly as scenic as Lake Mary, but the pleasant hike through the woods was very much worth it for us!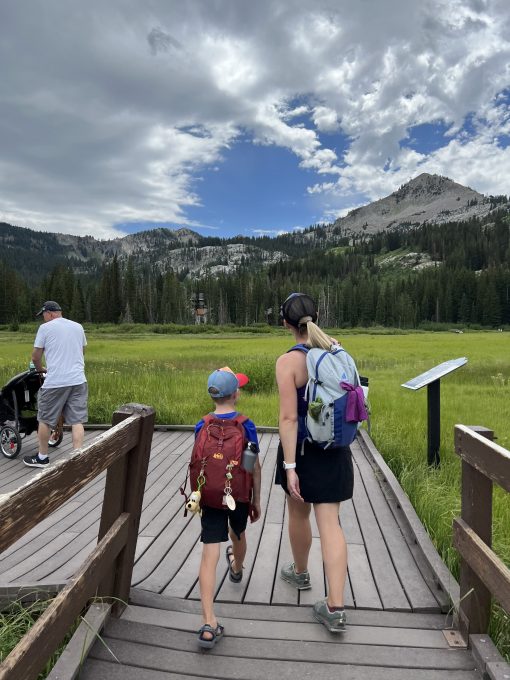 We ended at a boardwalk just 1/4 mile down the road from where we had parked our truck at the ski resort. We stopped in at the visitor center before walking the short distance back to the truck.
Park City
With a population just shy of 8,500 this charming town is bustling with activity. Restaurants and shops line the main street of this idyllic mountain town. Electric bikes seemed to be the preferred mode of transportation about town, and as main street lies on a somewhat steep hill that's understandable!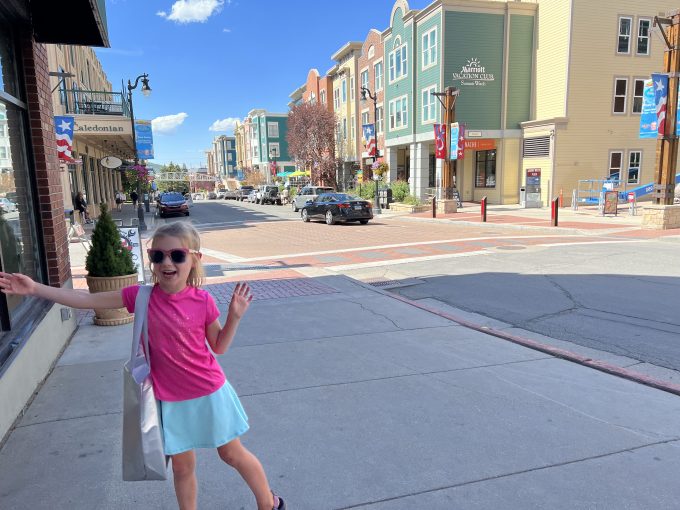 We enjoyed an afternoon of shopping, ice cream indulging, and exploring while in town and had an absolutely fabulous time doing so!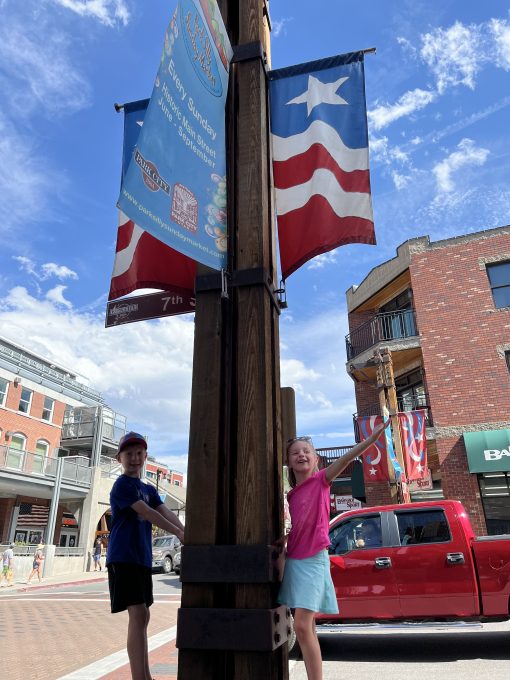 It was HOT! But, while in town the previous day for a pedicure it had also been scorchingly hot and sunny when suddenly there was an absolute deluge of rain. People came in from the outside literally soaked to the bone and the storm had come from seemingly nowhere. It was a nice reminder that we were in the mountains and the weather can be extremely variable and unpredictable.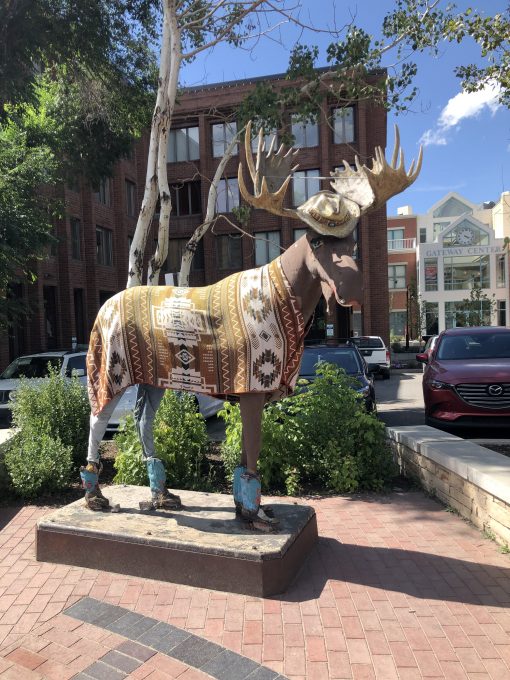 Hogle Zoo
It may seem like Salt Lake City is too far for a day trip but it's really only about an hours drive from Heber and totally worth it for a fun day out with kids! We visited the Hogle Zoo two years in a row because of how much fun it is. Not only are the animals aplenty and wonderful to view there's a splash pad, playground, zoo train, and dog show (yes you heard me right dog show, not bird show like most zoos…).

The kids and I love exploring zoos and this is up there as a favorite. I will say, I would totally skip the giraffe feeding "experience". It's super expensive at $5 per person and each person only gets three pieces of lettuce and are told not to rip them up into smaller pieces… So, the feeding experience only lasts about 45 seconds. The only good thing about the feeding experience was each station had a zoo keeper present, answering questions and letting you know about the individual giraffe you were feeding. While definitely a cool bonus, I still don't think it was worth the extra money.

We were super excited to have lunch with a view! Having elephants roam about just outside your window while you enjoy some air conditioning and tasty food is perfect and this zoo definitely ranks #1 for best lunch spot!

The zoo train here ($3 per person to ride) is worth the money on your first visit. It takes you around the giraffes and zebras which is really fun to view animals from a tiny train car! But, soon you're going through a sad, abandoned part of the zoo where they've attempted to put some stuff around to make it feel like you aren't simply viewing the backlot of the zoo but really you are. There is a fun tunnel that's exciting but this is really only worth a single ride. There were signs up when we were there in July 2022 stating that it would be closed down for a major refurbishment soon so not sure when or how long but be warned it might be shut down.

Discovery Gateway Children's Museum
We LOVE visiting cities that have Children's Museums and Salt Lake City's Discover Gateway Children's Museum is a must see when visiting the area with kids! It's not the largest but it's not the smallest children's museum we've ever visited but it was a very fun stop!

One section is laid out like a small town including a farm, bank, home, grocery store, automotive repair shop, construction site, and post office. This was, by far, Rowan's favorite section of the museum


Rowan's absolute favorite part was delivering the mail around town! This made me super happy as I have very strong, fond memories of doing the same thing and loving every minute of it at the Children's Museum in my hometown, St. Paul, MN.

The little house had everything from a kitchen, to a working piano, an upstairs loft with baby dolls, and a secret passage!

While visiting in July 2022 the special exhibit on the top floor was an archeological dinosaur dig site complete with lab.

The highlight of the visit for Jack was a rescue helicopter on the exterior, terrace where the kids had a blast inside the helicopter and outside in the control tower communicating with the helicopter by radio and in the hospital, assessing the injuries being brought in.
There are no food options available at the museum and the only place to eat a packed picnic is on this small terrace where there are a few picnic tables and a couple of benches without much shade. I must say, I've never been to a children's museum that didn't have indoor seating or any spot indoors for a snack…

There was a beehive-like, multi-story climbing structure and other hands on activities in the main entryway of the museum. The museum also had a large water table, that the kids were oddly uninterested in. When they were toddlers that would've been the highlight of the day. I love watching and seeing how they grow and change and what parts of each museum intrigues them the most.

Clark Planetarium
Before leaving MN we got a membership to our local Science Museum which is a part of the ASTC (Association of Science and Technology Centers) passport program. By purchasing a membership for our hometown museum we have discounted or free admission to hundreds of science museums/centers around the country! Salt Lake City happens to be home to one of the many science centers where we got free entry to a show at the Clark Planetarium.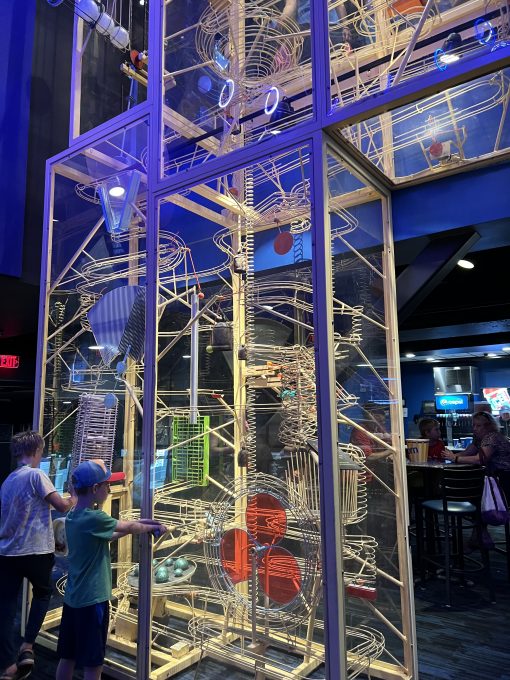 Be sure to come early for your show as there are dozens of exhibits with hands-on learning activities and a small indoor playground to explore before your show! Our show was in the Hansen Dome theater that began with a lesson on what constellations could currently be seen in the night sky around Salt Lake City.
This theater doesn't allow food or beverages but the IMAX theater does. However, they offer super cheap popcorn and icees so we got some snacks after our show and enjoyed them while sitting at one of several tables they have in the lobby area.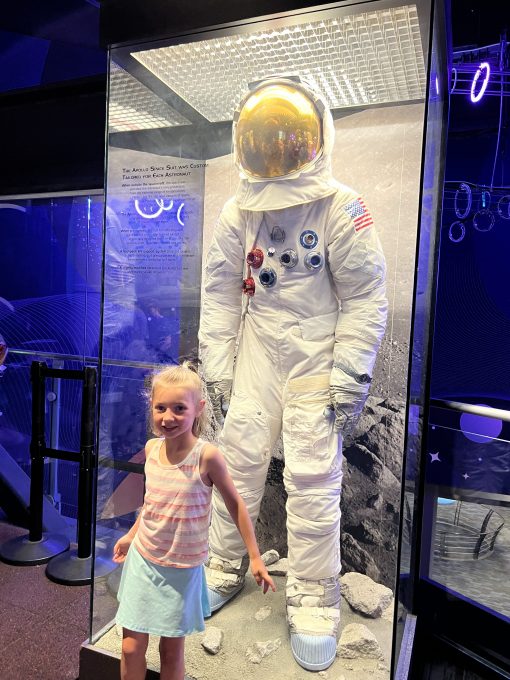 Park City continues to be an absolute favorite stop for us on any adventure and we already can't wait to go back, see our favorite places and explore so much more.